Two North Zone teams entered the final day of the 2023 Republic National Youth Football League (NYFL) competition with a double on their mind at the Republic Bank Sports Club in Barataria yesterday.
And by the time the sun set over the 8th Avenue facility in Barataria, Pro Series emerged as deserving winners in the Under-15 and Under-17 age groups with contrasting victories, while their rivals QPCC were left to lick their wounds after losing the Under-15 and Under-20 Finals to the Pro Series and Defence Force outfits respectively.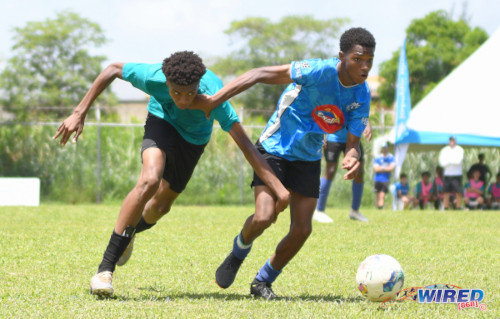 On a weekend in Barataria that fluctuated between blistering sunshine and swirling showers, there was no love lost between the Pro Series and QPCC camps, as their otherwise tepid goalless Under-15 Final featured a scuffle between players in the latter stages, while a few parents had to be separated in the aftermath of the game as well—after Pro Series triumphed 5-4 win via a penalty shootout.
Referee N'neeka Harewood was kept busy in the dying moments of the second half as she and her officiating team tried to quell a pair of off-the-ball incidents which threatened to turn the NYFL Final into an ugly spectacle.
Harewood issued a yellow card to QPCC defender Jadiah David for lashing out at Pro Series attacker and NYFL Under-15 MVP Jonathan Mason in the QPCC half, then had to sprint to the opposite end of the field as a few fans held back players interested in some "afters" at the Republic Bank Sports Ground.
Pro Series substitute Jaseem Celestine was the lone player booked for his part in the melee.
In the subsequent shootout, QPCC seemed to have one hand on the Under-15 trophy when Pro Series attacker Joshua Miguel banged his team's fourth kick off the bar. The score was 4-3 to the "Parkites" at the time.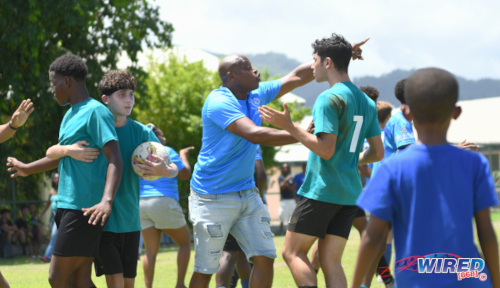 However, QPCC midfielder Anthony Mansoor hit his penalty off the bar as well. And, in the first set of sudden death kicks, goalkeeper Shamael O'Brian dived to his right to save Tommy Conlon's effort and grant Pro Series the NYFL Under-15 title.
The scenes that followed weren't pretty by any stretch, as a couple of exuberant parents sized up each other in the midst of the celebrations before calmer heads prevailed. Importantly, Pro Series won the on-field battle to lift their first of two trophies on the day.
"To win a national championship, that's something we worked very hard for," said Pro Series head coach and founder Paul Decle. "A lot of sacrifices were put into preparing the team week in and week out. We are very heavily focused still on the development of these young players.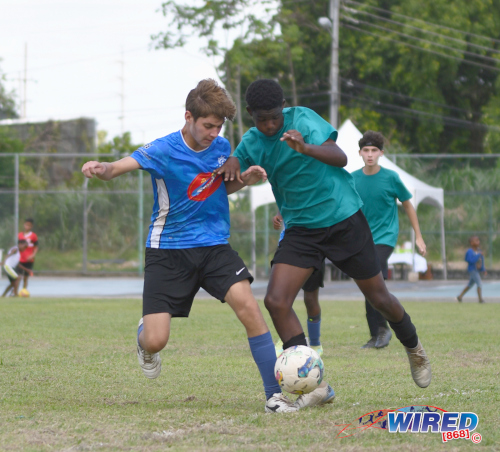 "We look at the games as an opportunity to see how they perform under pressure and it's also an opportunity to see how the players perform based on how we train, as we continue to help them in their development process."
In a tussle with their heated rivals, QPCC, Decle knew Pro Series would be in a battle to the bitter end.
"We never expected it to be easy—it's a national final so teams that get there are deserving of being in the final," Decle told Wired868. "It was a very hard-fought game right down to the end. When it comes to penalties, we know how that goes; and the players did what they had to do."
O'Brian certainly got the job done between the sticks for the Pro Series U15s.  And in the Under-17 Final, O'Brian's elder brother, Shaheim, got the ball rolling in emphatic fashion for Pro Series as he curled in a deep, left-footed free kick to give his team the lead against southern outfit, Premier Sports Club, in the ninth minute.
Barring the efforts of national Under-17 striker Malachi Webb, who bagged a brace, and fleeting cameos by winger Raheem Nelson, the Sharaz Ali-coached Premier SC team were properly spanked as the North Zone champs Pro Series sauntered to a thumping 6-2 win in the Under-17 Final.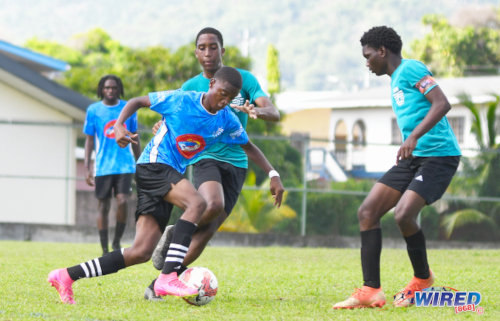 "I think we played in the most difficult zone. I think the North Zone was the most difficult zone with [Trendsetter] Hawks, Police and QPCC," said Pro Series Under-17 coach Kerdyn Moe, who copped his own treble on the day as he also featured on the technical staff of the successful Pro Series Under-15 and Defence Force Under-20 teams.
"[…] I'm very proud of the boys for [winning] this tournament. Though it's an Under-17 tournament, we have a lot of boys who are 15 so next year they may be able to play again if this Under-17 age group is brought back."
After Shaheim's early opener, Pro Series were temporarily pegged back by Webb who buried from close range in the 14th minute after his opponents lost possession at the back. Webb doubled up from the penalty spot in the 41st minute to give Premier a 2-1 lead at the interval, after Shaheim was adjudged to have handled in the area.
But it was one-way traffic from the resumption, as Pro Series played Premier off the park. Moe suggested that their offensive blitz started with neutralising Premier's dangerous duo of Webb and the lively Nelson.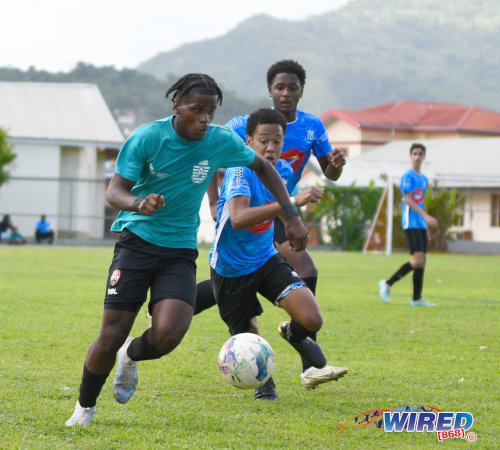 "We knew when they got the ball, they would try to go directly into [Webb], so we really tried to make sure we covered him—one was marking and one was covering so we double-teamed on him," said Moe, who explained they also paid attention to Nelson's one-on-one ability.
"I think we kinda nullified Raheem. Webb got his chances and scored two. He is a national player, a talented player [and] a strong boy, so kudos to him for getting a double in the final."
With Premier's one-two punch comfortably under wraps—and Webb curiously started the second half as a mere spectator out on the left flank—Pro Series got the ball down and treated the healthy Barataria crowd to some champagne football. Moe got a taste of the champagne himself, as his players doused him during jubilant celebrations after the final whistle.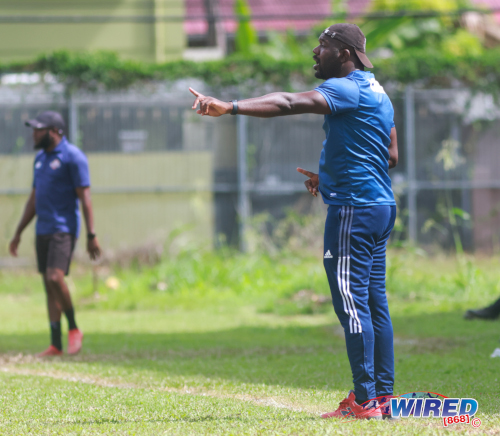 "The preparation today was just to try and play the ball around and not go long," said Moe. "They have some guys in the back who are good at heading so we tried as much as possible not to go in the air today.
"As you'd realize with their first goal, we tried to play the ball out of the back and they picked the ball from us. We tried to continue with the same thing [in the] second half and we didn't deviate from that."
Pro Series were just too strong for their southern counterparts all over the pitch, and the northern champions turned the game on its head by the hour mark as midfielder Jedaiah King helped himself to a double.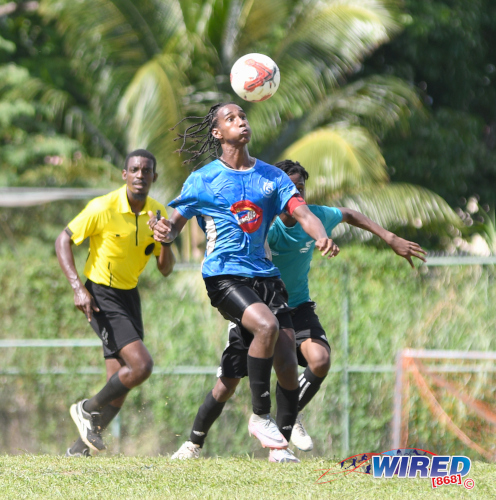 King and Pro Series captain Tau Lamsee dictated terms in the middle of the park, while frontman Thomas Decle often dropped deep to seamlessly link the play and the tricky Jahaem Bailey terrorized opposing right back Kadir Ali-Mark with his pace and skill down the left flank.
After King notched his first of two items in the 51st minute, Moe withdrew Shaheim and moved Bailey to left wing-back, while another promising attacker in Micha'el John was inserted into the front three.
For most of the second half, Mark, who came on as a substitute in first half stoppage time, resembled a deer caught in headlights as Pro Series created numerous two-on-one openings down his flank while they also laid siege to Emmanuel Thompson's goal.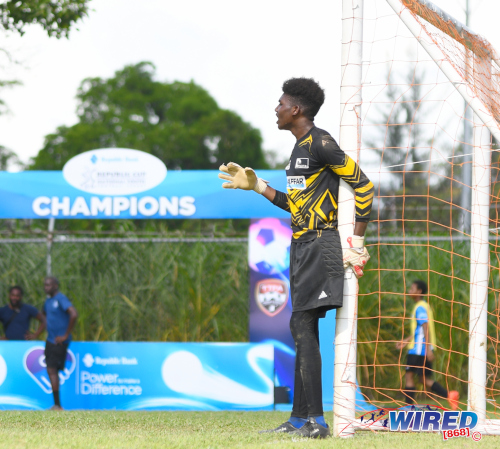 The lanky Thompson cut an imposing-enough figure in the Premier SC goal, but he rarely commanded his penalty area and ought to have done better with a few of the Pro Series items as well.
In the 70th minute, Thompson arguably conceded the goal of the game as substitute Nieem Taylor slammed in a right-footed shot from a tight angle on the left, after a sweet exchange that involved numerous mesmerizing short passes by the smooth Pro Series outfit.
Pro Series added two more goals for good measure as Lamsee tucked away a penalty before celebrating with a jig, while John beat Thompson from an acute angle after taking his marker for a dance down the left with a sweet 'rollie polie' move.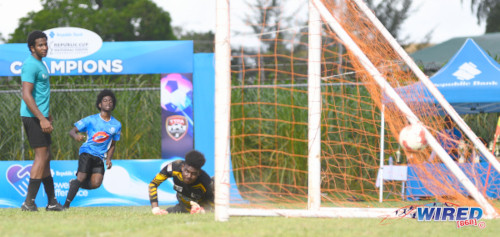 It was a display truly fitting of NYFL champions!
Coach Titre Gibson and the youngsters from the FC Ginga team were singing and dancing to the Uefa Champions League theme song after conquering Cox Coaching School in the Under-13 Final. However, Ginga just about got away by the skin of their teeth as Venezuelan-born attacker Sebastian Sanabria scored a late equalizer in the 60-minute affair, before the East Zone team just bettered Cox CS in a 4-3 penalty shootout triumph.
East Zone Under-20 champs Defence Force didn't quite need penalties to see off QPCC as they got a narrow 2-1 win, but the dreaded lottery was just avoided thanks to a brilliant late save by goalkeeper Xavion Haynes.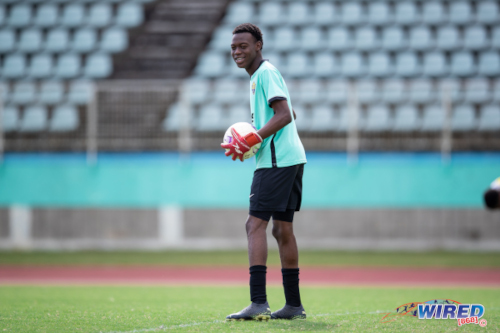 Partly responsible for QPCC's lone item after making a meal of an inswinging corner by QPCC playmaker Aidan De Gannes in the 32nd minute, Haynes atoned in some style in the 88th minute—as he stretched every sinew in his right leg to save an effort from QPCC defender Jesse Hospedales that looked destined to settle in the back of the net.
"It was a tough one against the QPCC outfit," Defence Force coach Stephen "Bison" Williams told Wired868. "I think we made the game tougher for ourselves today by not putting away our chances and not concentrating as much, especially in the defensive third of the game.
"We came out with a victory regardless so thank God for that."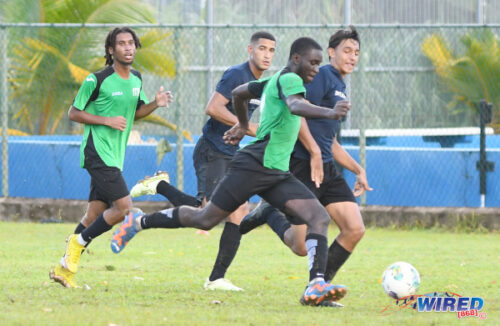 Both Defence Force and QPCC advanced to the Under-20 Final on the back of high-scoring semifinal wins. However, yesterday's final was a cagey outing with neither team trying to play into their opponents' strengths.
And with offensive threats such as 2022 Secondary Schools Football League (SSFL) Intercol winners Michael Chaves and Joshua Mason in the QPCC ranks, alongside Defence Force's NYFL Under-20 MVP Larry Noel, the game's three goals came from the unlikeliest of sources.
Defence Force's opener came in freakish fashion, as QPCC defender Alijah Nunes inadvertently lobbed his own goalie Tyrese Romain in the 22nd minute, with an attempted clearance that went horribly wrong.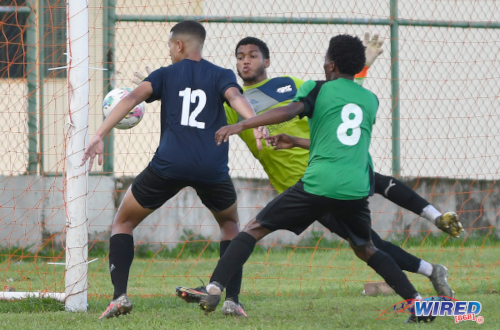 Williams was soon fuming mad at his defence, when National Under-17 midfielder player Armani Rowe nodded home during a scramble in the area after Haynes was almost caught out at his near post by a low De Gannes corner.
But Defence Force regained the lead  the 47th minute through a setpiece routine that they rehearsed that morning, as centre back Kiel Lopez headed home at the near post after a precise delivery by his skipper Tyrell Inniss, who had another solid showing at left back.
Interestingly enough, the trio of Inniss, Lopez and attacker Jaden McKree will swap the Army green for the sky blue of the "Parkites" today, when they suit up for QPCC's senior team in Tier 2 of the Trinidad and Tobago Premier Football League (TTPFL).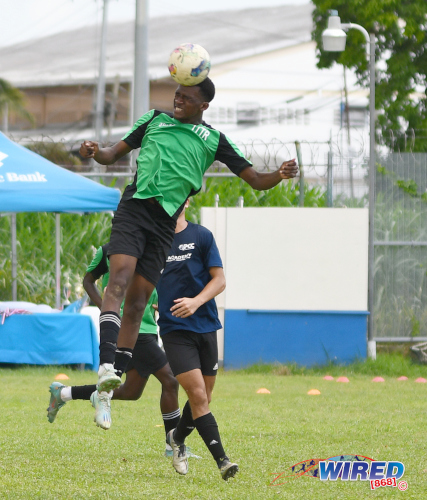 Yesterday though, seeing off the threat of QPCC's Under-20 team was the lone thought occupying the mind of Bison, who serves as manager of the QPCC senior team as well.
"Kiel has been an outstanding performer for us this season," said Williams. "He missed all the opportunities [to score from the set piece] in training but he got the important one. He'll be leaving us to go and represent QPCC in Tier 2 of the TTPFL, so hopefully he scores the winner again."
Yesterday's Under-20 Final scalp meant Williams has now rattled off four straight youth tournament wins under the Defence Force and Soccer Made Simple (SMS) banners.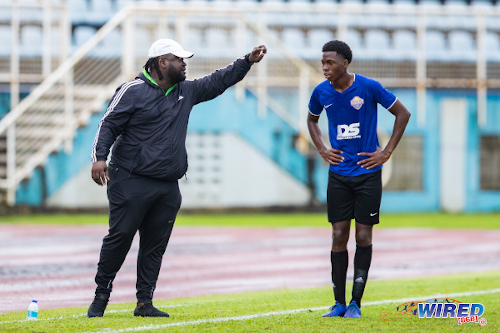 "So far we are four from four at the Under-19 and Under-20 level which is great—I'm really glad for the boys," said Williams, who led SMS to back-to-back titles in the NLCL Community Cup. "Some of them are leaving to go to college and some have left already and are playing in Tier 1 and Tier 2 of the TTPFL."
Flanker Liam Dayal, defender Andre Providence and Noel are heading overseas to attend college. And while Noel didn't feature on the scoresheet yesterday, his double vs a roaring Malick Blue Lions in the semis and countless goals during the season helped Defence Force to the NYFL Under-20 crown.
After a rocky start, Williams credited Republic Bank and Gateway Athletics for their staging of the NYFL tourney.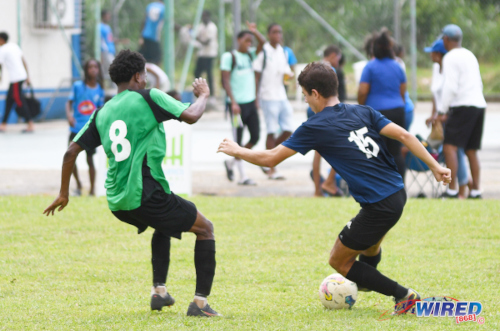 "The tournament had some hiccups, but we the teams, wanted to play football and we tried to make it work," Williams said. "Hopefully, next year it will be much better and much bigger. Kudos to Republic Bank again. Any sponsor or any private entity that is giving back to football, we can't look at that lightly.
"Football is the future for some of these youths—it's the way out."
Salute to Defence Force, Ginga, Pro Series and all the youngsters who brought fans to the edge of their seats in the 2023 NYFL campaign.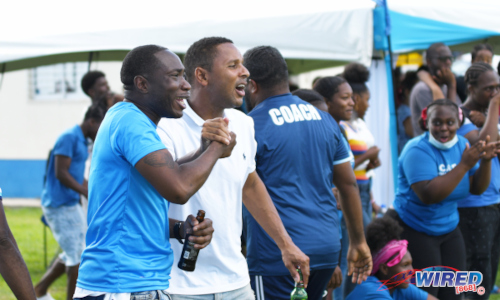 (Teams)
Under-15 Final
Pro Series (4-3-3): 1.Shamael O'Brian (GK); 50.Jonathan Darwent, 35.Xavier Caruth, 21.Daquan Jackman, 37.Ezekiel Bernard; 5.Jalen Hislop, 16.Alejandro Harper, 14.Joshua Miguel; 41.Jasai Theophilus, 11.Jake Barclay, 9.Jonathan Mason.
Substitutes: 10.Kai Williams, 13.Jaseem Celestine, 15.Hasheem Portillo, 30.Ethan St Louis, 40.Neomiah Thompson, 48.Jaeden Samuel, 56.Gervais Frederick.
Coach: Paul Decle
QPCC (4-2-3-1): 1.Nathaniel Peters (GK); 13.Zayden Suite, 3.Shea Dolly, 4.Jediah David, 5.Tommy Conlon; 6.Caden Trestrail, 8.Jalani Ottley; 7.Seth Hadeed, 10.Anthony Mansoor, 11.Nadeem Grant; 9.Philip Nelson.
Substitutes: 12.Elijah Allahar, 14.Keston Richards, 15.Adriel Faure, 16.Ben Harrigin, 17.Edward Boos, 18.Lucas Simon-Thompson, 20.Raheim London.
Coach: Anthony Selby
Referee: N'neeka Harewood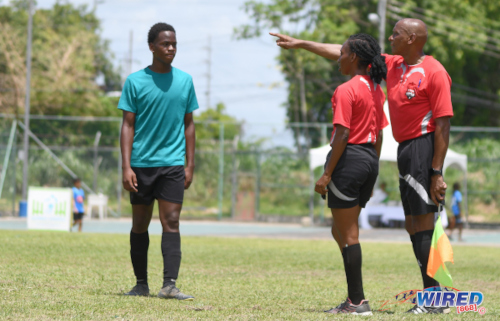 U-17 Final
Pro Series (3-4-3): 1.Shemuel Cassimy (GK); 46.Hasheem Hill, 51.Josante Duncan, 45.Akil Henry; 25.Levi Smith (55.Shem Charles 88), 17.Jedaiah King (29.Josiah Fernandes 89), 6.Tau Lamsee (captain), 57.Shaheim O'Brian (9.Micha'el John 51); 32.Arron Raymond (50.Kerry Baptiste Jr 75), 10.Paul Decle (48.Nieem Taylor 62), 11.Jahaem Bailey (5.Musaddiq Mohammed 83).
Unused substitutes: 41.Sylvon Theophilus (GK), 99.Aidan Browne (GK), 4.Jaquan Aguillera, 22.Amari Dunbar, 49.Michael Luke.
Coach: Kerdyn Moe
Premier Sports Club (4-2-3-1): 57.Emmanuel Thompson (GK); 4.Jahel Lewis (13.Kadir Ali-Mark 45+3), 5.Chaz Forde, 3.Emmanuel Harrington, 2.Elijah George (captain); 18.Jeremiah Joseph, 17.Joshua Friday; 9.Jabari Rodriguez (21.Jeremiah Villafana 59), 10.Zachary Seecharan (6.Quincy Thomas 71), 11.Raheem Nelson; 7.Malachi Webb.
Unused substitutes: 14.Jivan Debiram, 15.Kyle Dhanraj, 16.Jabari Noel, 20.Torres Ramrattansingh, 23.Amare Ryan.
Coach: Sharaz Ali
Referee: Anil Joseph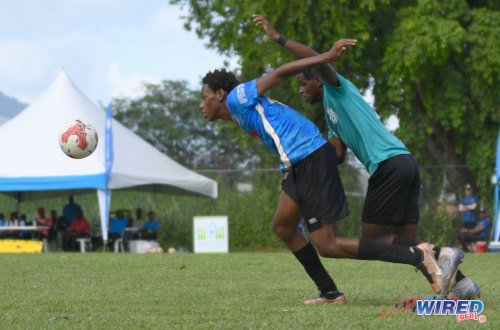 Under-20 Final
Defence Force (4-2-3-1): 40.Xavion Haynes (GK); 16.Alex Piper (29.Josiah Daniel 81), 6.Andre Providence (4.Jeremy Bobb 81), 3.Kiel Lopez, 13.Tyrell Inniss (captain); 2.Jaden Williams, 5.Dexter Croal (20.Liam Dayal 90); 18.Jaden McKree (21.Malachai Daniel 65), 24.Jeremiah Frank-Williams (23.Terron Miller 59), 8.Jaheim Granderson (12.Jahronite Pierre 90); 9.Larry Noel.
Unused substitutes: 1.Isaiah Diaz (GK), 25.Daniel Ramcharita.
Coach: Stephen Williams
QPCC (4-3-3): 1.Tyrese Romain (GK); 13.Jesse Hospedales (captain), 5.Elijah Camacho, 20.Alijah Nunes, 12.Scott Patience; 8.Aalon Wilson-Wright, 10.Aidan De Gannes, 6.Armani Rowe (16.Aydan Williams 77); 7.Ishmael Lewis (18.Micah Nelson 66), 15.Michael Chaves, 17.Joshua Mason.
Unused substitutes: 11.Joshua Miller.
Coach: Colm De Freitas
Referee: Colin Smith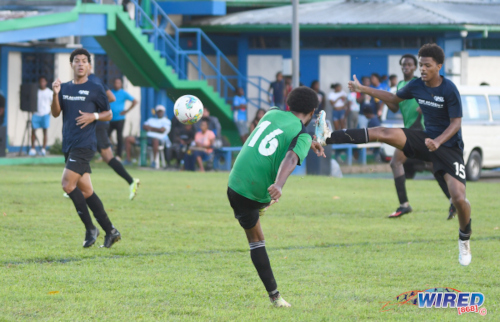 Republic Cup National Youth Football League Results
(Saturday 10 June)
Under-13 Final
FC Ginga 1 (Sebastian Sanabria 60+3), Cox Coaching School 1 (Adasa Richardson 24);
*—FC Ginga won 4-3 on penalty kicks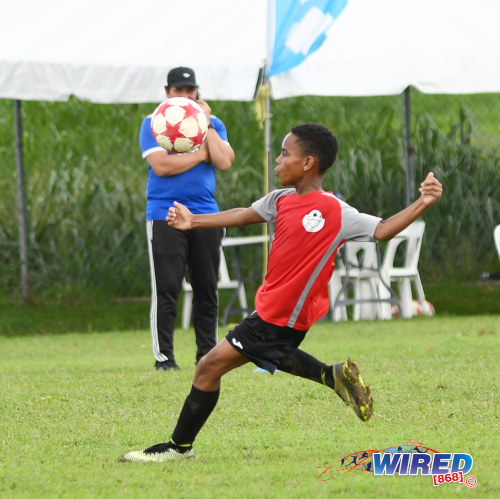 Under-15 Final
Pro Series 0, QPCC 0
*—Pro Series won 5-4 on penalty kicks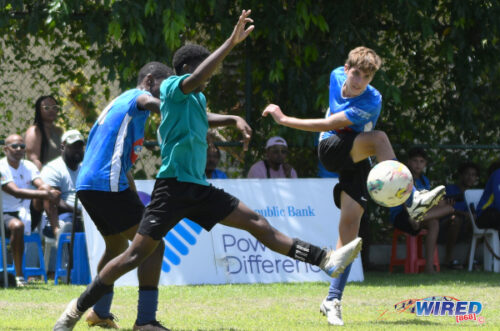 Under-17 Final
Pro Series 6 (Shaheim O'Brian 9, Jedaiah King 51, 60, Nieem Taylor 70, Tau Lamsee 73 pen, Micha'el John 85), Premier SC 2 (Malachi Webb 14, 41 pen);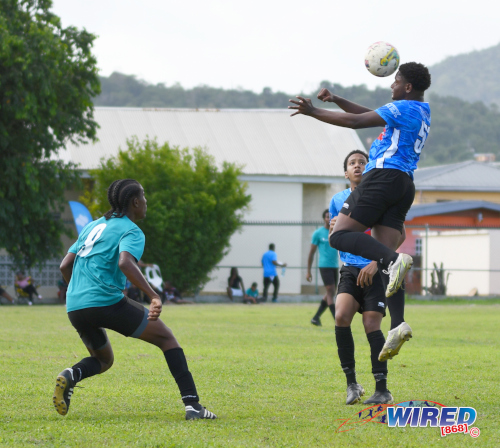 Under-20 Final
Defence Force 2 (Alijah Nunes own goal 22, Kiel Lopez 47), QPCC 1 (Armani Rowe 32);
(All games were played at the Republic Bank Sports Club, Barataria.)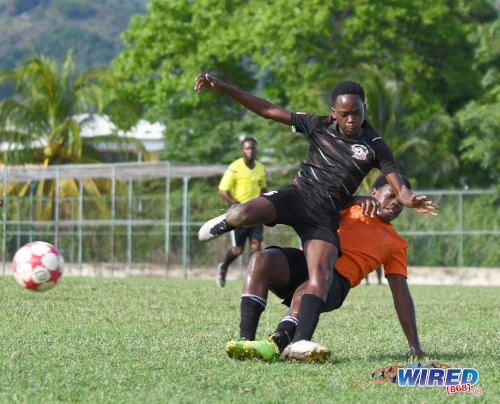 NYFL Under-13 MVP: Adasa Richardson (Cox Coaching School)
NYFL Under-15 MVP: Jonathan Mason (Pro Series)
NYFL Under-17 MVP: Malachi Webb (Premier SC)
NYFL Under-20 MVP: Larry Noel (Defence Force)