Within a few days of dismantling his family home across the street, Bob began rebuilding. First was the painstaking task of cutting down the two prodigious trees that had generously donated their fruit for decades.
With ropes and a saw—the power generated by his hands—the branches came down one by one, the process fascinating the neighbourhood's young boys. Trees gone, for the first time I could see a whole swathe of the Northern Range in the distance, and the back of their neighbour's house.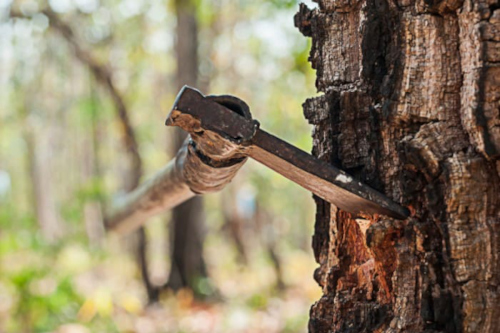 The construction has reached the point where the new foundation is taking shape, with concrete and steel posts rising like a phoenix.
Knowing that they are right across the road, Bob and his helper, quietly going about their business, emboldened me. I've been driving out of my yard and leaving my gate sprawled open when I go to run errands.
The other day, as I was driving in, I noticed my garden hose rolled up, still attached to the outdoor tap. I don't wrap up my hose anymore. It is so old and given to kinks, and if I am honest, a bit unwieldy for me to manage these days, so it seems easier to just leave it spread-eagled until I am ready to haul it around the yard.
So, seeing it wrapped like that caught my attention. I idly wondered if Nicholas, who cuts the grass, had passed by to check its state and had done so out of his own orderly sense, but he said he hadn't, and suggested what I had suspected—that it might have been a piper or someone walking by and seeing it as an easy haul. That was how I had lost a fairly new hose and this one had been its replacement.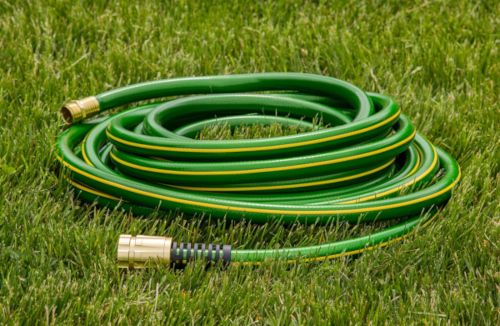 I didn't pay it much mind. I knew I had been careless and had been too confident that the presence of the men across the road would deter any potential hose hustlers. I figure that when they realised the decrepit state of the poor hose, they abandoned it. I have to abandon it too because by wrapping it with all its kinks, the intruder sped up the bust-up, and now there are multiple gashes on its skin.
I didn't feel threatened by this intrusion, but it made me think of past experiences in the various places I have lived which left me feeling horribly violated.
I've woken up to find jewelry stolen from the dresser right at the foot of my bed, while I slept. One time, the burglar emptied my daughter's school bag and placed her books on the floor to use her knapsack to stuff it with things.
In another house, the thief had left a pile of excrement on the back step, covered by her toddler's clothes which had been hanging on the line nearby to dry. Those are only a couple of several ­episodes of stealthy theft; I won't go into the actually violent confrontations I've faced.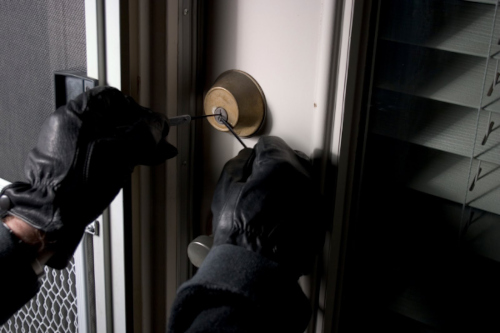 It's just to say I know the terror and helplessness and trauma it leaves ­behind.
The current climate dredges up painful memories for people, instils a brooding anxiety about safety and leaves people skittish while going about their daily affairs. Everyone is feeling the impact of violent crime and typically, the primal instincts for vengeance and more violence pull out bilious responses.
It still disgusts me that at a time like this, politicians see only opportunities to leverage their standings by pandering to the gut reactions.
I do not believe any different ­actions were proposed at the recent two-day regional meeting on crime, except for the call by the Barbados Prime Minister, Mia Mottley, for combining resources in policing and judicial services, and her insistence on calling out the USA for supplying arms to the Caribbean. Maybe there was value in the gathering itself signalling regional concern.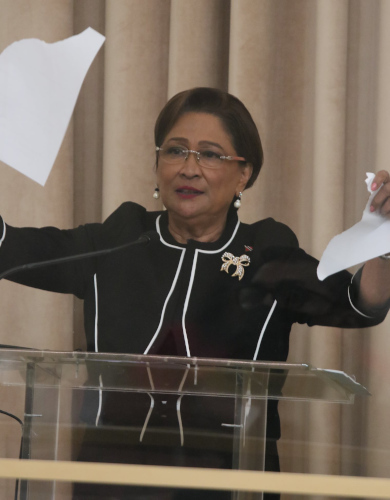 T&T's Opposition Leader, Kamla Persad-Bissessar, denounced the meeting, saying that T&T's Prime Minister, Keith Rowley, was spending two full days "talking foolishness". Yet she went ahead and issued a statement that said, "We must set aside vanity and egotism—too many lives are being lost and destroyed. We must work together."
Like the former commissioner of police, Gary Griffith, she believes she has the answers to ending the siege.
She has come up with a slogan to tackle the home invasions, "Stand your ground", which sounds ominously to me like a call to arms at its most extreme. That the law holds that a person has the right to use reasonable force to repel a home invasion is apparently too soppy for her taste—she calls that doing nothing.
Under attack, do you think anybody stops to think about the legal implications of defending themselves?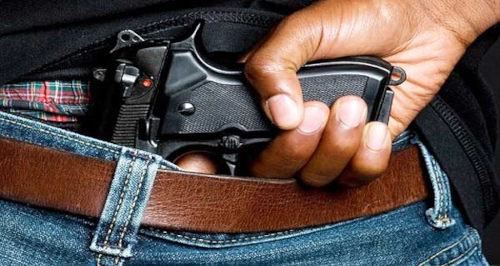 Clearly, these people proposing solutions have never experienced what the families on the ground have. But it sounds like something bold and innovative, doesn't it?
If I had driven in and found the culprit wrapped around my hose, should I have killed him?
The current situation did not emerge out of the failings of any single political administration—they have all failed. It is complex, and requires long-term intelligence, but none have chosen to invest in it. Not the PNM, not the UNC, not Gary Griffith.
We cannot afford their bluster and pettiness, or the shameless stupidity from National Security Minister Fitzgerald Hinds. Stop assaulting us with it.