The East Zone Under-15 division of the 2023 Republic Cup National Youth Football League (NYFL) is getting quite sticky at the top, with four teams jockeying for the top three qualifying spots on offer for the quarterfinal stage.
On Sunday at the Eddie Hart Grounds in Tacarigua, Arima Semi-Pro Blasters (10 points), Eastern Jaguars and FC Ginga (both nine points) maintained their unbeaten records in the 2023 NYFL campaign, with Ginga being the flavour of the day—as they romped to a 6-nil win over the Hayden Tinto Football Academy and walked away with a third straight shutout victory in the process.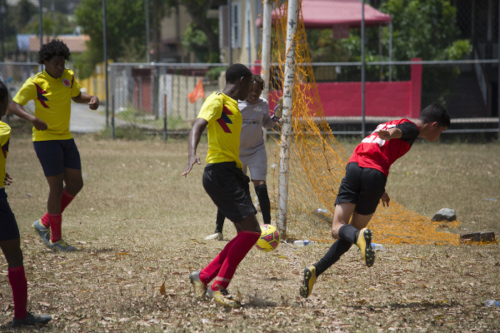 Meantime, Arima Araucans Academy, who have also amassed nine points thus far, remained among the top four teams despite falling 1-nil to Blasters in the Arima derby, which brought the curtain down on another hot and dusty day in the NYFL.
Pronounced "Jing-ga" and not "Gin-jah" according to a few onlookers, the free-flowing Ginga team brought a heat that was too much for Tinto's Academy to handle, scoring their sixth and final goal mere seconds into the second half of the 70-minute affair as Keon Kissoon tucked home easily on a breakaway to beat goalie Rishaad Marcel.
"I feeling sorry for small man," said one female spectator, in reference to Marcel, as she shook her head in disbelief while chopping it up with another fan. "The boy not getting no help in the back there."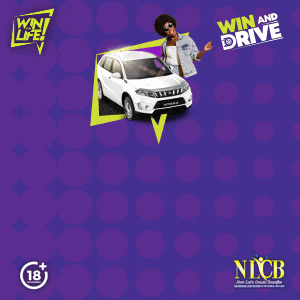 Perhaps the Ginga players heard the worried spectator, as they took their feet off the pedal for the remainder of the second half and causally strolled around the Eddie Hart facility.
Burly Tinto Academy defender Jermel McSween's attempts to plow through the Ginga midfield like a Mack Truck, with very little success, was about as exciting as it got for the overwhelmed outfit.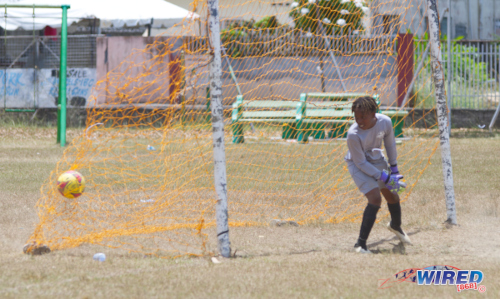 And, in response, McSween got only an earful from tireless frontman Shannon Metiver and a glum look from coach and former Soca Warriors standout Hayden Tinto.
Metiver, Tinto and the unidentified female fan weren't the only ones turning up their faces at the second half action though, as Ginga coach Stefon Pierre scolded his players for the lack of intent and desire shown in the second half.
"It was a good performance from my guys, I'm just concerned with their level in the position they're at," Pierre told Wired868. "The guys came out with the right energy and the right attitude. We pulled away very early in the game and that caused us to be complacent and a little casual on the ball.
"They dropped their level and that's not good for their development and going forward as a team."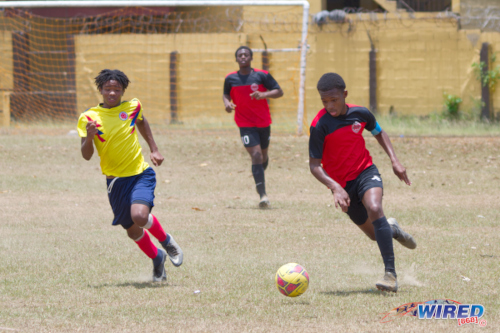 For what it's worth, Ginga set the bar extremely high in the first half, with both Elisha Neils and Ky-mani Hazel registering braces, while midfielder Darren De Four burst the old onion bag with a right-footed cannon that left a sprawling Marcel with nothing but a prayer.
Five "Hail Marys" couldn't stop the hit from De Four, as he arrowed his 25-yard shot just under the bar following a squared pass from the left by his Arima North Secondary schoolmate Criston "CJ" Gomez.

Tinto may have been fuming on the outside as his team fell two goals behind after just 10 minutes, but the quality of De Four's strike must have left him smiling on the inside.
For Pierre, there was little to smile about despite another dominant NYFL showing, which sees his team with 15 goals for and none against through three East Zone Under-15 matches.
"We definitely told them about keeping their momentum up and trying to keep the ball and move much faster," Pierre said. "It was a lot of individual football. As youths, they definitely want to score. As the scoreline reflects, everybody wanted to score and have an opportunity to score.
"The game plan wasn't really their concern and mostly my concern."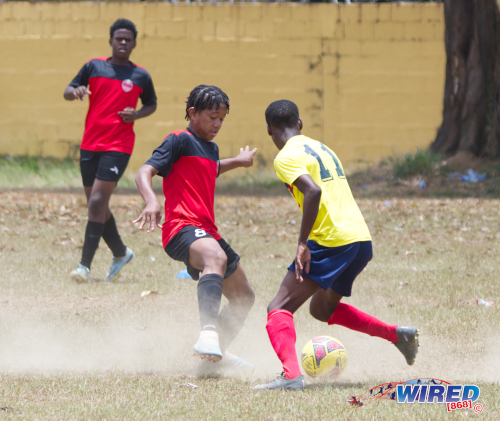 As they leapfrogged the Araucans into second spot ahead of their big clash this coming Sunday, Pierre said he is more interested in development than the points table.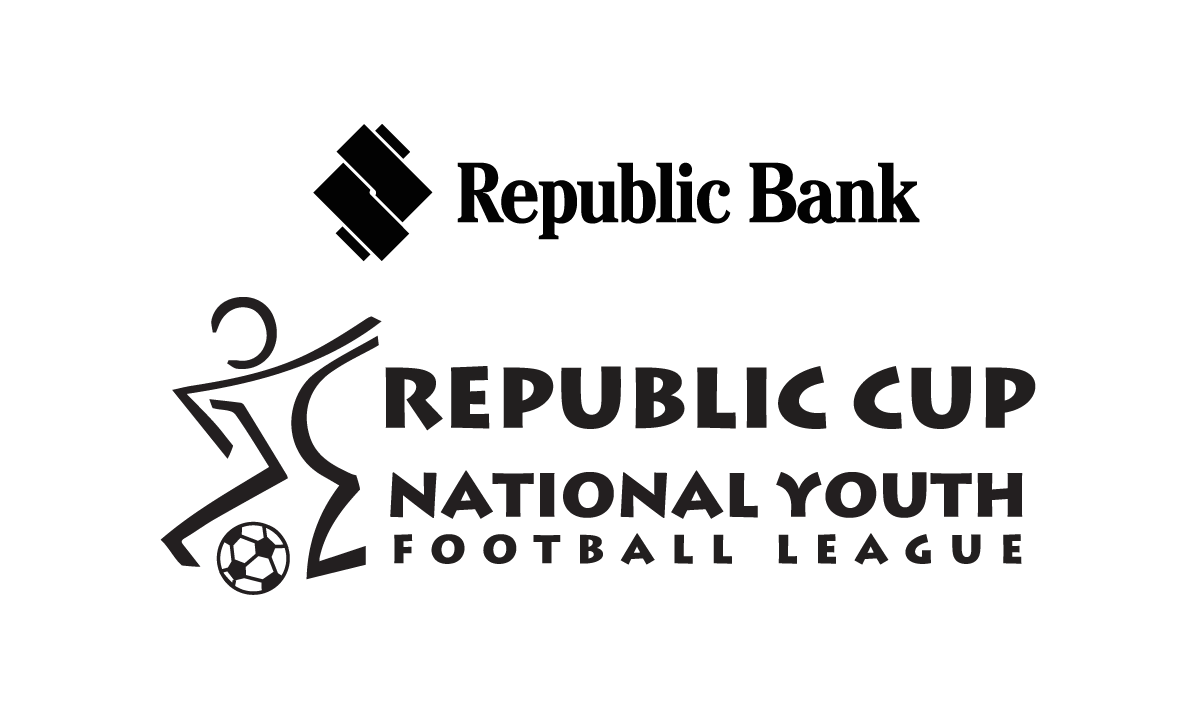 "Yes, everyone would like to win the competition but they still also have to play on the day and execute what we have been practicing," Pierre said. "Whoever is on top of the table isn't really my concern. I don't really take much note of who's on top of the table."
In case any of Wired868's avid readers are keeping tabs, Blasters have now jumped to the top of the table with their slender win over the Araucans, and the table-toppers will meet the stern test of Eastern Jaguars in another "Super Sunday" clash of the top four teams this weekend.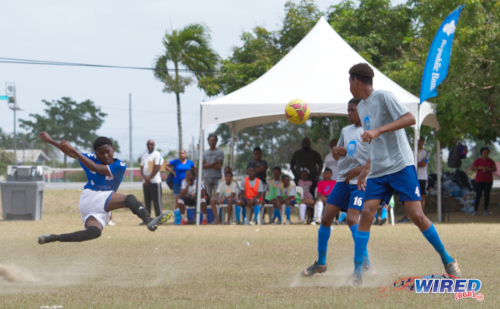 In Sunday's tough battle with the Araucans—led by Arima North coach Wayne Sheppard—a well-worked short corner, coupled with some dodgy defending and goalkeeping by the Araucans did the trick for Blasters.
"This is a very tough group," said Blasters coach Andre Morales, who recently led World Class Soccer Clinic to the final of the 20222/23 Next Level Consulting Ltd (NLCL) Under-19 Community Cup. "I was aware of what the Arima team could do. I've seen them play and they have the ability to put the ball on the ground and move it around."
After Blasters central defender Marcell Valentine outfoxed 12-year-old Araucans goalkeeper Alex Alexander from the aforementioned short corner in just the seventh minute, Morales got a firsthand experience of the Araucans' passing game.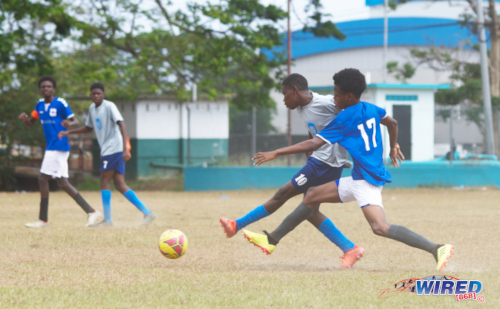 Inch by inch, the Araucans tried to claw their way back into the contest in the second half with lanky 14-year-old midfielder McKelson Lewis pulling the strings in the middle of the park.
"Once you don't score them chances, the opposition will try to capitalize and I think that's what went on in the first half—when they realized that we weren't capitalizing, they came out in the second half biting," said Morales, whose Blasters team failed to further punish a shaky showing by Alexander in the opening 35 minutes—with the young goalkeeper appearing more inclined to trust his feet than his gloves.
"The guys were complaining that they have to slide from one side to the next a lot quicker than usual. I explained to them that the reason for that is because the [Arima Araucans] team could really play."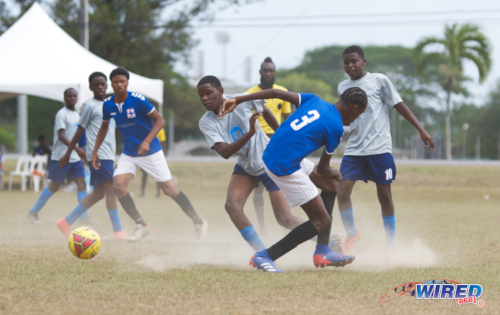 Morales' heart must have been in his mouth in the second half after Blasters' heavyset goalkeeper John-Paul Aaron, who answers to the sobriquet "Biggs", inadvertently banged a goal kick off of Araucans forward Jeremiah Allert in the 44th minute.
The Blasters also survived a reckless clearance by captain Stephen Ollivierie, as Araucans substitute Aaron Gibbs spliced his right-footed response well wide in the 55th minute.
But the otherwise steady Ollivierie, accompanied by the calm and assured figure of Valentine—who turned out as a striker for St Augustine Secondary in last year's Secondary Schools Football League (SSFL)—had enough about them to keep a clean sheet.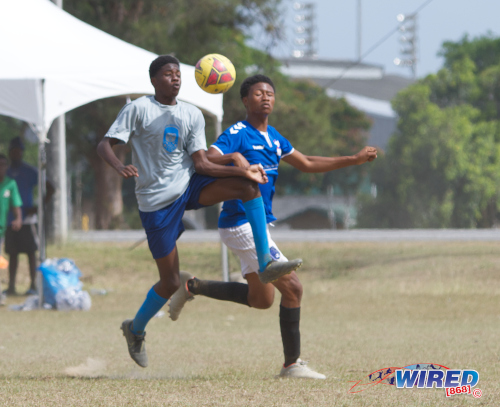 "In order to qualify, we need to focus on these types of games when we're playing the teams to the top," Morales said. "We need to get three points when we are playing the top four or five in the group. It's not that we are the only team that wants to advance but we want to keep them down also.
"Once we keep doing that, we should qualify."
The three points were assured when Lewis bent a dangerous free kick just over Aaron's bar, near the end of regulation time.
It was a tough pill to swallow for the Araucans. But Sheppard also insisted that development and growth was the overall goal for his players, who are now wetting their feet in the football arena for the most part.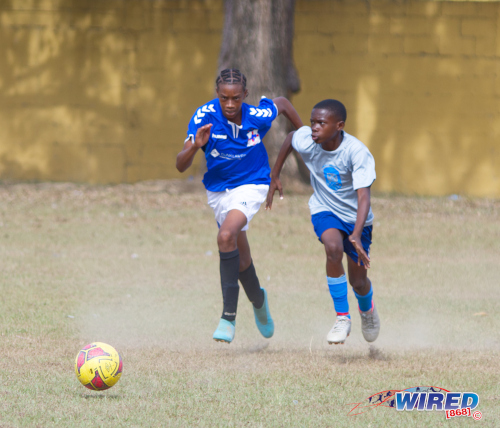 "I didn't come into this [tournament] with any visions or thoughts about progressing, I suppose the other members of the administration and technical staff will talk about that," Sheppard told Wired868, indicating that some of the better players in the Arima North program opted to suit up with Ginga and a few other teams in the NYFL. "This is primarily for our schoolboys who haven't had clubs before and players who are now starting to play the game 11 v 11 for the first time.
"So, for me, this was just for them to get the reality of playing and implementing the technical and tactical work that we did and seeing that translated into a game. I did not see much of it today though."
After floating on cloud nine with three consecutive wins, Sheppard said his charges were brought back down to earth.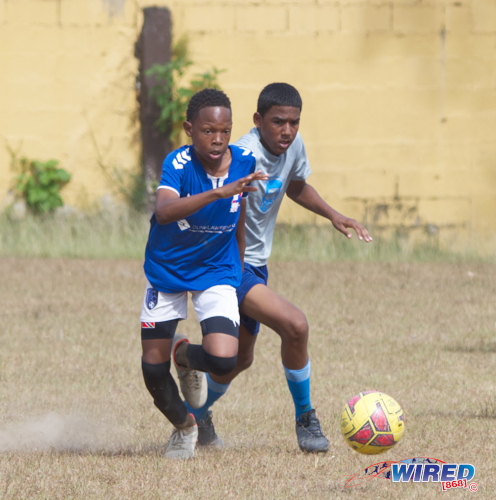 "If we get victories and we advance that's great," Sheppard continued. "If we don't but I see the improvement, I'm fine with that as well."
Blasters may want to tidy up their own deficiencies ahead of their Eastern Jaguars test on the weekend, as the Jason Spence-coached team shot out of the blocks against San Juan Jabloteh team en route to a facile 3-1 win in the first of three matches played on the day in Tacarigua.
Pint-sized Jaguars flanker Giovanni Garcia was a thorn in Jabloteh's side for most of the first half, as he tricked his way into the area countless times to get on to his favoured left boot.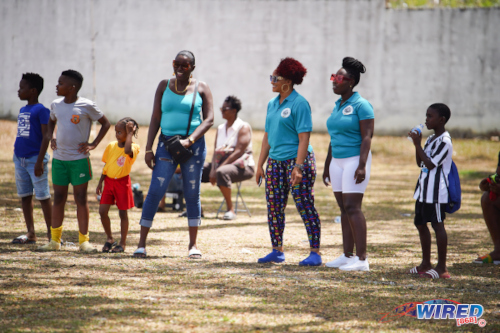 After 35 minutes of torture, it was clear that the Jabloteh defence had seen enough of Garcia, with the little pocket dynamite credited for his service from a wicked inswinging corner in the 19th minute, as well as a sweetly dispatched penalty just three minutes later.
Garcia wasn't the only Jaguars player who caught the eye though. The robust Josiah Thompson operated like a ball magnet in central midfield, as he won back possession seamlessly and initiated counter-attacks with calm and precise passing.
And at the back, captain Xavier Maricheau, who could probably double as a heavyweight boxer or wrestler, was business-like in his approach and had way too much brawn and height to be worried by the Jabloteh attackers.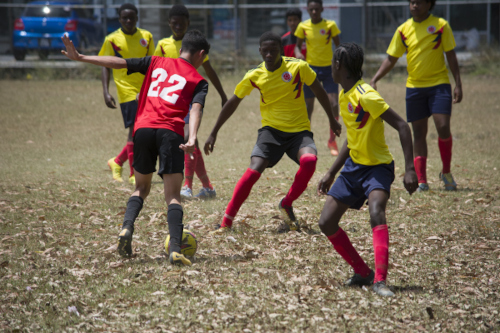 Meantime, striker Malachi Johnson was a tireless worker up top for the Jaguars, as he pressed and harried the Jabloteh defence all game. Johnson may not be blessed with blistering pace, but his tenacity and persistence created two of Jaguars' goals on the day.
The relentless forward won the Jaguars' first half penalty out of nothing, as he pressed defender Michael Greenaway into an error before being unceremoniously hauled to the ground after winning possession.
And a few minutes from full-time, Johnson's never-say-die drive was on display again, as he fought his way through as many as three Jabloteh defenders before finishing past custodian Michah Greenaway.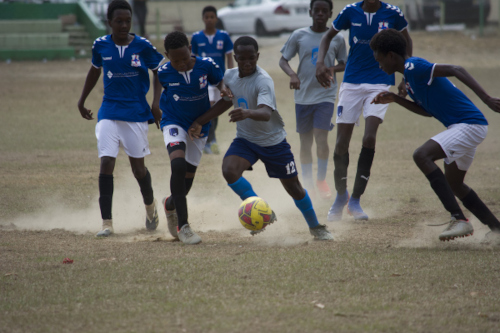 It was reminiscent of Argentina forward Julian Alvarez's solo goal against Croatia in the Qatar 2022 World Cup semifinals, as the ball would not escape Johnson's spell despite a couple of awkward bounces.
With fixtures against table-toppers Blasters, Araucans and the flavourful and free-scoring Ginga to come in consecutive match days, Johnson and Spence would soon find out if their NYFL fate would mirror that of the world-conquering Argentinian team in Qatar.
(Teams)
Eastern Jaguars: 1.Jadon Pollard (GK), 3.Zayden Robinson, 4.Xavier Maricheau (captain), 6.Ricaldo James, 7.Giovanni Garcia, 9.Amani Lopez, 10.Michael Jerome, 11.Joshua Eastman, 13.Zion Jordan, 15.Josiah Thompson, 17.Dejon Martinez,
Substitutes: 2.Akeem Abdallah, 5.Kaden Khan, 8.Caleb Suchit, 12.Benjamin Orosco, 14.Dante De Verteuil, 16.Malachi Johnson, 18.Donte Crichlow.
Coach: Jason Spence
San Juan Jabloteh: 22.Michah Greenaway (GK), 2.Shawn Nelson, 8.Laquan McMillan, 9.Michael Greenaway, 12.Isiah Audin (captain), 13.Jerkeem Moses, 14.Aidan Bleasdell, 16.Jeremiah Bowen, 19.Isiah Cuffie, 23.Thuy Sheppard, 25.Shamari Downes.
Substitute: 18.Giovanni Millar.
Coach: Marlon Wiltshire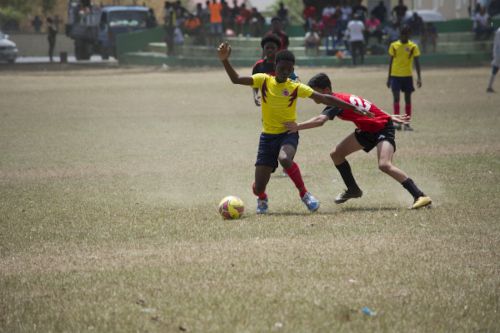 FC Ginga: 5.Jordon Bullen, 6.Elijah Edwards, 7.Elijah Diaz, 8.Darren De Four, 9.Ky-Mani Hazel, 10.Criston Gomez, 11.Elisha Neils, 16.Ihsan Miller, 19.Jamari Barker, 20.Marcell Phillip, 22.Orlean Carrion Herrera.
Substitutes: 1.Joshua Marshall (GK), 3.Jareem Jackson, 12.Andrew Maharaj, 14.Lashawn Prass, 15.Keon Kissoon, 17.Zwade Alleyne, 23.Anthony Lewis.
Coach: Stefon Pierre
Hayden Tinto Academy: 1.Rishaad Marcel (GK), 2.Akeel Benjamin, 6.Michai Hayes, 9.Shannon Metiver, 10.Kersean Spence, 11.Jamalie Clarke, 15.Joaquin Joseph, 16.Kyle Wiliams, 18.Simeon Joseph, 19.Jermel McSween, 21.Giovanni Green.
Substitutes: 3.Chad Washington, 4.Giovanni Joseph, 20.Akil Nesbitte.
Coach: Hayden Tinto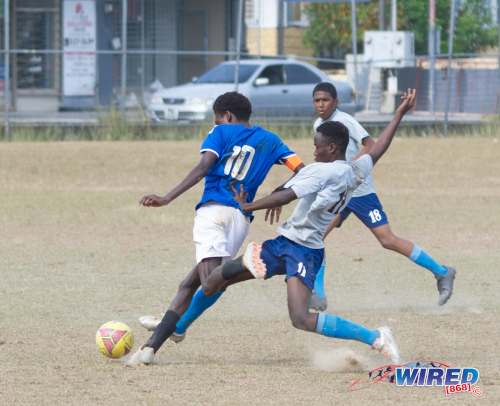 Arima Semi-Pro Blasters: 1.John-Paul Aaron (GK), 2.Hasani Modeste, 3.Jimel Jerome, 4.Khamal Cromwell, 6.Cory Marryshow, 7.Jalani Valentine, 8.Marcell Valentine, 10.Stephen Ollivierie (captain), 11.Kymani Alexander, 15.Tyrell Lashley, 17.Kenai Richardson.
Substitutes: 9.Javon Alleyne, 12.Quinea Shepard, 13.Mikhai Soo Chan, 16.Terrell Noray, 18.Jose Felix.
Coach: Andre Morales
Arima Araucans Academy: 1.Alex Alexander (GK), 16.Jariah Charles, 4.Joel Spencer, 5.Kwesi Duberry, 19.O'Neil Dyer, 6.McKelson Lewis, 8.Jeremiah George (captain), 10.Jeremiah Charles, 11.Daniel Lewis, 7.Jeremiah Allert, 12.Kellon John.
Substitutes: 21.Nyrone Edwards (GK), 2.Isaac Francis, 3.Ethan Bertete, 9.Kafense McKell, 15.Ilano Knights, 17.Nathanael Baptiste, 18.Aaron Gibbs.
Coach: Wayne Sheppard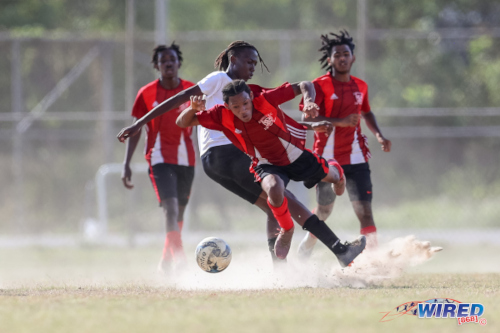 Republic Cup NYFL results
Central Zone
Under-13
(Saturday 15 April)
Gasparillo Youths 4, Talent & Energy FC 0
Under-17
(Saturday 15 April)
Talent & Energy FC 2, Kamillionaire FC 3
Under-20
(Sunday 16 April)
Evolution FC 1, Gasparillo Youths 0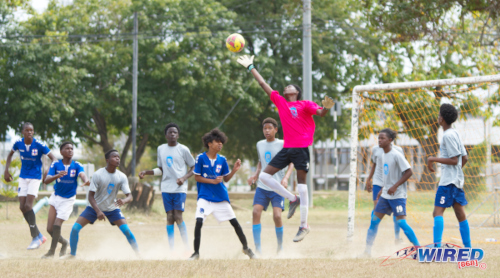 East Zone
Under-13
(Saturday 15 April)
Elton John YA 7, Hillview College FC 0
FC Ginga 4 (Jair Nanton [2], Jeremai Nanton, Orlean Carrion Herrera), Trincity Nationals 1 (Sebastián Matute)
Ultimate Unison 1, San Juan Jabloteh 0
Under-15
(Sunday 16 April)
Hillview College FA, Seed of Greatness – Match Did Not Play
San Juan Jabloteh 1 (Aidan Bleasdell 42), Eastern Jaguars 3 (Giovanni Garcia 19, 22 pen, Malachi Johnson 67) at Eddie Hart Grounds;
Hayden Tinto FA 0, FC Ginga 6 (Elisha Neils 6, 18, Darren De Four 10, Ky-Mani Hazel 26, 30, Keon Kissoon 36) at Eddie Hart Grounds;
Arima Araucans Academy 0, Arima Semi-Pro Blasters 1 (Marcell Valentine 7) at Eddie Hart Grounds;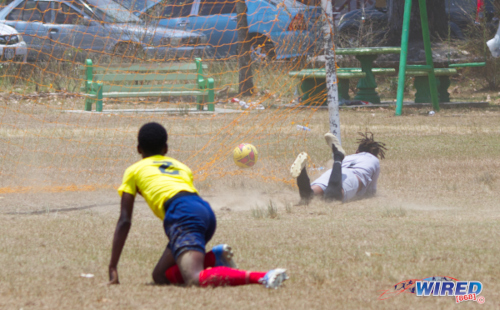 Under-17
(Saturday 15 April)
Athletic International Academy 1 (Tristan Gomez), Elton John YA 1
FC Santa Rosa 1 (Keslon Pierre), Hillview College FA 0
Eastern Jaguars 6 (Kyle Moreno [3], Naeem Whiskey [2], Jehrell Ignatius), Ultimate Unisons 1
Hayden Tinto FA 5, San Juan Jabloteh 3
Beatnix FC 1, FC Ginga 0
Arima Semi-Pro Blasters 2 (Kymani John, Nkosi Fuentes), Trincity Nationals 1 (Khaleem Prince)
Under-20
(Sunday 16 April)
Trincity Nationals 0, Cooper's Coaching Academy 0
FC Ginga 0, San Juan Jabloteh 0
Defence Force 2 (Tyrell Inniss, Kiel Lopez), Athletic International Academy 0
Malabar Young Stars 7 (Jeremiah Williams [2], Ja-Shawn Thomas, Anthony Wells, Josiah Shade, Nyron Dyer, Tyler Ayers), Maracas United FC 0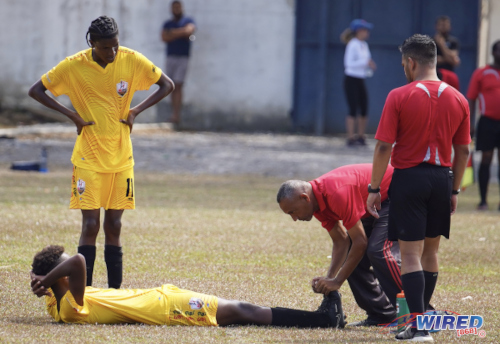 Eastern Counties Zone
Under-20
(Sunday 16 April)
Eastern County 3, Seed of Greatness 1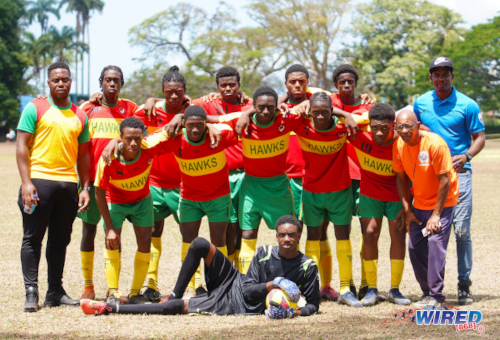 North Zone
Under-13
(Saturday 15 April)
Pro Series 2 (Israel Best, Kaleb Gocking), IATF Academy 0
Santa Cruz FA 2, Academia De Futbol Excelencia 0
Cardinals Football Academy 2 (Deron Blackman, Kayden Moraldo), QPCC FC 0
Under-15
(Sunday 16 April)
Pro Series 1 (Josante Duncan), Trendsetter Hawks 0
AC Port of Spain 1, Cardinals Football Academy 1 (Zachery Dickson)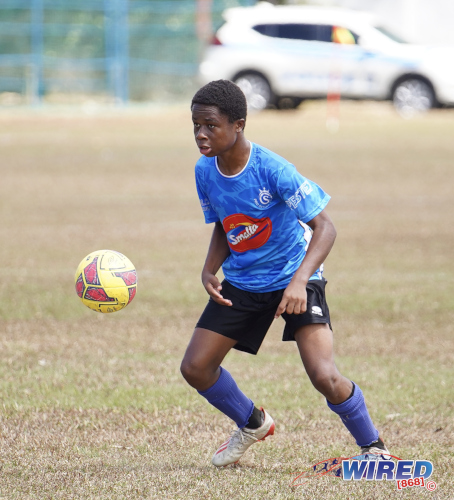 Under-17
(Saturday 15 April)
Pro Series 3 (Musaddiq Mohammed [2], Josante Duncan), Boyce Sports Coaching School 1
Trendsetter Hawks 3, Santa Cruz FA 0
*—Hawks awarded win by default
Under-20
(Sunday 16 April)
Malick Blue Lions 2, Santa Cruz FA 1
QPCC FC 5 (Michael Chaves [3], Joshua Mason [2]), Boyce Sports Coaching School 0
Trendsetter Hawks 8 (Jusiah Isaac [4], Andell Fraser [3], Zion Harley), Seekers FC 0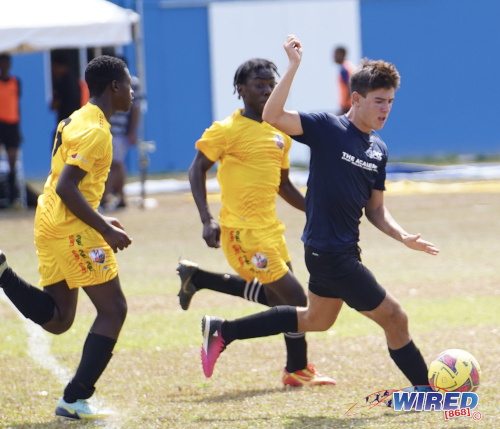 South Zone
Under-13
(Saturday 15 April)
GDD Generation Next Academy 4, San Fernando Academy 0
Union Hall FC 2, Point Fortin YA 1
Under-15
(Sunday 16 April)
Ste Madeleine Strikers 2 (Josiah Williams [2]), Smart Football Academy 1
San Fernando Academy 1, South Stars Sports 1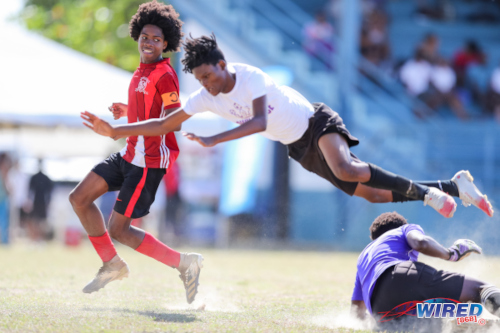 Under-17
(Saturday 15 April)
Point Fortin YA 5, Union Hall FC 2
Club Sando 3, San Fernando Academy 1
Under-20
(Sunday 16 April)
San Fernando Academy 1, Premier Sports Club 0
Amplia Pitchmen 3, South Stars Sports 0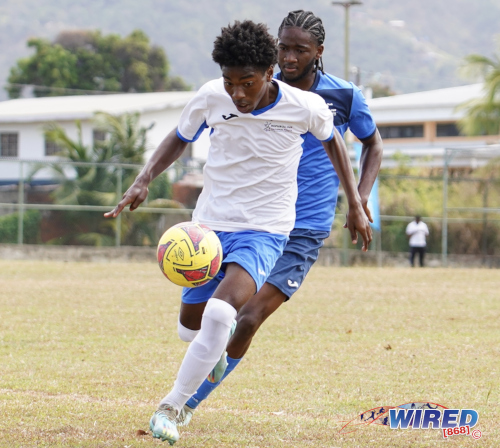 Tobago Zone
Under-13
(Saturday 15 April)
Brother Ry's FA 15, Georgia FC 0
Roxborough Lakers 5, Lambeau FC 4
Jaric Titans 11, St Clair Coaching School 2
Under-15
(Sunday 16 April)
Ball Blasters YA 8 (Daevion Maxime [3], Jediael Marcelle [2], Ackim Duncan, Khefri Mohammed, Jermaine Morgan), TJ Soccer School 0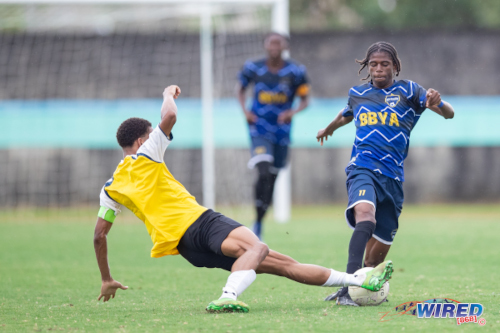 Under-17
(Saturday 15 April)
Ball Blasters YA 3 (Kaieem Lewis [2], Israel Trim), Speyside 1
Brother Ry's FA 3, Bethel United 0
*—Brother Ry's FA awarded win by default
Under-20
(Sunday 16 April)
Carnbee Mt Pleasant 2, Speyside 0
Roxborough Lakers 3, Georgia FC 2