Trinidad and Tobago are through to the knockout stages of the 2023 Concacaf Under-17 Championship but coach Shawn Cooper will not want to dwell on how they got there.
Having tussled with Canada and the United States in their opening two Group F matches, Soca Warriors supporters would have hoped for a less anxious time against Barbados at the Estadio Pensativo in Antigua, Guatemala this evening.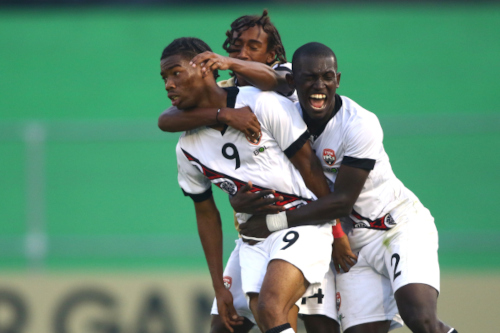 Instead, Trinidad and Tobago trailed for close to an hour and needed a late goal by attacker Lindell Sween to hold Barbados 1-1 and sneak into the next round of competition with a solitary point. The teenagers face El Salvador next at the same venue from 7pm on Sunday.
There was never going to be much expectation of the boys at the knockout stage of the tournament. Yet, even with our minimal target now met, it was hard not to feel disappointed—as the boys in red, white and black struggled to assert themselves in a scrappy affair in Guatemala.
Again, Cooper's team did their best work in the second half and, in the end, just about deserved the  outcome.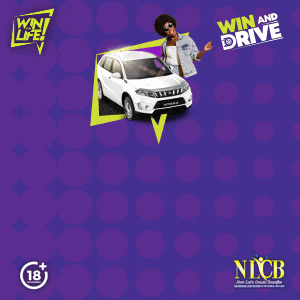 It might have easily gone wrong though.
Cooper made four changes to his starting team today. Right back Rio Cardines returned from suspension while central defender Jaden Williams shook off a knee injury to feature and the United Staes-based duo of Jeremiah Cateau and Dominic Wilson also got the nod.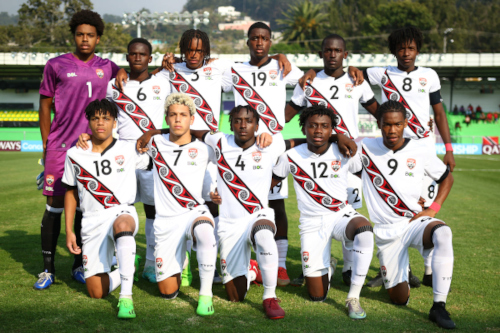 Out were left back Samuel Duncan, midfielder Tau Lamsee, attacker Michael Chaves, and, intriguingly, flanker Derrel "Zoom Zoom" Garcia—who scored a superb volley against USA.
With no mid-tournament press conferences, it can be difficult to ascertain the thinking behind Cooper's changes. But, with three games in five days, it might have been a case of needing fresh legs.
There was another surprise in how Cardines, a right back for the Crystal Palace Under-18 Team, was utilised, as he started in Garcia's vacated role as an attacking right side midfielder.
As it turns out, Cardines is handy going forward too as he was Trinidad and Tobago's most lively offensive player for the first half—whether on the ball or from set pieces.
The young Warriors should have opened the scoring in the 18th minute, when left back Lyshaun Morris, unmarked in the Barbados area, mistimed his jump off a Cardines free kick.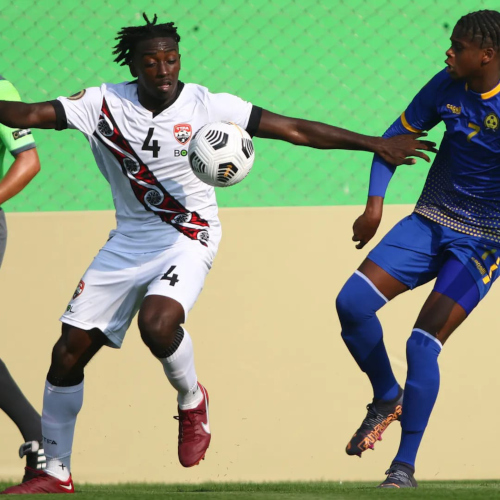 But the game was stretched and Trinidad and Tobago's passing was woefully wayward, which meant Cooper's troops were always going to be vulnerable in transition.
The first scare came in the 27th minute when goalkeeper Ailan Panton made a fine save with his left boot to deny Barbados flanker Shamari Harewood who was clean through on goal.
At the other end, Cardines tested Barbados goalkeeper Jireh Malcolm with a low left footed attempt in the 35th minute, and Malcolm would have been relieved at the quick reaction from his captain and central defender, Warren Trotman, which denied Sween a chance at the rebound.
In a wide open contest, Barbados were up next and Harewood made his next chance count as he danced around Wilson before beating Panton with a left footed shot that skimmed off the surface.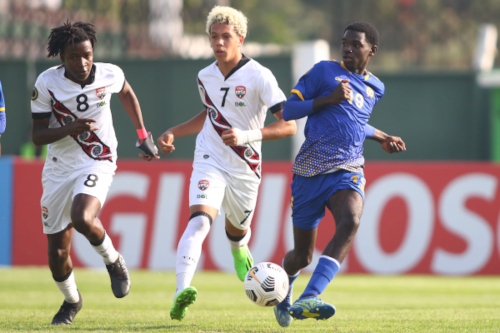 It was Barbados' first goal of the tournament and, remarkably, they might have had a second before the interval.
This time, Harewood turned provider as he spun around Morris in the Trinidad and Tobago box before teeing up midfielder Kairos Greaves—only for the latter teenager to blast towards the heavens.
Cooper's cloudy face at the halftime whistle gave some inkling of the tone for his mid-game chat and, again, the Warriors were an improved side after the break.
Sween nearly forced an own goal off opposing defender Ajani Banton with a low cross in the 56th minute. And, a minute later, he split the opposing defence with a threaded pass for Wilson who was denied by a perceptive Trotman.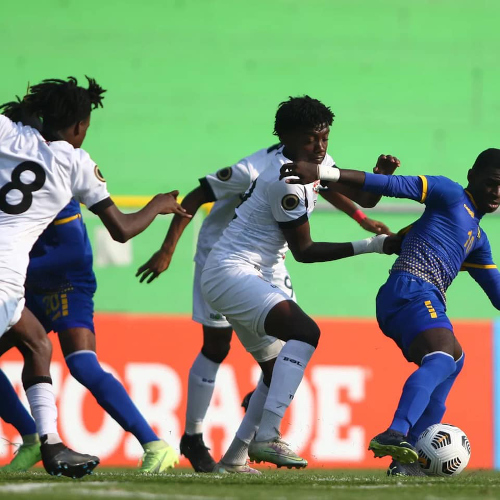 In the 61st minute, Cateau headed wide off another Sween free kick. But still Trinidad and Tobago trailed.
Barbados were starting to lose their nerve now. They were slicing clearances and seemed to be rushed every time they touched the ball.
If it was a track meet, the Bajans were dipping too early and stumbling towards the finish line.
Cooper introduced Chaves and then Garcia and his super-sub Malachi Webb between the 63rd and 71st minutes.
Another chance went begging in the 79th minute as Wilson headed wide off another Cardines free kick. Then, from a neat Chaves pass, Garcia missed the far corner with an angled drive inside the opposing box in the 80th minute.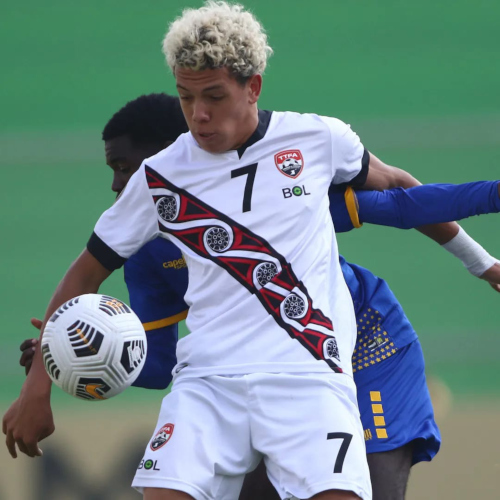 Garcia's face looked tortured but Sween saved Trinidad and Tobago's blushes.
Wilson threw himself at a long, diagonal cross by Cardines and the ball fell to Sween. The San Juan North student responded with his trademark lowered shoulder to send Trotman on his way.
And then, bang! Low and hard into the far corner. 1-1.
Webb might have got Trinidad and Tobago the three points in the 86th minute, as he blew past the opposing defence—only to be denied by a combination of the Barbados goalkeeper and the retreating Trotman.
In the 89th minute, Cooper replaced Sween with holding midfielder Armani Rowe. A point would have to do.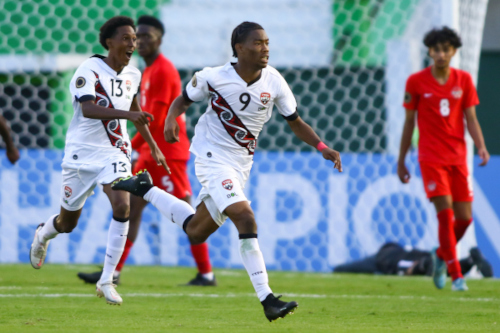 Trinidad and Tobago were through to the knockout stages, which was always the minimum target for Cooper. But this was unconvincing fare at best.
Captain Josiah Ochoa and his men are likely to need more than guts and elbow grease to extend their stay in Guatemala to beyond this weekend.
They will also need the composure and quality on the ball that too often deserted them today.
(Teams)
Trinidad and Tobago (4-4-1-1): 1.Ailan Panton (GK); 6.Aydon Caruth (11.Derrel García 71), 2.Jaden Williams, 3.Joshua Figaro, 4.Lyshaun Morris; 7.Rio Cardines, 12.Jeremiah Cateau (10.Michael Chaves 63), 8.Josiah Ochoa (captain), 18.Dominic Wilson (16.Jeremiah Niles 89); 9.Lindell Sween (15.Armani Rowe 89); 19.Tyrell Moore (17.Malachi Webb 71).
Unused substitutes: 20.Jaden Ottley (GK), 5.Samuel Duncan, 13.Vaughn Clement, 14.Tau Lamsee.
Coach: Shawn Cooper
Barbados (4-3-3): 18.Jireh Malcolm (GK); 20.James Moore, 4.Warren Trotman (captain), 3.Ajani Banton, 19.Ajanie Payne; 12.Kiaros Greaves (17.Ronan Lee 59), 6.Amego Jordan, 10.Rovaldo Massiah; 7.Shamari Harewood, 9.Che Millington (13.Kobe Burges 63), 11.Christian Gill (14.Ephraim Gill 76).
Unused substitutes: 1.K'den Hee Chung (GK), 2.Micaiah Clarke, 5.Kamari Johnson, 8.Joshua Husbands, 15.Jayden Greenidge, 16.Zachari Yard.
Coach: Fabian Massiah
Referee: Adonis Carrasco (Dominica)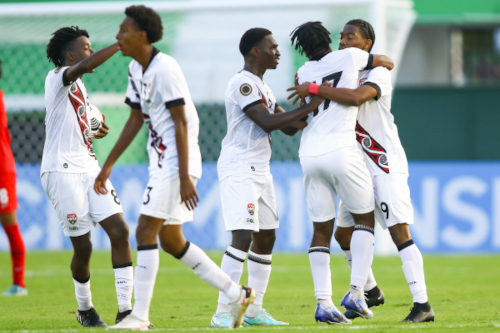 Concacaf Under-17 Championship
(Wednesday 15 February)
Trinidad and Tobago 1 (Lindell Sween 82), Barbados 1 (Shamari Harewood 38)
United States 1 (Keyrol Figueroa 64), Canada 0
(Mon 13 February)
USA 3 (Micah Burton 11, Paulo Rudisill 14, Taha Habroune 24), Trinidad and Tobago 1 (Derrel Garcia 78)
Canada 2 (Liam Mackenzie 21, Alessandro Biello 28), Barbados 0
(Sat 11 February)
Canada 3 (Kyler Vojvodic 27, 68, Chimere Omeze 61), Trinidad and Tobago 2 (Malachi Webb 67, Lindell Sween 80)
United States 5 (Cruz Medina 25, 43, 90+3, Keyrol Figueroa 86, Taha Habroune 89), Barbados 0.
Editor's Note: Trinidad and Tobago Men's National Under-17 Team head coach Shawn Cooper credits fitness and desire for his team's progress to the Concacaf Under-17 Championship knockout rounds. Click HERE to read more.