"[…] It wasn't about getting big and strong from an aesthetic level or a muscular level; it was strengthening my bones, my joints and, most importantly, my mind.
"Continually putting yourself through rigorous activities–willingly–tends to hurt a little bit. But it helps you develop a certain mental fortitude that helps you tackle real-life situations with a little more confidence…"
Wired868 highlights the day-to-day lives of everyday Trinbagonians in our ongoing series entitled: 'A day in the life…'  Today, COSTAATT intern Suemita Teeluck speaks with CrossFit athlete, professional trainer and coach, Bryant Snaggs: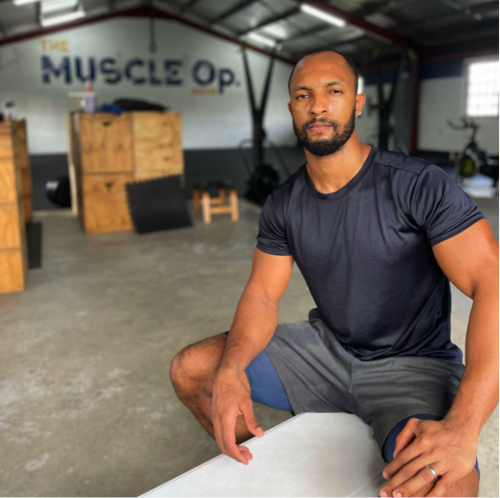 When and how were you introduced to CrossFit?
CrossFit officially came about in the year 2000. When I first heard of it, that would've been in 2005. At the time, I would've been in Form 5 in high school, still playing football and just doing regular weightlifting. I had some idea of what CrossFit was but I did not really know it.
I was always involved in sports. In Trinidad and Tobago, we play football and cricket and basketball but there has always been a passion for weightlifting.
I think most athletes who are now involved in CrossFit also played some sort of traditional sport. Those of us who are in this sport, however, we just kind of searched for something a little bit more.
My thought started as "I just wanna be stronger and faster for my particular sport." And, with that, I just started doing exercise combinations that I programmed for myself.
It happened that I had some friends in the States who asked me if I had "ever tried that CrossFit thing?"
I was like, "No, never heard of it."
I only truly started practising CrossFit somewhere between 2010 and 2012. When I actually did research, it turned out to be basically the same type of exercises that I was already doing. But CrossFit adds a certain methodology where they use particular time domains and particular movement patterns. Added to that, these workouts are designed in a way that are measurable, which allows for it to be tested again and again to determine levels of progress or regress.
That was my introduction to CrossFit.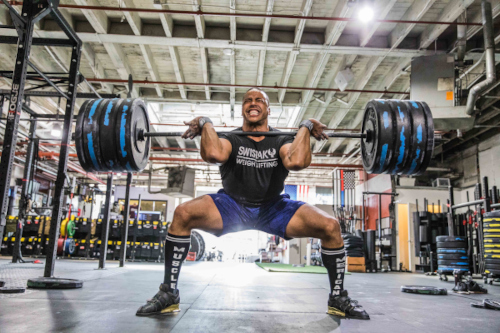 When and why did you decide to become a CrossFit athlete?
At that young age, weightlifting and exercise at a regular gym was more about getting stronger for my actual sport (football). I competed at high school level and college level. The gym was just a supplementation.
I've always found that when they would show those US army and those European military training type sessions–the boot camp type things—that was always something that interested me. It was always something that I wanted to do. For fun. When I actually got into CrossFit itself and found out that there's actually a science behind doing the exercises, then it just really and truly helped me continue to develop the way that I saw exercise.
It wasn't about getting big and strong from an aesthetic level or a muscular level; it was strengthening my bones, my joints and, most importantly, my mind. Continually putting yourself through rigorous activities–willingly–tends to hurt a little bit. But it helps you develop a certain mental fortitude that helps you tackle real-life situations with a little more confidence.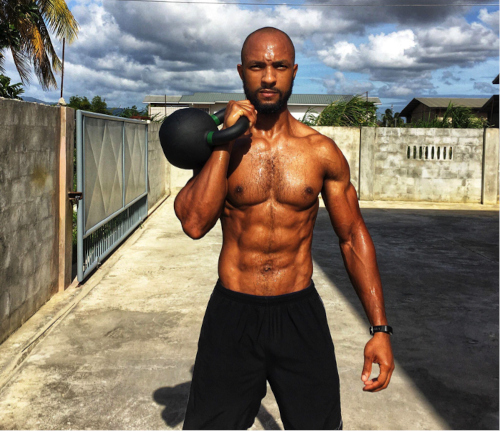 How long have you been an athlete?
I would say I've been an athlete since the age of five. Just regular football, cricket and exercise, regular things like squatting, push-ups, you know the sort of thing. That would have been the starting point of my athletic career. But as I've already said, I was about 13 or 14 years old when I first started weightlifting.
So I've been involved in sport from a very young age and in the gym my entire life, pretty much. But I would've been around 17 when I first actually heard the term CrossFit.
And I've been doing this officially since 2012, so for almost a decade.
What were the early days like?
Rough. It was really and truly about having a good time but very much being a team player. Being a part of a football team, it was always about the overall goal; helping the team win. By instinct, I kind of put myself on the back burner. Even in my earlier days, I was always trying to encourage others to do better. Now that I'm a full-time coach, that hasn't changed.
But since I also get to be a full-time, competing athlete, I get to pay attention to myself a little more.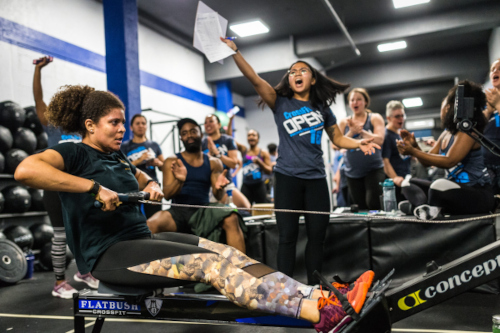 What changes if any did you have to make when you first started?
The thing that changed for me the most was understanding that these short, little exercises were super-hard. The intensity involved in trying to complete an activity was shocking to me.
My understanding of what exercise was or what it was supposed to be changed. I was used to football (cardio and skill work) and there was no strength training involved. But when I switched to CrossFit, it was like, "Okay, my legs hurt a lot more than usual, my lungs hurt a lot more than usual."
So, the first thing that really changed was my willingness to say, "I don't know but, of course, I thought I did. (jokingly)"
The truth is that you really have to be very humble and be able to understand movement so you can give your respect to the sport and to the science and the methodology behind it.
My diet at the time was already generally limited because of my food intolerances. So that helped me stay away from fatty foods, oily foods and dairy. From a nutritional aspect, anything that was required to change in terms of food consumption wasn't too hard for me.
I've had a very good and active social life but because I have always been very disciplined in my sport, I've had to create a balance that suited me.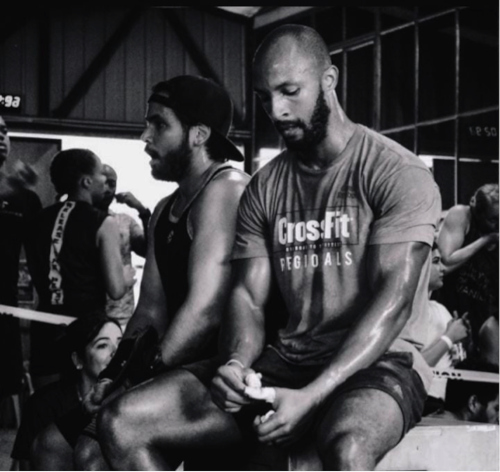 Talk us through a typical training session…
Well, typically, there are three different types of sessions, practice, training, competition.
In all three, I would go through a warm-up involving the basic movements, doing the various types of stretches which allow me to get into the right positions in the specific activity that I want to do. I'm basically adding layers and layers to warm up and priming my body to perform the movement patterns that I know are required.
What people usually get injured from is not being warmed enough to do the activity they are about to attempt. And there is need to pay attention to injury rehabilitation, doing nothing that is likely to aggravate an injury, known, old or recent.
On practice days, I'm focused on improving my skill, working mainly on something that I'm not good at. Very low intensity, really just focusing on movement patterns and repeating techniques.
With a training session, I try to put into play what I have practised. I'm already competent in some of the movement patterns and I would spend typically about 15-20 minutes warming up, including the same type of stretches to prime the body for a particular movement pattern. I would say the intensity level is between 70 and 80%.
With a competing session, the intensity level is raised to the max—I'm focused as if I am actually in a competition. My workouts all build in intensity coming closer to an actual competition.
Of course, there is always a big focus on injury prevention. You can't win if you can't compete and nobody enters a competition without wanting to win.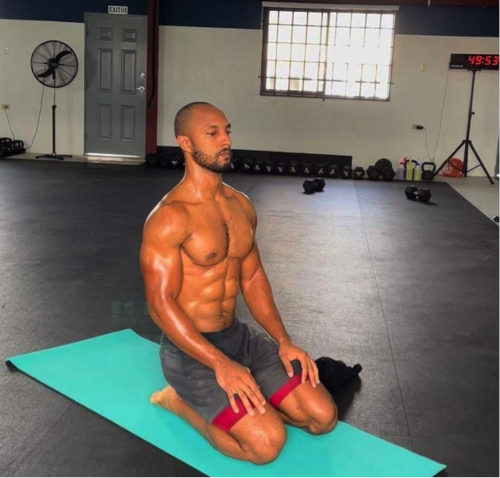 What motivated you to enter your first competition?
Self-belief. I wanted to see if I was good enough. With football, I always put the team first. What this sport allowed me to do was become an individual athlete. So it was, "Hey, let me do the best I can for me." I think that, for most athletes, that's really something that has you trying to motivate yourself.
I was also lucky to have really strong parents, who were disciplined and very forward-thinking. They forged a certain type of mindset in me from a very early age, made me set goals for myself and not accept no as an answer. You have to go out and achieve what it is you want to achieve, I quickly learned; nobody's going to do it for you.
So on the one hand, it's my self-discipline and, on the other hand, it was the desire to prove to myself, my friends and family that I was good at it.
Do you think competition is shifting to give an advantage to guys who are a little bigger and heavier?
Within the sport, no. In my opinion, how the sport is designed actually is really great, depending on who does the programming. So you can have somebody who is as tall as me, 6'3", and think, "Okay, this person is gonna be really, really good at this." But because the programming is designed in such a way that it exposes everything, it's not so much based on your size but on what you are doing in the gym (skill wise).
So, no. The competition nowadays plays less on the person's size and really focuses a lot more on weaknesses. Have you been working on the things you're not particularly good at? 
What about you? How often do you work on your weaknesses?
Not as often as I should.
Within any sport, you have a certain bias and you tend to lean more into that bias. So if you prefer weightlifting, you do more weightlifting than you do gymnastics. If you like running, you do more cardio than you do weightlifting. You find that sort of imbalance quite often.
I would say that I now work specially on my weaknesses maybe twice a week. That could run from about 20 to 30 minutes, about an hour for the week. But I know that if I am serious about getting more into the competitive realm, more is required to mitigate those weaknesses.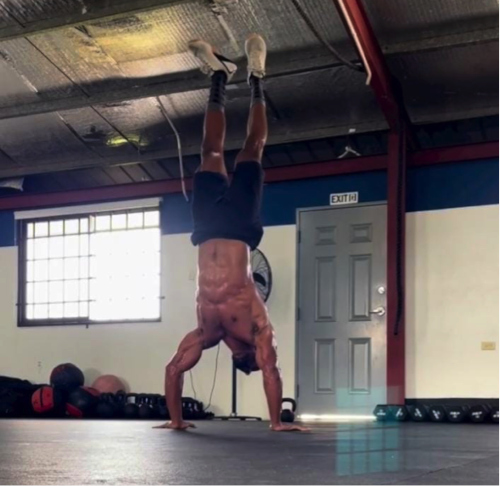 So would it be true to say that there is little or no difference between CrossFit when you first started and CrossFit now?
There's so much difference.
Strength is definitely a big factor. There has been a real emphasis on improvement of strength as a baseline factor.
In the last decade, the heaviest load that somebody may have picked up was about 100 pounds, that somebody being the strongest individual. Nowadays, the starting weight for activities is 100 pounds. That's because people are starting at much younger ages.
Secondly, gymnastics, body weight activities–that's something that's really changed over the years as well. The most challenging thing that somebody had to do was a handstand push-up. Not now. The baseline I would say is walking on your hands, walking over objects on your hands.
Things have completely changed on those two levels. The strength which entry level athletes are required to have as well as the foundational gymnastic skill set that they have to have in this decade of fitness.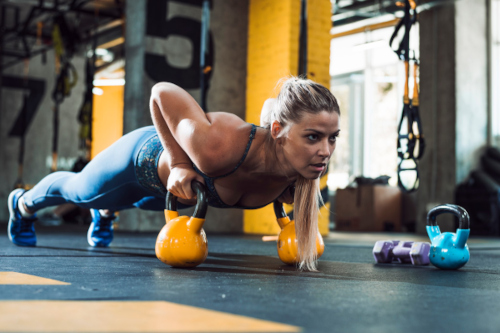 Well, you seem to have been doing well as athlete and as trainer. What drove you to take another step and get into the business of owning a gym?
I went from being a regular member in a commercial gym setting who fell in love with the activity and working out to being on the administrative side at other gyms. With that knowledge I wanted to "bridge the gap". I actually had the opportunity of being the head coach of another facility for about three years. Because I wasn't just a member, I was able to look at it from the administrative side and see what the do's and don't's were.
I looked at those things first, trying to find out what are the things we ourselves need as athletes. And I constantly communicated with other members to find out what were the things they were interested in.
When I shared the information with my wife, together we eventually found ourselves looking into the possibility of creating our own gym which was always a childhood goal of mine.
We asked ourselves what we are trying to achieve, what problem are we trying to solve. Was it to create flashy people or was it to get people healthy? We decided it was people's health that mattered. It's about creating a balanced lifestyle.
There are a lot of persons with health issues. And a lot of us have co-morbidities that we would've found out about as a result of the pandemic. Choosing to place those things in the forefront helps us, has helped us to identify nutritional challenges along the way that have opened our members' minds.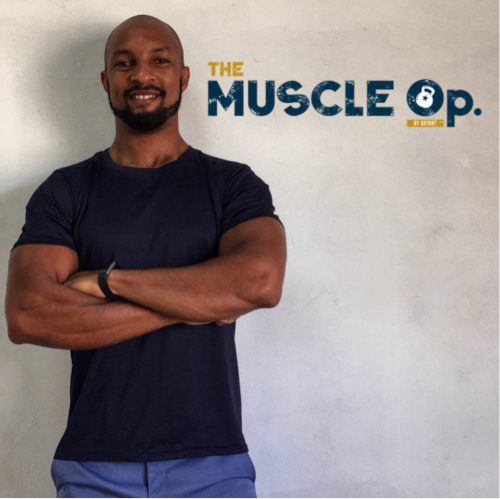 Would it be true to say that there is a real difference between competing in CrossFit and CrossFit as a lifestyle?
The difference is definitely the level of intensity you need to bring to training on a daily basis, the goals and objectives you need to set yourself. We all have the same basic needs. Every day, we need to push, pull, carry things, we need to move things from the ground to an overhead position, we have to sit, we have to stand, etc.
Something as simple as taking the groceries off the floor and placing them on the top shelf. The need that an elder person has to a younger person… a younger person may have the goal or objective to be in the Olympics so their level of intensity would be different. That's the main difference.
We should all be doing the same things, regardless if you're 90 years old or nine years old.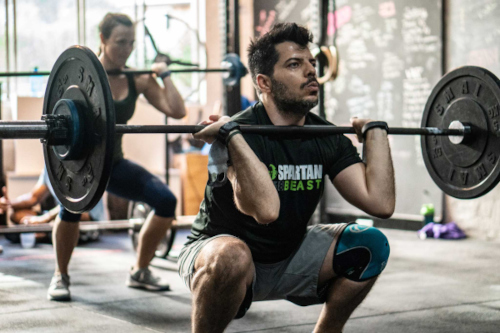 Have any advice to offer to young people interested in or curious about getting into CrossFit?
Go for it! It's a beautiful sport. The sport itself is built on the improvement of one's health and in my 34 years of living, one of the few things that has actually tested my health, the true essence of my health. Not just my cardiovascular capacity, not just my strength capacity. Not just from the physical side of things but from the mental side as well.
I'm a lot more strong-minded as a result of participating in this sport. I'm a lot more disciplined because of the level of care and effort I give to our clients and to this sport. If I wasn't doing it, I would've had a different attitude and approach to life. Being a part of this community, our gym community and the wider community of CrossFit, has allowed me to achieve all the different things I set out to.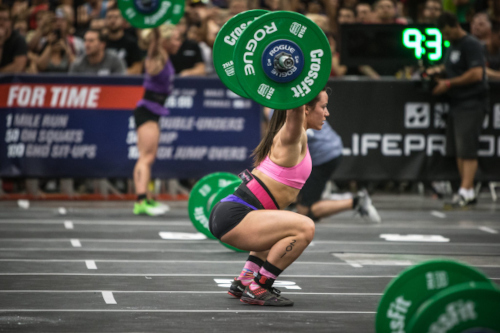 Is there a future for CrossFit in Trinidad and Tobago?
CrossFit itself is like a brand like any other brand, Nike, Ford, Toyota. And, like any other brand, you find something being highlighted more because that is the selling point, that's the thing that brings in the money for the organization.
When we see certain aspects of CrossFit on the Internet and on social media, certain people are trying to highlight the competing side because that's their source of revenue, that's the way they make their money. But if you take away the fluff and you just look at where the gyms are, it's completely different from what you see on TV.
What we tend to see via media are the big names, the popular names. But what we really do in our gym space is go back to the basics of improving people's health.
At our gym, we've had people at 13 years old and we've had members who are in their 60s and they all exercise based on what their individual needs are. That's the beauty of what we try to do. It's not so much about competing…
So, to sum it up, I think CrossFit has the potential to do exceptionally well in Trinidad and Tobago—but under the right leadership.
It has been in Trinidad since 2012 but not a lot of people are aware of it. And those who are often have skewed opinions of what it actually involves because of how it's been publicised and portrayed.
A lot of the dynamics within Trinidad have been about personal development. There's a certain skill set we already have within the country. What we do in Trinidad must be our best so that it is at the international level. It can't just be shortcuts or fly-by-night stuff we try to get away with.
As coaches and leaders in the field, as well as athletes ourselves, we have the potential to make this sport into something really good. It's such a niche activity so it's not hard for us to do. It's actually quite attainable.
I would say it's definitely only up from where we now are.