Keith Look Loy is not pleased with certain developments in the TTFA. We know that because he wrote it in a recent comment here on Wired868.
Quoted excerpt from TTFA technical director Anton Corneal: "[…] So as far as a technical committee, it will be an advisory committee that I can bounce ideas off of. I think it's very important, but we have to find the right people because it's a supportive committee.
"So we have to sit and think, what would be the characteristics of a technical committee that comes together maybe once every two or three months? Or it could just be people we bounce ideas off of. Not someone who comes in and asks 'what allyuh doing' but someone who understands the programme and is here to support it…"
Look Loy's comment: "Interesting. So the technical committee will be an advisory committee with no powers that an employee, Corneal, will control. He will be his own boss, without knowledgeable supervision by the political leadership of the Association.
"This flies in the face of the TTFA Constitution and the technical guidelines defined by the very FIFA that Corneal works for. It would be unique among FIFA members. Essentially a one-man show. Amazing.

"But I just drinking water…"
The story headline—"We've to make sure this doesn't happen again!" Corneal on U-20 Women's humiliation and T&T football restart—resonates with me. Haven't we, I wonder, had more than enough of these self-centred jokers around national football?
But it is neither KLL's comment nor the story that is on my mind as I link up with Bobby one fo'daymorning last week. I have read the 'TTFA reset plan' story in the Express and I am still reacting. Appropriately, I think.
Me: HAHAHA!
Bobby: What's so funny?
Me: Funny? I'm not laughing. I'm not laughing at all. I'm quaking in my books. This is really too serious to be funny.
Bobby: What are you on about, bro?
Me: Shame on you! You didn't read it?
Bobby: Read what? What are you talking about?
Me: I sent it to you on WhatsApp. The story about the e-literate gentleman who reads words but misses their meaning. And it is clear that he's looking for people to join his support group, more mindless people who will also read words and miss their meaning.
Bobby: I saw it. But when I saw what it was about, I didn't read it. I have much more important things to do with my time than to spend it on charlatanry.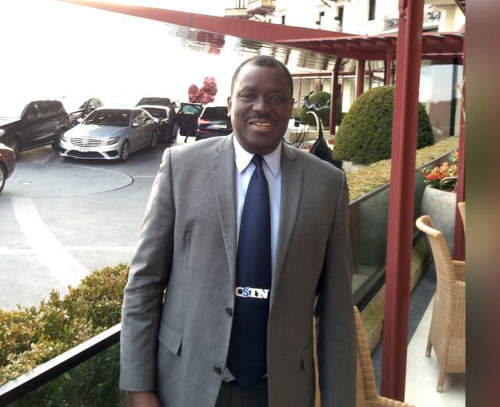 Me: Hahaha. I like your word. On the Old Boys chat, they're already proposing names for the group being organised to support this presidency bid. One is A-LICKERS, the Associated League of International Coccyx Kissers and Experts in Rectum Salivation.
Bobby: Heaven help us! (chuckling) Dem not easy!
Me: A second one is what I started this convo by telling you about: HAHAHA. It stands for Holistic Association of Helpful Administrators and Hopeful Associates. I think the acronym is most appropriate.
Bobby: Hahaha. HAHAHA? Hahaha.
Me: But it's not funny, Bobby; it's dangerous! In a real country, that group would be laughed out of town. Anybody with a history like that wouldn't have a chance.
Bobby: But Trinidad is not a real place so…
Me: I don't know this for a fact but I'm going entirely on presidential election precedent: nothing will stop this bid. Even if nobody joins, that won't stop it.
You see, in Trinidad and Tobago, one-manism is a thing. It's an epidemic. It proliferates. In the politics and in the football. Reference the TTFA, where the Voice of One was for many years the only one heard.
Bobby: You mean Jack Warner?
Me: Yeah. He's the outstanding example. But before him, there was Eric James. And, after him, David John-Williams.
And, of course, after DJW came the normalisation man. Yet another outstanding example of rampant one-manism. Tell me, how many serious questions do you think he has answered in two and a half years in the office?
Bobby: (laughing) Not one, man!
Me: Correct. So don't bother asking him anything. Ask the People's Empowerment Party. Or the National Organisation of We The People. Or the New National Vision. Consider the Single Fathers Association.
Remember the late founder of the CBTT, Citizens' Bureau of Trinidad and Tobago? That is an organisation which the media pretended existed but which has not been heard from or of since the day its founder kicked the bucket.
Bobby: Oh yes, like Gary Griffith's ISOS? Only difference is that the ISOS founder has so far only kicked the political bucket…
Me: …even before he officially let his bucket down!
Bobby: Hahaha. But I feel that we're almost certainly dealing with the same personality type. The resemblance between GFGY and GarYGriF is not mere coincidence.
Me: GFGY?
Bobby: The Group of Football Ghosts of Yesteryear, which is yet another example of a group the media pretends exists although they know better. I forget the actual acronym they use but it always reminds me of a cognac. You know the very special brandy you occasionally hear about on TV? Or see in the duty-free shops when you drop in to pick up a Carib six-pack?
Me: VFFOT?
Bobby: VSOP! But you make my point for me!
Me: Hahaha!
Bobby: Frankly, after what I have seen over the last few years, I would not be at all shocked if we get a group boldface enough to call themselves Exploiters and Grifters Organisation.
Me: EGO? It have plenty ah dat around fuh sure. But if we talking boldfaceness, I wouldn't put it beyond the group that's already on the blocks to show off their motion on candid camera. I don't think they would be ashamed to choose a name that's saying exactly where they're coming from.
I mean, Mark Bassant buss a big mark about a Panama account. What became of that? We let DJW leave without accounting for so much. We buss Wallace throat.
So, why does anybody need to pretend? It's perfectly safe to call a spade a spade. And a hoe a hoe!
Who knows? They might well call themselves something like Football Union of Corrupt Kingmakers of Trinidad and Tobago.
If only I could come up with an acronym for that…