In a recent media interview, the interviewee was asked this very direct question: 'Have you ever accepted a bribe for a firearm?'
Gary Griffith, former commissioner of police, former government minister, former senator, former captain in the Trinidad and Tobago Defence Force who is now husband, father and private citizen, was no less direct with his response, which I seriously doubt the interviewer would have anticipated:
"[…] Have you been involved in prostitution?"
The exchange immediately put me in mind of my first entrepreneurial venture. It was inspired by a lacklustre presentation made by Jules Bernard, who was at the time the country's commissioner of police. Bernard's presentation was so bad that, before he was through, I had already made up my mind to form a company to coach leaders to become more engaging presenters. 
Professional Presentations Limited failed spectacularly—do the reasons really matter?—and I pivoted to providing public relations services.
That was 30 years ago. Today, it is still the exception to experience an engaging presentation from a public official. I say 'engaging' rather than exciting because some of them sometimes seek to create excitement by resorting to folktales, which is reasonable, I suppose, as well as insults and naked aggression, which is decidedly not. 
The upshot of this lowering of the bar is that the media environment has been transformed from a space accepted and respected as a locus of acceptable behaviour and appropriate language into a wild space where media practitioners and the professional hobbyists  who are often their guests feel that no subject is taboo, every public personality is fair game and the rules of grammar are little more than a completely unnecessary nuisance.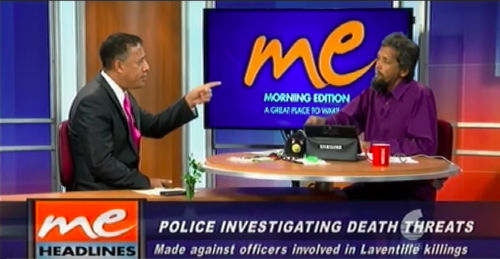 One can be forgiven for wondering if today's media practitioners are guided by any rules at all. Is there an overarching philosophy which has at its core the pursuit of truth and which recognises that there are appropriate and inappropriate ways to arrive at that destination?
Are there any rules of behaviour for invitees and guests?
The media simply would never get their job done if they declined to ask hard questions. The corollary is that if you prefer not to have to handle thorny questions, give media people a wide berth. Stay far away from all ovens and kitchens if you can't handle heat. Unless you want long-lasting notoriety—remember 'That's insulting!'?—trying to embarrass or abuse the interviewer is not the way to go.
So, to return to Griffith, given the varied portfolios that he has held, I would have expected him to resort to any number of strategies to keep the discussion positive, fruitful and solutions-oriented.
'Acknowledge, bridge and go to your key message' is a commonly used technique when the interview takes a nasty turn—or threatens to—and you know, thanks to Michelle Obama, that your best option is to go high.
Disrespect and abuse are rampant in our society and women are often on the receiving end of this toxicity. Why don't we simply connect the dots and stop wondering why the scourge of gender-based violence is not in retreat in our country?
Griffith's knee-jerk reaction was to opt to go low, preferring to ask about the interviewer's experience of prostitution. 
Some would be tempted to normalise this behaviour by saying, 'well, that's Gary.' Not I. 
What I see is a high-profile—not necessarily 'responsible' but certainly 'with responsibilities'—public personality with an excellent opportunity for a teaching moment. But instead of seeking to reduce the aggro potentially contained in the interviewer's question, he opted to fight fire with fire. 
I think this response is indicative of the systemic decline we are experiencing throughout our society. I also think that traditional and social media spaces provide an opportunity to collectively change the conversation from its current base level and create a more aspirational discussion.
Media owners have to become intolerant of talk show hosts who repeatedly insult callers by telling them to 'go ask your mother'. Or who make slapping sounds on air while eating and talking. Or who seriously ask the question 'so what are we doing this morning?' Or who, as in the case of one television presenter, accept a personal telephone call on live television.
And the list goes on.
So, 30 years later, I am thinking maybe I should re-open the company. This time, however, the focus will not be on coaching leaders to do anything; the much more urgent need is to get all of us, high and low, to show one another kindness. 
And respect.