Commentators and editorial writers have already assessed that the showing of our Trinidad and Tobago athletes at the recent concluded Tokyo Olympic Games was poor and below the medal standard that we have achieved in every Olympics since Barcelona 1992.
Ironically, at the previous Tokyo Olympics in 1964, our then top class generation of track athletes brought home several medals.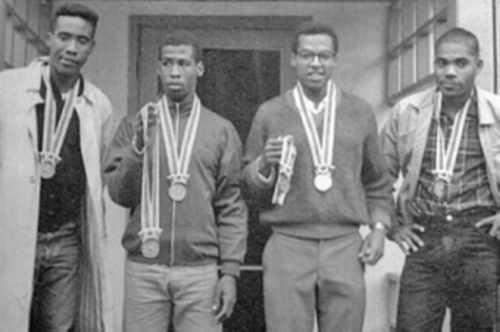 Commentators were specific about those required to account. No doubt, the slick talking president of the Trinidad and Tobago Olympic Committee, Brian Lewis, will spin hard luck and near miss stories, but we all know full well that sports administration in our country is loaded with cliques for whom self-promotion and the advancement of their favourites and of partisan politics is paramount.
The words of Ato Boldon, our four-time Olympic medalist and now commentator and track and field analyst for NBC—the premier US Olympics broadcaster—are particularly incisive. Some of them have assisted this column's reflection on the arrogance of incumbency, encouraged and ingrained in both athletes and officials.
First, let me remind readers that I have previously analysed the wider implications of the high court findings of fact regarding 'entrenched biases' in the sport of gymnastics, which David Marquez, Ricardo Lue Shue, Donna Lue Shue and Akil Wattley, then officials of the Gymnastics Federation, inflicted on Thema Williams.
Thema was also blanked by Lewis and his TTOC, who went for Dick—after Thema was wrongly withdrawn from the Rio Olympics. The minister of sport was equally indifferent to the biased action against Thema.  
Within days of the condemnatory judgment, the minister of sport was handing out cheques (taxpayers' money) to sporting organisations. The Gymnastics Federation, whose act of infamy had gone international, got a cheque.
This was symptomatic of what Raffique Shah dealt with last Sunday. He cited the tell all autobiography of 'born into football', Everard 'Gally' Cummings, in furtherance of his call for the Ministry of Sport, ruthless politicians and sports overlords to be made to account, and not to make talented persons subservient to their narrow interests.
Ato Boldon has denounced the sameness of everything in track and field administration including 'same personal agendas' and 'same jokers talking a set of annual rubbish and pretending that poor Carifta/junior results are okay'.
That is probably why several of our failed athletes—including one who did not even finish the race—can, after failure to finish or qualify, talk glibly about what they will do in Paris in 2024, when the next Olympics are held.  They do not have to prove that they have sustainable worth.  
That is why for them it is a case of 24 for sure. So it is also, for the free-trip 'officials'.
The athletes have been bestowed with the title 'elite athletes' to justify the disbursement of millions of dollars. We do not have a clue how the millions are spent.  
Of course there are also unofficial and well protected elites, like those who could hold a big wedding in the middle of Covid-19 restrictions or like those riding around by boat who get a hint from a top government official of what legal defences they should try.  
What these elites have in common is that accountability does not apply to them.
One of the Tokyo athletes had a post-race status of DNF (did not finish). I felt that the appropriate category was DNR (do not resuscitate), but the government will resuscitate the DNF, along with the DNQ (did not qualify). 
No demand for measurable and sustained  improvement in performance, beyond perhaps one past personal best, will be made as a pre-condition for going to Paris in 2024, accompanied by sweet-time officials.
The source of this column's title relates to 19 November 1989 when we lost the 1990 World Cup qualifying match at home to the United States—a next day public holiday having been declared in anticipation of partying.  The consolation cry was '94 for sure'. But unsurprisingly, we did not make it in 1994.
We carry delusions from one century into the next. Where are we going with that in sport or anything else?