Twenty-year-old Toronto FC central defender Luke Singh will take an extraordinary detour en route to representing the Trinidad and Tobago Men's National Senior Team in a do-or-die Qatar 2022 World Cup qualifier against St Kitts and Nevis, after accepting an invitation to train with the Canada national team this week.
The Canadian Soccer Association revealed today that Singh will train with 'The Canucks' in Miami before their qualifier against Aruba on 5 June. The ball-playing defender will miss Trinidad and Tobago's fixture against the Bahamas to do so.
Singh, a six foot two central defender who can also play as a defensive midfielder, is not on Canada's official roster—which includes goalkeeper Dayne St Clair, who was also eligible to represent the twin island republic—but was one of eleven young prospects identified by head coach John Herdman.
According to Toronto FC, Singh's appearance in the Canada camp will allow Herdman the chance to 'evaluate' him in a national team training camp setting, as well as allow the 11 invitees to 'experience Canada's setup and preparations'.
After his 'trial' with Canada, Singh is scheduled to join the Soca Warriors in the Dominican Republic for their decisive top of the table Group F clash with St Kitts and Nevis on 8 June.

Wired868 understands that Warriors head coach Terry Fenwick is aware of Singh's mixed loyalties and agreed to the unusual split custody of the promising defender.
Although Fenwick's feelings on the matter could not be confirmed, the English coach agreed that the player could skip Trinidad and Tobago's qualifying match away to the Bahamas on 5 June. Neither he nor the TTFA previously confirmed the reason for Singh's late arrival to the Warriors camp.
Under Fifa's current international rules, Singh can make up to three competitive appearances for the Trinidad and Tobago senior team without interfering with his ability to represent Canada, so long as he switches associations before he turns 21 and none of the matches were in a Fifa World Cup finals or continental tournament like the Concacaf Gold Cup.
Fenwick's attempts to widen his player pool with overseas-born players have so far led to a string of dead-ends. 
The list of invitees by the Warriors head coach so far includes: John Bostock (Doncaster Rovers—England), Ryan Inniss (Charlton Athletic—England), Skylar Thomas (Memphis 901—USA), Tristan Abrahams (Leyton Orient—England), Michael DeShields (DC United—USA), Shaq Moore (CD Tenerife—Spain), Nick De Leon (Toronto FC—Canada), Jonathan Jimenez (Chicago Fire—USA), Rory McKenzie (Kilmarnock FC—Scotland), Kurtis Cumberbatch (Dover Athletic—England), and Dante Sealy (FC Dallas—USA).
In each case, the TTFA either failed to get the player a passport or the player declined the call-up.
Philadelphia Union goalkeeper Greg Ranjitsingh, also born in Canada, supposedly declined the chance to join the Warriors as back up to Denmark-based custodian Nicklas Frenderup, who is unavailable to face the Bahamas.
And Fenwick even struck out with some local-born talent. Canada Premier League club Halifax Wanderers confirmed that the TTFA requested the services of their attacker Akeem Garcia and midfielder Justin Rampersad, only to be frustrated by immigration issues.
"Anytime one of our players gets the call from their country we want to honour that and do everything to support them," HFX Wanderers vice-president of football operations Matt Fegan told the club's website. "For Akeem and Andre, we're working with Immigration Canada to get permission for their travel out and back to Canada. Sadly it didn't come in time for this round—but hopefully they can answer the call at the next opportunity."
In Singh's case, the shaggy-haired defender was born in Brampton, Ontario to Trinidad and Tobago parents and chose to represent the twin island republic at National Under-17 and Under-20 level, alongside the likes of current national midfielder Judah Garcia, flanker Nickell Orr, and goalkeeper Denzil Smith.
His last international outing was a 2-0 defeat to Suriname in group stage action of the Concacaf Under-20 Championship on 7 November 2018.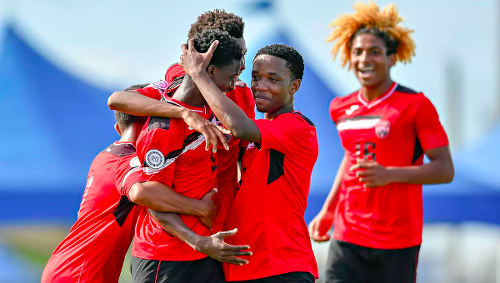 The national youth teams that Singh participated with—both coached by Russell Latapy—were under-funded and under-prepared and failed to advance beyond the group stage in both editions. It is debatable whether the Trinidad and Tobago Senior Team, ranked 103rd in the world by Fifa, are faring much better.
Canada, on the other hand, are looking forward to the future as co-hosts of the 2026 Fifa World Cup. Their current squad, described as a golden generation, includes Bayern Munich stand-out Alphonso Davies.
Still, Canada, ranked 70th in the world, are not guaranteed to advance to the next round of World Cup qualifying either, as they face a tough Suriname outfit in a showdown on 8 June.
Singh, whose senior career so far comprises of just three US Major League Soccer (MLS) appearances for Toronto, could soon be asked to choose between the land of his birth and that of his parents'—although only Trinidad and Tobago appear ready to put him straight into senior team action.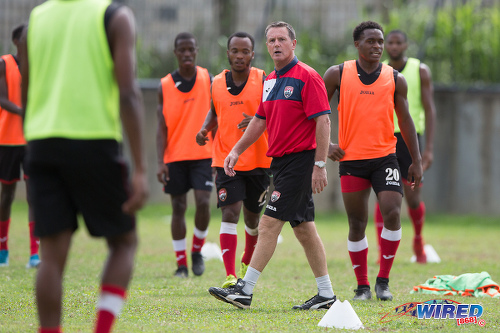 If the Warriors defeat Bahamas and St Kitts and Nevis, they enter a two-legged affair on 12 and 15 June against either El Salvador or Montserrat for a place in the final Concacaf World Cup qualifying round. Then, on 2 July, they face Montserrat in Miami for the first of potentially two 2021 Gold Cup qualifying playoff fixtures. 
By that point if Singh is still wearing red, black and white gear, there would be no turning back for him.
Wired868 has provided readers with solid, independent journalism since 2012.  If you appreciate our work, please contribute to our efforts. 
Support Independent Journalism