Devant Maharaj: "[…] I am therefore forced to conclude that there is indeed toxic collusion between the Internal Management Election Committee and [Kamla] Persad Bissessar in the conduct of this election unless you can reasonably convince me otherwise…"
Jayanti Lutchmedial: "[…] It is most unfortunate that in an attempt to ascribe context to Mrs Persad-Bissessar's conversation, one candidate appears to be questioning the integrity of the committee members…"
The following is a letter by former United National Congress (UNC) senator Devant Maharaj to UNC internal management elections committee chairman Ramesh Persad-Maharaj; and a differing statement by current senator Jayanti Lutchmedial:
(Maharaj is challenging incumbent Kamla Persad-Bissessar and Vasant Bharath for the UNC leadership, with the election set for 6 December 2020.)
(Letter from Devant Maharaj)
Dear Mr Persad Maharaj,
The incumbent leader and candidate, Ms Kamla Persad Bissessar, has made statements, which are in the public domain, that tends to suggest to the reasonable observer that she and her lawyers apparently played a part in the drafting of the Election Rules (I have attached a link to the recording for your ease of reference).
Given such a serious issue regarding the transparency of the election, I note that neither Ms Persad Bissessar nor yourself have sought to deny that she did in fact play a role with unnamed lawyers in the drafting of the election rules with haste and urgency. 
I am therefore forced to conclude that there is indeed toxic collusion between the Internal Management Election Committee and Ms Persad Bissessar in the conduct of this election unless you can reasonably convince me otherwise.
Additionally only this week Vasant Bharath, via the media, indicated that potential candidates on his slate after submitting nomination forms for scrutiny by the Internal Management Elections Committee was contacted by Ms Persad Bissessar or her supporters to in an attempt dissuade them from contesting the internal elections.
If this is indeed factual how did election rivals obtain copies of nomination forms given to the Internal Management Elections Committee, [that] only supports the perception that there is an unethical collusion between the committee and one particular candidate.
Respectfully, it is my view that:
a. A candidate should not be involved in the drafting of election rules unless other candidates are included in the process.
b. It is highly questionable that you would affix your signature to the rules to certify that the rules were issued by the Election Committee when the recording of Ms Persad Bissessar clearly suggests that she and her unnamed team of lawyers were involved in the drafting of a manual on the day before the Election Manual was released.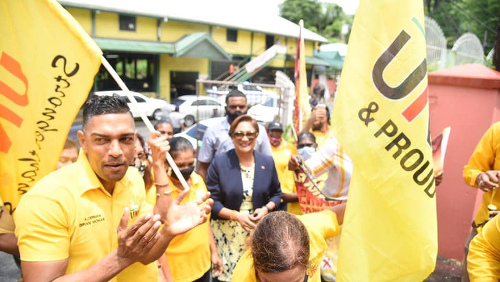 c.  I am not satisfied that you and/or your committee can discharge your functions as election chairman in a fair and impartial manner. It seems that you and your committee are not in control of the process but are taking instructions from Ms Kamla Persad Bissessar.
d. I have also been legally advised that if you and your committee have facilitated the involvement of a candidate in obtaining an unfair advantage in this election process then you and your committee can be sued in your personal capacity for such conduct. That would result in you and the members of your committee incurring personal liability for your actions. I am no stranger to the court, and I am in the process of retaining lawyers to institute action if necessary.
In the circumstances, therefore, I call upon you and your committee to immediately resign from the election committee. You and your committee have 24 hours to arrive at your decision.
I urge you and the members of the committee to do what is decent, right and in the best interest of our party.
(Statement from UNC senator Jayanti Lutchmedial)
Bits and pieces of a conversation taking place between the Opposition Leader and MP David Lee whilst audio glitches were being worked out at yesterday's press conference are being used to make mischief.
All candidates who aspire to lead the UNC should repose faith and confidence in the party's processes and procedures which are in compliance with the Constitution.
The internal National Executive elections are being run by an Independent Internal Elections Management Committee comprised of persons with no direct interest in the outcome of the election but who are well respected in the national arena and who are also founding members of the party.
It is most unfortunate that in an attempt to ascribe context to Mrs Persad-Bissessar's conversation, one candidate appears to be questioning the integrity of the committee members.
Mrs Persad-Bissessar is mindful of the need to separate her role as Opposition Leader and a candidate in the UNC's internal election.
To this end, she has developed a manual with guidelines for persons on her slate in the internal UNC election and for their support persons who would be trained as polling day agents. Mrs Persad-Bissessar also asked for some simple Covid-19 guidelines for her team and supporters to ensure everyone's safety and strict compliance with all national laws and Ministry of Health guidance on the day of the internal elections.
These were discussed on Tuesday night with the assistance of legal advisors familiar with election proceedings, myself included. As I was present at the press conference, Opposition Leader made passing reference to the settling of the manual with 'lawyers' late into the night whilst conversing with MP Lee in my presence.
This is the only manual that Mrs Persad-Bissessar has had input into and to suggest otherwise is to cast aspersions on our Independent Management Committee, which is both unfair and unwarranted.
Mrs Persad-Bissessar has placed significant emphasis on ensuring that the internal elections are free and fair and has taken all steps to ensure that no candidate has an unfair advantage.
Any candidate who has a difficulty with the rules issued by the Elections Management Committee can raise those matters directly with the chairman.
Those rules in my humble opinion are incapable of giving anyone, incumbent or otherwise, an unfair advantage in the internal elections.