What a horrendous week! On Friday 18th, Dr Terrence Farrell, discussing the future of our economy, pointed to the need for disruption in the way the country's business is done—using as an example BP's strategic pivot  ('bold, fraught with uncertainty, risky but highly socially responsible'). 
He asked us a most pertinent question: "why is it that we cannot seem to devote the required attention and resources to the tasks of economic diversification and institutional transformation?"
This week, our exemplars answered in a most emphatic manner, albeit to our eternal shame, that we wish for disturbance. We are not interested in disruptive innovation but possess a great interest in plain old disorderly behaviour. 
Dissent within a society is healthy for indeed by dissent, progress can be made. But to retain a democratic posture and to build an open future acceptable to all, we have to retain the capacity to discuss affairs and validate claims. There cannot be a huge gap between our expectations of those who lead and how they perform.
Trust is built when that gap is narrow or narrowing. A leaking reservoir of trust ties the hands of policy makers and limits compliance with government activity or plans.
Words matter. We cannot castigate fellow citizens and professionals, be contemptuous of each other and still expect the country to be governable. It does not work so.
With the rise of social media, we are increasingly living in echo chambers where we seek views (and the algorithms encourage us) that support our own biases. As a consequence, we have become more polarised and less able to bridge the gap that separates us.
Proof of this increased separation is our willingness to self-identify as belonging to the 'yellow' or the 'red' tribe instead of our nation.
In September 2019, an Express/SBS poll reported that 44% of our population could not reach an opinion on the then most seminal issue of our country, the Judiciary.
In July 2020, Louis Bertrand identified that just under half of our 18 – 44 age cohort (that is about half our total population and the ones rearing our future generation) did not care about the general elections outcome.
These polls speak to distrust of our exemplars and deep disinterest in how things are done. How then will we find a way to create a future?
This type of behaviour sow the seeds for fracturing our community. We can no longer agree on what is truth but truth becomes what we want to hear or believe in.
The hollowing of the media weakens the ability to have a dispassionate voice and reference. So we are destined to descend into more division. The aim, in some instances, is to drag you into the quagmire of disinterest so as to leave fundamental policies and problems unchanged.
This leaves fewer and fewer people in charge of large decisions for our society. It leaves us less able to create a future we can all enjoy through our participation.
In spite of all that is at stake, the end result of this week's brawl between our 'loyal Opposition' in the Judiciary and its titular head is that neither has gained respect. Via social media reports, the depth to which we have sunk was revealed.
Reportedly, the legitimacy of the head to provide guidance, and not just the guidance, was questioned! Are our judges any more sober than the cursing lawyer?
We cannot look elsewhere since President Paula-Mae Weekes met with some of the judges in April 2019 and at yet another time she warned: "…far too much has been ventilated in the public corridors […] does not serve the institution well; […] the very 'public's right to know' in these circumstances is inimical to the public trust and confidence… which is essential for good order."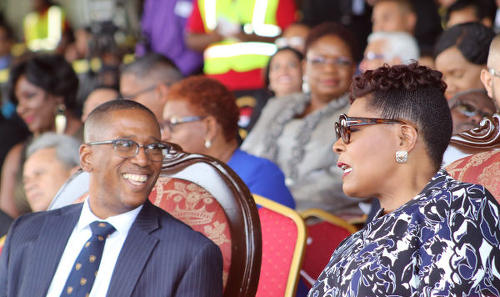 Like stick break in their ears!
Last week, the police commissioner, his deputy and his head of Special Operations raided a house in which was reportedly stored $22 million. Yet the very next morning while the commissioner was on the radio proclaiming that he had no intention of returning the money and the national security minister chimed in about the complexity of the investigation, the cash was returned to its 'owners' without reference to the high command.
Conveniently, the cash never was moved from the local station by the authorities. Is this a case of what is good for the goose is good for the gander, or a case of karma? The senior officers could probably say that there was no law enabling them to hold the cash since the 'owner' had receipts.
Apparently, the observation by Raoul Pantin in the book 'Days of Wrath' (Pantin, 2007 p132) about the 1990 difference between the police and the army—'hysterical, militarily disgraceful…undisciplined' versus 'trained, skilled, disciplined professional'—still obtains.
In a supreme act of deflection, the narrative was changed from this egregious breach to a reprimand of the La Horquetta 'investors' of the pyramid scheme. Admittedly, the 'investors' were silly, but the outcome of the raid leaves the impression once again that we are dealing with Inspector Jacques Clouseau from the 'Pink Panther' series.
Nonetheless, that same desperation, which caused the money to be risked, will wear different clothes when our battered and struggling economy does not deliver.
The last time we were in straitened times and unemployment was rising, then Canon Clarke described our country as 'a river of tears'.
To avoid that, we have to hope that Minister of Finance Colm Imbert and his Cabinet colleagues have a plan to pivot. That they and us would make the sacrifices needed. Other than that, we will face grim times.
Dr Farrell will see whether or not we lack the requisite focus and discipline.
If not, Pantin (2007) quotes TS Eliot: "this is the way the world ends… Not with a bang but a whimper."