Former Soca Warriors head coach Stephen Hart has given the Trinidad and Tobago Football Association (TTFA) two weeks to find the US$742,444 (TT$5 million) owed to him for unpaid salaries and breach of contract.
Should the TTFA fail to satisfy Hart, the Canada-based coach has threatened to levy against the local body.
The deadline was relayed to TTFA general secretary Ramesh Ramdhan today, via Hart's legal team of Virtus Chambers attorneys Keith Scotland, Reah Sookhai and Sheriza Khan.
"In the circumstances, I am to formally demand that you pay the aforementioned sums by having same delivered to our offices, on or before the 9th day of May 2020," stated Scotland. "Failure to do so will result in the undersigned initiating all legal action available against you to compel you so to do.
"If you fail to respond to this letter by the date indicated, the undersigned will be making an application to the High Court for enforcement of the judgment against your company and/or the undersigned will be seeking to levy against you or your company to recover sums owed and due."

The legal missive suggests a change of tone by Hart with the local football body. Two months ago, Ramdhan said the popular coach, who leads Canada Premier League club HFX Wanderers, had agreed to give the TTFA time to satisfy its debt—due to his close relationship with new president William Wallace.
Wallace operated as the Men's National Senior Team manager during Hart's tenure.
However with Wallace's authority at the TTFA now in question, due to Fifa's decision to implement a normalisation committee on the twin island republic, Hart has made his move.
"I had spoken to Hart and he was willing to work with the administration and the plans that we shared with him to treat with his payment," Wallace told Wired868. "I suppose the uncertainty of the current situation led him to act."
Incidentally, the Bureau of the Fifa Council sought to justify its decision to remove Wallace as president by declaring a lack of confidence in his ability to address the TTFA's debt. Now, Fifa's normalisation committee chairman, Robert Hadad, has two weeks to see what he can come up with to placate Hart—if he continues to insist on heading the local sporting body.
Wallace, in his substantive role as TTFA president, and Fifa are due to clash at the Court of Arbitration for Sport (CAS) in Lausanne over the international body's attempt to move him. No date has been set for the hearing as yet.
Up to the time of publication, Hadad had not responded to a request for comment by Wired868 while Ramdhan said he has not yet seen Hart's legal letter.
At present, the TTFA is over TT$50 million in debt, with creditors including: former technical directors Anton Corneal (TT$3.5 million) and Kendall Walkes (TT$5.1 million) and coach Russell Latapy (TT$3.2 million).
Coaches Dennis Lawrence and Stuart Charles-Fevrier were owed TT$425,000 and TT$276,000 respectively by former president David John-Williams and are now also due compensation for the remainder of their contracts.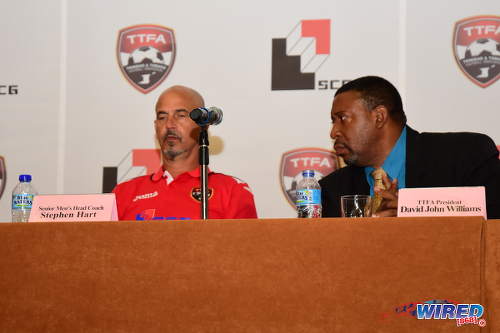 Hart, who led the Men's National Senior Team to successive Concacaf Gold Cup quarterfinal finishes in 2013 and 2015, was sacked by John-Williams in November 2016. His contract was due to run until December 2018.
At the time, he was owed five months' salary—three months under John-Williams and two under previous president Raymond Tim Kee—as well as travel, baggage and food expenses and a bonus for guiding the twin island republic into the Hex of the 2018 World Cup qualifying campaign, which also assured the Warriors of their place at the 2019 Gold Cup.
The John-Williams-led TTFA pocketed a cash windfall of US$1.5 (TT$10 million) when the Warriors drew 2-2 with Guatemala on 2 September 2016 to qualify for the Hex—exclusive of the appearance fees that the local body also collected for appearing at the 2019 Gold Cup, due to the same result.
Hart's contract stipulated he was due US$10,000 from that figure, which was less than one percent of the bounty. Yet John-Williams never paid.
On 19 November 2019, Justice Eleanor Donaldson­-Honeywell ruled in favour of Hart at the Port of Spain High Court after the then John-Williams-led TTFA failed to lodge a defence for his dismissal.
Hart wants to be paid his due now and, once more, it is a headache that falls to John-Williams' successor. Fifa insists that person is Hadad.
Although the TTFA is penniless at present, it is due a US$2.5 million (TT$16.9 million) payment in the coming weeks while creditors would have noticed that the Home of Football is closer to full operation.
At present, the Home of Football is being used as a wellness centre by the Ministry of Health to house asymptomatic Covid-19 patients. And, contrary to a claim by Hadad, the controversial facility is not believed to be yet at a sufficient standard to operate commercially.