The ghoulish picture of our police commissioner over the dead body of a murder suspect (Express, 28 December) reminded me of Nietzsche's aphorism:
'He who fights with monsters should be careful lest he thereby become a monster… if thou gaze long enough into an abyss, the abyss will gaze into you'.
The police-furnished photograph, reminiscent of US Navy Seal Chief Edward Gallagher with the ISIS corpse, was intended to send the message that, led by the commissioner, the police are the predators and the criminals are the prey.
The police commissioner enunciated a new credo 'touch one, touch all', which is another layer of the 'one shot, one kill' strategy.
This new credo may appear to be a good response since nobody should attack our police with impunity. But when coupled with the previous 'one shot, one kill' policy, it can, and most likely will, be interpreted that the police can shoot to kill and not bother to go through the trouble of apprehending a suspect. A frightening spectre.
Policing is dangerous work and there is need, at times, to use deadly force. Police killings are an elemental part of police power, and physical death at their hands is a formality. Yet, there is need for transparent due process to ensure the rights of all.
When we wink at psychological abuse, as alleged in the Skeete case, we must understand and accept that the natural other end of that continuum is an increase in police killings.
In 2010, we had our highest record of 49 persons killed by the police. By May 2019 (the latest figures available), we have had 23, up from 14 for the same period in 2018.
Appealing to the public fear, there is licence for the police to act indiscriminately. Just as happened in the US post 9/11, we are prepared to hand over our rights to become safe. We keep hoping that better will come, even while acknowledging that after a year it has not.
In February 2019, Minister Stuart Young told the senate that there would be a roll-out of body cameras and that the technology will be rolled out throughout the service by March. But this obviously does not apply to the SORT team, since Minister Young noted that Commissioner Gary Griffith will decide 'whether all officers will be wearing them'.
A quote from Thomas Paine, an American philosopher, is relevant here: 'a body of men holding themselves accountable to nobody ought not to be trusted by anybody'.
Grave doubt about the criminal justice system is sowed while the media, or a particular media house, is characterised as public enemy number one. Is it wise to trust that unquestioning support of all action is good for us?
In our rush, we have forgotten the 2011 Moruga killings of three persons by seven (one subsequently turned state witness) policemen, made accountable only by concerted village protests and video footage that disputes the official police version, which told about kidnapping and a shootout.
Joel Apparicio may be a faint memory. He was a young man who was running to the nearby police station to report an altercation when an SRP in a vehicle shot him in plain view in the Croisee. His mother emptied his pockets to prove he was innocent. Both instances are still to be resolved.
George Ashby, a groundsman, killed in 2009, is still crying out for justice. Eight years before official use of tasers by the TTPS, six Chaguanas cops used them on suspects. Then it was reported that a senior police officer interfered with the process because of familial relations.
Dave Burnett, an off-duty officer, killed Kevin Cato at a party and it took seven years to finally get justice. The lengthy processing delays impede the work of the Police Complaints Authority, compromising natural justice and obscuring police misconduct.
We forget the movie we watched back in 2013/4.
On assumption of office as the minister of national security, Mr Griffith averred 'the first principle of going into war is confidence'. He promised 'administrative and logistical support … to provide the citizens with their right to safety and security'.
Three months later (November 2013), he said: "What was not done in national security in 12 years, we will produce in 12 months." By December he was attributing a spike in murders to his putting pressure on gangs!
Within a week of Dana Seetahal's murder, he assured us that he had things 'under control'. We ignored Fr Harvey's caution about errant police officers 'toting ghosts' and were greeted with the triple killing at Desperlie Crescent in September 2014.
We keep believing.
Focused on the role of the individual criminal, we breathe in relief when the police kill suspects. We accept uncomplicated explanations for seemingly inexplicable situations. These come at the price of having to disavow the contributing inequities of our social disorder.
Why do police officers have to moonlight as guards? Does this contribute to their lack of alertness and therefore death? How did we find this suspect but not the one in the Charlotte Street video-recorded killing of Sergeant Roger Williams, another moonlighter?
Why would a murder suspect, with police looking for him, retain personal possession of the victim's weapon? Even the common car thief 'cools off' a stolen vehicle.
Some have transgressed, but some are innocent yet still subjected to excessive force. The elites, only interested in their rights, allow the targeting of others based on their socio-economic group and alleged criminal connections.
When our elites call for the police to have more freedom to do their work, that encourages more aggressive policing leading to killings (Smith, 2004).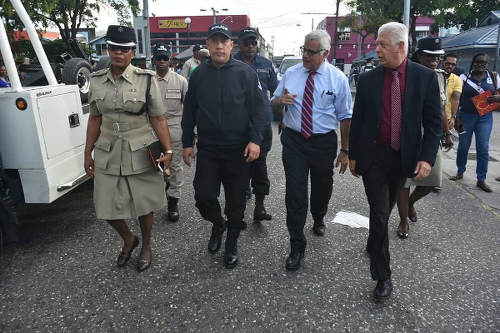 The greater the economic inequity and the more violent the crime, the greater the police abuses. The tyranny of the scared majority tramples the rights of others to maintain some semblance of public order. We starve our young boys of needed resources but give billions to police and imprison them later.
May God help us all.