Dear Wally,
When they go low, Michelle Obama urged the Democrats during the last presidential election campaign in the USA, you go high.
I don't know nearly enough about the US to pronounce authoritatively on behaviour in that space. But I dong here long and my navel string bury in Tunapuna. So I can say without fear of successful contradiction that, in T&T in general and in T&T sports and politics in particular, some people occupy a space so low that they have to come UP to reach bottom.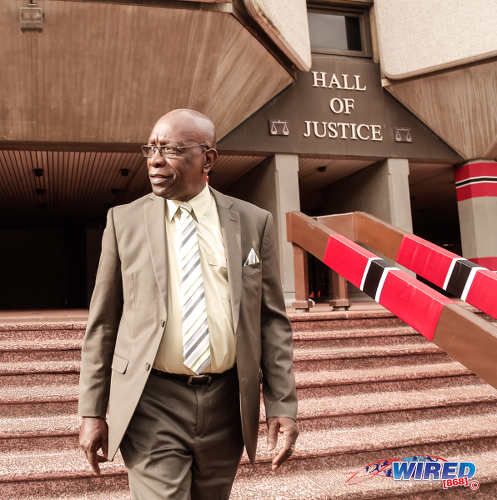 Call names? Why bother? The animal who comes immediately to my mind is completely unembarrassable, willing to sell children or country, perhaps even soul, for thirty pieces of silver. And is then careful to make lavish donations to political parties, to church and temple as well, in a vain bid to redeem self and find eleventh-hour salvation.
So no names. Only a date. November 19, 1989. Exactly 30 years ago two weeks from today. Like you, I dong here long. And I, as I am sure you do, remember.

I bring up that date because, five days later, on November 24, Trinidad and Tobago football will find itself at the crossroads once more. Not on the field of play this time but in the boardroom. And this time the choice will not be left to the Voice of One. T&T football expects every right-thinking man—just ask Clayton Morris—to do his duty and remove the discredited, bungling incumbents.
And, Wally, right-thinking men have their hopes high largely because of you.
But on Monday, right-thinking men were rocked back on their heels. Current TTFA President David John-Williams revealed that, at your Saturday morning launch, your United TTFA, the slate with which you hope to sweep his incumbents on to the dung heap of local football history, had attempted to fool Trinidad and Tobago with a fake letter bearing a forged signature.
True to serpentine form, mealy-mouthed John-Williams did not merely imply that you had deliberately attempt to mislead, to dupe. According to Wired868, he "denounced the letter as 'fraud'" and called on the police to intervene, "to investigate this matter seriously because it involves a forged document."
Remember Jamaal Shabazz's contortionist Morning Edition interview in which he may have made an ass of himself but he indisputably contrived to make an S of himself. Unapologetic DJW backer that he is, he stopped just short of calling out the Lydians to sing 'For he's a Jolly Good Fellow' for the man he identified as DJW's role model but who has not been a wolf merely because today's Trinis are no longer prepared to be lambs.
Neither Shabazz nor DJW will have his way. Perhaps the latter expected—hoped?—that you and your group would dig a deeper hole for yourselves by a denial. He doh know who he dealing with; he doh know you doh move so.
If he had asked me, I would have told him. In all the many years you have been around local sport, in high- and low-profile positions in secondary school cricket and football and national cricket and football, plenty people take very deep breaths around you and never had to hold deh nose.
I would have said that you have remained odour-free. And, like him, consistently above board—not, of course, quite in the same sense.
And I would have pointed out to him that, although there are quite a few persistent TTFA rumours making the rounds, nobody heard either whisper or mention of them at Saturday morning's launch. Issues, not personalities. Ad rem, not ad hominem.
Class is class. When they go low, you go high.
"There was no intention to mislead anybody," you said, responding to the fraud claim. "It was just a very unfortunate situation."
We made a mistake, we take full responsibility. And we apologise.
That will do, I think. This time. But this time and this time only. You and your group need to remember that there are rumours out there. And just as we now have VAR and DRS in cricket and football to ensure that we eliminate errors on the field of play, right-thinking people will expect you to use the technology to largely eliminate errors off the field of play.
You don't have to talk the trust talk but you absolutely must walk the verify walk.
Every new apology you have to issue will knock a chunk of blocks out of the wall of trust that has slowly, perhaps even reluctantly, been erected around you over the last few weeks.
So, 'errors' and negative optics notwithstanding, I am urging all interested parties to do like me and give you and your United TTFA a bligh. Not having anything solid by way of actions on which to judge you, I say let's go on what we know of the character of the would-be president and give United TTFA the benefit of the doubt.
But people's patience is NOT infinite; we can live, I think, with one mistake. But fool me once, shame on you; fool me twice, shame on me.
So get your act together and make sure that whoever was responsible for the embarrassing mishap take ownership and issue an apology. Not tomorrow, today!
Be warned that you're not going to change the world by trusting well-wishers to do for you what you must do for yourself. You're not going to change the world by neglecting due diligence. In fact, you're probably not even going to change the TTFA leadership.
Real change, you see, travels inevitably along the due diligence road. So from here on, apologising for 'errors' and 'mishaps' and not taking the road less travelled is simply not going to cut it.
If short-cuts are going to be the order of the day, then don't blame the electorate if, given a choice between what they perceive as two evils, they settle for the devil they already know.
It wouldn't be the first time in T&T sport that those who think they are flying high are brought rudely back down to earth.
Yuh pardna,
EB