Almost four months to the day that the group now known as the 'United TTFA' declared its intention to unseat Trinidad and Tobago Football Association (TTFA) president David John-Williams, the bloc, headed by presidential candidate William Wallace, finally offered a comprehensive view of its plans at a breakfast meeting on Saturday morning at the Queen's Park Oval in Port of Spain.
For some, what stood out from the lengthy powerpoint display and formal chat—which lasted roughly two hours—was the three-pronged approach to arrest the crisis in the local game, via a sweeping overhaul of the body's technical and administrative set-up, an influx of international sponsors and a new television rights plan.
For others, they would remember when Wallace addressed the tenacious elephant in the room: TTFA board member and Trinidad and Tobago Super League (TTSL) president Keith Look Loy.
On 24 November, the TTFA's 47 delegates—compliance checks notwithstanding—will meet to decide between John-Williams, Wallace and Richard Ferguson for the top administrative post in the local game.
And, judging by the rhetoric so far, the most likely chink in Wallace's armour is the eloquent but divisive Look Loy, who suffers by association for his lengthy employment under disgraced ex-FIFA vice-president Jack Warner; and, perhaps more pertinently, his combative approach that has seen him clash with fellow stakeholders across the length and breadth of the twin island republic.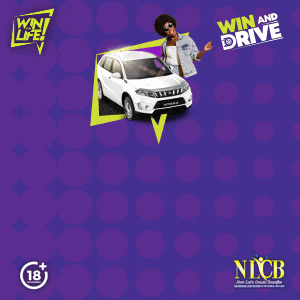 For the sake of his campaign, Wallace must have considered the possibility of temporarily putting Look Loy on a shelf—if it is at all possible. Instead, he took the riskier route.
"The narrative by many persons clearly states that we can't continue to support the current status quo [and] William Wallace and his team are a better option," Wallace told the gathering on Saturday morning. "But we are afraid of Keith Look Loy. [Pause] This is where the narrative becomes skewed and persons become somewhat disingenuous. I ask two simple questions of those persons:
"What has Keith Look Loy done for us to be afraid of him? What has he done wrong?
"Was trying to get answers that he and all members are entitled to wrong? Was demanding transparency wrong? Was going to court to get answers that all members wanted, using his personal funds, wrong?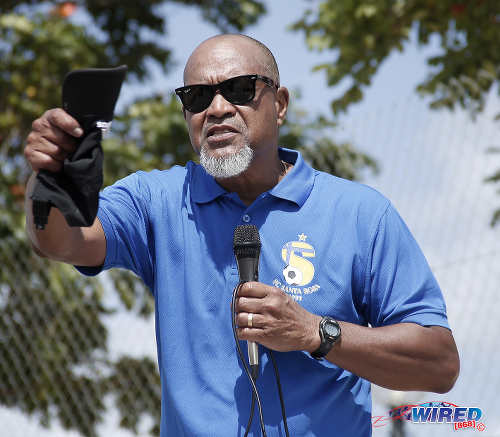 "Was putting his money where his big hot mouth is wrong? Was demanding that the constitution be followed wrong? Was demanding that coaches accept responsibility for their team's performance wrong?"
Ferguson's business savvy and John-Williams' political acumen aside, Wallace's decision to embrace Look Loy could be one of the defining moments of his campaign.
Was it a case of Wallace being transparent with potential voters about Look Loy's importance to his administration? Was it a slick attempt to transform a liability into a strength? Or simply a matter of loyalty and principle?
Look Loy might not head the 'United TTFA' ticket but, as he suggested himself, he has been its driving force.
"Today is an important day because it marks an important moment in the history of Trinidad and Tobago football and the TTFA," said Look Loy, "because today we mark the transition from one person in a group of people—on a search for what they thought they needed to know—to a movement, United TTFA, that is seeking elected office in the TTFA.
"And I say a 'movement' because United TTFA is not just the people on the slate, it is not just the people in the room…"
Wallace also suggested a sense of destiny in his team's drive towards the TTFA's headquarters.
"History is replete with people like Keith, people who single handedly stood up for a cause, [were] vilified but eventually absolved by history itself," said Wallace. "You may not always agree with Keith's approach. But when the story is written, let it show that it was Keith's action that galvanised others into action and fuelled the boat of Unified TTFA.
"Why United? The answer is simple. We need all hands on deck to rise up and out of the deep hole we find ourselves."
If Look Loy's prickly approach is well-known, his strengths should be no less debatable. It was, at first, curious that Wallace handed over the unveiling of his slate's proposed technical set-up to someone who is not even on the United TTFA ticket.
For his critics, it would fuel their claims of Look Loy as a puppeteer. At second glance, though, it might also be viewed as selfless and sensible.
Thoroughly organised, indefatigable, pragmatic and blessed with a trove of administrative experience, Look Loy broke down a complicated overhaul of the TTFA's technical set-up in terms that a child could grasp—without using a word too much or too little.
"We find ourselves in a deep hole out of which we have to climb," said Look Loy, "and I believe in self-action, self-motivation and not waiting for people to find a way forward for you—you have to do it for yourself in this life.
"[…] The main pillars of any serious football association are: administration, finance, technical development, competitions, national teams. The top two—administration and finance—are what make progress in the bottom three possible."
Look Loy offered brief details of the signs of collapse within the TTFA's technical and national team programmes. There is little new to be said there, after all. Crucially, he also offered a diagnosis:
"I speak as a TTFA board member here [and] there is a complete absence of technical leadership, planning and administration, incoherent recruitment process for and poor selection […] of technical and other personnel, an absence of technical oversight and supervision, no reporting, no accountability by any staff including technical staff at the TTFA…
"We consistently ask for plans for national teams and technical programmes [but] we never receive them. We ask for reports on tournaments and friendly matches [and] we never receive them.
"[…] Every team is an island on to itself, a kingdom, a republic—it  can do what it wants with no consequences."
And then there was the proposed cure. Look Loy and Wallace both promised a 'broad discussion among the broad football community to begin nailing down the fine details of a plan' to take the local football body forward.
But in an election campaign, you have got to do better than: 'we will listen to you once we are elected'. And the United TTFA offered detailed ideas on handling the rut.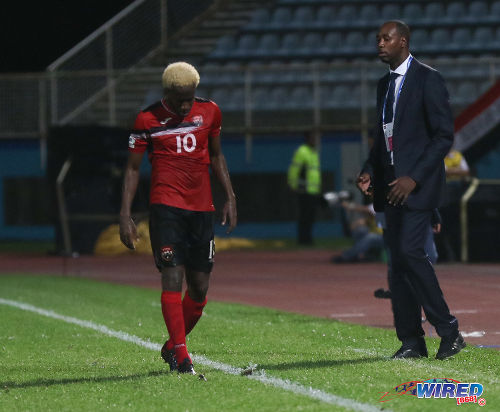 First, Look Loy proposed to introduce accountability to the national programme by merely following the constitution—arguably, an unheard of concept over the past four years—which would see the TTFA Board, via the currently non-functional technical committee, regain control of national teams with a clear chain of command creating an environment conducive to accountability.
"We need to have a national programme, a functional technical committee, a functional technical director, a functional technical department—that has never existed—[and] a national identification programme particularly at age group level," he said. "[And a] TTFA Academy for the education of all personnel (coaches, physios, managers, etc) guided by a management committee…"
Then there was a reversal of John-Williams' philosophy of Couva-based elite teams. Instead of cherry-picking two dozen players to train under a single coach, Look Loy said United TTFA would aim to create and supervise developmental programmes within each zone, so as to develop dozens of players nationwide for each age group.
"[We need] regional technical directors—we are going to appoint these people and pay them—regional technical departments, regional scouting panels which would feed into and link with the national talent identification programme [and] regional training centres at age group levels," said Look Loy. "We will distill the broad base of the [football] pyramid [to reach and develop players in areas like Toco, Roxborough, Moruga, Charlotteville].
"We have to distill that base, we have to have [the regional coaches] submit themselves to ongoing training on the basis of a standardised syllabus and create a ready pool for national coaches to immediately go to when they need to begin selecting a national pool…"
The United TTFA technical programme further includes a full-time youth football manager and women's football director to help oversee the respective programmes, a functional competitions committee, a full-time club licensing manager and a certification requirement for coaches at all levels, complemented by more coaching courses. And those were just the highlights.
Flow Sport founder and former director Sean Riley, a Texan, spoke too about the complexities of negotiating television rights deals in today's market and offering value for sponsors. His company, Macosport, will manage that business on the TTFA's behalf for a commission.
The idea is that Wallace, should he be elected, will lean on experts in various fields to maximise returns for the local football body rather than try to micromanage everything himself.
When he took to the podium, Wallace revealed a cadre of international sponsors and commitment letters—Nike prominent among them—amounting to a TT$13 million war chest that he hopes to bring through the door from 25 November. Club football was promised TT$16.8 million over the next three years.
John-Williams, he pointed out, promised 56 sponsors in his 2015 manifesto but 'failed to deliver one single meaningful sponsor'. It was an exaggeration. The incumbent can point to a TT$8 million NLCB deal and a US$100,000 deal with Nu-Iron.
John-Williams' ears might perk up too at Wallace's suggestion that the United TTFA would monetise the 'beautiful Home of Football'—although the latter was quick to reiterate the questions regarding transparency for the project.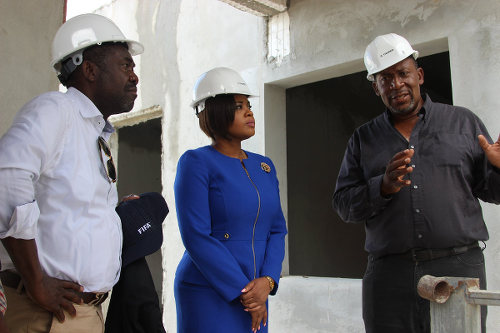 (Look Loy also asserted that the Home of Football, which was used last month by the Girls National Under-14 Team, is still not certified or approved by the local Fire Services.)
The TTFA, according to Wallace, sold just 78 covered stands tickets—from a possible 4,500—for its last Concacaf Nations League fixture against Honduras in Port of Spain. In Trinidad and Tobago's last fixture under John-Williams' predecessor, Raymond Tim Kee, more than 20,000 fans lined up for hours to see the Soca Warriors tackle USA in a 2018 World Cup qualifier.
In truth, Wallace's delivery was not quite on song; the tone and the message not often in sync. He is not blessed with John-Williams' bubbly enthusiasm or Look Loy's assertive, eloquence. So it is just as well then that he is urging stakeholders to reject the cult of personality and make a sensible choice for the future of the game.
"No one will come riding over the horizon on a white horse," said Look Loy. "We have done that. What we need is a collective effort and astute leadership."
But, Wired868 wanted to know, what was Wallace prepared to do to ensure that he would not become another runaway football president?
"I don't think I am going into this with individual power; I'm going into this as a collective," said Wallace. "My power is distributed among us. This is my approach and you should probably know that… (He pointed to his collaborative record as the SSFL president.) I am not worried about that. That doesn't exist in me, so I don't have to rein that in."
But, Wired868 asked, what about the constitutional loopholes that allowed John-Williams to use the emergency committee to sidestep the board? Shouldn't that be fixed?
"There is actually no loophole; that is a breach of the constitution," said Wallace. "The emergency committee is in the constitution and what the emergency committee is supposed to do is also stated in the constitution. What happened is that where there was no emergency, someone single-handedly decided to use the emergency committee; and that is the point.
"The whole of Trinidad and Tobago did not stand up to condemn that—sometimes we are too passive… There is no loophole, we have clear guidelines."
Okay, Wired868 persisted, but how do we ensure it doesn't happen again?
"Because the president after the 24th of November will not be a president to breach the constitution," said Wallace, to warm applause by the audience.
Look Loy sought to help address what he described as 'a critical issue' raised by Wired868.
"The history of the administration of football in Trinidad going back to the time when I was a schoolboy player [was] the history of one person and one personality dominating it and making decisions that quite often were unilateral," said Look Loy. "Maybe that person or personality took advice, maybe they didn't—surely they didn't all the time—and we ended up with what we ended up with. Sometimes it was good, sometimes it was bad but it was very arbitrary administration.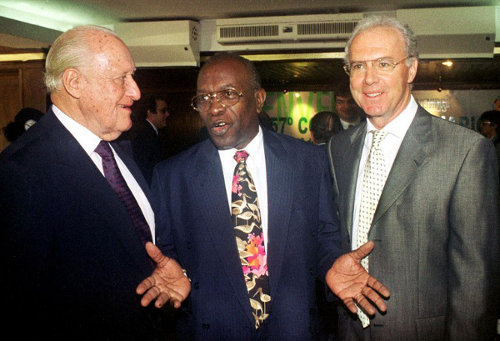 "To come to your point—and Mr [Osmond] Downer I am quite sure will be happy to hear this—one of the issues that arises immediately after the arrival of a new administration is the issue of a constitutional review. Right now, the provision for the emergency committee is being severely abused.
"[…] I will use [Downer's] argument. Look in the dictionary. What is the meaning of 'emergency'? Some words will pop up: immediate, urgent…"
Downer chimed in: "unexpected!"
"You cannot use an emergency committee to launch a new league like the TTFA is doing," Look Loy continued, "[one that] you know you have been planning to launch for months.
"[…] The issue of constitution review is clearly on the table [along with] the issue of an audit of what contracts are in place, how these contracts were arrived at, what are the quantum, the duration of these contracts, all of that has to be entered into…"
Look Loy went further, as he returned to the theme of 'runaway football presidents'.
"Allyuh know I'm not sitting down as a Board member [and] as the president of the TTFA and let William Wallace do what he want," said Look Loy.
"[You mean] president of the TTSL," a few members of the audience chimed in.
Look Loy corrected himself amidst nervous laughter.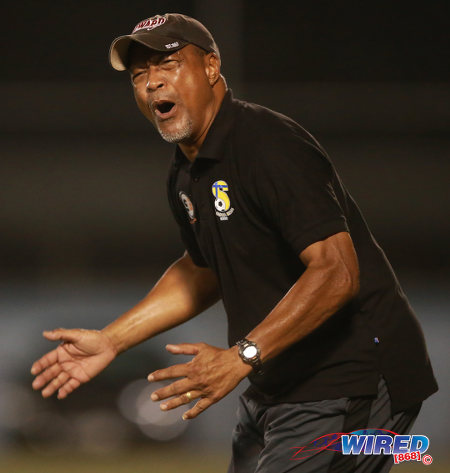 "Within the United TTFA, we have to watchdog ourselves," Look Loy continued. "I wasn't born in Animal Farm."
It prompted another light-hearted response from the audience: "Keith, we have that on record!"
"I am happy we have people within the TTFA who can scrutinise us and scrutinise our actions," said Wallace. "Keith, I hope your mouth doesn't get quiet after November. I think Keith is a necessary—I won't say the other word."
Cue more laughter from the audience.
Wallace is in his second term as SSFL president and two words that have never described his leadership are 'corrupt' and 'authoritarian'. Look Loy is also not known to bend logic for the sake of a partisan decision.
But the promise by leaders to watchman each other—'trust us'—is not new to local football or politics. And it would be interesting to see what constitutional changes are proposed, should delegates vote in a new football president in three weeks' time.
Downer, the second vice-president of the Referees Association, was unhappy with the limited time spent on referees in the United TTFA's presentation and made his views clear in the Q&A segment.
Referees, he explained, were peeved at the TTFA's supposed failure over the years to use from its US$1 million developmental grant to assist the 'men in the middle'.
"Not one black cent has come to referees in the last two dispensations," said Downer, "and we want to see that change…"
"So you have something to vote against," said a smiling Wallace, sensing an opening.
"I ent say that yet!" Downer retorted.
The exchange prompted more laughter from the audience.
Wallace scooped up the support of presidential rival Ferguson's first vice-president, Eddison Dean, after the breakfast meeting and appears to be gathering steam now. But, as Downer suggested, there is still work to be done to convince stakeholders that something very different is in the offing.
Notably, two of Wallace's vice-presidents, Clynt Taylor and Sam Phillip, never addressed the gathering while a third, Sharon Joseph-Warrick, was invited to speak by an audience member, ex-Women's National Senior Team standout Ahkeela Mollon, rather than her slate.
United TTFA has one presidential nominee but, arguably, two leaders: Wallace and Look Loy. If ever there was anyone with the humility to pull off such an arrangement without sacrificing his own convictions, it would probably be the SSFL boss.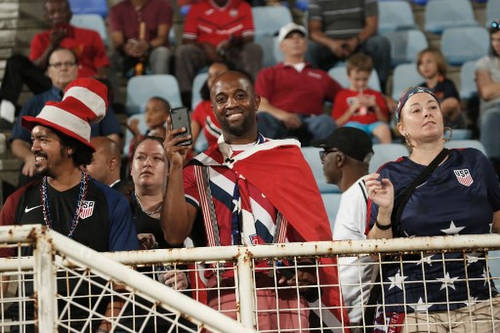 But can he convince TTFA delegates that there is sufficient value to be found in that partnership?
He has three weeks to do so.
Editor's Note: Click to view the United TTFA Presentation 2019.
William Wallace subsequently apologised for use of false letter of support by Junior Sammy Group of Companies. Click HERE to read his explanation.