St Benedict's College improved their chances of escaping relegation from the Secondary School's Football League (SSFL) Premier Division this afternoon, as they trounced Trinity College Moka 4-0 in Moka.
St Benedict's are still 13th in the 15-team table with the bottom two schools facing demotion to the Championship Division. However, they now have a six-point gap from table proppers Trinity Moka and St Mary's College and, with 10 points, are level with Pleasantville Secondary (11th) and Malick Secondary (12th).
St Benedict's head coach, Reynold Carrington, said it was a welcome change.
"Based on our last set of performances, to win 4-0 today, I think the boys really came out and dug deep and we are pleased to have the result."
For the boys from Moka, it was their sixth straight defeat this season and, at the final whistle, some players appeared to be fighting to hold back tears.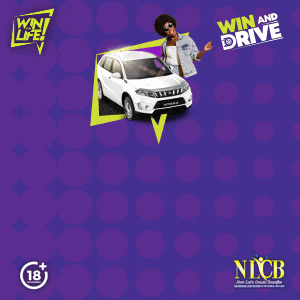 "If it's one time we should be together, is now!" Trinity coach Kenrick Elie said.
At the match, Elie said days like this were now the norm for his team but credited them for their spirit.
"It was disappointing. This is a fighting team, we're not finishing and we giving up soft goals. And this is a reflection of what happens in our training; we are pushing the guys to train with precision. We are not getting there, so in the games, this is the result."
Photo: The SSFL Premier Division standings after matches on 16 October 2019. Tarik Lee put Benedict's ahead after just four minutes and the southern visitors dominated the opening exchanges as Lee, Ackeem Mason, Nkosie Rosales, Rhowne Stewart Williams and Joshua Joseph, in particular, kept the Trinity defence and goalkeeper Justin Dos Santos busy.
However, right winger Jahra Menes had a golden chance to equalise but dragged his effort wide, midway through the half, while midfielder Sean Pierre had two goal-bound headers saved after left side crosses by the fiery attacker Jardel Mitchell, as Trinity came into their own.
In the 35th minute, Mitchell cut inside of his defender and clipped the upright with a bending shot after some strong approach play, spurred on by the die-hards under the trees on the right touchline. But, despite their newfound verve, Trinity still went into the half trailing 1-0 with the spectre of relegation looming large.
Trinity had to know they were their own worse enemy up to this point, as they often seemed to choose the harder options in the final third.
Their coach said their inexperience had gotten the better of them too many times this term.

"We have lost 13 players. We only got one player to come into the school. In fact, what you are seeing out there is six players from the Under-16 team playing in the premier division, all credit to them."
He said fatigue and injuries were also major concerns for his small squad.
"We are stretched. There isn't even a player that you can give a break."
Early in the second, Mitchell again got the best of the service from the wings but failed to convert another Menes' cross, as goalkeeper Kadeem Duncan came off his line to produce the block.
Trinity had the heart, but like so many times this season, the task appeared more than they could best.
Carrington said his team was guilty of celebrating too early.
"Obviously complacency stepped in for a while, we scored in the first four minutes and the players [assumed] that it would be an easy day at the office, and Trinity Moka did work hard to get back [into the match]," he said. "We brought on some fresh legs and I think they made some difference here today."
And, against the run of play, Benedict's got their second as Lee used his time and space to slot into the back of the net.
Benedict's made it 3-0 in the 77th minute, as Jadon Grant hit the upright but clobbered his very next chance through the keeper and into the back of the net.
And 75th-minute sub, Kanye Francis, saved the best for last. Lee flicked on for the fresh player to round out the victory with a crisp finish.
"I think we matched them in terms of performance," Elie said, "nonetheless, we played against an excellent team. Benedict's may be low on the standings, but they are playing good football and being in the position they are, they would play even harder."
Carrington said he felt his team was taking a turn for the better.
"It's been tough. I think our preparation went well, but at this level coaching youths, you have to be on top of them."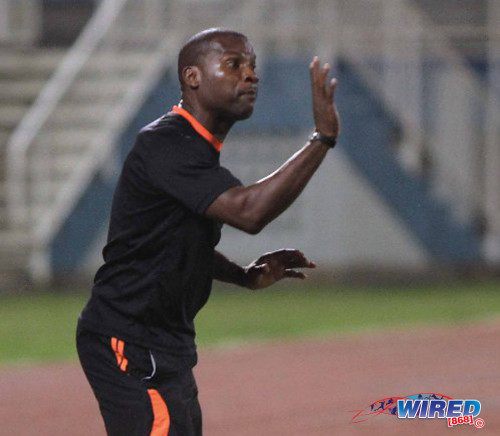 He didn't place the blame squarely on his charges, however, adding: "I think somewhere along the line we lost it a little. Even us as [the coaching] staff, we too had to look back on ourselves and see where we went wrong and fix it going [into the run in]."
He said his team owed it to the future of the St Benedict's programme to survive the 2019 season.
"Obviously, with the kind of talent we have in the school, we definitely don't want to be a team that goes down to play in the lower divisions. So, we are going to work hard and do everything to make sure the team stays up in the premiership division."
Both teams are still precariously perched over the relegation trapdoor. Fifth-placed East Mucurapo are up next in Moka, and the home team will be hoping to emulate Trinity College East's winning performance against them.
Next, St Benedict's College hosts QRC at Lewis Street; the Royalians had Wednesday off after their match against Presentation College San Fernando was postponed.
Teams
Trinity College Moka (4-4-2): 22.Justin Dos Santos (GK); 5.Anfrene Bascome, 17.Adel Black-Haynes, 4.Keishaughn Pridar-Williams, 18.Dre Loregnard (8.Nkosi Davis 48); 16.Jahra Menes (2.Nyron Wall 63), 23.Sean Pierre, 6.Jaheim Marshall, 10.Temesgn Tezera (Captain) (9.Simeon Charles 66); 3.Josiah Superville, 7.Jardel Mitchell.
Unused Subs: 1.Tyrese Clement (GK), 12.Martin Lamy, 14.Michael Jagdeo, 21.Brandon Lee Young.
Head coach: Kenrick Elie
St Benedict's College (4-3-2-1): 1.Kardeem Duncan (GK); 25.Symron Wiseman, 24.Jabari Graham, 5.Merlik Campbell, 3.Jared Phillip; 12.Rhowen Stewart Williams, 18.Jaheim Joseph (14.Kareem Phillip 66), 10.Joshua Joseph (8.Kanye Francis 75); 9.Nkosi Rosales, 7.Tarik Lee; 11.Ackeem Mason (20.Jadon Grant 69).
Unused subs: 2.Joseph Thomas, 19.Gesian Bishop, 23.Aaron Lamy Ramsden
Head coach: Reynold Carrington
Man of the Match: Tarik Lee (St Benedict's College)
SSFL Premier Division Results
(Wednesday 16 October)
St Augustine Secondary 7 (Dwight Jordan 23, Kyle Carrington 33, 50, 90, Tyrese Spicer 55, 86, Joshua Ambrose 61), Speyside Secondary 2 (Jelanie James 45+1 pen, Adriel George 84) at St Augustine;
Naparima College 5 (Jaron Pascal OG, Isa Bramble [3], Molik Khan), Carapichaima East 0 at Lewis Street;
Trinity East 1 (Isaiah Williams), East Mucurapo 0 at Trincity;
San Juan North 4 (Malik Ferrier, Isaiah Chase pen, Renaldo Boyce, Daniel Best), Malick Secondary 2 (Mamade Guerra, Zion Carpette pen) at Bourg Mulatresse;
Trinity Moka 0, St Benedict's College 4 (Tarik Lee 4, 54, Jadon Grant 77, Kanye Francis 81) at Moka;
St Anthony's College 2 (Jean-Heim McFee 4, Jordan Barclay 84), Pleasantville Secondary 0 at Westmoorings;
Presentation (San F'do) v QRC at Mannie Ramjohn—Did Not Play
St Mary's College are on a bye
Upcoming fixtures
(Saturday 19 October)
[All games kick off at 3.30pm]
Pleasantville Secondary v Speyside Secondary at Pleasantville;
St Mary's College v Carapichaima East at Serpentine Road;
Trinity Moka v East Mucurapo at Moka;
St Benedict's College v QRC at Lewis Street;
Malick Secondary v St Anthony's College at TBD;
San Juan North v St Augustine Secondary at Bourg Mulatresse;
Presentation (San F'do) v Trinity East at Mannie Ramjohn;
Naparima College are on a bye