Defending champions Naparima College stretched their lead atop the SSFL Premier Division standings to four points today after a 3-2 win over title rivals St Anthony's College in Westmoorings.
Naparima College head coach, Angus Eve, explained that he simply mirrored his opposition. "It's a small pitch, a tight pitch so we went man for man on them today. We did just what they do," he said.
"It's fortunate for us that they don't show us on TV," Eve said. "No one sees what we do, but we could see what they're doing. We saw St Anthony's play a couple times, and we saw they were very good on set plays. They were very good with long throws."
'Naps', who are still unbeaten this season, are first on 23 points from nine matches followed by Presentation College (San Fernando) (19 points), Carapichaima East Secondary (18 points) and St Anthony's (16 points) respectively.
This afternoon was expected to be Naparima's sternest test of the season so far as the top two teams squared off at the St Anthony's College grounds. Instead, a deep-sitting Naparima team, with the imposing, disciplined Shoaib Khan and Tyrike Andrews down its spine, soaked up the early pressure and burst out the blocks on the counter with the intuitive Isa Bramble and Ian Shippley.

The home team, who missed star striker and the Premier Division's top scorer Kai Phillip through suspension, settled in first and St Anthony's forward Zion Williams had the first real opportunity of the match. But his effort was charged down by Thaj Neptune and out for a corner.
Just after the quarter-hour, St Anthony's Kirin Manswell got the better of Atiba Lewis with a clever headed 'cap', but the defender recovered to block his advance.
Bramble had a string of strong charges down the right side of the Naps' attack. Meanwhile, the stealthy, languid Nathaniel Perouse kept the half-chances kept coming for the Naps' runners from every point of the midfield.
It was just as well for the 'Westmoorings Tigers' that their composed goalkeeper Josiah Perez was in inspired form. He could do little about Naparima's opener, though, which came at the half-hour mark.
Perez failed to gather a floated Bramble free kick into the penalty area, and Naps midfielder Shoaib Khan smacked in a volley at the second attempt to put the southern bigwigs ahead.
But the Tigers weren't easily shaken and their 34th-minute equaliser was a team effort.
Williams controlled Kaihim Henry's under-hit corner, dinked it to the last post for Darius Douglas to head at the last post for defender Jordan Barclay to head in.
As the game settled, St Anthony's Quinn Frederick popped up in little pockets of space to torment the Naps midfield, while left back Trent Weekes started the lion's share of the Tigers' attacks.
Both teams restructured when they returned from the half-time break. Weekes now operated at the base of the Tigers midfield next to Frederick and McFee, where his influence would grow, hardly putting a foot wrong.
On the other side of the pitch, Naps stepped further up the field, returning Bramble to the centre of the attack to deadly effect.
"We [restarted] with the five at the back, the three in midfield, then we had two quick guys on top, and we played on the break. And it worked perfectly. We could've scored seven goals today" Eve said.
Bramble got the first real chance of the second half. He chased down a booted clearance out of his defence and poked it over the stranded Perez to restore Naps' lead after 53 minutes.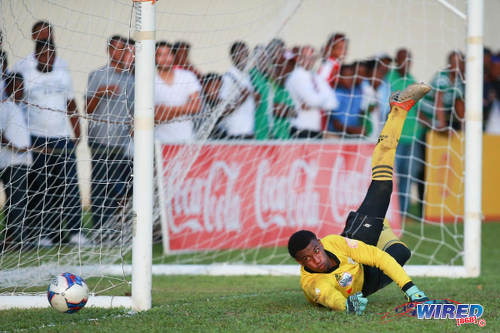 Five minutes later, Seon Shippley made it 3-1 with a well-taken effort to Perez's left after good, strong running and an inviting centre from Marvin Waldrop on the left flank.
St Anthony's sought to repair the damage with Williams on one wing and 67th-minute sub, Real Gill, on the other.
Gill had a gilt-edged chance but was too short to convert Weekes' looping cross from deep. Thomas cleaned up behind him with a goal-bound volley, but Levi Fernandez palmed it on to his crossbar for Asukile Christopher to clear.
Gill and Bramble lost two more chances before St Anthony's finally got their second goal. Gill spread it to the tireless but visibly frustrated Williams whose cross evaded two defenders perfectly. The header from another sub, Jelani King, was just as perfect, feathering the net as it rested in the corner, cutting the lead to one.
By now, the result didn't look in doubt. Naps were encamped in their area, with Khan marshaling the midfield to aid the back four.
St Anthony's made a desperate, all-hands-to-the-pump last raid, but couldn't get past a resilient Naps defence.
"It was a balanced game, but goals win matches," St Anthony's coach Ronald Daniel said after the defeat. "The boys got a bit complacent, but they realised that they were in a game and caught back their spirit [in the end]."
He added: "We are working on our character right through. The game is never finished till it's over. We're going to continue to work to get it done, because we still have games to play, everyone has games and we are working toward our goal."
Both teams are on the road on Saturday; St Anthony's faces St Mary's College at St Mary's Grounds and Naparima heads to the sister-isle to face Speyside on the Northeast coast.
(Teams)
St Anthony's College (3-5-2): 1.Josiah Perez (GK); 14.Randy Antoine, 16.Jordan Barclay, 5.Trent Weekes; 11.Kiron Manswell (20.Real Gill 67), 13.Quinn Frederick, 8.Jean-Heim McFee, 4.Ian Cowie, 9.Zion Williams; 25.Darius Douglas (3.Malachi Daniel 74), 7.Kaihim Thomas (18.Jelani King 85)
Unused Subs: 21.Kaiell George, 6.Shurland Augustine, 22.Dajeon Collingwood, 2.Timothy Brandel
Coach: Ronald Daniel
Naparima College (3-5-2): 1.Levi Fernandez (GK/Captain); 2.Thaj Neptune, 4.Tyrike Andrews, 12.Asukile Christopher, 15.Marvin Waldrop; 5.Atiba Lewis, 17.Nathaniel Perouse (13.Jabari Lee 86), 6.Shoaib Khan, 8.Kodel Frontin; 20.Seon Shippley (7.Mark Ramdeen 90 + 2), 19.Isa Bramble (18.Jaden McKree 90).
Unused Subs: 22.Regaleo Holder (GK), 9.Ezekiel Kesar, 14.Molik Khan, 16.Akil Johnson.
Coach: Angus Eve
Man of the Match: Isa Bramble (Naparima)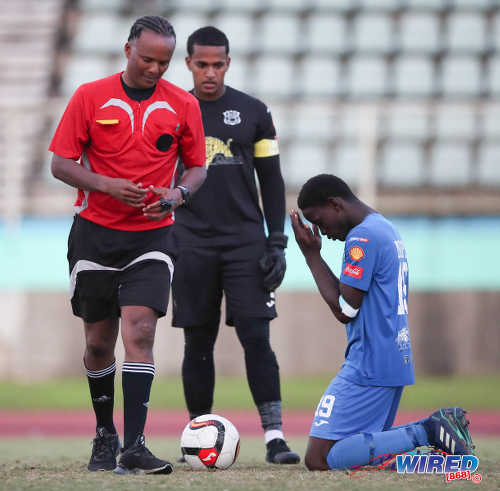 SSFL Premier Division results
(Wednesday 9 October)
Speyside Secondary 2 (Jelanie James 38, Adriel George 56), Carapichaima East 4 (Keilon Burnett 6, 60, Josiah King 24, Resean Britto 79) at Speyside;
St Anthony's College 2 (Randy Antoine 34, Jelani King 90+2), Naparima College 3 (Shoaib Khan 30, Isa Bramble 53, Seon Shippley 58) at Westmoorings;
Trinity East 1 (Jemaul Asching), QRC 4 (Nathaniel James [2], Jaheim Granderson [2]) at Trincity;
Presentation (San F'do) 3 (Jaiye Sheppard [2], OG), St Augustine Secondary 1 (Tyrese Spicer) at Mannie Ramjohn;
Malick Secondary 1 (Jabari Williams), St Benedict's College 1 (Jaheim Joseph) at Hasely Crawford;
San Juan North 7 (Isaiah Chase [4], Christon Mitchell 1, Malik Ferrier, Kiano John), St Mary's College 0 at Bourg Mulatresse;
East Mucurapo 3 (Daniel David pen, Jelani Ferary, Malachi Celestine), Pleasantville 0 at Mucurapo Road;
Trinity Moka are on a bye
Upcoming Fixtures
(Saturday 12 October)
[All games start at 3.30pm]
Malick Secondary v East Mucurapo Secondary at the Hasely Crawford Stadium;
Speyside Secondary v Naparima College at Speyside;
Pleasantville Secondary v Presentation College at Pleasantville;
Carapichaima East Secondary vs San Juan North Secondary at Carapichaima;
St Mary's College v St Anthony's College at St Mary's;
St Augustine Secondary v St Benedict's College at St. Augustine;
Queens Royal College v Trinity College Moka at QRC
Trinity College East are on a bye