Naparima College will kick off the 2019 Secondary School's Football League (SSFL) against St Mary's College on Wednesday 11 September. And after their historic unbeaten 2018 triple-winning season, when the 'Invincibles' take the field at their Lewis Street fortress in San Fernando, all eyes are sure to be on the champions—and on their uniforms.
It seems that not every team was as elated as SSFL president William Wallace when he announced Joma's sponsorship of all team uniforms, inclusive of home and away kits, bibs, training and traveling kit for players and staff.
The new deal means that Naparima's sponsor Tiger Tanks Trinidad Unlimited will have to abdicate some prime advertising real estate on the team's uniform to Digicel for the new season.
"Naparima College brought an issue to a [SSFL] general council meeting about how they think the uniform should be branded," Wallace said on Monday. "The general council voted to go with what was presented. In other words, they chose to not go the way that Naparima was suggesting at this time."
He added that general council decisions were final.

Naparima wore the Tiger Tanks kit when they beat arch-rivals Presentation College 5-4 on penalties after a 1-1 regulation draw to claim the Digicel Cup title, their first of the season.
In addition to Tiger Tanks, the school's main sponsor—a logistics cargo company based in La Brea that is the largest of its kind in the region— Naparima College sports coordinator, Percy Samlalsingh, confirmed that Kenson School of Production Technology, Tradewinds Hotel and Club Sando are also sponsors.
Asked if he anticipated any issues from competing sponsors, Wallace said: "I do not want to say that I anticipate anything. I am hoping that [the league] will be able to kick off on Wednesday, and if anything happens, well … I am hoping that everything's fine."
Wallace also demurred when quizzed for details about any subsequent meetings after the general council.
"There's nothing definite, there's nothing specific and I can't say anything on it because I don't know," he said. "The only time we will know something is on Wednesday when the league kicks off."
Samlalsingh explained Naparima College's attractiveness to corporate Trinidad: "People like to associate themselves with winners. We didn't always have it. Recently, from 2014, we started getting sponsors on board. Some are past students, some are not. Just like anybody else we do a proposal, go to them and they could say yes or no."
He did, however, empathise with schools that did not have Naparima's roster of sponsors: "[…]It's hard, I have seen it for myself, but you have to keep trying you have to keep knocking on the door to see who could come on board."
Meanwhile, the SSFL president expects a good start to the season based on the Digicel Cup.
"The main thing for us this season is to bring more people to the games," he said. "We have a dedicated group of young people, a small company called Unveil Magazine, working hard on our social media presence."
As for St Mary's College, they start the tournament adjusting to the mass exodus of 99% of their team, and a new coach, Kerry Jamerson, facing the tide with a rookie crew. With new players throughout the squad, CIC's new coach is keeping his ambitions for this year modest, choosing instead to focus his players on gaining experience.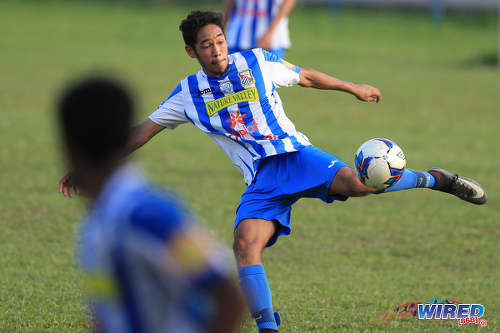 "As in any league, any team would love to collect silverware," Jamerson said, "but so far, ours is a young team so we are trying to ensure that our team is mid-table this year [as a start].
"A lot of them came from the under-16 with very little experience so this year is to gain experience to work and train hard and to ensure that we stay [in the Premier Division …"
Still, after their 9th place finish in 2018, St Mary's are quietly confident in their ability to remain a force to be reckoned with in the mid-table.
On Wednesday, Naparima College begins its title defense without #2 goalkeeper, Enrique Changiah, defenders Jeron Pantor and Daquon Foster, as well as some of the guys that gave the team depth on their remarkable 2018 run.
Exciting national Under-15 midfielder Molik Jesse Khan, Mark Ramdeen, Shoaib Khan, Kodel Frontin, Marvin Waldrop, Decklan Marcelle, Isa Bramble and Seon Shippley all return to their ranks, bolstered by A-Level student-athletes Jadon McRee and Regalio Holder.
The 30-player list includes three Under-14, seven Under-16 and the rest are senior players.
"Just like every year we want to go out there and win everything like any other school," Samlalsingh said with a chuckle. "Yes, we were fortunate last year to win some games on penalty kicks. If it comes down to the same thing with the same result, fine, we have to go one title at a time."
SSFL Premier Division fixtures
(Wednesday 11 September)
[All games kick off at 3.30pm]
San Juan North v Pleasantville Secondary at Bourg Mulatresse;
St Benedict's College v Trinity East at Mannie Ramjohn;
Speyside Secondary v Malick Secondary at Speyside;
Trinity Moka v Presentation (San F'do) at Moka;
East Mucurapo v QRC at Mucurapo Road;
St Augustine Secondary v St Anthony's College at St Augustine;
Naparima College v St Mary's College at Lewis Street;
Carapichaima East are on a bye