The Secondary Schools Football League (SSFL) continues to evolve, according to president William Wallace at the official launch of the 2019 season, held at Fatima College Auditorium today.
Wallace, who was re-elected unopposed in May, was joined at the head table by an almost full starting eleven of sponsors, who all expressed their eagerness for the new season, which kicks off with the Digicel Cup on 7 September, followed by the regular season on 11 September.
SSFL and National Intercol defending champions Naparima College will be hoping to extend their current unbeaten streak, which stretches back to the 2017 season when they face bitter rivals Presentation College San Fernando in the Digicel Cup at the Mannie Ramjohn Stadium.
Kick-off is at 4.30 pm, but fans will be in for an early treat when the Naparima and Presentation College alumni dust off their boots for a special Digicel Cup derby encounter at 3.30 pm.
"What keeps changing also is our strategy to keep changing in a fast-changing environment," Wallace told the gathered media. "Our approach to governance, our resoluteness in positively impacting our youth, our determination to create opportunities and by extension to save lives. This mission cannot be successful without important partnerships."

The SSFL's fundraising effort under Wallace has certainly proven that he and his team have the Midas touch as no fewer than eight major sponsors: Sportsmax, Digicel, Shell, Coca Cola, FCB, Malta Carib, Fruta and Joma confirmed their investments of well in excess of TT$2m for this season.
Very few, if any, local sporting leagues can boast of such luxuries, and FCB deputy chief executive officer, Jason Julien, quipped that his organization is committed to walking the walk.
"I truly believe that the SSFL is the furnace in which we forge talented, committed and dedicated young men and women who will go on to represent Trinidad and Tobago," he said. "[…] Beyond the fun and excitement, in a society where crime and social ills favor our young people, the league is a major avenue where we can harness positive values and the power of football can shape lives."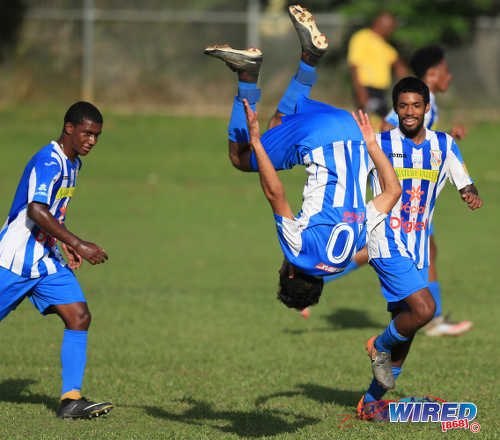 Marsha Kalloo, senior marketing manager of the newest SSFL sponsor, Malta Carib, echoed these sentiments and reaffirmed they were investing from the ground up. Malta will sponsor the SSFL Boys and Girls Senior Divisions, Under-14 and Under-16 divisions and the Girls Under-15 Division.
Wallace praised Malta and Fruta for sponsoring the lower divisions, saying they were 'the foundation for what happens upstairs.'
Longstanding partner Coca Cola will become sponsors of both the Boys and Girls Intercol, while Malta Carib will also be joined at the rookie sponsors table by Joma, which has committed to outfitting all 15 Premier Division teams for 2019 through their local agent Sportway.
Each team will receive two playing kits, training and travel kits for players and staff—travel kits and bibs valued at $500,000. It will be the first time in the 55-year history of the SSFL will have completely sponsored uniforms.
This would surely be welcome news for the promoted trio: Speyside Secondary, Pleasantville Secondary and Malick Secondary who will be replacing Fatima College, Valencia Secondary and Bishop's High School who all fell through the relegation trap door to the Championship Division.
Malick, a historical juggernaut in the school football arena, will be making their belated return to the top flight but have had to face a series of challenges in sourcing a suitable ground for the new season.
Wallace did, however, confirm that the SSFL Secretariat has been working with them, and they have confirmed a home ground for at least most of their fixtures so far.
A deal to have insurance coverage for all players is also being finalized along with a draft for the SSFL Scholarship Programme.
And not to be left out on a day of huge announcements, Colin Greaves, Digicel's Communications' sponsorship events executive trumpeted a host of fan interactive innovations to get the ball rolling from as early as the Digicel Cup.
"The Secondary Schools Football League represents one of the largest sponsorships that Digicel Trinidad and Tobago undertakes with a direct investment of over a million dollars in cash each year and of course another $500,000 in activations and additional support," Greaves said.
He also announced a special SSFL 100-dollar, 30-day student plan that Digicel will make available to all students. The plan includes 100 local minutes, 500MB of data, unlimited Digicel to Digicel SMS and free WhatsApp, Facebook, Instagram and Wikipedia.
Greaves added that Digicel's activation teams will also be at all SSFL games, giving away free SIMs and that a football e-tournament will take place during each of the games. Highlights of the e-tournament will be featured on SportsMax and social media.
Secondary School's Football is well and truly back!