Yasin Abu Bakr loves the soap-box. The witness box or the dock? Not quite so much. So at the post-27-July-1990-coup trial, there was no grand "History will absolve me" peroration.
None was needed. Not in Clebert Brooks' court.
With no legal training, you would say that an amnesty signed because a loaded weapon was pointed at the head of the officially elected head of government is not worth the paper on which it is written, would you not? You would not need any Privy Council to tell you that, would you?
And patriot that you are, even if you thought the amnesty might somehow be shown to be valid, you would contort yourself decorously to unearth from somewhere some piece of legislation that made it possible to continue to detain that dastardly band of insurgents, would you not? You would not think, would you, that you could lightly let off the hook 100-plus reckless men who had on a whim held the country to ransom and its Parliament hostage?
But not Brooks. In his wisdom, the trial judge disagreed. He decreed that the amnesty, so obviously signed under duress, was valid.
Led by Abu Bakr, the 114 walked free.
And few of us here in T&T have been able to enjoy real freedom since.
"Now Trini know what is Uzi diplomacy," Rudder sings, "now Trini know what is SLR love…."
You don't know but you sense that there is more to the amnesty story; somebody is keeping something back from the country. Seekers after truth say there is still a lot of unshared first-hand information. Recent public statements notwithstanding, former finance minister Winston Dookeran and former attorney general Anthony Smart can, if they so choose, shed light on the elusive—dark?—reasons why the NAR made such a hash of the prosecution.
Smart's last exchange with Martin Daly generated a lot of heat. Little light. We still don't really know why things are no longer as they used to be.
"In a world where people gave a damn," Stevie Wonder and Charlene tell us in "Used to be," "(…) dignity and courage were the measure of a man, not the drugs he needs to hide the scar."
Post-coup, men suddenly 'seem' to be outnumbered by miscreants. The nit-pickers will try to throw the post-hoc-ergo-praeter-hoc fallacy spanner in the works. But, in my view, both the empirical data and our collective expérience vécue say unequivocally that, since 1990, T&T is in a far worse space as far as murder and banditry are concerned.
Nappy wanted none of it; he wanted to turn back the hands of time.
"But if I must join in with the pack," he sang, "then ah going back/ah going back/back to the old time days…"
Too late, bro, too late, too late shall be the cry…
On the trend over the last 30 years or so, Wikipedia says this:
Homicides countrywide rose from fewer than 50 in the 1980s, to 97 in 1998, then to 360 in 2006 (30 murders per 100,000 persons). It rose to approximately 529 in 2008 but decreased in the following years.
The murder toll for this month so far includes last week's 24 in seven days. With just over five months left in the year, the 2019 figure is already over 300 but lower—hurray!—than last year's comparable figure.
Listen to the unmuzzled Commissioner of Police and the now Minister of Everything Else but Communications. Both are long on words, short on substance and ideas. Lots of what we plan to do, precious little of what we are doing. Or have so far done.
Lend an ear too Prime Minister Rowley.
If he is to be believed—I not putting my head on no block fuh nobody, prime minister, priest or pundit—the bandits are everywhere. Not just in the politics but in the Parliament.
"Thieves can't run T&T," last week Monday's Express interprets him as saying.
"…we are refusing to accept that persons would come into office, use their office, enrich themselves, commit to your community, take the money that they thief, come in here, link up with the criminal elements and determine that that is how the election will go."
Addressing a captive constituency at a PNM Sports and Family Day, Rowley can get away with that as major statement. But when scrutinised by an uncommitted voter in the cold, hard light of a normal T&T day, does it pass muster?
Doesn't that easy association between office and thieves and criminal elements and power make you a little uneasy? And does it not make you more than a little uneasy that these very words could just as credibly have come down to us off the Monday Night Forum podium?
Doesn't it send shivers down your spine? Wtf we go put?
But maybe there is hope.
From La Mancha, the Knight of the Grave Countenance came to save Spain in the early 17th century. To save Cuba, Fidel launched his initial offensive from La Moncada on 26 July, 1953.
Who will be the next one to try to save us? Will someone come from Maracas, Maraval, Manzanilla, Matura, Matelot, Mayaro or Moruga? Or from La Brea, La Lune or La Ventille?
I don't pretend to know the answer. What I do know is that there will be no active intervention from outside. Or above.
We'll need to take up our own beds and walk.
In Maduro country, they say "A Dios rogando y con el mazo dando." God helps those who help themselves.
"One day fuh police," my grandma used to say in the good ole days, "one day fuh tief."
It was not meant to be taken literally. She'd say that, for instance, if one of my sisters complained to her that I had got most of the nice, big, red governor plums while she had had to settle for the half-ripe ones.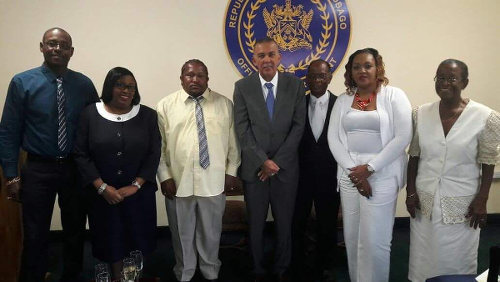 Nowadays, in these "troubled times," to quote Rudder, "that we have down in Trinidad," the distinction between police and tief is much blurred. From Castro's Cuba, another Granma offers this piece of unsolicited political advice:
"Cuando el pueblo se enfada, toda la injusticia tiembla."
"When the population says enough is enough," my translation runs, "wrongdoers all begin to quake in their boots."
All. In or out of power.
Whether it be February, April or July 27.
Editor's Note: Click HERE for Part One as columnist Earl Best attempts to trace Trinidad and Tobago's descent into violence from the 1970 uprising through to the unleashing of Randolph Burroughs and the coming of Yasin Abu Bakr.