"Bring back the old time days," Richard "Nappy" Mayers croons in the song of that name. "Used to be everyone/could afford to live right/Just to be nice/didn't need no Paradise.
"Used to be everyone/cared for each other/Lived like brothers/respected one another."
David Rudder punctures that balloon.
"Oh how we danced," he laments, "to the beat of this lovely lie!"
But I down here long enough to know that the existence of the good ole days is not a "lovely lie." I know they are more than a banana in somebody mind, a dream on Monkey Mountain, a figment of somebody's imagination.
Likewise, Rudder.
"Not in this house, not in this Garden of Eden," the "1990" singer explains in his 1991 "Hosay," "(…) a man opened a door and showed us our other side/Now our Mecca delusions walk right on by/Now Trini know what is Uzi diplomacy/now Trini know what is SLR love…"
"Now"? Of course! Since "the night of the day when the martyrs died." According to Rudder, the Jamaat-al-Muslimeen's 27 July, 1990 attempted coup marked the end of the good ole days.
Not that there were no thieves or other bandits in the good ole days. But the chances that the police would arrive tomorrow morning and arrest your next-door neighbour for murder or possession of drugs or possession of arms and/or ammunition were slim. Ditto the chances that you would be awakened in the middle of the night by a volley of gunfire in the street outside.
Nothing like today. O mores, the Romans lamented, o tempora.
Nowadays, depending on the community in which you live, slim to none are the chances that you would NOT be awakened in the middle of the night by a volley of gunfire in the street outside. In some communities, truth be told, there is a very good chance that said volley will awaken you if you happen to be sleeping in the middle of the day.
All that biblical stuff about 'like a thief in the night' applies only to the good ole days; nowadays, brazen banditry no longer limits itself to any time of day or night.
But maybe Rudder, who presciently saw Donald Trump's 'eagle on the shoulders of the bear', is not entirely right. Maybe he gives Yasin Abu Bakr too much credit. Maybe the door that the ex-policeman opened was already ajar. Maybe he just kicked it in and finished the job started by another notorious ex-policeman, now dead.
Maybe the 1970 February Revolution was the beginning of the end of the good ole days. Maybe in the lead-up to that watershed year, the three ringleaders of the army revolt saw themselves as coming to our rescue, saving us all from the big, bad wolf named Eric Williams.
It's no joke. Remember the grounds on which Raffique Shah, Rex Lassalle and Michael Barzey were acquitted? Condonation. Somebody very high up in the Army, their lawyer argued, had advance knowledge of the mutiny.
And approved of it!
I imagine they saw the man fondly called "Deafie"—was that because he could not hear or because he would not listen?—as a kind of T&Tian Fulgencio Batista and themselves as Fidel Castro, Raúl Castro and Che Guevara respectively.
Didn't Shah title the address he gave in his defence at the trial "History will absolve me"? Rings a bell?
Shah has long enjoyed legitimacy in our eyes and is the well-regarded author of a long-running column in one of the daily newspapers. So, once acquitted, one might reasonably conclude, the threesome were also indeed absolved.
Not so those who endeavoured to fashion an irresistible force out of the discontent that the mutiny had sought to exploit. They ran head first into an immovable object.
Unarmed, Makandal Daaga and the National Joint Action Committee posed no real threat. One ruthless Attorney General, one Public Order Act and dat matter fix!
And for those taking up arms, Williams needed just one Commissioner of Police who would brook no serious threat to the rule of law. From the man in the mirror, perhaps but certainly not from bandits!
Randolph Burroughs never publicly dismissed anyone as 'cockroaches' or 'pests' or threatened to buy armoured cars to make war on them. But neither Basil Davis nor Beverly Jones nor Guy Harewood nor Clem Haynes nor all of NUFF would be enough to stop Kojak in his tracks.
"Don't waste government money," he repeatedly exhorted the members of his elite Flying Squad. "We not taking no prisoners."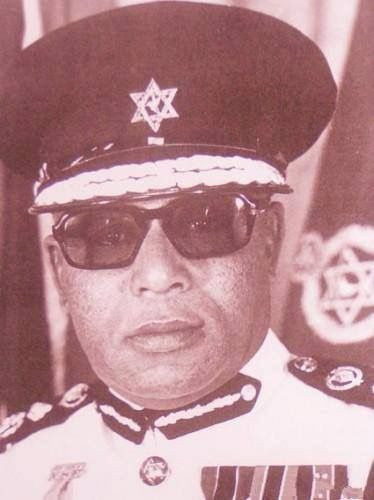 Let Kitchener protest ("No Freedom") all he wanted that it was wrong to be "jailing people so without a hearing" and warn that "the vengeance of Moko go surely fall on this land."
Let Valentino observe, in his timeless "Barking Dogs," that "the thieves are coming to town, thieves in rags, thieves in tags, thieves in their velvet gowns."
Let Chalkdust ("Ah fraid Karl") obliquely suggest that the AG is not on the side of the people.
Williams let all the jackasses bray and gave Kojak free rein. Burroughs shot the guerrillas/freedom fighters down like game caught in headlights and posed with their corpses on the front page of the next day's newspaper.
So it was arguably he who opened the door that Abu Bakr would kick wide open two decades later. Our political virginity had already been breached even if the first brutal penetration was with the tools of the Jamaat leader and his 113 henchmen.
I imagine that the Imam also saw himself as Fidel and ANR Robinson as a kind of Batista. Most of the country would not, I think, begrudge Bakr a Hispanic equivalent. Not from Cuba, though, from Eurasia, where he got his training.
Bakr is much more convincing as a Don Quijote, repeating haughtily to Bilaal Abdullah/Sancho Panza "Yo valgo por ciento" ("Yuh have to count me as 100.")
He and his insurrectionists would get their military comeuppance not from a one-man army à la Burroughs but from the whole Trinidad and Tobago Regiment. It was, historians say, largely the strength and resoluteness of purpose of one man, then Colonel Ralph Brown, that saved the day.
But with Williams dead and Burroughs disgraced, Brown's good work designed to keep us all safe would be in vain.
It eventually fell to a single judge to defend us and ensure our continuing security.
That judge's name was Clebert Brooks.
EDITOR'S NOTE: Part Two will be published tomorrow.