Women's football stakeholders are again accusing Trinidad and Tobago Football Association (TTFA) president David John-Williams and his support staff—including general secretary Camara David—of sexism and disrespect, after the Women's National Under-17 Team were again left without a chance to wear 'red, black and white' at the ongoing TTFA Youth Invitational Tournament.
Women's League of Football (WoLF) president and TTFA Board member Susan Joseph-Warrick and former Women's Soca Warriors captain Maylee Attin-Johnson expressed outrage, after the Under-17 Team's proposed fixture against Panama this afternoon was cancelled—just hours before kick off at the Hasely Crawford Stadium in Port of Spain.
A TTFA release stated the cancellation was 'due to circumstances beyond its control'.
"The Trinidad and Tobago Football Association regrettably advises that today's originally scheduled first match on Day Two of the TTFA youth Invitational tournament between the National Under 17 women's team and Panama's U-17 Women," stated the TTFA, "has been cancelled due to circumstances beyond its control.
"This has come about after the Panama Football Federation, despite attempts up to late last night, could not secure travel flights (due to unavailability) to get the Panama women's team to Trinidad and Tobago in time for the scheduled first match today."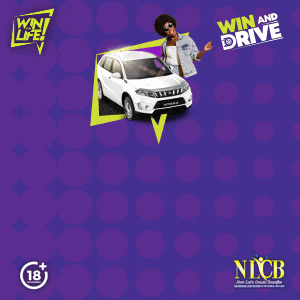 [dfp-ad]
In a subsequent release, John-Williams promised a three-match tour to Panama from 23 to 27 July in Panama City.
"Sometimes things work out in such a way that it turns out better in the long run," John-Williams told the TTFA Media. "We knew these matches for the Under-17 Women's team were absolutely necessary because we wanted to ensure that, just like the boys, they were given the opportunity to get some international match practice. And when we received word from both Curaçao and Panama that neither could make it, we had to pursue another avenue.
"We followed through with the discussions and we are pleased to say that our Women U-17 team will be off to Panama next week for three matches to help with their preparations."
It would be scant consolation for the supporters and parents, who purchased tickets to watch the Under-17 women in action at Port of Spain and Couva this weekend. The players too were excited to play in front of their home crowd.
Attin-Johnson scoffed at the TTFA's 'excuse' and pointed to a pattern of dishonesty and neglect for Trinidad and Tobago women's game in general and the Under-17 women in particular.
When the TTFA unveiled its plans for the ongoing tournament, John-Williams announced that the local football body secured Mexico, Venezuela and Panama to battle the Boys Under-15 Team in Trinidad.
And the Women's Under-17 Team? John-Williams and David said they would try to get two unspecified Caribbean teams to play the local girls. The TTFA subsequently announced the Curaçao women as its guests; and then Panama.
And then, for a few hours, nobody at all; before the Panama football body came to their rescue.
"They keep selling excuses and lies," Attin-Johnson told Wired868. "You're telling me the Panamanian federation only just found out that its girls team has to come to Trinidad? Look their boys' team is here and had no issues getting here; so how is it they couldn't get their girls here?!
"This is just poor planning from the TTFA; and poor planning and organisation equals failure. It has always been this way with this organisation. The women's programme under this administration is an afterthought and they are beyond disrespectful.
"DJW blatantly doesn't care about the development of women's football."
Attin-Johnson was the Women Warriors captain in January 2016 when, just two months after John-Williams was elected, he botched a mini-tour to Costa Rica that should have prepared the Trinidad and Tobago women for their 2018 Olympic qualifying series.
John-Williams' honesty was called into question when Costa Rica Football Federation official Diego Brenes complained that the TTFA misled them about the availability of the Women Warriors.
The TTFA did not inform Costa Rica that they were not going to attend until hours before their scheduled fixture, which the CRFF had already rescheduled twice after taking John-Williams' body at its word.
"Last Saturday, we were advised by T&T officials that they were likely to arrive here as late as Tuesday [25 January]," Brenes told the CRFF website. "because some members of the team were still without American visas.
"However, around midday, we got word from them that money problems had made it impossible for the team to come to Costa Rica for the two games scheduled for Wednesday and Friday of this week."
As far as Attin-Johnson is concerned, the scrapped Costa Rica tour was a sign of things to come for the women's programme.
In three and a half years, the TTFA has used an astonishing seven coaches (Randy Waldrum, Anthony Creece, Kendall Walkes, Carolina Morace, Jamaal Shabazz, Anton Corneal and Shawn Cooper) to head its Women Warriors' technical staff while the Senior Women have been dormant and without a head coach for the past 10 months.
Women's Team manager Jinelle James called John-Williams 'chauvinistic and misogynistic' last year while National Senior Team goalkeeper Saundra Baron said the TTFA president 'wanted us to fail [in the 2018 Concacaf Championship], so he could be done with us'.
The current Women's National Under-17 Team have had their share of heartache too.
In 2015, they missed the chance to play at the Concacaf Women's Under-15 Championship after the TTFA failed to secure visas for the players. John-Williams tried to pin responsibility for the cock up on the US Embassy, only to be accused of trying to 'mislead' the public by US Embassy Chargé d'Affaires John McIntyre.
"Your failure to plan is [affecting] promising football (soccer) players from Trinidad and Tobago who we would welcome playing in the USA," stated McIntyre. "In addition, your comments can adversely affect our ongoing efforts to grow our sports diplomacy programs here in T and T.
"I will be blunt. Mr Williams and the TTFA just flat out dropped the ball on the visa process."
Two years later, that crop of women are yet to play a single international match—although, in theory, they should have been beneficiaries of close to $4 million in funding from the NLCB. The TTFA said some of the funding meant to be split between the boys and girls teams was used to stage this competition for the Under-15 Boys.
Joseph-Warrick said she is 'totally disappointed' by the treatment meted out to the young women's team.
"These are the same girls who had the visa issues and then who weren't training for almost a year," said the WoLF president. "They finally got a coach [in Stephan De Four] and for this to be happening to them again shows a lack of serious planning for the women's programme.
"The boys have been training for the past two and a half years; the ladies only started training again about two months ago. They are being sidestepped right through."
Today, the Women's Team should have made their international debut at 4pm, with the Mexico and Panama Boys playing at 6.15pm while the Trinidad and Tobago Boys tackle Venezuela from 8.15pm.
But why put the Trinidad and Tobago women to play four hours before the boys and force fans to sit through eight hours of football to see both? Was enough consideration afforded to parents and supporters of the young women who might need time off work to attend a 4pm game?
Joseph-Warrick said that not only was the kickoff time disrespectful to women's football fans but she also criticised the TTFA for giving just two complementary tickets to WoLF, while six adult and 100 children's tickets were given to the zonal bodies.
"The zonal associations got free tickets for people to come out to support the boys team," said Joseph-Warrick. "But TT Wolf got two tickets and I got two tickets as a board member. I have a Women's League going on right now and I could have gotten lots of girls to go out and support the [Under-17 Women]…"
In the end, it was a moot point as the Under-17 Women were ditched again. Team manager Debbie-Ann Harewood sent the following message to parents this morning:
"Good morning all. An unfortunate situation has arisen where the team which the girls were supposed to play today has not arrived as yet due to the unavailability of flights.

"They may be here by tomorrow. We are in the process of trying to organise a local game for them today. Please refrain from messaging me with questions.

"As soon as we get a confirmation on that it will be posted. Thanks for your understanding."
Harewood, who is also a Connection employee, told parents to: 'please refrain from messaging me with questions'.
De Four's own letter was far more sympathetic. He promised parents to tell them when they could speak to their children on their mobile phones and insisted that Panama really tried to send a women's team to Trinidad.
"I would like everyone to know that I am a different person when come (sic) to dealing with kids and I will not rest until the kids play some games within this period and not later," said De Four. "So I am asking for your trust in me with your daughters and know that I am seeking their best interests at heart.
"So please keep them strong and I will work tirelessly in their best interest. Thank you very much for your support and God is good all the time."
De Four told the TTFA Media he was relieved that his players will get three internationals next week instead.
"This is good news for us because the girls were looking forward to these two matches and were notably disappointed upon receiving the news that they were cancelled," he said. "But this latest news has lifted their spirits and mood again and we are now looking forward to this trip which will be extremely valuable to our preparations at this time."
Attin-Johnson has long exhausted her patience for John-Williams and his faction, though.
"In my opinion, the best chance for Trinidad and Tobago to qualify for a [future] World Cup is through the women's game," she said. "But this administration continues to treat the women's game with absolutely no regard and blatant disrespect… It is crazy that people are still backing this administration; and the people who support DJW are worse than him because they are seeing what is going on.
"I have never seen football as bad as this before; football will burn to the ground under these people. We cannot afford to give them another four years—no way, no how.
"People are just fed up of these people [running the TTFA]. But a good friend told me that 'God doesn't sleep, he only wears pyjamas'. So their time will come."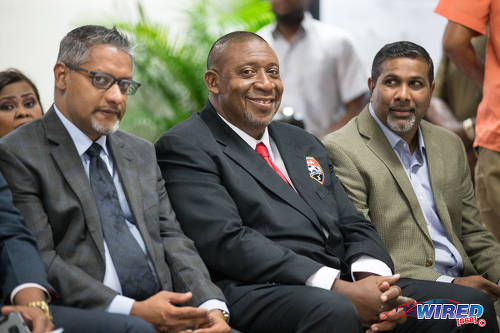 (TTFA statement)
The Trinidad and Tobago Football Association regrettably advises that today's originally scheduled first match on Day Two of the TTFA youth Invitational tournament between the National Under 17 women's team and Panama's U-17 Women has been cancelled due to circumstances beyond its control.
This has come about after the Panama Football Federation, despite attempts up to late last night, could not secure travel flights (due to unavailability) to get the Panama women's team to Trinidad and Tobago in time for the scheduled first match today.
The Second Day of the TTFA Youth Invitational will proceed with a pair of matches at the Hasely Crawford Stadium in Port of Spain. Panama and Mexico's Boys Under 15s will square off from 6.15pm and hosts T&T will meet Venezuela from 8.15pm tonight.
The TTFA is continuing efforts to secure warm-up matches for the Women's Under-17 team. An invitation has  been extended by the Panamanian Federation for an invitation tournament hosted by the Central Americans also involving Dominica.
The Curacao Football Federation was initially invited to have its Under 17 Women's Team here for the current tournament but later extended an apology to the TTFA for being unable to send its team due to travel challenges.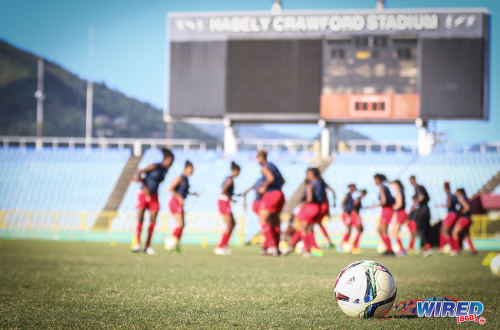 The TTFA also made several attempts over the last few weeks to secure the participation of other Caribbean Under-17 Women teams but all were either unavailable due to inactivity or because of current participation in the CONCACAF Championship with squads largely composed of their Under-17 players.
T&T Women's head coach Steffon (sic) Defour will continue with the team's preparations ahead of upcoming CONCACAF competition for the Women's World Cup qualifying campaign.