In a letter to the Wired868 editor last week, AJ writes that "the problems go way beyond the on-the-field representatives."
Hard to disagree, no?
"Surely," he ends, "those responsible for developing the strategy and hand-picking the players that produced these excruciating displays must also take responsibility for the resulting pain and embarrassment now sweeping across the region."
I do not disagree with the essential message of that closing sentence. However, the assumptions that underlie 'excruciating,' 'pain' and 'embarrassment' simply are not valid in my case; I never entertained any illusions about how this team would fare, not least because of the already discussed incompetence of its leadership.
And leadership here includes more than AJ's "on-the-field representatives."
The question must be asked as to whether the on-the-field captain, indisputably in charge of tactics, is also the architect of team strategy. Is Jason Holder the one at whom fingers are to be pointed for the now patently obvious overuse of the short-pitched delivery, even when opponents like Masrafe Mortaza's Bangladesh were clearly ready to face the chin music?
[dfp-ad]
Must Holder take responsibility for selecting an 80%-fit Andre Russell against Eoin Morgan's England in a game the WI could afford to lose—and lost anyway!—without damaging their qualification chances? That decision may have cost them the subsequent game against Bangladesh, which the WI could not afford to lose—and lost anyway!—with little or no contribution from the 70% of DreRuss left over after England.
Who is doing the thinking for this team? Shannon Gabriel and Carlos Brathwaite?
And speaking of Brathwaite, would someone please explain to me by what yardstick he was deemed to be a better investment than Dwayne Bravo. Forget what your eyes have told you, forget everything you have seen in the CPL and the IPL and consider simply the bare-bones ODI data available to the selectors: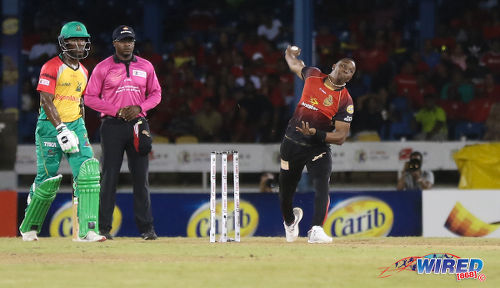 M       R        Ave       W     Ave
DJB:     164    2968    25.36    199    29.51
CRB:      39     521     16.80      36    43.30
If one swallow made a summer, Brathwaite would have been a shoo-in for an all-rounder spot in the squad. Ask Ian Bishop. But, in  my view, even now that a second swallow has made its appearance after three full years, Brathwaite's selection on the 15 still seems more like a midsummer's night dream. Or a midsummer's nightmare.
So far in this tournament, he has bowled 28 overs, conceded 207 runs and taken five wickets. He scored 101 against New Zealand, threatening but failing to almost single-handedly win the game, but he has made only 31 in his three other innings. Modest returns by any standards.
Which brings us to Fabian Allen. In the seventh WI game, his only one so far, he made a first-ball duck and his ten overs cost 52 runs. It goes without saying that he got no wickets; I doubt any but the most ignorant fans seriously expected him to.
If you google 'WC 2019 joy ride,' I suspect his name will come up. Holder could find no use for him in the first six games except as an emergency fieldsman, an area where he excels. With bat and ball, however, he underlines his relationship to the family of undertakers of the same name; he is a dead horse!
So I think it is fair to say—or to repeat—that Dave Cameron has been put out to pasture but Cameronism still seems to rule the stables. I mean, who in his right mind, given a choice between Brathwaite, Allen, Bravo the Elder, Kieron Pollard, Rovman Powell, Roston Chase and Keemo Paul, to name only those, would select the first two?
Cameron certainly. For reasons that have to do largely with Bravo, Wavell Hinds and a certain aborted tour. But Messrs Ricky Skerritt and Kishore Shallow led us to believe that, with the new regime in place, merit would be the major criterion for selection. Whatever happened to that? Did someone forget to send the selectors the memo?
Maybe they will get the message in time for the next World Cup. But maybe not.
Which forward-thinking official would name as vice-captain of the current team a 39-year-old Chris Gayle, on the verge of retirement? This is a team, remember, that has in its ranks 22-year-old Shimron Hetmyer, who captained the WI Under-19s to victory in the 2016 World Cup. A Hetmyer who, talented batsman though he is, is prone to self-destruction, seemingly blissfully unaware that in self-destructing he is damaging his team's chances of success. A Hetmyer, in short, who is manifestly in need of an urgent reminder of the WI not I lesson.
And we gave the vice-captaincy to Gayle.
Having scored more runs than anyone else on the team, the self-styled "Universe Boss" has now unretired and declared his intention to represent the WI in the Test and ODI series against India coming up later this year. Not his desire, mind you, his intention. Clearly the "Universe Boss" takes orders from no one, not even the selectors.
So I think Messrs Skerritt and Shallow have some questions to answer. As do Robert Haynes and his selection committee.
Also in the firing line are assistant coach Roddy Estwick, who clearly likes to talk, and the more reticent coach Floyd Reifer. They must tell us why Oshane Thomas, who claimed 4 for 27 in 5.4 overs versus Pakistan and then had figures of 10-0-63-2 versus Australia has not been the consistent choice to use the new ball.
They must also tell us why Kemar Roach, who is manifestly a better bowler than the scatter-brained Gabriel as his 3-0-10-0 figures in the washed out South Africa game and 10-0-36-3 in the India game suggest, was for so long overlooked in favour of his pacier team-mate. Might the clue lie in an undestroyed Cameron memo? Are brains and independent thought non grata in the Reifer/Estwick set up?
Those two gentlemen must also tell us the whole story of the plan to use unrelenting "aggression," meaning, after translation, short-pitched bowling, that Holder mindlessly followed. Whose idea was it, the skipper's?
If we get the current coaches to talk, we might be lucky to get the coming coach to weigh in.
I noted with interest something that happened in Saturday's game between Safaraz Ahmed's Pakistan and Gulbadin Naib's Afghanistan. With Pakistan needing 46 runs off five overs and his spinners, who had overs in the bank, making life very difficult for Imad Wasim and Wahab Riaz, the Afghan skipper brought himself on. The scorebook showed a 4-2-2-4-4-1w-1 sequence and Pakistan went on to win by three wickets with two balls to spare.
Phil Simmonds, the current Afghanistan coach, is the putative next West Indies coach. He has promised—threatened?—to tell the full story of the bacchanal surrounding the appointment of Naib and the other Afghanistan captaincy changes just before the start of the World Cup.
Maybe some enterprising journalist—does that disqualify the locals?—will draw him on the similar issue of the WI skipper's handling of the bowling against Australia…
…and the issue of Holder's suitability to be at the helm of his WI ODI team.