Images drawn from sport populate my sexagenarian head. Of most recent vintage is the one of Carlos Brathwaite in mid-pitch at Old Trafford on Saturday temporarily bent over in a sobbing, regret-filled heap.
Trying for the six which would have given Jason Holder's team a truly incredible, come-from-behind victory by one wicket, he had just failed to clear New Zealand's Trent Boult on the long-on boundary.
It is, I have read somewhere, a powerful, moving image.
Sorry. It does not move me.
I can find no sympathy in my heart for Carlos. I feel compelled to hold him—and every cricketer representing the West Indies—to a higher standard.

Let me attempt to explain my reasons.
The image in question was created entirely in my mind. As the match was in progress, I was busy at a funeral, describing another similarly created picture. This one is an indelible image of my now late sister, Thora, calmly pulling out of her foot a javelin which had arrived out of nowhere and pinned it to the ground.
[dfp-ad]
Those of us born in my generation are, in my view, fortunate not to have had 'live' television, well, not to have had television as we now know it. Not to have Hollywood's current capacity for animation either. We had radio—and, inevitably, if you were a sports fan, a life of the mind; we had to make our own images.
So, in my mind's eye, I 'see' Lord's in 1950 where Lord Beginner and Lord Kitchener are immortalising in song Sonny Ramadhin and Alf Valentine, architects of the first West Indies victory over England.
In my mind's eye, I 'see' Brisbane in 1962, where Joe Solomon swoops down on the ball from square-leg and, with one stump to aim at, breaks the wicket at the striker's end to tie the Test. And I 'see' most of all not Solomon or Wes Hall or Lindsay Kline or Ian Meckiff, who was run out by Solomon's arrow of a throw.
Influenced by a grainy black-and-white newspaper photograph, my mental picture has at its centre West Indies skipper Frank Worrell, who is standing over the stumps at the bowler's end.
What manner of man is this, I have long asked myself, who thinks of the little details when the pressure is on? Who never switches off his brain?
My answer? A true West Indian leader. More accurately perhaps, the true West Indian leader.
Which brings me back to Brathwaite.
Another relatively recent image in my mental album features the Barbadian all-rounder in the final of the T20 World Cup in 2016. He has just clouted England's Ben Stokes over the boundary for the fourth consecutive time to deliver the 19 runs Darren Sammy's team needs to take home the trophy. He spreads his arms wide, raises his bat to the heavens and fills the Kolkata skies with a full-throated, feral roar.
"Remember," says the Ian Bishop voice-over, "the name."
The voice-over accompanying the more recent Old Trafford image is Sparrow's Slave.
I suspect that nowadays there are more than a handful of batsmen with the wherewithal to do what Brathwaite did to New Zealand. And I confess that, in 2016, I never imagined that there was any batsman who could do to Stokes what Brathwaite did to him that April day.
But none of that allows me to excuse his getting out in the way he did on Saturday. Think back to Shannon Gabriel against Pakistan in Dominica in 2017. In fact, the examples of similar behaviour by West Indian players are legion. I recently referred to the phenomenon here.
So I ask myself this question: Has Sparrow, arguably one of the most powerful West Indian voices of the second half of the 20th century, mis-shaped us, misguided us or merely mirrored us?
The most inhumane conditions. Massa staning up day with he whip and he gun. We work hard, we toil every day, day after day without pay.
But we are not content merely to get away; we have to make a brilliant escape.
Nine fours and five sixes. Back from an unsteady 142 for 4 and then from the abyss of 162 for 7 to the joyous perch of 284 for 9 with two overs left. Within touching distance of the summit of the glorious mountain. The promised land.
Do the math. Twelve balls remaining, seven runs needed.
What will it be? Seven one-foot baby steps for Windieskind? Or one giant six-foot leap for a West Indian man?
What would it have been if you were in Brathwaite's shoes?
Would you really, a breathing, feeling, thinking West Indian, have died by the sword by which you live? Would you, breathing, feeling, thinking West Indian that you are, have been content to be 100% animal instinct and brawn and zero percent brain?
Do the words 'restraint' and 'self-restraint' not exist in your vocabulary? What are you, a robot? An automaton? A wind-up toy, completely incapable of the most basic analysis? Of thought?
I am sorry. Brathwaite is almost 31 years old and is a former captain of the regional T20 team and current captain of the Combined Colleges and Campuses team.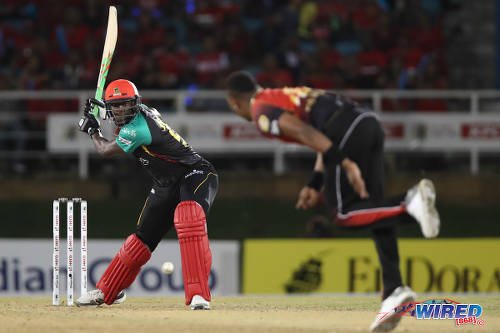 I am sorry. I reject out-of-hand the notion that this West Indian leader was condemned to die by the sword which he had wielded so dangerously and so gloriously. He is not Ivanhoe Martin, Jimmy Cliff's character in The Harder They Come.
Brathwaite, 30 years old and university-trained, knew, knows that, on Saturday, the West Indies, contrary to the poetic lament of his namesake, Edward Kamau Brathwaite, once more found a man to hold up de side.
That, I submit, is what the flowing tears and the body crumpled in mid-pitch mean.
He blew it. But he could have chosen not to.
And I imagine, I know that the immediate-post-match image of Saturday 22 June in Manchester is already seared on his mind.
And on mine.