I had intended this week to return immediately to the failure of all of our governments to properly assist the voluntary organisation sector in our society and to their bad practice of making funding decisions based on 'contact' and perceived partisan political kinship.
There is however some expectation of a comment about the recent outbursts of Commissioner of Police, Gary Griffith.  There is little need to do so. Much wise advice has already been given to the Commissioner to accept that, just like other public officials, he is not above criticism.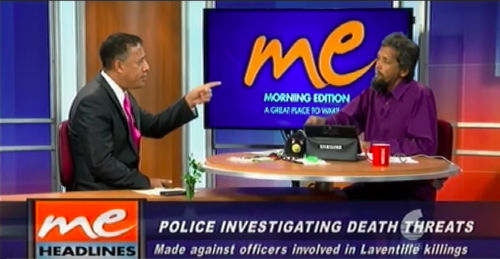 I certainly cannot improve on the advice of my Trinidad Express columnist Raffique Shah—given on Tuesday last—from which I quote later. Moreover, the desperate and unaltered violent crime situation requires that the Commissioner be pressed by journalists to answer questions directly, contrary to his protestation to Dominic Kalipersad, in his recent interview on TV6, that he 'was not there to be cross examined as Commissioner of Police.'
He had a second interview with Dominic Kalipersad, on radio this time, last Sunday. It is to his credit that he tried with Dominic again because the first interview was a disaster for the Commissioner. It was all evasion, bully and bluster.
It is also to his credit that he partially recognised that his 'passion' could sometimes be seen by others as: "being aggressive, obnoxious—that is my style and I mean nothing by it—and people take it personally."
The problem for the Commissioner is that speech perceived as rants does not suit the office he holds. People have no choice but to take it personally, or deplore what he says as a Trump-ish personal attack, if he dwells on the names of critics in the course of a rant.
Sadly, for him there may be more 'cross examination' coming his way as a result of the unrealistic expectations of success during his tenure, which he himself helped to create.
Readers with good memories will know that I never fell for the dreams of a miracle turnaround in the desperate violent crime situation.
Griffith was appointed around the same time that Stuart Young was made Minister of National Security. In a column published on 12 August 2018 after those appointments, my prognosis was unequivocal:
"Successive governments, as well as the issuers of shallow statements, are guilty of repeatedly and conveniently ignoring critical underlying socio-economic conditions and the intersection of politics, trafficking profits, corruption and campaign finance. That is why we are in a criminal shambles and Young and Griffith may well be riding into a valley of failure."
Nine months later—no differently than before the appointment of Griffith—the futility of the blinkered approach is yet again plain.
Whatever statistical games are played, murder is rampant and, as I am almost weary of repeating, the impunity with which the murders are committed is as frightening as the rates of murder. Kill and walk away un-apprehended remains the most likely outcome for the killer.
We are entitled vigorously to question why is this the persistent status quo?
We have daily occurrences in the country which lead to headlines that—according to a report in the Express on Wednesday last—make someone like the EU Ambassador 'shudder' and conclude that: "we are looking at a situation whereby violence has become the norm; where it is almost accepted."
The indifference detected by the Ambassador is, with respect, not that of the people who, as correctly described by Shah, 'cower in the confines of their homes,' easy prey to robbery and the loss of lives of their loved ones.
The indifference is that of our rulers, whom more than a decade ago I described as 'unfeeling kings.' Their major concern about violent crime is how to neutralise its existence as an issue in electoral politics. The political financiers and validating elites are almost equally indifferent.
Meanwhile, as usual, one talking point is soon eclipsed by another, bigger one. The country is agog as news of the impending prosecutions of Anand Ramlogan SC and Gerald Ramdeen unfolds.
There is the added fascinating presence of Vincent Nelson QC in the alleged conspiracy. Other allegedly soiled briefs may soon be revealed.