A few beaver tricks, a cheeky rabona kick and a hatttrick from a goalkeeper were among the highlights to savour as North Zone action in the Republic Bank Youth League (RBYL) continued apace at the Queen's Park Savannah on Saturday 6 April.
Queen's Park Cricket Club (QPCC) and Pro Series maintained their early 100% records with contrasting wins in the Under-11 division, while RSSR and Trendsetter Hawks I maintained their own perfect records with convincing victories in the Under-15 division.
The aspiring footballers braved the blistering heat, a couple heavy downpours and some gusty wind as they strutted their stuff on the 'Savannah Grass'—or that should read 'Savannah Dust'—on Saturday.
This year, the RBYL welcomes sponsors such as Blue Waters, Gatorade, Holiday Snacks and Pizza Hut. And each  match day, the players will be vying for MVP awards courtesy Pizza Hut (Under-11, Under-15 and Under-17 divisions) and Blue Waters (Under-13 division).  No matter the on-field or overhead conditions, these youngsters tend to serve up a treat and Saturday was no different; although some would've gone home in chirpier moods than others.
[dfp-ad]
QPCC's Under-11s for instance, fresh off of their 11-nil drubbing of Trendsetter Hawks II in Week One action, did not skip a beat as they stylishly played North Coast SCC off the park to emerge 8-1 victors on Saturday. North Coast's Under-11 outfit regrouped to swat aside Excelente FA 6-nil in a later encounter, thanks to a beaver trick by Marvin Quintero; but they had no answer for a well-oiled QPCC in their first encounter on the day.
Much has been written about QPCC's organisation and cohesiveness at youth level on this platform, and their Under-11s lived up to the hype on Saturday with a slick display. Attacker Samuel Smyth was a thorn in North Coast's side throughout the 50-minute encounter and helped himself to four goals—the pick of which came in the 10th minute when he carved through the opposing defence before calmly slotting away from close range.
With much of their first team players believed to be playing under the North East Stars moniker in the Youth Pro League (YPL), QPCC could not replicate that form in the Under-13 division, as they were whipped 4-nil by Trendsetter II. It was quick revenge for the heavy defeat Trendsetter's Under-11 compatriots suffered against the 'Parkites' a week earlier.
A second half Marcus Young double paced Trendsetter II's success but it was Jamaal Jemmott—son of gifted former national midfielder Kerwin 'Hardest' Jemmott—who got the ball rolling with a dipping long range effort in only the fourth minute.
Jemmott has some mighty shoes to fill but he did his job effectively enough with timely interceptions and shrewd playmaking from his deep defensive position.
The battle of the Trendsetters may be an interesting one in the Under-13 division, as Trendsetter I brushed aside T&T Maestros 7-0, with Zion Harley grabbing a double.
The Maestros, who are known for their own brand of attacking football, had a rough day at the office on Saturday. Apart from their heavy loss to Trendsetter in the Under-13 division, Maestros were wasteful and succumbed to a 2-nil defeat at the feet of Pro Series in the Under-11 division, while their Under-15s played to a 1-1 draw with St Mary's College despite dominating the game.
Coach Sheldon De Freitas and the Maestros supporters felt hard done by, as a controversial 'drop ball' decision by the referee led to a fortuitous equaliser for the 'Saints' in second half action.
"Allyuh spoiling the football for the youths man!" De Freitas said, while some Maestros supporters accused the referee of favouring the striped outfit from Frederick Street.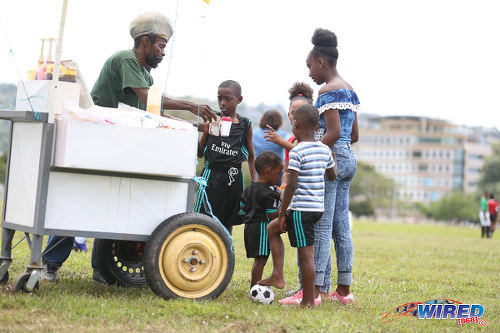 Maestros could have still won it all at the death, but J'Sean Batson—whose own goal put St Mary's on level terms—saw his goal-bound stab dramatically cleared off the line by a 'Saints' defender in the 64th minute of the 70-minute encounter.
The stalemate between Maestros and St Mary's was the only Under-15 match tailor-made for the neutral on Saturday, as RSSR spanked Trendsetter II 4-0, Trendsetter I mauled North Coast 6-0 and Santa Cruz United walked all over Laventille United in a 9-0 demolition.
RSSR, fondly named after four former Trinidad and Tobago national standouts from 'Behind the bridge'—Russell Tesheira, Sammy Llewellyn, Selris Figaro and Reynold George—are already showing their intent on recapturing the North Zone Under-15 title which they secured two years ago.
On that RSSR team, Mamade Guerra, the nephew of 'Soca Warriors' midfielder Ataullah Guerra, and Saeed Pompey Charles, a quarter-miler who represents Trinidad and Tobago at junior level, were the standout players. This year though, a new cream seems to be rising to the top, and it may include the RSSR goalkeeper.
Shaquan Alexander, a lanky Form Two student, turned heads on Saturday as he scored a hat-trick of penalties to help down Trendsetter II. Remarkably, all of Alexander's penalties were struck to his opposing number's right, and RSSR coach Marlon Phillip ranked the strikes from 'good, to better, to best'.
Alexander's feat even took some gloss away from teammate Zair Samuel, who scored an audacious second half free kick to put the contest beyond all doubt.
Is it too early to compare young Shaquan to iconic Chilean goalkeeper José Luis Chilavert?
"Shaquan is the most composed out of all the players," Phillip said. "It just shows that the confidence and the development is there.
"We started training the team from last year with the goal of capturing the title again in the Under-15 division and we have had two good results thus far. We want the development to be holistic and we don't want the players to be jumping from place to place.
"… We incorporated systems from last year and it's working well for us so far this year."
Trendsetter II may have been an easy hurdle for Phillip and RSSR to overcome on Saturday, but Trendsetter I, led by former national midfielder Travis Mulraine, should be a different preposition altogether.
Trendsetter I copped their second straight 6-0 triumph this weekend, following up on their rude spanking of their Trendsetter II counterparts in Week One action. Christon Calder was the main man on the day, netting a pair of goals. However, midfielder Renard Frederick was the showstopper, as he scored from just inside the box with an absolutely scrumptious rabona kick following a cross from the left flank in the tenth minute.
Now that's flair for you!
Trendsetter won the National Under-12 and Under-16 divisions last year, however, they could only manage a quarterfinal finish in the Under-14 category, effectively the same group Mulraine has brought to contest for Under-15 glory this season. Not one to back down, Mulraine wants his boys to be standing tall on the podium when it's all said and done.
"The aim is to maintain the two titles that we won and cop the title at the Under-15 level as well," Mulraine said. "This is the third year I've been coaching the Under-15 team. Hopefully, we would go two steps further because last year we reached the quarterfinal and this year we really want to win the title outright.
"I think the guys have matured a bit and we've added a bit of quality to the squad so hopefully things will go as planned."
Mulraine noted that QPCC—who were on a bye on Saturday—would be a threat to their title aspirations. However, the once all-action player may have to keep an eye out for Christian Browne too, as the youngster scored four of Santa Cruz's nine goals in their thumping win over Laventille.
But the RBYL action is only just getting started, and De Freitas, Mulraine, Phillip and scores of parents and supporters will have much more anxiety coming their way, as the youngsters battle the elements in a quest for glory.
RBYL North Zone Results (Saturday 6 April)
[All Games played at the Queen's Park Savannah]
Under-11s
Football Factory 3 (Keany Sealy [3]), Excelente FA 0;
QPCC 8 (Seth Hadeed 3, Samuel Smyth 6, 10, 29, 31, Cayden Trestrail 19, Shane Telfer 26, Own Goal 49), North Coast SCC 1 (Noah Felix 25 pen);
Santa Cruz United 3 (Levan Assevero 23, Tyler Edwards 28, 38), Laventille United 1 (Gershom Chase 9);
North Coast SCC 6 (Marvin Quintero 9, 15, 23, 48, Noah Felix 42, 49), Excelente FA 0;
Santa Cruz United 2 (Tyler Edwards 12, Isaiah Audin 35), Rosary Boys FC 2 (Nickel Pierre 17, 25);
T&T Maestros 0, Pro Series 2 (Own Goal 17, Hashim Portillo 45);
*—Samuel Smyth (QPCC) is Pizza Hut North Zone U-11 MVP for the Round
Under-13s 
Trendsetter Hawks (I) 7 (Zion Harley [2], Ishmail Acosta 5, Russell Francois 14, Own Goal 17, Anton Joseph 22, Andell Fraser 50), T&T Maestros 0;
Trendsetter Hawks (II) 4 (Jamaal Jemmott 3, Amari Dunbar 20, Marcus Young 40, 46), QPCC 0;
Empire FC 2 (Josante Duncan, Josiah Fernandes), St Mary's College 0;
*—Marcus Young (T/Hawks II) is Holiday Snacks North Zone U-13 MVP for the Round
Under-15s 
RSSR 4 (Shaquan Alexander [3 pen], Zair Samuel), Trendsetter Hawks (II) 0;
Santa Cruz United 9 (Amelleo Duncan 12, 21, Christian Browne 15, 20, 44, 45, Shakeil Walters 16, 48, Jason Walters 36), Laventille United 0;
St Mary's College 1 (J'Sean Batson own goal), T&T Maestros 1 (Kyle Young 10);
North Coast SCC 0, Trendsetter Hawks (I) 6 (Christon Calder 7, 45, Renard Frederick 10, Jameel Hassan 11, Jose Attong 20, Roe Shawn Small 50);
*—Shaquan Alexander (RSSR) is Pizza Hut North Zone U-15 MVP for the Round
East Zone results (Saturday 6 April)
Under-11s
Extreme LH 3 (Tristan Leben 2, 37, Tyrike Rose), San Juan Jabloteh 1 (Myrell Roberts 40);
Matura United 3 (Giovani Garcia, Tyreke James [2]), Malabar Young Stars 0;
FC Ginga 1 (Keshon Yearwood 34), Febeau Govt 0;
Extreme LH 3*, Maracas FC Utd 0; (Game won by default)
Diem Sport Academy 0, SKHY FC 10 (Kai Williams [4], Cordell Edwards [2], Joshua Miguel [2], Isaiah Morris, Kanye Eastman)
*—Kai Williams (SKHY FC) is Pizza Hut East Zone U-11 MVP for the Round
Under-13s
Trincity Nationals 5 (Mark Granado 13, Tyrese Ironside 42, 44, 45, Khaleem Prince), Express FC 0;
FC Santa Rosa 2 (Jordan Ferdinand 3, Areelio Niles 42), Matura Utd 0;
FC Ginga 3*, Crown Trace FC 0; (Game won by default)
*—Tyrese Ironside (Trincity Nationals) is Holiday Snacks East Zone U-13 MVP for the Round
Under-15s
FC Ginga 2 (Ronaldo Rogers 1, Malachi Hazel 46), FC Santa Rosa 1 (Khaden Caraby 60);
Cooper's Coaching Academy 4 (Raheem Henry 18, 40, 50, Kyle Clarke 47), SKHY FC 1 (Michael Bassarath 33);
Malabar Young Stars 5 (Yohance Atherton 6, Nyron Dyer 8, 42, Jadon Durity 22, Devin Seales), Diem Sporting Academy 0;
*—Nyron Dyer (Malabar YS) is Pizza Hut East Zone U-15 MVP for the Round
South Zone results (Sunday 7 April)
Under-11s
Princes Town SF 4 (Aidan Leotaud 20, 25, 31, Jakeem Halls 28), Tiny Mikes FC 0;
Gasparillo Youths 2 (Jahmel Alexander 24, Kyron Henry 49), Moruga FC 1 (Jayden Lopez 45);
Brickhouse Sports 2 (Mikhael Bullock 4, 25), Pt Fortin Youth FA 1 (Andriel Gabriel 43);
Marabella FCC 6 (Luca Bailey 22, 30, 38, Malachi Springer 45, Jahmaly Bobb 50, Samuel Balfour), San Fernando SA 0;
*—Mikhael Bullock (Brickhouse Sports) is Pizza Hut South Zone U-11 MVP for the Round
Under-13s
Giving Back SC 1 (Tyrel Alexander 55), Uprising Youths 0;
San Fernando SA 2 (Gerald Bisnath 51, Malachi Webb 56), Tiny Mikes FC 1 (Khalil Perez 23)
Pt Fortin Youth FA 5 (Isaiah Jacob 7, 9, Joshua Alexander 20, Jeremiah Niles 24, 49), Moruga FC 2 (Akeno Sydney 46, 54);
Mayo Youths 4 (Tyrique McLean 7, 60, Teeriq Pompey 23, 54), Princes Town FS (Jeron Gomez 35)
*—Azelia Mills (Mayo Youths) is Holiday Snacks South Zone U-13 MVP for the Round
Under-15s
Dunstan Williams SA 3 (Devante Dean 14, Israel Richardson 52, Nasir Dennis 69), Pleasantville Secondary 1 (Akil Joseph 17);
Mayo Youths 2 (Tyrique Phillip 15, Adam Bellsmith 33), IBG Academy 0;
Giving Back SC 2 (Edincel Ceballo, Jaheim Milette), Ste Madeleine Strikers 1 (Jabarie Forbes);
Moruga FC 3 (Joshua Kensey 22, 45, Mikkel Johnson 57), Gasparillo Youths 0;
*—Nasir Dennis (Dunstan Williams SA) is Pizza Hut South Zone U-15 MVP for the Round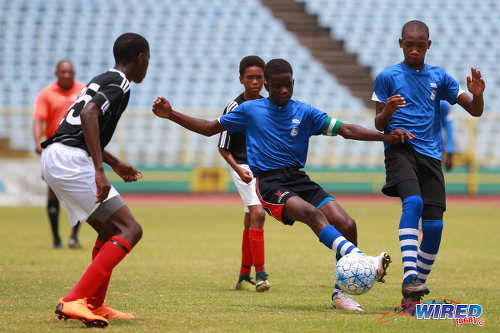 Elite Under-17s
Jaric Titans 3 (Shelton Matthews 54, 75, Nigel Burnett 60), Marabella FCC 1 (Rayshaun Ferrier 47);
Crown Trace FC 2 (Jerrell Chandler, Karel Wells), Petit Valley Diego Martin Utd 7 (Sherdonez Hamilton [2], Jaziel Humphrey, K Mitchell, J Noray, M Beddoe, D Zamore);
Giving Back FC (South) 1, Prisons FC 1 1;
QPCC 1 (Jerome Dupraz 28), Trendsetter Hawks 2 (Jude-Anthony Johnson 10, 36);
*—Nigel Burnett (Jaric Titans) is Pizza Hut U-17 Elite MVP for the Round