Alexcia Ali had not long put Pleasantville Secondary ahead in their Girls National Intercol final battle with Signal Hill Secondary at the Ato Boldon Stadium in Couva yesterday, when I was pushed in the back of the head by Gordon Pierre.
Pierre is a Tranquillity Government Secondary school teacher and a representative of the Morvant Caledonia United football club—although the Pro League team suspended him today pending an investigation into the incident.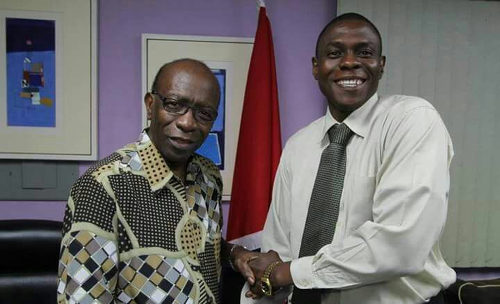 He was a row behind and standing over me. I was sitting with my laptop opened in front of me, facing the football field. I had not seen him arrive as my attention was on the unfolding Intercol action.
There was no conversation or argument—in fact, Pierre and I have not spoken in well over a year. Yesterday, there was only an attack; an ambush.
Roughly two hours earlier, Pierre tagged me in a Facebook post:

"Lasana Liburd… I want to send you on the trip fast stop sticking!!! I have passed point of no return!!!"
And then, in a comment to media colleagues including James Saunders, Kent Fuentes and Nigel Simon, he continued: "… He will get want (sic) I have for him u know!!!"
Yesterday afternoon—presumably before his Facebook post—Pierre was served court documents in relation to a libel suit I initiated against him. Pierre's response, according to my attorney, was allegedly a foul-mouthed, threatening phone call which left her shaken up.
Then, he drove to the Ato Boldon Stadium and snuck up behind me in the press area, with what appeared to be a short blade—or certainly something sharp enough to slice me across my chin.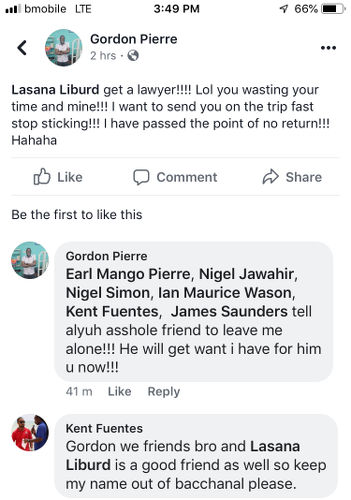 Pierre was accompanied by Morvant Caledonia co-founder and former Trinidad and Tobago Women's National Senior Team head coach Jamaal Shabazz, on his trip to the Ato Boldon Stadium.
Shabazz subsequently said he knew nothing of the impending attack and issued a statement condemning the incident.
Roughly two weeks ago, Pierre was Shabazz's guest at the Trinidad and Tobago Football Association's (TTFA) AGM where he was allowed in as an 'observer'. And he appeared as a guest on several occasions for TV6's sport news or Joel Villafana's sport show 'Halftime'.
On almost every television appearance, Pierre either defended TTFA president David John-Williams' controversial Home of Football project or attacked John-Williams' most outspoken critic, Trinidad and Tobago Super League (TTSL) president Keith Look Loy. It was a mission he also continued with relish on the social media.
Differences of opinion are fine and even healthy. And nobody should be above reproach, including journalists.
But now that such zealous fanaticism has led to a practising journalist being attacked in a crowded media centre at a national stadium during the biggest game of the Secondary Schools Football League's (SSFL) calendar, who is willing to look at their own role in egging on this disaster-in-the-making?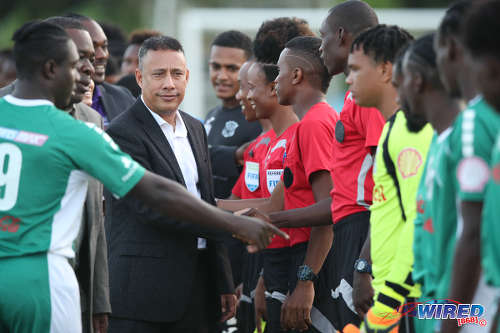 On 16 March 2017, I wrote an article about the poor standards being set by the TTFA in terms of the behaviour of its officials. Pierre, in his then capacity as press officer for the National Beach Soccer, was one of the TTFA representatives named.
Ironically, Pierre's response to criticism of his behaviour was to launch into a tirade against me with a host of outrageous personal allegations. I asked him to retract his statements. He refused. And I initiated libel proceedings against him on 21 March 2017, so his claims would be either proven or disproven in the High Court.
Pierre and I have not spoken since, although he has tagged me occasionally. Sometimes with threats.
Last week, below a story on John-Williams' stewardship of the TTFA and in response to me advising another reader to steer clear of his temper, he posted: "… If you know I waiting for you!!! Better make peace with the Divine!!!"
On Tuesday afternoon, he stepped out from behind the computer screen with a violent response to a legal procedure that will not soon be forgotten.
To threaten an attorney with violence—as he was accused of—is a shocking lack of respect for the judicial system. To attack a journalist at an event is an appalling disregard to the profession, the police officers present, basic civility and law and order.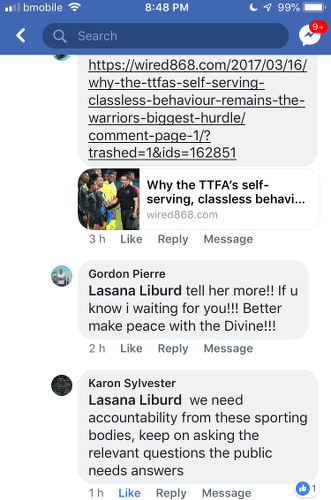 Commissioner of Police Gary Griffith was at the Ato Boldon Stadium and, once alerted, offered his regret over the incident and an assurance that the TTPS would do its best. That did offer some degree of comfort in the six hours it took between the Couva Medical Centre and Police Station before reluctant officers would finally take my statement.
I was the person assaulted. However, in a way, Trinidad and Tobago's judicial and law enforcement arms are the ones on trial, if they can be treated with such scant courtesy by not 'Mr Big' but a short-tempered school teacher.
As a journalist with over two decades' experience, I know my job. It is to provide the public with the information they need to make better life decisions; and to hold accountable the people responsible for delivering services to us all.
I will not shirk that responsibility now. Hopefully, the officers of the TTPS will also do their jobs.
And hopefully those who try to exploit aggressive pawns for political gains, television ratings or whatever perceived benefits they hope can be derived, will also consider their roles.
Pierre is by no means the only angry young man, desperate to be led towards the gravy train.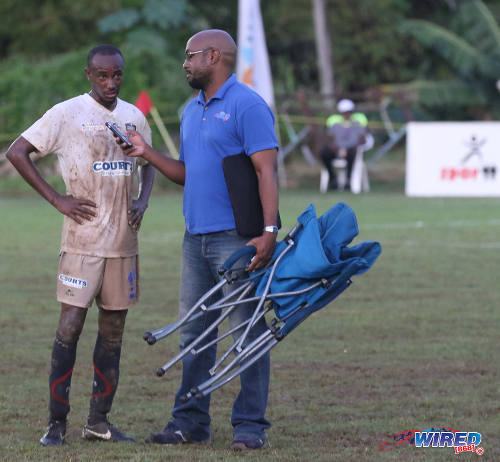 (MATT statement)
The Media Association of Trinidad and Tobago (MATT) has been made aware of a disturbing incident involving a former member of the executive and [Wired868 managing director and] journalist, Mr Lasana Liburd.
According to a report, received by MATT, Mr. Liburd was attacked while performing his job at the school's Intercol finals yesterday.
This attack is said to have been initiated by someone who Mr Liburd had recently written an article about and initiated legal action against.
MATT views this situation as unacceptable and unequivocally condemns the attack on any journalist performing their duties.
Citizens are reminded that Freedom of the Press is enshrined in this country's Constitution and there are legal avenues of redress for persons who feel they are aggrieved by articles written about them. Physical attacks are not one of those avenues.
In MATT's view, this matter has been made even worse as the attack occurred at an event in which school students were in attendance.
Mr Liburd has reported the matter to the Trinidad and Tobago Police Service and we trust that it will be dealt with expeditiously in order to send a message that such acts will not be tolerated.