Naparima College and Pleasantville Secondary each capped off historic unbeaten 2018 seasons after claiming the Secondary Schools Football League (SSFL) National Boys and Girls Intercol titles respectively at the expense of San Juan North Secondary and Signal Hill Secondary at the Ato Boldon Stadium in Couva yesterday.
While Pleasantville romped to a 3-0 win over Signal Hill courtesy a hat-trick by finals MVP Alexcia Ali, Naparima had to endure the tension of a 4-3 penalty shoot-out win over San Juan North, after a rugged goalless regulation time draw.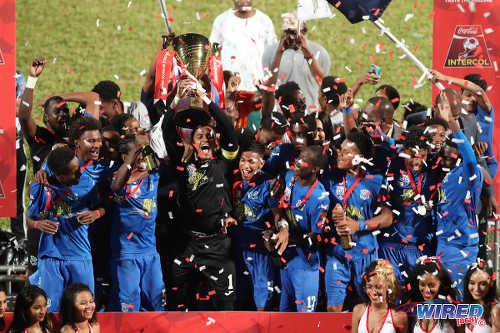 Substitute Seon Shippley slammed home the sixth spot kick, which triggered euphoria among the sea of 'Naps' supporters and handed the southern juggernauts their third title for the season after the Premier Division and South Zone Intercol crowns.
"Words can't express how the school and the players feel today," Naparima head coach Angus Eve said after the game. "Also I lost a friend today in Mike McComie and I wanted to just dedicate this press conference and this game [to him] because we were very close and it's a very sad thing for one so young to pass [away]. "
It was a hard fought victory as both outfits gave no quarter in defence, and penalties always seemed like the likeliest outcome.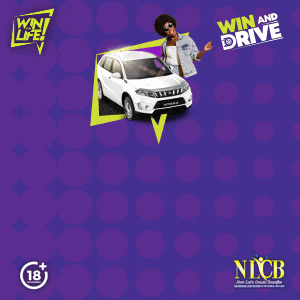 Naparima won the South Zone Intercol title on penalties last week and Eve was unsure whether his charges could repeat the trick.
"To be honest I wasn't [confident that we could pull off the penalty shootout win]," said Eve. "I didn't think that lightning could strike twice because the first penalty kick shootout against Pres, we missed the first three. Today after we missed the first two, I said no way.
"But credit to [goalkeeper] Levi [Fernandez]; he was fantastic. Credit to Tyrike [Andrews], he has been very composed in his penalties."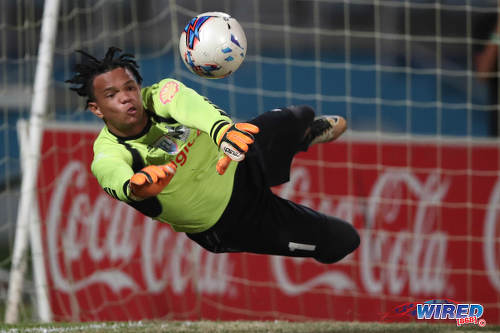 In fact, Tyrike Andrews was a colossal force in central defence for the eventual champions in the final while Kyle Thomas was just as formidable in the San Juan North backline.
While the defenders shone in the Boys final, Ali's attacking prowess decided the Girls final for Pleasantville.
Signal Hill started brighter though and used their physical advantage to pressure the 'P-ville' team early on.
If a Celine Loraine effort from 23 yards had a bit more dip on it—in as early as the fourth minute—it would be the Tobagonians who would have celebrated the opener. Instead, the ball clipped the underside of the crossbar with Pleasantville goalkeeper Akyla Walcott well beaten.
However, P-ville eventually brushed off their opponent's early dominance and began to get a foot hold of their own in the game.
Ali was, of course, in the thick of the action. There was one delicate back-heeled pass to midfielder Jasandra 'Mama' Joseph whose left footed shot was well saved by Signal Hill goalkeeper Aaliyah Alvarez.
It was merely a glimpse of Ali's dominance on the day; and right after the resumption, she got the goal her classy play deserved.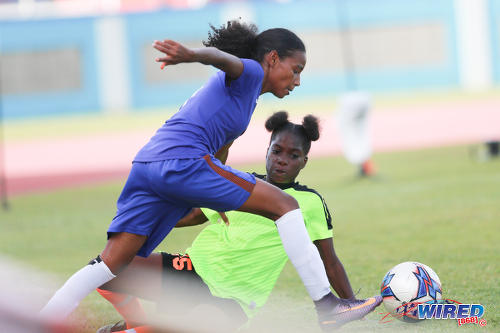 Chrissy Mitchell, who was played into space down the left flank by Aaliyah Pascall, lofted a dangerous cross into a dangerous area into Signal Hill's penalty area. Alvarez was slow to come off her line to clear it and Ali pounced to slam the ball into the empty net in the 46th minute.
Ali doubled up in the 68th minute, as a long punt from the Pleasantville defence created more mayhem in the Signal Hill defence; and this time Ali produced a flicked finish to put the southerners two goals clear.
She saved the best for last, though. There was no indecisive defending in Ali's hattrick goal in the 72nd minute. This time, they just couldn't stop her, as he raced away from her markers before unleashing a right footed shot that rippled the net to write her name into Pleasantville Secondary's football folklore.
Levi Fernandez, the other MVP on the night, had a different vision for achieving success in the finals. A clean sheet!
"Coming into this game today, I was really focused to keep a clean sheet," said Fernandez. "I just went out there to give it my all and I did what I'm accustomed to in training; and I'd just like to thank God for that."
Before the final, Eve suggested that five clean sheets in the Intercol competition should translate to title success. He was proven right. But it was by no means easy against an aggressive San Juan North unit.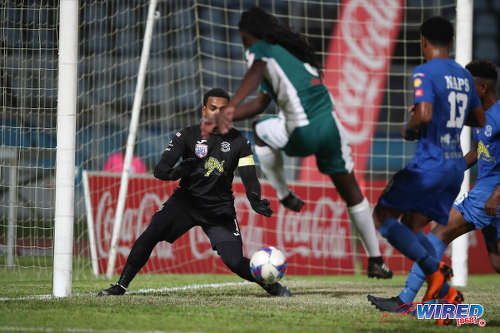 Early in the encounter, the impressive Thomas rose brilliantly at the back stick to thump a header off the frame, after an Elair Brewster free kick—with Fernandez just a spectator.
And the game ebbed and flowed with crunching tackles given refreshing acknowledgment from the thousands of supporters.
Substitute Jerry Morris forced Fernandez into a smart save low to his right in the second half. But it was the crafty Naparima midfielder Mark Ramdeen who almost brought the house with the best move of the game on the counter, as he turned on a dime to leave one defender for dead and unleashed a powerful angled strike that cannoned off the frame of the goal.
The night did not get much better for the talented attacker unfortunately.
Emmanuel John wrapped up penalty kicks from Ramdeen and Jeron Pantor to leave the south team reeling, even though San Juan captain Renaldo Boyce had fired his opening kick against the bar.
Daquon Foster and Shoaib Khan restored brought Naparima back into the shootout after Kareem John and Obadele Dickson produced superb spot kicks for the Bourg Mulatresse boys.
Captain Fernandez then turn the tide as he palmed away the 16 year old Morris' spot kick.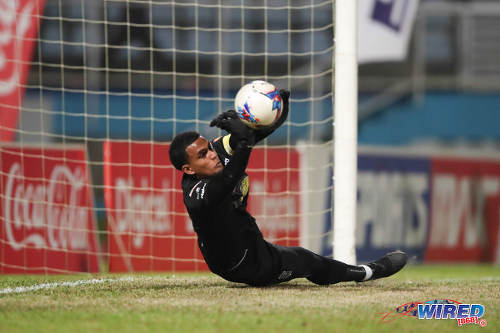 "I was just telling [my teammates] to make sure and score [because] I will save one," said Fernandez. "I was confident in myself that I would save a penalty."
His brilliant save paved the way for Shippley to convert the winning penalty.
"We know how penalty shoot outs can go," said San Juan North manager Stephen Clarke. "In our last penalty shoot-out against Trinity East for the East Zone Intercol title, we used the same bunch of guys in the same order and everyone scored. They were perfect.
"This time around… We are disappointed at this present moment in time however we feel proud in the members of our community and our team. The boys fought really hard."
It was San Juan North's third successive Intercol final and the second straight time that they had to settle for second place.
"It was a relatively balanced game," said Clarke, "[but] one team has to win and one team has to lose. Unfortunately it was San Juan [who lost] but we will come back and fight next year.
"[…] Congratulations to Naparima College, they completed the treble of titles."
And thus the curtain closes on another SSFL season.
(Teams)
Pleasantville Secondary (4-2-3-1): 1.Akyla Walcott (GK); 14.Curissa Joseph, 7.Latifha Pascall (C), 18.Jhaney Simon, 6.Shawnelle Rose; 4.Shackeme Buntin, 8.Jasandra Joseph; 11.Chrissy Mitchell, 9.Alexcia Ali (16.Celine Hypolite), 5.Corysa Joseph (12.Kayla Garcia); 10.Aaliyah Pascall (19.Kimberley Stewart).
Unused Substitutes: 22.Jerica Brereton (GK), 2.Dalisha Brawthwaite, 15.Ariel Stoute, 13.Amelia Thomas.
Coach: Joel Maloney
Signal Hill Secondary (4-4-1-1); 1.Aaliyah Alvarez (GK); 12.J'nae Harris, 5.Derisha Bristol, 13.Tyra Myers, 4.Jelese Alexander; 18.Twinkle Thomas, 8.Salatina Searles, 10.Gamelia Waldron, 15.Dilleasia Nicholson; 11.Celine Loraine; 17.Ashante Campbell.
Unused Substitutes: 3.Makaila Joseph, 14.Gamie Waldron, 19.Ariel Adams, 20.Kristiana Gibbs.
Coach: Ray Mitchell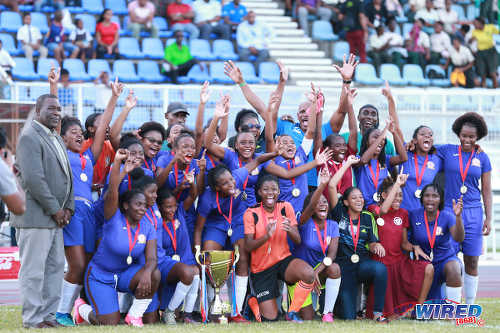 Naparima College (4-2-3-1): Levi Fernandez (GK) (C); 5.Daquon Foster, 4.Tyrike Andrews, 13.Jeron Pantor, 15.Marvin Waldrop; 6.Shoaib Khan, 17.Nathaniel Perouse; 10.Declan Marcelle (9.Ezekiel Kesar), 8.Kodel Frontin, 7.Mark Ramdeen; 19. Isa Bramble (20.Seon Shippley).
Unused Substitutes: 12.Asukile Christopher, 14.Molik Khan, 16.Akil Johnson,  24.Jabari Lee, 30.Enrique Changiah.
Coach: Angus Eve
San Juan North Secondary (4-2-3-1): 1.Emmanuel John (GK); 19.Adrian Duncan (10.Jerry Morris), 4.Elisha Garcia, 22.Kyle Thomas, 17.Kareem John; 14.Darion Warner, 18.Malik Farrier; 2.Tyrell Cameron (13.Christon Mitchell), 3.Elair Brewster (16.Obadele Dickson), 11.Isaiah Chase; 9.Renaldo Boyce (C).
Unused Substitutes: 6.Jordan Britto, 8.Jeremiah Rodriguez, 12.Mattias Kendo, 30.Emmanuel Clarke.
Coach: Jerry Moe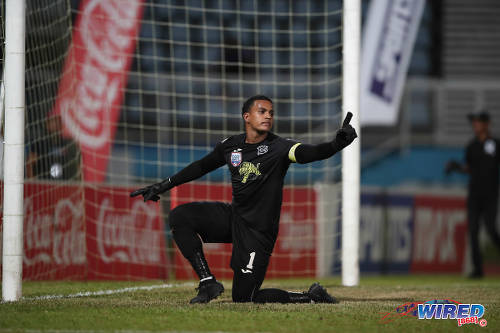 National Intercol final
(Tuesday 4 December)
Pleasantville Secondary 3 (Alexcia Ali 46, 68,72), Signal Hill Secondary 0 at Ato Boldon Stadium;
Naparima College 0, San Juan North 0 at Ato Boldon Stadium;
*—Naparima won 4-3 on penalties.