"I always tell players who are going to school as well to keep focus and always try to balance both football and your academics; both things go hand in hand. I always tell them if your foot fails you, you would have something to fall back on, meaning academics."
Pleasantville Secondary Lower Six Form student Jasandra 'Mama' Joseph is on the verge of an extraordinarily successful season at Secondary Schools Football League (SSFL) level, as 'P-ville' attempt to wrap up a clean sweep of titles this evening.
Pleasantville won the National Big Five and South Zone League and Intercol titles in 2018; and they face Signal Hill Secondary from 3pm today at the Ato Boldon Stadium in Couva in the Girls National Intercol final.
Joseph took time to talk one-on-one with Wired868: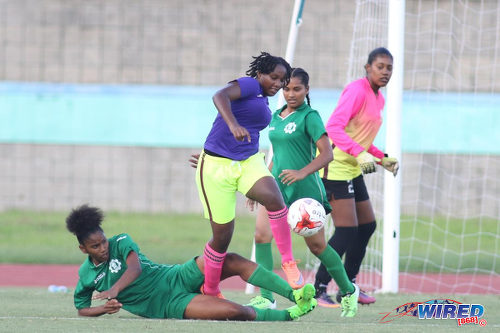 What is your date of birth?

6 October 1998.
Where is your hometown?
Gasparillo
Position?
Midfielder
What makes you stand out as a player?
First to begin with I am a strong player, both emotionally and physically. Even if someone scores on us first—like Carapichaima did in the Big Five semis—I say: that's just one, that can't keep us down, we got this, 'let we go'! And I talk to everybody and [in the end] we came out with a victory. Also, I am one of the most experienced players on my team.
Who were your most important coaches and why?
My mom, Sandra Pompey—although coach Brian [London] taught me a lot also. My mom taught me a lot from birth and even my weaknesses, such as my fitness and my speed, she works on it as my personal trainer.
Sometimes my real coaches say I played good but my mother says 'nah, that wasn't your best performance'. And if she tells me that I know something was wrong, so my next game I know I have to step up with this or that.
If she tells me I had a good game then I know to myself I had a good game. She taught me a lot and if she didn't bring me into coaching, I don't feel I would be where I am right now. Coaching teaches me how to look at the game from the outside.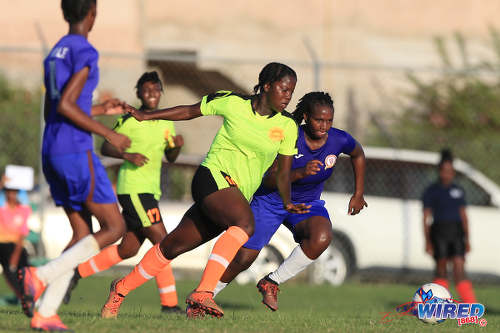 Who is your favourite player?
Basically I have two. I like [Lionel] Messi because he is a humble player and I like his style of football. But I also like [Andres] Iniesta mostly because he plays in the same position as me—central midfield. However I like Messi more.
Barcelona's my favourite team.
What is something most people do not know about you? 
Firstly, they do not know my real name to begin with; they mostly know me by 'Mama'. That's just a name [I've had] from since [I was] small. You know how everyone calls their child 'Mama'? I just liked the name, so even though I introduced myself as Jasandra, I always say you can call me Mama.
Since people could never remember my name or pronounce it properly, I made it easier for them. My family, friends, coaches, and even some of my teachers call me Mama.
Also, I coach with my mom. We coach boys and girls from ages 5 to 20 in the Gasparillo Youths Club. It was my brother Jamal who really encouraged me to play and taught me.
I also play netball. They wanted me to try out for the national team with netball, but my heart is in the football. In January, I will pick up the netball when the football season comes to a close; and UTT want me to come and play with them.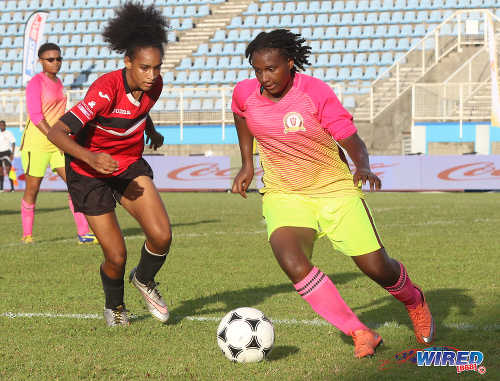 What do you enjoy doing in your free time? 
Normally I play football every chance I get but I also put in my school work because I have to balance the both. If your foot fails you, you should always have something to fall back on. My mother taught me that from small.
If I put in three hours of training, then when I come back I will put in the same hours of school work. It is hard but it is something we have to do. I always give God His time and He asked for one day of the week, so I always try to make that day. I go to church with my mom.
Also, I go out to the mall with my friends and sometimes a movie night with  my family—but not too often because I'm always busy.
What do you hope to do when you finish school?
I want to get a scholarship to go out there and study in the US and play football at a professional level. I also want to do engineering. No particular college but I am getting a lot of offers online and I am also getting an offer to play professionally in Brazil and England. When I went to Brazil to play, a lady saw me—I think she is a scout—and contacted me and wants me to come and play there. But right now I am studying my SATs.
What would be success for you as a player? 
Making it out there in the football world and playing for any professional team or famous club that would give me the opportunity to play. Also, making my mom proud. Once she's happy, I'm happy. Although I am making my mom proud now, there is so much more to give.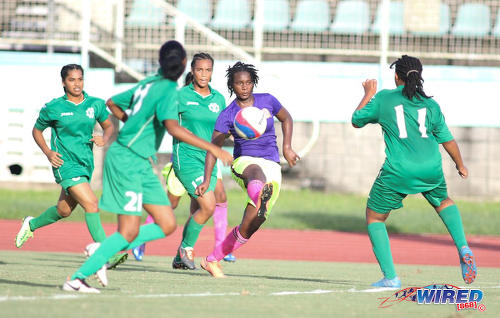 How would you describe yourself? 
Friendly, kind and a humble person. Easy to talk to because most of [my friends] come to me for advice with any little situation they're facing. I am not a really talkative kind of person—except for at home.
What has been your best moment in your football career thus far? And why?
Winning the National Under-17 Caribbean Championship in Haiti because we were the first Trinidad and Tobago team to win that tournament back in 2012. We won 1-0 [against Jamaica].
Another achievement was coming to 'P-ville' and winning three titles; South Intercol, Big Five and South Championship, all in 2017. Back in Marabella South [Secondary] where I used to attend, we never played football at the highest level like P-ville. We only played schools around the area.
Worst moment?
Hmmph… That was when our National Under-17 Team lost in the 2013 Concacaf tournament; we didn't win a game in that stage. We played against the USA, Canada and Guatemala, we even lost 11-0 to Canada! (T&T also lost 8-0 to USA and 7-0 to Guatemala in that tournament).
Then the managers and our own coaches put all the blame on us for losing the games and didn't look at their own faults.
Each player cried that night; but we talked to each other and said we are young, this is just one game and we will work on our weaknesses.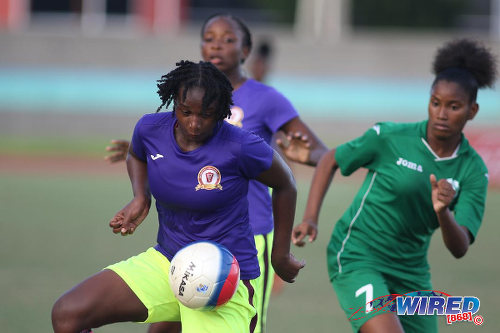 What is your target for this season?
Winning all titles: the South Championship, Big Five, South Intercol and National Intercol. But my main personal goal is winning the National Intercol title for my team.
How do you prepare yourself for an important game?
Basically, I listen to music and stay to myself to think about my game. That helps me to think about how I am going out there to perform for my team. So I relax in my corner, keep focus and listen to positive vibes music such as gospel and reggae. As a team, we get loud in the dressing room and hype ourselves.
What advice will you give to anyone who is willing to go into your field?
I always tell players who are going to school as well to keep focus and always try to balance both football and your academics; both things go hand in hand. I always tell them if your foot fails you, you would have something to fall back on, meaning academics.
Surround yourself with positive people. Some people are good players but then what fails you is your friends. Sometimes your friends will tell you 'aye, let we go and lime' but you have to remember what you really want and how badly you want it. Also, very important, put God first.