St Anthony's College had their National Intercol semifinals berth all but sewn up by the halftime whistle today, as they walloped Carapichaima East Secondary 4-1 in the quarterfinals at the Ato Boldon Stadium, Couva.
"We are on a mission," St Anthony's College head coach Ronald Daniel told Wired868. "The Tigers are roaring now."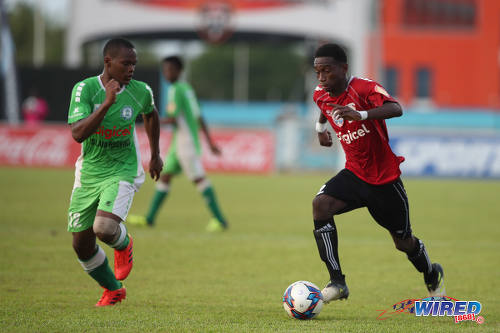 St Anthony's face 2018 Secondary Schools Football League (SSFL) Premier Division and South Zone Intercol champions, Naparima College, next on Friday with a spot in the National Intercol final at stake.
On a cool evening in Couva, Carapichaima struggled to deal with the relentless pace of the 'Westmoorings Tigers', with the electric Haile Beckles leading their counter attacking charge with an exhibition of sharpshooting.
"In the first half, they scored about two goals [from Beckles] that sealed the game from there on," said Carapichaima head coach Randolph Boyce, after the match. "Once you concede so many goals in the first half, it is definitely hard to chase that amount of goals in the second half… They won the game in the first half."

Boyce suggested that complacency seeped into his team since their Central Zone Intercol final triumph over Chaguanas North Secondary. And they paid for it.
"I think they came off of the peddle a bit and we warned them about that," said Boyce. "St Anthony's is definitely a good team—very good, strong in attack—so we had to be on point in our game defensively and unfortunately in the first half, they were not."
St Anthony's midfielder Jahmai George set the northerners on the way with his 17th minute opener. But it was a 14 minute blitz by St Anthony's, late the in the first half, that really turned the game on its head.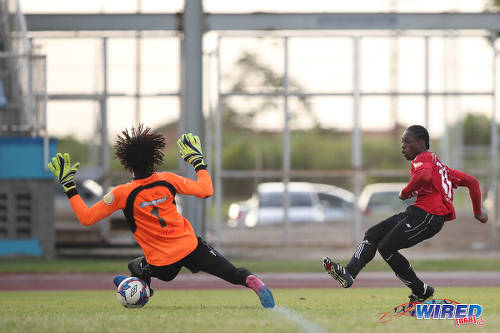 Beckles showed a clean pair of heels down the left flank before sliding in a dangerous cross for Kiron Manswell. Carapichaima goalkeeper Aaron Best did well to get a hand to Manswell's initial shot but he could not deny Zion Williams' eventual follow up from point blank range.
Beckles then offered up a finishing display to his teammates. First, he calmly dispatched the ball between Best's legs after running onto a long ball in the 42nd minute. And, after an excellent Timothy Brandel through ball three minutes later, he further enhanced his reputation as a predatory marksman with a first time rifled strike that had Best grasping at thin air.
It was the diminutive attacker's sixth goal in his last three outings.
"I think the boys will capitalise on the opportunities and I think going forward here we are doing a fantastic job," said Daniel. "I just hope the boys continue to work hard and be positive. I think the boys always like that tough opponent. I don't mind what opponents we have. We going to continue to play and play our football.
"I think they will give a good show on Friday."
St Anthony's did face a horse of a different colour at the start of the second half, as Carapichaima finally began to knock the ball around stylishly—as they have been throughout the regular season—and created a flurry of chances.
Whether St Anthony's had grown complacent themselves or were missing impressive midfielder Jesse Williams, who was replaced after an hour, Carapichaima took charge of the affair and deserved their lifeline.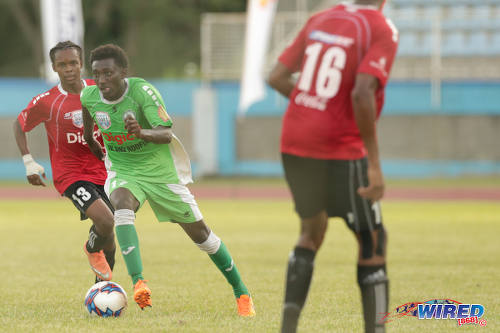 The St Anthony's defence failed to clear a Carapichaima free kick and goalkeeper Josiah Perez could only palm a dangerous cross into the path of Luke Charles, who confidently hit home.
The closing half hour was open stuff but, by then, the result was a foregone conclusion.
It was a bitter end after what had been a landmark season for 'Caps'.
"I know we surprised a lot of people this season in where we finished in the league," said Boyce. "Definitely this season was Carapichaima's best finish. We came in [to the Premier Division] and finished seventh last year, then this year we finished fourth.
"I just hope going forward that we can build and go from strength to strength… They will see that definitely we have some good lil football playing in central."
Both teams came into the Intercol on the back of contrasting fortunes in the regular league season with St Anthony's finishing one point above the relegation zone.
Knockout football, however, is a different animal altogether. 'Naps' should we warned as SSFL fans gear up for a North vs South classic in Friday's semifinal affair.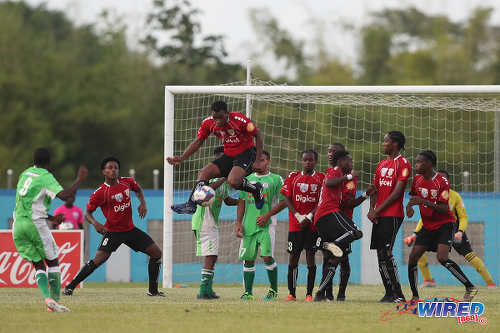 (Teams)
St Anthony's College (4-3-3-): Josiah Perez (GK); 26.Timothy Brandel, 4.Ian Cowie, 16.Jordan Barclay, 6.Khiesa Grainger; Jesse Williams (28.Kaiell George), 13.Quinn Frederick (10.Josiah Edwards), 15. Jahmai George; 9.Zion Williams, 11.Haile Beckles (captain), 2.Kiron Manswell (14.Jahi Solomon).
Unused Substitutes: 7.Kaihim Thomas, 8.Romario Burke, 12.Mikhail Prescod,22.Darnell Pollard.
Coach: Ronald Daniel 
Carapichaima East (5-3-2): 1.Aaron Best (GK); 12.Emmanuel Correia (14.Resean Britto), 5.Luke Charles, 2.Jeron Pascall, 3.Symron Wiseman, 18.Akeil Vesprey; 17.Mecaheil Alexander, 7.Darien Parks (10.Daniel Pascall), 8.Keilon Burnett (21.Ivan Dos Santos); 6.Josiah King, 9. Kevon Williams (captain).
Unused Substitutes: 11.Josiah Henry, 13.Jaedon Miller, 16.Jeremiah Chackon, 22.Tyrell Leacock.
Coach: Randolph Boyce 
National Intercol quarterfinal result
(Tuesday 27 November)
St Anthony's College 4 (Jahmai George 17, Zion Williams 33, Haile Beckles 42, 45 +2), Carapichaima East 1 (Luke Charles 62) at Couva.