San Juan North Secondary won their third straight Secondary Schools Football League (SSFL) East Zone Intercol title—and their fourth from five seasons in the Premier Division era—as they edged Trinity College East 5-4 via kicks from the penalty mark this evening at the Larry Gomes Stadium in Malabar.
Neither San Juan North goalkeeper Emmanuel John nor Trinity East custodian Khalil Oliver got close to any of the 10 penalty kicks taken. today However, 'Blue Hawks' defender Stephan Hoyte's missed effort ultimately decided the match.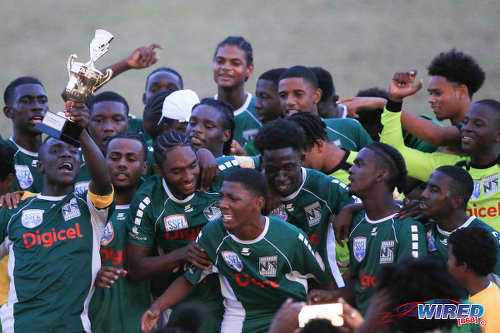 "This one is the sweetest one of all of them," San Juan North head coach Jerry Moe told Wired868, "because it is not easy to win three times in a row."
At the other end, it was Trinity East's second appearance in an East Zone Intercol final and, once more, they leave empty handed.
For about 15 minutes, it seemed like coach Michael Grayson, a former Intercol champion with Arima Senior Comprehensive and St Augustine Secondary, was on the way to a special night.

No coach has managed trophies with two different teams in the Premier Division era—Grayson won the East Intercol title with the 'Green Machine' in 2015—while it is uncertain whether anyone has led three schools to SSFL trophies.
A deflected opener by Tyrique Sutherland in the 67th minute raised hopes of an upset. But the Blue Hawks could not hold out, as a 81st minute leveller from San Jan North substitute Christon Mitchell sent the match into a shootout.
"I don't have any problem [with the effort from my players]," said Grayson. "They were throwing everything at us… And [there was] just one ball we should have cleared; they got a corner and we had some miscommunication [at the back] and that was it."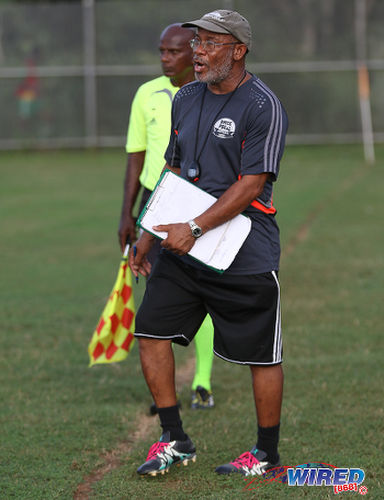 Trinity East might feel unlucky to lose, particularly as they held a lead until nine minutes from regulation time. But whether they deserved to win was another matter entirely.
"Trinity defended well [but] we had more territorial advantage, more possession, more corners and more direct chances," said Moe.
It felt like a fair assessment. And Grayson's own summary did not differ much from his opposite number's.
"To be honest, it went as planned," said the Trinity coach. "We [went out to play] good defence and whatever chances [come up], we take."
Grayson gave central defender Stephan Hoyte the task of man marking San Juan forward and captain Renaldo Boyce—the closest thing to a human battering ram in the SSFL—with Kishaun Charles and Christian Ransome playing to the front and back of Hoyte respectively, presumably to mop up flick ons.
Picture Hannibal Lecter in Silence of the Lambs with arms and legs bound and strapped while wearing a muzzle, just to be sure.
As has been the case for the latter half of the season, Moe opted not to play Jerry Morris alongside Boyce as an orthodox front pair, but instead played Elair Brewster in the "number 10" role.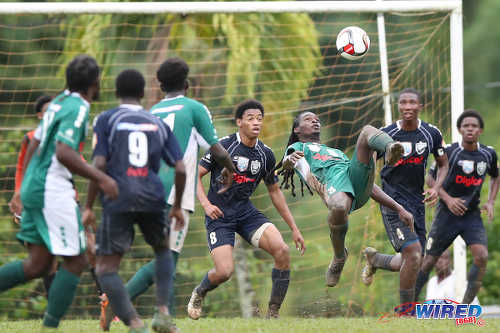 Brewster has been impressive as a box to box midfielder this year. But as a playmaker? He looked suspiciously over-promoted.
"Sometimes [Brewster] does well there, sometimes he is a little bit lazy," said Moe, who is blunt to a fault. "He can do better. Today he was average."
With Boyce isolated and neither Tyrell Cameron nor Isaiah Chase able to penetrate down the flanks, San Juan North were largely restrained from open play. But when has that ever stopped Hannibal?
Enter massive central defender Kyle Thomas with arms so long that he could probably flick you ear from across the street. Every throw in the Trinity half of the field was about as good as a corner kick and surely the younger, less physical Blue Hawks could not keep resisting a barrage of set pieces.
Could they?
"We worked on [our set pieces]," said an unapologetic Moe, in what was almost certainly an understatement. "Set pieces are the third main reason why goals are scored. So it's always a possibility [to get one that way]."
Grayson was not adverse to a bit of 'rope-a-dope', as he tried to soak up the San Juan North battering and counter through the bustling pair of Tyrique Sutherland and Terrell Wiley.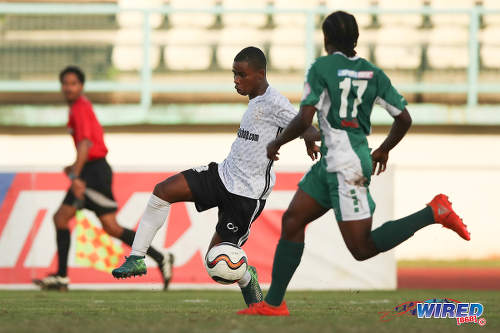 "We catered for [the San Juan North set pieces] and we were pretty disciplined with it right through," said Grayson. "We have a boy who can take long throws too, so we practised defending them."
And so passed the first hour of the contest with San Juan North attempting unsuccessfully to push through Trinity's front door. While, at the other end, Sutherland and Wiley had the stomach and skill but not quite the strength to resist the San Juan defence.
Then came an unforced error from the 'Bourg Boys'. Defender Elisha Garcia played a loose pass on top of his own area and gifted possession to Sutherland. Even then, the Hawks needed a second bit of good fortune as Sutherland's speculative 20 yard effort clipped of Thomas' thigh to bounce over goalkeeper Emmanuel John—a former Trinity East student—for the opening goal.
Sutherland whipped off his shirt to celebrate. The odd lone assault apart, Trinity East never really pursued a second item.
"… Whatever chances [come up], we take!"
By then, Moe had already introduced Morris from off the bench and San Juan North were definitely in second gear. But the workmanlike Trinity East team were warming to their task.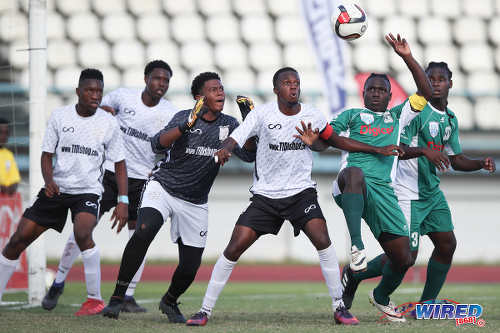 In the 78th minute, the San Juan coach introduced a third forward, as Mitchell took up a role down the right flank.
"We just had to go for it," said Moe, "[so] we went with three at the back and I brought out on another striker as a wild card…"
Mitchell was barely on the field for three minutes when the ball broke loose in the penalty area, after an inswinging Cameron corner kick, and the substitute reacted sharply to hit a lunge attempt that Oliver could not keep out.
The boisterous San Juan supporters were in a frenzy and, four minutes later, Oliver had to fend away a bullet from Brewster—now restored to his traditional midfield role.
Grayson could tell which way the wind was blowing.
"After they scored to make it 1-1, I said 'let's go with kicks after the game and just close up shop'," he said.
So, in the 89th minute, Grayson replaced his most industrious front man, Sutherland, with defender Jeremiah Williams.
Within seconds, Williams justified his inclusion with a crucial block from Mitchell in the penalty area after Sween conceded possession in the most dangerous part of the field.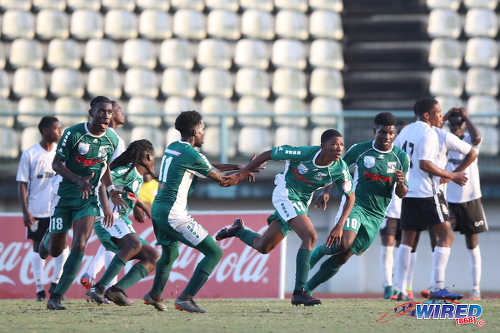 "That was a terrible error from Sween," said Grayson, who was still fuming after the shootout. "He just allowed the ball to stand up in front of him!"
Sween made no mistake from spot though. Neither did teammates, Jarved Elcock, Daniel Lake and Randy Jackson nor San Juan North players Boyce, Isaiah Chase, Kareem Joseph and Morris.
It was not Hoyte's day though. The central defender easily fooled John with his effort but could not get the better of the bar, as his shot slammed into the frame of the goal and bounced on the wrong side of the goal line.
"We showed character to come back from a goal down to at least draw the game and then win on penalties," said Moe.
San Juan North return to Larry Gomes on Thursday 29 November when they face either Signal Hill Secondary or Speyside High School—both second tier outfits.
Once more, the Bourg Mulatresse outfit will start as favourites. Moe told Wired868 that the framework for success is there. Now, it is up to his players to deliver when it counts.
"We need to get some special performances from individual players," said Moe. "If we get that right on the day—based on what I see everyday on the training ground—we can go all the way."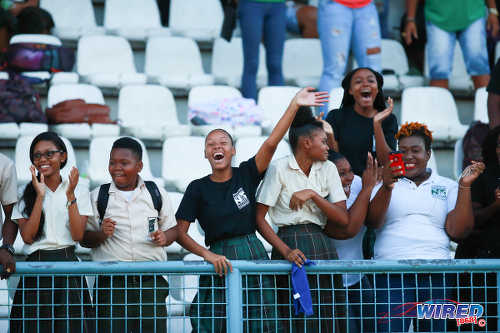 Boyce, Cameron, Thomas and John were National Intercol champions in 2016 and were involved in all three of their school's successive zonal triumphs.
"Hopefully they will leave a legacy behind," said Moe.
But the San Juan community want one more trophy this season. Two more wins and the quartet can give it to them, before leaving the schoolboy stage in grand style.
(Teams)
San Juan North Secondary (4-4-1-1): Emmanuel John (GK); 19.Adrian Duncan (16.Obadele Dickson 58), 4.Elisha Garcia (13.Christon Mitchell 78), 22.Kyle Thomas, 17.Kareem John; 2.Tyrell Cameron, 18.Malik Farrier, 6.Jordan Britto (10.Jerry Morris 58), 11.Isaiah Chase; 3.Elair Brewster; 9.Renaldo Boyce (captain).
Unused substitutes: 30.Jushwar Wong (GK), 8.Jeremiah Rodriguez, 12.Kendo Matthias, 24.Emika Joseph.
Coach: Jerry Moe
Trinity College East (4-3-3): 1.Khalil Oliver (GK); 4.Randy Jackson (captain), 23.Kishaun Charles, 2.Stephan Hoyte, 5.Daniel Lake; 11.Jarved Elcock, 17.Christian Ransome, 19.Kerdell Sween; 7.Tyrique Sutherland (3.Jeremiah Williams 89), 9.Jaden McKree (6.Jaheim Faustin 65), 10.Terrell Wiley (21.Matthias Hinkson 75).
Unused substitutes: 22.Nicholas Thomas (GK), 8.Isaiah Williams, 12.Daejean Windsor, 13.Tristen Solomon, 15.Romario Mahabir, 22.Aidan Hayes.
Coach: Michael Grayson