Malick Secondary confirmed their maiden promotion to the Secondary Schools Football League (SSFL) Premier Division yesterday afternoon, as they whipped Holy Cross College 3-1 in Shell/First Citizens Bank Big 5 action at the Larry Gomes Stadium in Malabar.
Malick, who are unbeaten in the Big 5, have seven points from their three outings thus far and are certain to capture one of the three available positions for the Premier Division.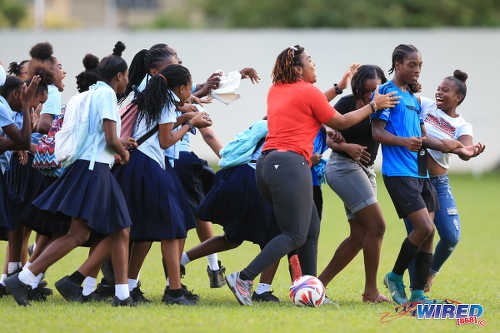 Their ascension will be a consolation to the North Zone, which has two schools in the top flight relegation zone at present. Either St Mary's College or Fatima College will be demoted from the Premier Division—if not both.
Pleasantville Secondary are favoured to follow Malick up the ladder, as they held Speyside High School goalless in Tobago yesterday. "P-ville" now have four points with two games outstanding; and a win against either Malick or Chaguanas North Secondary—in their remaining outings—will get the job done.
At present, Holy Cross occupy the final promotion spot although they have one match left; and it is away to Speyside. Speyside and Chaguanas North have one point apiece with two games outstanding and can still squeeze their way into the top flight.
SSFL Big 5 results
(Friday 2 November)
Speyside High 0, Pleasantville Secondary 0 in Tobago;
Holy Cross College 1, Malick Secondary 3 at Larry Gomes Stadium;
Chaguanas North are on a bye.