"Watch how we coming!" shouted an animated female San Juan North Secondary fan. "We will give them 10!"
When the dust settled, visiting Naparima College had prevailed, though, as their 3-2 triumph in Bourg Mulatresse yesterday condemned San Juan North to their second successive defeat—some humbling considering that the host team were unbeaten in their first nine outings.
"I think with the effort we gave, we definitely deserved a point this evening," said San Juan North coach Jerry Moe. "But it didn't happen."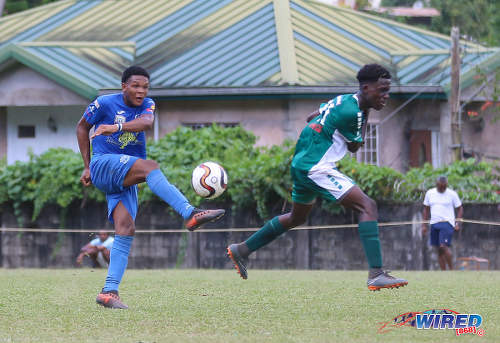 The result saw Naparima inch ahead of San Juan North, on goal difference, for second place. Not that either side is happy to play the role of bridesmaid.
"Naps" host leaders and defending champions, Presentation College (San Fernando), on Wednesday and coach Angus Eve was in bullish mode as he prepares for the final stretch.
"We are always confident [of our title chances]," Eve told Wired868. "We've been playing good football for the most part but we haven't been taking our chances. "Today, I think we showed the metal of the team, the spirit of the team, the fight of the team, the camaraderie of the team, which sometimes—even when you're not getting results—is what brings you through."
There was a dash of good fortune for Naparima and San Juan too, as the "Pres Lions" stumbled at home against Fatima College and needed a late strike to snatch a 2-2 draw.
It was only Presentation's second tie of the season while they won their previous nine matches. Coach Shawn Cooper's lead at the top was stretched to four points, as a result. But, crucially for the chasing pack, they are not out of sight.
Presentation's next three matches are against Naparima, St Anthony's College and San Juan North respectively. Their returns over that 10-day period will decide the fate of the Premier Division race.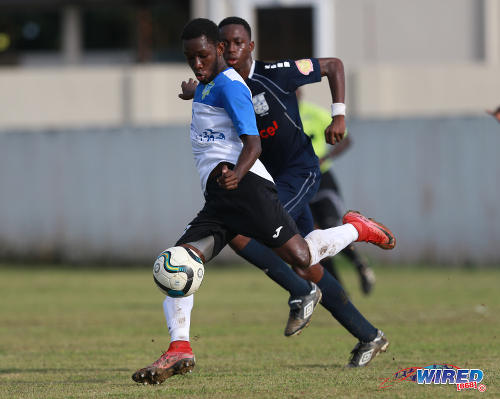 For Naparima, captain Jeron Pantor and his troops displayed the tactical discipline and hunger of title contenders in Bourg Mulatresse this evening. Within 30 minutes, the southern visitors were up 3-0 and San Juan North—who lost 4-1 to St Augustine Secondary in midweek—were reeling.
Decklan Marcelle and Seon Shippley struck within the first eight minutes off balls over the top while defender Tyrike Andrews scored with a header, after the hosts failed to clear their lines from a Naparima set piece.
"We started off the game flat and we put ourselves in a hole," said Moe. "We weren't dropping when we were supposed to and we gave up some early goals. Same problem as last game.
"We worked on it, [thought] we corrected it on the training pitch; but sometimes the game is something completely different."
Three minutes before the interval, flanker Isaiah Chase gave the "Bourg Mulatresse Boys" a lifeline with a superb volley—his fifth item of the season.
By the interval, Naparima could have easily been five or six goals ahead. But it was a different San Juan North in the second half.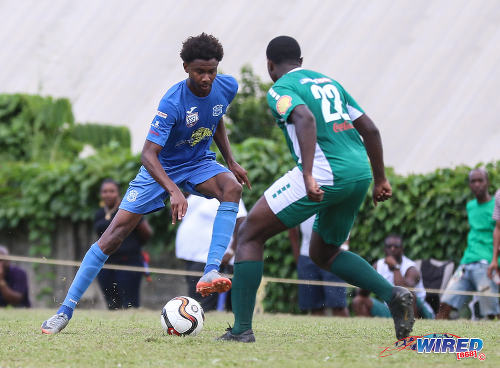 "We made some adjustments and we started pressuring high," said Moe. "They didn't really get much chances until late down in the second half."
Bit by bit, San Juan North pushed Naparima on their heels.
The game plan was simple but effective. Long balls were pumped in the vicinity of captain and centre forward Renaldo Boyce to hold up and redistribute down either flank before charging the penalty area.
Boyce's first touch and strength were impressive.
"We were double teaming him," said Eve. "We were allowing the ball to go into him and had another midfielder dropping, so he never got to turn. He is really good and he is a threat when he swivels and turns to shoot the ball.
"I think he should be on the National Under-20 Team."
While Boyce occupied two Naparima players, left sided San Juan North attacker Tyrell Cameron—a whirlwind of step overs and stutter steps—gave opposing right back Daquon Foster a searching examination. Crucially, it was a test that Foster largely passed.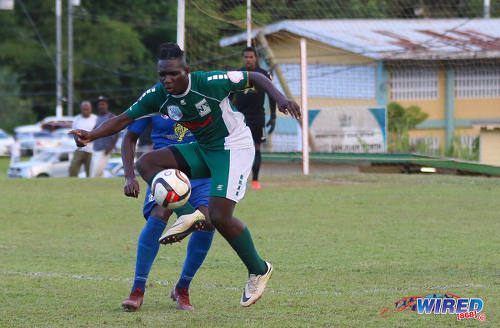 It would be down the other flank that San Juan North would have some joy, as lanky substitute Jeremiah Rodriguez—a halftime replacement for the injured Jerry Morris—chanced his hand with some driving runs.
"That tall man could real play boy," one San Juan North supporter told his colleague, who nodded with a broad grin.
"Jeremiah [Rodriguez] didn't train much last week because of the flood situation," said Moe. "He lives in Oropune and he got flooded out."
Amidst the turmoil of his personal life, Rodriguez was fighting for his "second family", as San Juan North hunt their first league title of the Premier Division era. He was not short of support yesterday.
For anyone unfamiliar with football at Bourg Mulatresse, picture 11 young men in green jerseys on the field, roared on by 200 coaches on the sidelines.
"Pass it boy! Pass it!"
"Second ball is yours!"
"Allyuh push up nah man! We down and allyuh backing back?!"
"Come on San Juan, this is allyuh field!"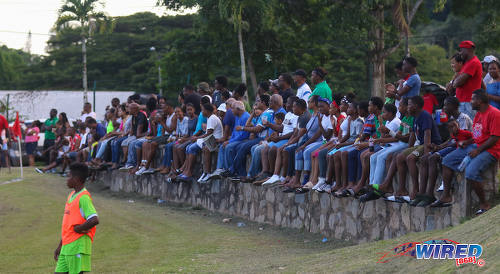 Midway through the second half, the pressure finally told as San Juan North defender Elisha Garcia got down the right flank and put in an inviting low cross that Boyce missed on the first swing but converted on the second—after it bounced awkwardly off Andrews' shins.
"We go give them 10!" shouted an excitable supporter.
But San Juan North's plans were undone by an expressionless young man dressed in black. No, not the referee—although Eve might have an opinion on that—but Naparima goalkeeper Levi Fernandez.
Calm and collective, Fernandez looked like he could walk whistling through a hurricane and emerge without a hair out of place. And as hulking San Juan North figures threw themselves at free kicks, corners and long throws into his area, Fernandez—who should be checked for adhesive on his gloves—plucked balls from out of the sky as though he was picking guavas in his back yard.
"We are lucky in that San Juan North were one of the few teams we saw play," said Eve. "We knew what their threats are—the long balls—so we worked on it in training. Levi was tremendous. Not just good, he was tremendous; and he has been tremendous all season.
"I don't know how he is not on the National Under-20 Team either."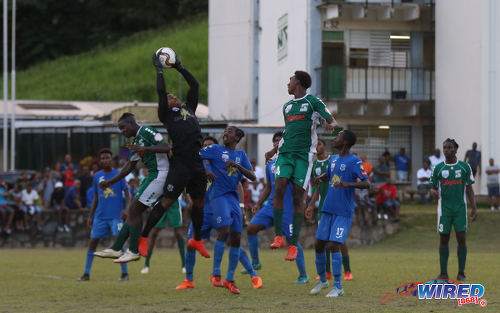 Eve responded to San Juan North's winged assault by having tidy central midfielder Kordel Frontin replace Marvin Waldrop at left back, before opting for a third option in the form of substitute Asukile Christopher.
Rodriguez looked winded by then, as the Naparima defence closed him down in twos.
"Jerry take him off nah!" shouted an exasperated fan with a ridiculously short memory, after a tiring Rodriguez sliced an attempted cross. "He ent playing no kinda football man!"
Still, Rodriguez almost conjured up a late equaliser as a cross to Boyce created pandemonium in the area and Andrews salvaged Naparima's win with an alert block on San Juan North substitute Christon Mitchell from six yards.
While Fernandez dropped one catch in the crowded box, two minutes from time, only for opposing midfielder, Darion Warner, to volley awkwardly overbar.
"San-Juan," sang the crowd, "we want a goal!"
But it was not to be.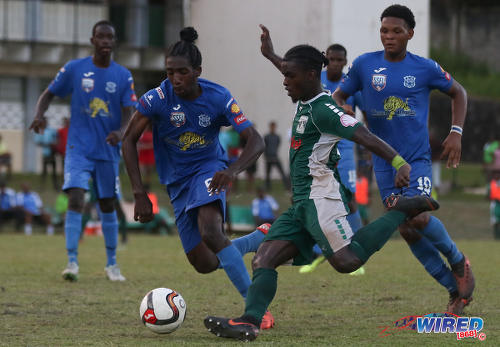 "We had to win [and] I thought the guys were tremendous in a very hostile environment," said Eve. "I wouldn't comment about the refereeing because it might come back to haunt me later down. We got no calls today and I thought they really dug deep—because the last three games we ended up with ties; games that we should have won.
"San Juan are a plucky bunch as you know… They are a very physical team and credit to my guys. We tried to play but we had to turn into them [and play direct]; and then basically hold on for the last 10 or 15 minutes."
Even then, Naparima might have managed an insurance item as substitute Caleb Gaspar hit the bar in second half stoppage time while San Juan North custodian Emmanuel Clarke made a sharp reflex save to deny Shippley, as the hosts continued to struggle against long balls behind the backs of their defence.
San Juan North were level on points with Presentation last weekend. But, since the floods, the picture has not been so rosy. Moe has not given up yet, though.
"Nothing has gone wrong with San Juan North [despite back to back losses], we just gave up goals by starting off flat and with some individual mistakes," said Moe. "Maybe the two games a week catching up on us. But God smiled on us, 'Pres' [drew with] Fatima, so everybody is still right there in terms of that.
"We know 'Naps' play 'Pres' next game, so somebody will lose points. Maybe a draw might be the best results for us."
"But that doesn't mean it is easy because we have St Anthony's [College] next…"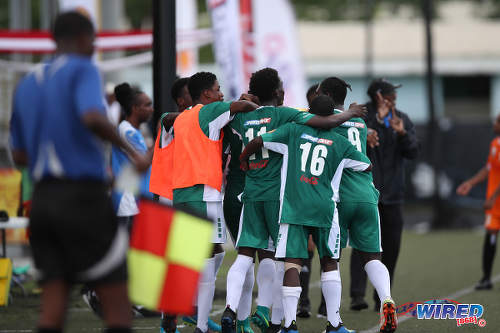 At the final whistle, both sets of coaches were satisfied. If Presentation return to winning ways in mid-week, the fat lady could start clearing her windpipes. But, in Bourg Mulatresse, the dream has not died yet.
"It could go down to the wire and that is what everyone wants to see," said Moe. "Mathematically, we are still in the hunt."
(Teams)
San Juan North (3-4-3): 1.Emmanuel Clarke (GK); 4.Elisha Garcia (13.Christon Mitchell 83), 22.Kyle Thomas, 6.Jordan Britto; 11.Isaiah Chase, 3.Elair Brewster, 14.Darion Warner, 17.Kareem John; 10.Jerry Morris (8.Jeremiah Rodriguez 46), 9.Renaldo Boyce (captain), 2.Tyrell Cameron.
Unused substitutes: 30.Jushwar Wong (GK), 7.Josiah Phillip, 12.Kendo Matthias, 19.Adrian Duncan, 24.Emika Joseph.
Coach: Jerry Moe
Naparima College (4-2-3-1): 1.Levi Fernandez (GK), 5.Daquon Foster, 4.Tyrike Andrews, 13.Jeron Pantor (captain), 15.Marvin Waldrop (18.Caleb Gaspar 79); 6.Shoaib Khan (12.Asukile Christopher 77), 17.Nathaniel Perouse; 19.Isa Bramble, 8.Kordel Frontin, 10.Decklan Marcelle; 20.Seon Shippley (24.Jabari Lee 88).
Unused substitutes: 30.Enrique Changiah (GK), 9.Ezekiel Kesar, 11.Kern Cedenio, 14.Molik Khan.
Coach: Angus Eve
Referee: Rashby McPhee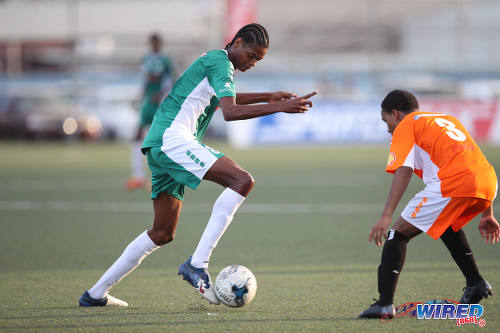 SSFL Premier Division results
(Saturday 27 October)
Carapichaima East 1 (Akiel Vespree 3), St Anthony's College 0 at Carapichaima;
East Mucurapo 2 (Zion McLeod 30, Kidane Lewis 80), St Augustine Secondary 1 (Kesean St Rose 8) at Mucurapo Road;
Presentation College (San F'do) 2 (Jordan Riley, Aleem Barclay), Fatima College 2 (Mikhail McComie [2]) at Presentation;
San Juan North 2 (Isaiah Chase 42, Renaldo Boyce 67), Naparima College 3 (Decklan Marcelle 4, Seon Shippley 8, Tyrike Andrews 30) at San Juan;
St Mary's College 4 (Michel Poon-Angeron 28, 71, Tyrese Spicer 73, Augustine Nkemakolam 84), Bishop's High School 0 at Serpentine Road;
Trinity College East 1, Trinity College (Moka) 1 at Trincity;
Valencia Secondary 2 (Dwight Yorke 61, 82), St Benedict's College 3 (Jaycee Paras 41, 45, Keon Boney 90) at Larry Gomes Stadium;
QRC are on a bye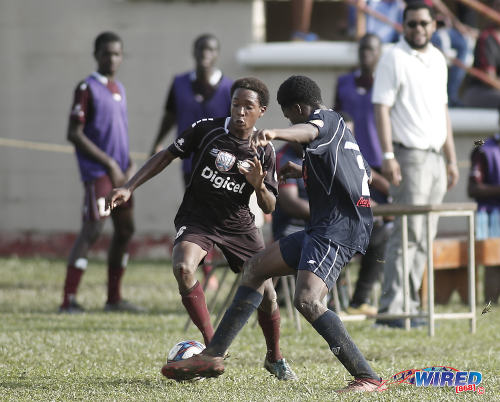 Upcoming fixtures
(Monday 29 October)
Trinity College (Moka) vs QRC, 3:40pm, Moka;
St Anthony's College vs St Benedict's College, 3:40pm, Westmoorings;
St Augustine Secondary vs St Mary's College, 3:40pm, St Augustine.
(Wednesday 31 October)
Fatima College vs QRC, 3:40pm, Mucurapo Road;
Naparima College vs Presentation College (San F'do), 3:40pm, Lewis Street;
St Anthony's College vs San Juan North, 3:40pm, Westmoorings;
St Benedict's College vs Carapichaima East, 3:40pm, St Benedict's;
St Mary's College vs East Mucurapo, 3:40pm, St Mary's;
Trinity College (Moka) vs St Augustine Secondary, 3:40pm, Moka;
Trinity College East vs Valencia Secondary, 3:40pm, Trincity;
Bishop's High School are on a bye
2018 SSFL Premier Division
| Pos | Club | P | W | D | L | F | A | GD | Pts |
| --- | --- | --- | --- | --- | --- | --- | --- | --- | --- |
| 1 | Naparima | 14 | 10 | 4 | 0 | 27 | 9 | 18 | 34 |
| 2 | Presentation | 14 | 10 | 3 | 1 | 30 | 12 | 18 | 33 |
| 3 | San Juan | 14 | 9 | 3 | 2 | 25 | 15 | 10 | 30 |
| 4 | Carapichaima | 14 | 7 | 3 | 4 | 25 | 22 | 3 | 24 |
| 5 | St Benedict's | 14 | 6 | 3 | 5 | 22 | 21 | 1 | 21 |
| 6 | QRC | 14 | 5 | 5 | 4 | 19 | 12 | 7 | 20 |