Try as they might, St Mary's College and Queen's Royal College could not be separated today, as the northern rivals battled to a goalless draw in sluggish conditions at Serpentine Road in St Clair.
St Mary's came into today's fixture in the relegation zone with their only win of the 2018 Secondary Schools Football League (SSFL) season thus far coming against fellow north strugglers Fatima College.
At Serpentine Road, though, coach Ryan Shim was relatively content to come away with a point after escaping a number of close calls against the mid-table "Royalians".
"As you saw conditions were far from ideal and that obviously played into how the both teams performed," Shim told Wired868. "At the end of the day, you have to be happy with a point after a game like this."
The point took St Mary's out of the relegation zone—at least for the time being—as they leapfrogged East Mucurapo Secondary by goal differential, as the latter slipped into 13th spot on the 15-team table after suffering a 4-1 drubbing at the hands of San Juan North Secondary in Bourg Mulatresse.

[dfp-ad]
San Juan (19 points), who were paced by a brace from captain Renaldo Boyce, trail only defending champions Presentation College San Fernando (22 points) and Naparima College (20 points) in the Premier Division table.
Meanwhile in the south land, the "Pres Lions" got back to winning ways, as they whipped table proppers Bishop's High School (Tobago) 3-0. While, in Trincity, two-time Premier Division champions Naparima lost ground as they had to settle for a 1-1 draw with the feisty Trinity College East outfit.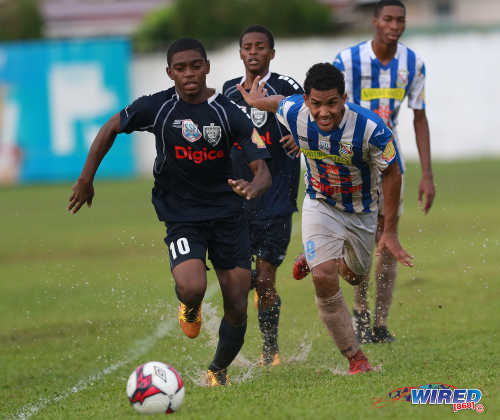 Coach Michael Grayson's Trinity outfit have lost just once so far this season. But a League-leading four draws sees them in seventh position with ten points.
Coach Nigel Grosvenor's team is not short of artistic expression either and today the Royalians played to their third draw in seven matches. Not even the antics of assistant coach and former Soca Warriors captain Kenwyne Jones could spur the visitors to a victory.
"It seems like the luck isn't in our favour at the moment," said Jones, who ran the bench as Grosvenor took up a vantage point near the pavilion. "I think we did have more of the better chances for the game today and unfortunately even down to the last few seconds of the game, it didn't come off for us.
"But again, we continue to pick points up and keep moving so hopefully we'll use these two games—the Presentation game and this game—to push us on for the rest of games coming up."
QRC were luckless today, as they hit goalkeeper Regaleo Holder's woodwork no fewer than three times. One of those efforts—a rasping 30-yard drive from midfielder Darlon Guppy—was inches away from being a goal of the season contender.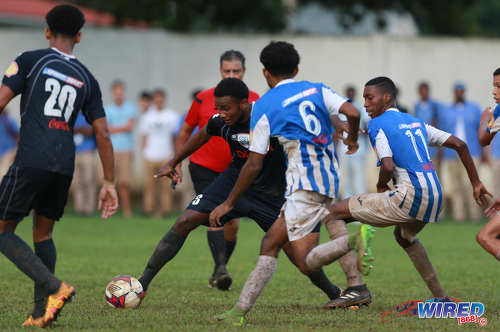 "There were a couple instances where we were holding our breath but the defence held and the keeper did his job," Shim said. "At the end of the day, it was good as far as the defensive effort was concerned."
St Mary's defensive effort was solid; but the less said about their finishing, the better.
Tidy central midfielder Michel Poon-Angeron threatened to take over the game in the second half, as his nifty footwork helped him squeeze out of tight areas to tee up his teammates.
In the 50th minute, "Saints" right back Augustine Nkemakolam shot over from the right side of the area, after Poon-Angeron neatly emerged from a sea of royal blue down the left byline. Gabriel Nanton had an effort ruled out for offside in the 58th minute, while bustling attacker Devon Charles shot woefully wide from close range after smartly taking a floated Poon-Angeron pass in his stride.
QRC had their own close shaves. Having struck Holder's frame in the first half and created some decent chances, the boys in royal blue must have thought their luck would improve in the second half. How wrong they were.
In the 81st minute, after some salsa steps and a 'rollie polie' move by QRC star player John-Paul Rochford, Guppy nearly brought the house down with a right-footed bullet that came back off the bar.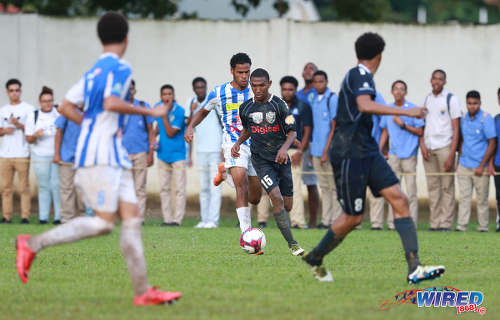 Holder preserved his clean sheet in the fifth and final minute of stoppage time with a tremendous reflex save from point blank range to stop opposing skipper Anfernee Stokes, after a left side Rochford free kick kissed the base of the post. Jones could not quite believe it, and the lanky QRC skipper probably wished to be swallowed up by the soggy outfield at that point.
"They had several cutting-edge free kicks," said Shim. "With a player like young Rochford in there, you give him enough chances at goal and he will punish you."
"[…] Right at the end they could have scored a goal and about 20 or seconds earlier we could've done the same. So it was one of those games where it could have gone either way."
Seconds before Holder denied Stokes, Charles had a chance to decide the match, as a Tyrese Spicer mishit invitingly fell to him in the area. However, with a rush of blood, he boomed his right-footed shot well over the bar.
Charles, who notched a double in St Mary's win over Fatima, was his own harshest critic and left the field in tears.
"One moment of brilliance and we would have had three points in the bag but today nobody could actually do it," said Shim. "So at the end of the day I'm quite happy with the effort of my boys and the general football we played."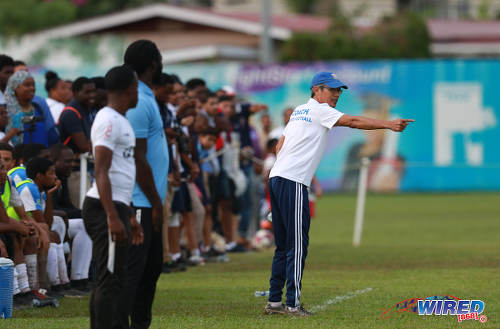 At the final whistle, Shim reminded an inconsolable Charles that St Mary's Premier Division race has not been run yet. However, the Saints need to convert stalemates into wins to avoid the drop.
Jones, who is in his debut season as QRC coach, wants the Royalians as far away from the relegation battle as possible.
"The main thing for QRC at this point is not to be in the position they were in last year," he said. "[…] I think we have gone leaps and bounds so far this year. Up until this point we are doing well; but we don't want to rest on our laurels."
(Teams)
St Mary's College: 1.Regaleo Holder (GK), 2.Augustine Nkemakolam, 3.Kevon Alonzo (captain), 4.Schilleon Phillip, 5.Luke Savery, 6.Justin Keith, 9.Devon Charles, 10.Gabriel Nanton (18.Kyle Carrington 87), 11.Tyrese Spicer, 17.Elijah Bain-Hares (8.Jed Rigsby 68), 19.Michel Poon-Angeron.
Unused Substitutes: 29.Jordan Bidaisee (GK), 7.Terran Winner, 13.Kyle Alexis, 20.Shiloh Galera, 26.Nathaniel Williams.
Coach: Ryan Shim
QRC: 1.Jacques Poon-Lewis (GK), 3.Darlon Guppy, 4.Anfernee Stokes (captain), 6.Rawle Felix, 9.Randy Harris, 10.Naeem Bisnath, 14.Miguel Cross (8.Kalev Kiel 60), 15.John-Paul Rochford, 17.Donnell Claxton, 20.Marc Robertson, 25.Jaheim Granderson (13.Nathaniel James 77).
Unused Substitutes: 30.Jumaane McNeil (GK), 11.Renaldo Mullings, 12.Jabari McKell, 16.Nathaniel Brown, 19.Darius Dickson.
Coach: Nigel Grosvenor
Referee: Larry Lalchan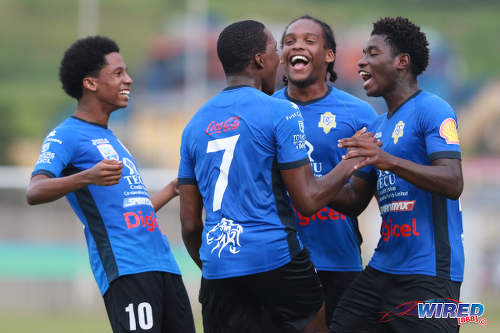 SSFL Premier Division results
(Wednesday 10 October)
St Mary's College 0, QRC 0 at Serpentine Road;
Presentation (San F'do) 3 (Jerin Jackie 18, Darnell Hospedales 32, Ackeel Jacob 77), Bishop's High School (Tobago) 0 at Presentation;
San Juan North 4 (Renaldo Boyce 13, 28, Isaiah Chase 25, Kyle Thomas 58), East Mucurapo 1 (Kidane Lewis 74) at San Juan;
Carapichaima East 2 (Kielon Burnett 23, Kevon Williams 67), Trinity College (Moka) 2 (Raheim Jawahir 43, 68) at Carapichaima;
Fatima College 0, St Augustine Secondary 2 (Kesean St Rose 39, Nickell Alexander 89) at Fatima;
Trinity College East 1 (Tyrique Sutherland), Naparima College 1 (Seon Shippley) at Trincity;
St Anthony's College vs St Benedict's College, Westmoorings;
*—Called off due to waterlogged ground conditions.
Valencia Secondary are on a bye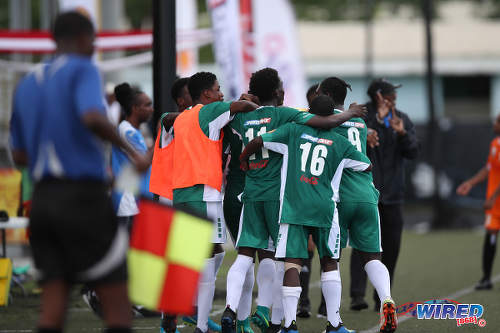 Upcoming fixtures
(Saturday 13 October)
Carapichaima East vs Bishop's High (T'go), 3:40pm, Carapichaima;
Naparima College vs St Anthony's College, 3:40pm, Lewis Street;
QRC vs Trinity College East, 3:40pm, QRC;
St Augustine Secondary vs Presentation (San F'do), 3:40pm, St Augustine;
St Benedict's College vs Fatima College, 3:40pm, St Benedict's;
St Mary's College vs San Juan North, 3:40pm, Serpentine Road;
Valencia Secondary vs East Mucurapo, 3:40pm, Valencia;
Trinity College (Moka) are on a bye
2018 SSFL Premier Division
| Pos | Club | P | W | D | L | F | A | GD | Pts |
| --- | --- | --- | --- | --- | --- | --- | --- | --- | --- |
| 1 | Naparima | 14 | 10 | 4 | 0 | 27 | 9 | 18 | 34 |
| 2 | Presentation | 14 | 10 | 3 | 1 | 30 | 12 | 18 | 33 |
| 3 | San Juan | 14 | 9 | 3 | 2 | 25 | 15 | 10 | 30 |
| 4 | Carapichaima | 14 | 7 | 3 | 4 | 25 | 22 | 3 | 24 |
| 5 | St Benedict's | 14 | 6 | 3 | 5 | 22 | 21 | 1 | 21 |
| 6 | QRC | 14 | 5 | 5 | 4 | 19 | 12 | 7 | 20 |