Trinidad and Tobago Women's National Senior Team manager Jinelle James collected a cheque for TT$429,626 from the Ministry of Sport and Youth Affairs today, which represents the total budget for the team who compete in the Concacaf Championship from 4 October in North Carolina, USA.
The Women Soca Warriors were initially due to head for a pre-tournament camp in the United States on Tuesday 25 September. However, the Trinidad and Tobago Football Association (TTFA) did not submit the necessary paperwork on time.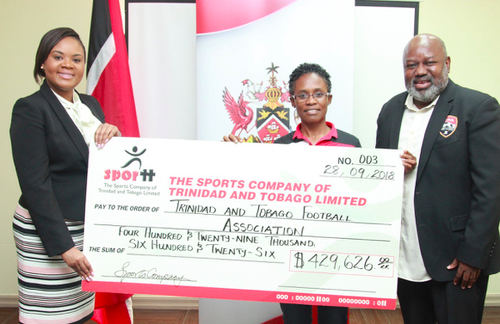 It means the team will leave for the United States tomorrow instead and will have just four days to prepare before facing Panama, Mexico and the United States in World Cup qualifying action.
The TTFA only confirmed Shawn Cooper as head coach on Thursday night, after president David John-Williams initially tried to appoint him without board approval. Former national player Dernelle Mascall and current squad member Ayana Russell will serve as Cooper's assistants while Tasha St Louis will serve as captain.
[dfp-ad]
Sport Minister Shamfa Cudjoe noted that, despite initial promises by the TTFA, the Women Warriors still have not received all owed stipends from the football body. And she urged the John-Williams-led administration to appreciate the "importance of the players' welfare."
"Notwithstanding the commitment made by TTFA to pay outstanding retainer fees to the players before their departure," stated a MSYA release, "the TTFA has informed the Ministry of Sport and Youth Affairs (MSYA), that at this time, the female players are still owed retainer fees for the month of August.
"[…] The TTFA is currently liaising with the Concacaf to provide all outstanding payments to the players. TTFA anticipates that payment will be issued to all relevant players within the next two weeks."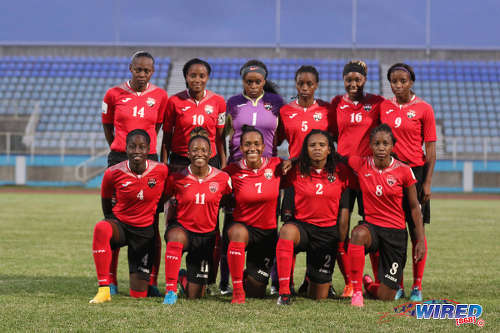 The full Trinidad and Tobago squad is as follows:
Goalkeepers: Kimika Forbes, Saundra Baron;
Defenders: Arin King, Rhea Belgrave, Ayana Russell, Jenelle Cunningham, Jonelle Cato, Lauryn Hutchinson, Patrice Superville, Shadi Stoute;
Midfielders: Janine Francois, Karyn Forbes, Liana Hinds, Naomie Guerra, Natasha St Louis, Tasha St Louis, Shenelle Henry;
Forwards: Kayla Taylor, Kennya Cordner, Mariah Shade.