St Mary's College got their first victory of the 2018 Secondary Schools Football League (SSFL) season today as they defeated rivals Fatima College 4-2 at Mucurapo Road to move off the bottom of the Premier Division standings.
Coming into this afternoon's encounter, both schools were situated at the foot of the table with a point apiece after four matches. But a double from attacker Devon Charles and a sterling midfield display from playmaker Michel Poon-Angeron helped the Frederick Street "Saints" to climb out of the relegation zone for the first time this season.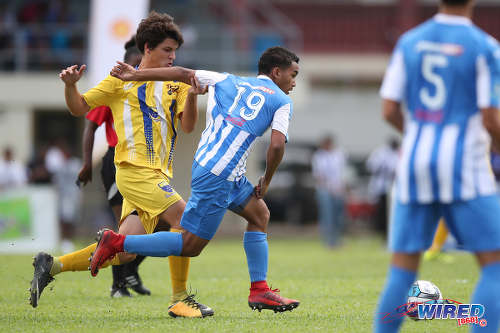 "Well we needed to get the first one in the bag after we let ourselves down against Valencia Secondary on Wednesday," said St Mary's coach Ryan Shim. "We were table-proppers after Wednesday and that's not a comfortable position to be in. We went back to the drawing board and did some soul searching and spoke to the boys. We tweaked a few things and we were able to come out with the victory today."
The news was more sobering for their hosts, Fatima, who were handed their fourth straight defeat of the young Premier Division season. And for the boys in blue and yellow, the soul searching continues.
"The better team on the day definitely won," Fatima coach Wayne Sheppard told Wired868. "That game wasn't about tactics. That game was about desire and pride and we came up short again.

"There has to be a conversation to find out what it is that is stopping you from doing the task that your position requires of you."
Meanwhile, in Westmoorings, defending champions Presentation College (San Fernando) had no doubts about their position, as they maintained their two-point lead atop the standings with a 1-0 win over East Mucurapo Secondary—their fifth straight victory for the season.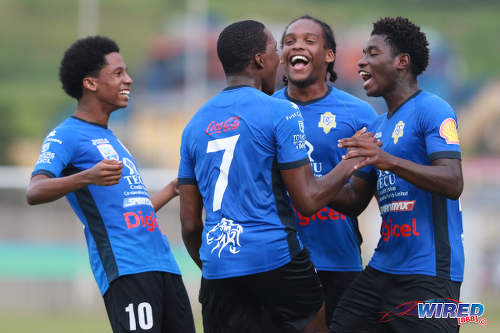 Bulldozing midfielder Ackeel "Hulk" Jacob was the man on target for the "Pres Lions", who are now the only top flight team still with a 100% record, after San Juan North Secondary were held 1-1 by Trinity College (Moka) in Maraval. The tie snapped San Juan's run of three successive wins.
San Juan and Trinity (Moka) have 10 points each and occupy third and fourth place respectively at present. Naparima College remain second after defeating St Augustine Secondary 3-1, which was the second straight loss for the "Green Machine."
At Mucurapo Road, survival was the name of the game, though. Prior to the clash of northern strugglers, Sheppard and Shim spoke to the significance of the occasion and the importance of a positive showing by their respective teams.
The atmosphere at the Fatima College grounds reflected this, as hundreds gathered to will on the two bickering sibling schools. And opposing fans even squared off briefly during the match, after some chanting went a bit too far.
On the field, St Mary's brought the tempo early on, with Poon-Angeron and captain Gabriel Nanton pulling the strings in midfield. Meantime, Charles and fellow attacker Tyrese Spicer were bustling down the wings.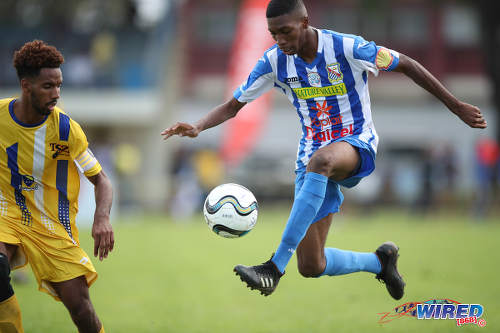 And in the 18th minute, Charles tapped in from close range after Fatima goalkeeper Jacob Camacho parried a low Spicer effort.
Fatima promptly responded through former National Under-15 attacker Jean-Heim McFee two minutes later; but the visitors had the advantage at the interval, after Poon-Angeron blasted into an empty net in first half stoppage time.
Poon-Angeron epitomised the grit and pride which Sheppard found  lacking within his own ranks. Apart from being smooth and calculated in possession—effortlessly spreading passes out to either wing—the St Mary's playmaker did the dirty work in the middle of the park as well.
[dfp-ad]
And, when a right side Charles cross was deflected on to the bar, Poon-Angeron burst his lung to reach the loose ball and thump it past a hapless Camacho.
"The second St Mary's goal sums up the game for me," Sheppard said. "The St Mary's player was willing to go into a tackle, the Fatima player wasn't. And from that they transitioned and scored… They didn't want to lose."
Although St Mary's had a deserved lead at the half, Sheppard was certain that his Fatima team could turn it around in the second period.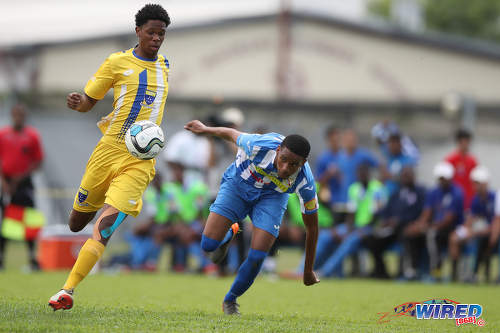 "Every time we stuck to the plan offensively and passed the ball we were able to open up St Mary's in the first half," Sheppard said. "At halftime, I was pretty confident that we would come out and start to play our game."
But inside the first ten minutes of the second half, the game was well and truly over. St Mary's looked dangerous on the counter all afternoon, and Charles could have had himself a first half hat-trick with better finishing. The bustling attacker made amends in the second half though.
First, he converted a 49th minute penalty after Fatima defender Elisha Taylor handled in the area. Four minutes later, Charles turned provider as he teed up fellow attacker Kyle Carrington for a neat, first-time volley from roughly ten yards out.
Fatima did not appear to know what had hit them. Shim, on the other hand, was pleased to get the monkey off his back.
"Today was very important for us to bounce back and we did it in fine style," said Shim, who credited his midfield trio of Nanton, Poon-Angeron and Justin Keith. "We sort of reverted to what we did last year. Those were the three players we had in the midfield [when we won the 2017 North Intercol title] and again it seemed to work for us today. Most likely that'll be the template for us moving forward."
Sheppard only set his team game by game targets for the 2018 season. And getting three points is a must once more, when they face East Mucurapo at the same venue on Wednesday.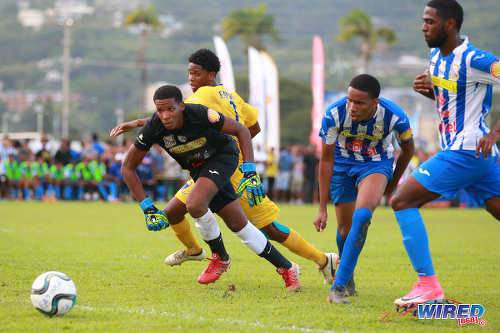 "I believe we are playing our next three games are at home," Sheppard said. "We need to get at least seven points from those three games."
After battling Mucurapo, who are languishing in 12th position with two points, Fatima will next host eastern outfits San Juan North and St Augustine.
Next up for St Mary's is the little matter of the "Saints" derby. St Mary's did the double over St Anthony's College last year and Shim will want his team to pick up where they left off.
"That's our North Zone rival [and] they are on a roll and doing well," Shim said. "We have to come out there and play at our best to come away from the Tigers' den with anything."
Today, St Mary's leapt to tenth spot after their triumph on Mucurapo Road. Sheppard presumably came away with a migraine, which even a sweet, low drive by McFee—easily Fatima's best player on the day—could not cure, as the hosts got a second half consolation item.
"I cannot be in the fifth game of the season and telling [players] what [their] job is—that impacts on my coaching," said Sheppard. "At the end of the day, it's an institution you're representing and we must put out our best effort every time we go out on the field. And I thought today we didn't do that today."
Fourth-place finishers last season, Fatima need to start remedying their issues soon.
The boys of the old brigade of gallant CIC won't give a "Raz" about that now though.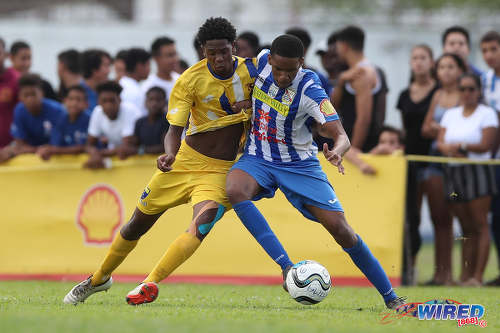 (Teams)
Fatima College (3-4-3): 1.Jacob Camacho (GK); 3.Joshua Evans (captain), 13.Luke Gooding, 4.Elisha Taylor; 14.Luke Boucaud, 10.Luke Darwent (8.Zachary Welch 46), 16.Andrew De Gannes (12.Aaron Moruf 67), 23.Jordan Romany; 18.Kaylon Taylor, 33.Azharias Ali (11.Lucas Farfan 62), 7.Jean-Heim McFee.
Unused Substitutes: 5.Jaheim Aguilleria, 21.Saeed Pompey Charles, 22.Jaden Perryman, 40.Adam Perreira.
Coach: Wayne Sheppard
St Mary's College (4-2-3-1): 30.Regaleo Holder (GK); 26.Nathaniel Williams, 4.Schileon Phillip, 5.Luke Savery, 2.Augustine Nkemakolam; 10.Gabriel Nanton (captain), 6.Justin Keith; 9.Devon Charles (7.Terran Winner 67), 19.Michel Poon-Angeron (17.Elijah Bain-Hares 70), 11.Tyrese Spicer; 18.Kyle Carrington (8.Jed Rigsby 90+2).
Unused Substitutes: 29.Jordan Bidaisee (GK), 13.Kyle Alexis, 20.Shiloh Galera, 25.Jaheim Ryan.
Coach: Ryan Shim
Referee: Cecile Hinds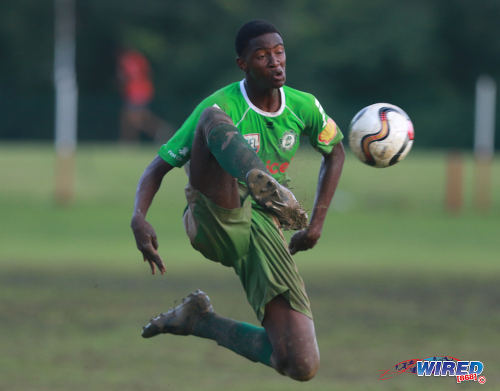 SSFL Premier Division results
(Saturday 29 September)
East Mucurapo 0, Presentation (San F'do) 1 (Ackeel Jacob) at Westmoorings;
Fatima College 2 (Jean-Heim McFee 20, 56), St Mary's College 4 (Devon Charles 18, 49 pen, Michel Poon-Angeron 45+1, Kyle Carrington 53) at Fatima;
QRC 4 (Jaheim Granderson [2], Marc Robertson, John-Paul Rochford), Bishop's High (Tobago) 1 (Couran Roberts) at QRC;
St Augustine 1 (Rivaldo Coryat 83), Naparima College 3 (Isa Bramble 6, Jeron Pantor 29, Decklan Marcelle 77) at St Augustine;
Trinity (Moka) 1 (Temesgn Trezera 68), San Juan North 1 (Renaldo Boyce 47) at Moka;
Trinity East 0, St Anthony's College 0 at Trincity;
Valencia Secondary 2 (Jardel Carter 40, Zidan Liverpool 66 pen), Carapichaima East 3 (Mecaheil Alexander 47, Daniel Pascal 76, Kevon Williams 84 pen) at Valencia;
St Benedict's College are on a bye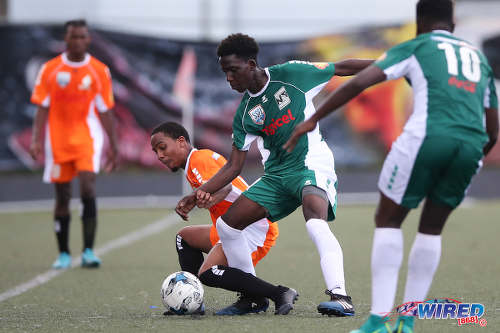 Upcoming fixtures
(Wednesday 3 October)
East Mucurapo vs Fatima College, 3:45pm, Fatima;
Naparima College vs Bishop's High (Tobago), 3:45pm, Lewis Street;
Presentation (San F'do) vs Valencia Secondary, 3:45pm, Presentation;
San Juan North vs Carapichaima East, 3:45pm, San Juan;
St Anthony's College vs St Mary's College, 3:45pm, Westmoorings;
St Benedict's College vs St Augustine Secondary, 3:45pm, St Benedict's
Trinity (Moka) vs QRC, 3:45pm, Moka;
Trinity East are on a bye
2018 SSFL Premier Division
| Pos | Club | P | W | D | L | F | A | GD | Pts |
| --- | --- | --- | --- | --- | --- | --- | --- | --- | --- |
| 1 | Naparima | 14 | 10 | 4 | 0 | 27 | 9 | 18 | 34 |
| 2 | Presentation | 14 | 10 | 3 | 1 | 30 | 12 | 18 | 33 |
| 3 | San Juan | 14 | 9 | 3 | 2 | 25 | 15 | 10 | 30 |
| 4 | Carapichaima | 14 | 7 | 3 | 4 | 25 | 22 | 3 | 24 |
| 5 | St Benedict's | 14 | 6 | 3 | 5 | 22 | 21 | 1 | 21 |
| 6 | QRC | 14 | 5 | 5 | 4 | 19 | 12 | 7 | 20 |