FC Santa Rosa advanced to the semifinal round of the Trinidad and Tobago Super League (TTSL) knockout competition last night with a clinical 3-nil win against Prisons FC at the Arima Velodrome.
Prisons went all the way to the TTSL Cup Final last year, where they ultimately succumbed to 2017 League and Cup kings, Guaya United. But last night, coach Anderson Veronique's team proved no match for the 2016 TTSL champions, who delivered two knockout punches in a three-minute span during the second half.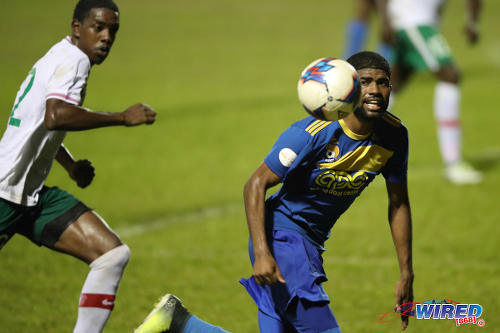 Rosa coach Derek King—a TT Pro League title winning coach with North East Stars last year—had a magical touch with him last night, as two of his second half substitutes, Akeem "Froggy" Garcia and Kevon Cornwall, turned the game on its head to the send the "Big Cannons" through.
Prisons trailed to a headed first half item by utility player Noel Williams. But early in the second half, they were all over Rosa as their tricky winger Ricardo Alleyne caused the hosts all sorts of problems.
[dfp-ad]
In the 59th minute, the wily Alleyne stung the palms of Rosa goalkeeper Jesse Peters from about 10 yards, after lovely link up play with Brandon Calliste down the right flank. And industrious Prisons midfielder Shane Hospedales curled a left-footed free kick just wide of the upright six minutes later—a devilish effort that got Veronique and company got off the bench in anticipation.

The warning shot had been sounded, and King soon got off his own bench to take action. The former National Under-20 coach introduced Garcia in the 68th minute. And "Froggy" jumped right into the action.
For the second time in the game, Prisons captain Perry Parris paid the price for lackadaisical defending as he inadvertently poked the ball into Garcia's path. And within seconds of coming on, Garcia's first touch was golden as he left Prisons custodian Jevon Bourne without a prayer.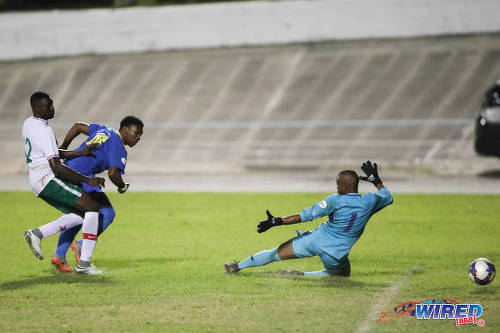 Not satisfied with a goal from one substitute, King replaced Kishun Seecharan—the creator of Williams' 29th minute item—with Cornwall, two minutes later. And again, the impact was devastating.
Garcia sized up a defender on the right wing before dropping his shoulder and playing a one-two with Cornwall. And the stocky striker swiftly jetted off to the box to expertly sweep  Garcia's wicked, low cross into the bottom corner with a swing of his right boot.
There were still some 20 minutes to play, but referee Nikolai Nyron might have well said "game, set and match!" Veronique could only applaud King on his masterstrokes.
"For the second goal, we made a couple of errors and of course you have to congratulate the opposing coach for making two great changes," Veronique told Wired868. "Both players scored with their first touches and that was the end of the game."
Prisons were as harmless as a toddler with a water gun in the first half. But with Hospedales playing well advanced of his initial central midfield role to support Calliste up top and Alleyne seeing more of the ball in open play, the second half was a different kettle of fish for Prisons.
But as those two key chances from Alleyne and Hospedales went a-begging, so did the match.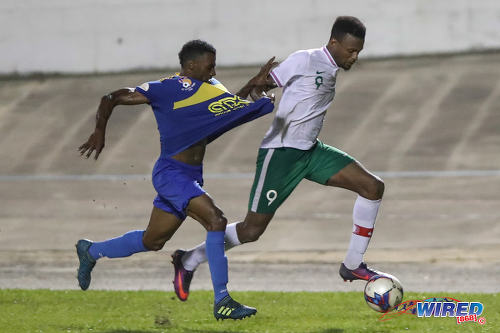 "Ultimately, goals win you matches," said Veronique, "we have to congratulate Santa Rosa and wish them the best."
While Veronique was left to ponder what might have been, King could beam about his own timely game altering changes.
"What happened is that we lost our discipline a little in the second half," King told Wired868. "We were giving them too much room in midfield [and] in our play going forward we weren't really holding up the ball well. I brought on Cornwall so he could give us that extra by holding the ball up, and getting the midfield to join."
As Veronique could attest, Cornwall did much more than hold the ball up, as his second goal was the killer blow in a one-two jab.
"As the coach you have to still believe in your team but it was hard to come from three down; it's very difficult," Veronique said. "I was happy with the boys' reaction because they still played [with spirit] and that was great."
Rosa's super subs somewhat overshadowed the return of bustling forward Keron Clarke, who represented the Soca Warriors in friendly international action against Ecuador last year and recently returned after a brief spell with Cunupia FC.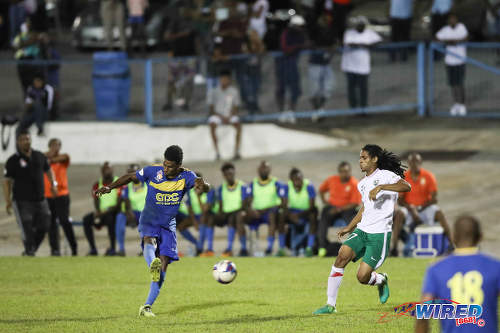 Last night, Clarke could have stolen the headlines himself as two great chances fell his way inside the first five minutes. After just 30 seconds, Clarke rose well to meet a right side Seecharan cross, only to head straight at Bourne. And three minutes later, he was thwarted by Bourne once more after he received a pass from wide man Kheelon Mitchell.
But King is not worried about the tireless striker.
"With Clarke coming back into the team it gives us that option of going more direct and he'll score a lot of goals," King said. "It's just to get him to build back his confidence."
Rosa certainly aren't lacking in confidence these days. TTSL winners in 2016 and runner-up in 2017, the Big Cannons are just two points adrift of frontrunners Queen's Park Cricket Club (QPCC) on the 2018 League table. And if his team stays focused, King thinks a TTSL double is possible.
"As a young coach I always aim high and I think we could compete on both fronts," King said. "But as I told them, in the knockout each game is a final […] I think the semi-finals are in November so our main focus right now will be the League. So we have 13 finals to play still."
By the time the semis roll around, Rosa's opponents will hope that King is no longer holding on to his magical super sub touch.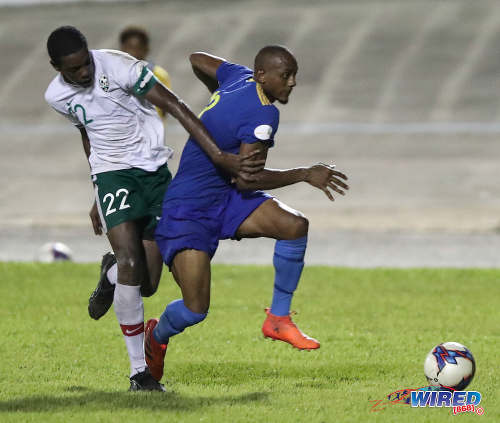 (Teams)
FC Santa Rosa (4-2-3-1): 1.Jesse Peters (GK); 6.Sheldon Nesbitt, 19.Jesse Reyes, 5.Alfie James (23.Stephen Bernard 84), 4.Noel Williams; 21.Durwin Ross, 24.Andre Rampersad; 12.Kishun Seecheran (9.Keron Cornwall 70), 17.Ryan Stewart (captain), 18.Kheelon Mitchell; 11.Keron Clarke (10.Akeem Garcia 68).
Unused Substitutes: 30.Joel Johnson (GK), 14.Giovanni Abraham, 15.Osei Sandy, 16.Carlon Nicholas.
Coach: Derek King
Prisons FC (4-4-1-1): 1.Jevon Bourne (GK); 28.Roland Hamilton, 4.Anthony Parris, 12.Kylon Gay, 22.Perry Parris (captain); 8.Ricardo Alleyne (17.Antonio Auguste 76), 6.Shane Hospedales (27.Jordan Devonish 77), 14.Tevin Garcia; 9.Nathan Julien; 25.Isaiah Thomas (5.Aaron Peters 46); 21.Brandon Calliste.
Unused Substitutes: 30.Kelon Rampersad (GK), 3.Keith Williams, 19.Christopher Young, 20.Aquil Selby.
Coach: Anderson Veronique
Referee: Nikolai Nyron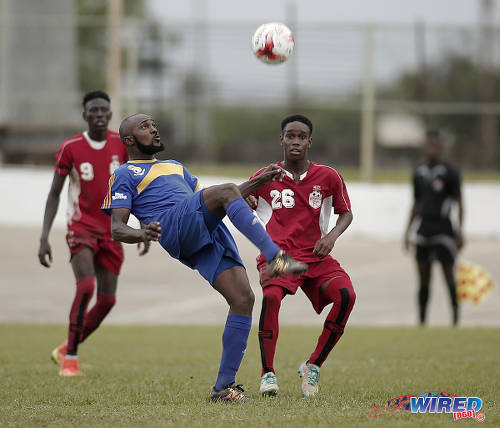 TTSL League Cup quarterfinal results
(Saturday 8 September)
FC Santa Rosa 3 (Noel Williams 29, Akeem Garcia 68, Keron Cornwall 71), Prisons FC 0 at Arima Velodrome;
(Sunday 9 September)
QPCC 5 (Sean De Silva 15, Benedict Barrett 45, 89, Keston George 57, Kevaughn John 78), RSSR 1 (Hakim Gulston 24) at St Mary's College Grounds;
Cunupia FC 2 (Michael Yaw Darko 66, Isaiah Mejias 90+6), Police FC 1 (Colin Williams 63) at Ato Boldon Stadium;
San F'do Giants 0, Petit Valley/Diego Martin United 0 at St Margaret's Recreation Grd;
*—PVDMU won 3-2 via kicks from the penalty mark.