The Trinidad and Tobago Men's National Under-20 Team got its first taste of international action yesterday evening as they fell 0-2 to Costa Rica in the Guadeloupe Six-Nation Invitational tournament at the Stade René Serge Nabajoth, Les Abymes.
Costa Rica scored on either side of the half through a deflected Ronaldo Araya free kick and a Yecxy Ramos Jarquim shot from distance. The game was played on a wet outfield after a heavy downpour before kick-off and during the match.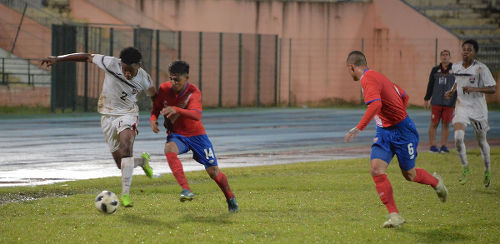 National Under-20 coach Russell Latapy, who travelled without several players who are sitting exams, commended the effort from his squad.
"It was a keenly contested match and a good all-round performance by our boys," Latapy told the TTFA Media. "Considering also that this was our first international match as a group—and knowing too that we had a few new faces with some of the more regular players being left at home because of exams—I was pleased to see the way we executed certain things on the field and the way we carried ourselves out there against a good Costa Rican team."
Latapy suggested that inexperience and poor finishing undid the efforts of the young Soca Warriors.

"We conceded the first goal on virtually the final kick of the half and that was due to a lack of experience and composure, which will only get better with matches like these," said Latapy. "I thought we were solid and we limited Costa Rica's attacks in our half. In the second half, I would say we had the better of the exchanges for the first fifteen to twenty minutes with a couple of good chances to get on the scoresheet but we didn't take them.
"Their second goal came on a quick break up the park and, from a resulting corner, the player had a really good hit from about 25 yards out. Overall, I
was satisfied with some aspects of our play and we will be looking to better some areas and have a go at it again in our second match."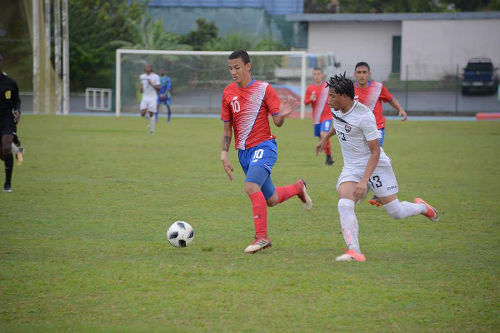 Trinidad and Tobago play again this evening when they face Martinique from 6pm.
In other tournament results, Guadeloupe and Haiti drew goalless on Saturday while, on Friday, Costa Rica whipped Martinique 3-0 and French Guiana and Guadeloupe played to a 1-1 draw.
Trinidad and Tobago U-20 Team (starting line-up): Denzil Smith (GK); Darnell Hospedales, Kerdell Sween, Jabari Graham, Derron John; Anthony Samuel, Judah Garcia; Shaqkeem Joseph, Jordan Riley, Kishon Hackshaw; Jaydon Prowell (captain).