"My objective is to get a gold medal. Whether people agree with me or not, I believe the TTOC is not the United Nations of nothing… The TTOC, by virtue of the sports we control, are in the medal-winning business.
"Our role is, as far as possible, to create an environment and provide the athletes with the support they need."
Trinidad and Tobago Olympic Committee (TTOC) president Brian Lewis concludes his two-part interview with Wired868 on the good, the bad and ugly of the Gold Coast 2018 Commonwealth Games: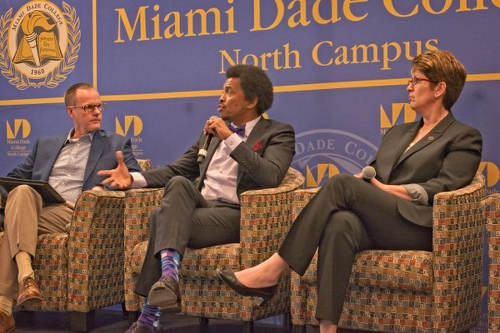 Wired868: I'd like to ask about Khalifa St Fort and the fact that she wasn't included initially. You always say the final list is a TTOC list but this was your Junior Sportswoman of the Year in 2018. So why wasn't she on the Commonwealth Games team to start with?
Brian Lewis: I think the NAAA, which was responsible for that nomination, would have attempted as best as they could to explain that. (Pause) Let me tell you the process for clarity. The various national sporting organisations are responsible for the nomination of the athletes. We would have met with the various sporting organisations and we would have an agreed position. So in the case of timed sports, they would indicate whether the time [is the criterion] or what process [they would use]. In the non-timed sports, the TTOC would have a fitness minimum…

Wired868: What was the process this time?
Lewis: Same thing. The various NSOs would nominate the athletes…
Wired868: But specifically here. We are dealing with the NAAA and the 100 metre women's team…
Lewis: The same process. They would nominate their athletes and the selection committee would meet, check it through and see if it is in accord with what [criterion] was agreed. See if there are any issues that come up…
Wired868: And can you say what were the criteria here?
Lewis: Whether there was any doping or any current existing [matters] that could mean the athlete is banned. Then it is carried on to the General Council for ratification. So what would have happened on this occasion, the NAAA was having its Commonwealth event or trials…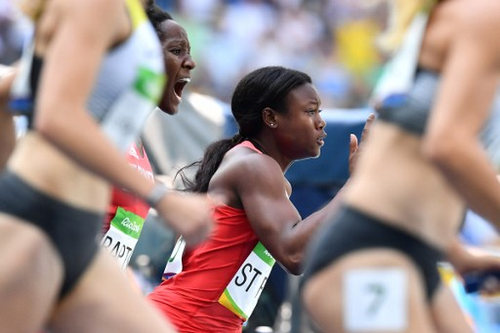 Wired868: I am trying to work out why Khalifa wasn't selected in the first place. I don't think there were any trials where the first three runners go the the Games, so what criteria did they use?
Lewis: I think it was very clear and it was communicated to the athletes and the coaches. Whether as you go forward, you need to clarify it…
Wired868 (interjects): Well judging from comments by Khalifa's coach [Ato Boldon], it didn't seem to be that clear. But for my benefit and our readers, can you say exactly what criteria were used to select the Women's 100 metre runners for these Commonwealth Games?
Lewis: I don't mean to be facetious. If you pull it up, you will get it.
Wired868: I'd rather hear from you than read what was reported second-hand anywhere else.
Lewis: There was a selection process we would have had, as far as I was aware. (Pause) Kelly-Ann Baptiste withdrew and as a consequence of her withdrawal, Khalifa St Fort was selected.
Wired868: So who can tell me why Khalifa was not selected in the first place? I don't want to google and read somebody's interpretation in the Guardian or Express. I want to hear from the people who made the selection.
Lewis: Speak to George Commissiong; he is the manager of the track and field team. But I think they had an event here that Khalifa came and ran [in].
Wired868: So are they saying that, based on how she ran, they didn't feel she was ready to go to the Commonwealth Games?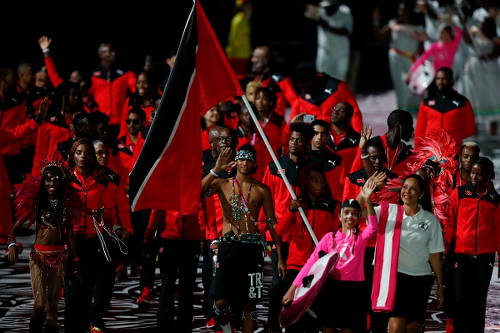 Lewis: All I would know is that they selected a team coming out of a process that would have started from last year. They also [considered] who was running indoors and those who weren't had to run this event. I think that was clear.
What may not have been clear in some minds, it would appear, […] looking at social media, I see Ato making the point that some of those selected have never beaten his athlete. But I would imagine and expect that the NAAA would continue to fine-tune its process to avoid reoccurrences that may be interpreted as a lack of clarity and ambiguity.
Wired868: Do you think, in retrospect, the TTOC and/or the NAAA should have issued some sort of media statement early on in that exchange between Ato Boldon and Michelle-Lee Ahye? Whether to defend the athlete or to defend the process of selection?
Lewis: Again, I don't know what the NAAA needed to address. (Pause) There are always things that, in hindsight, you can learn from. Again, it had to wait on… (Pause) I think what would have been interesting is, in the past, the TTOC would announce its [Games] team on the night of the general council meeting, once the team is approved. But on this occasion, because of the court matter with table tennis, we were legally advised not to announce the team pending the completion of that particular process. We then had to wait for the court order.
So this is a matter of subjecture (sic) because what I know for a fact is, under normal circumstances, the team would have been released. And then, who knows, we might have had a different conversation; it might have been worse.
Wired868: And what about the exchange with talk of "lane fillers" and…
Lewis (interjects): Again, you can't legislate against people expressing their heated views on social media. And I was telling somebody this morning, people have the freedom to express their views…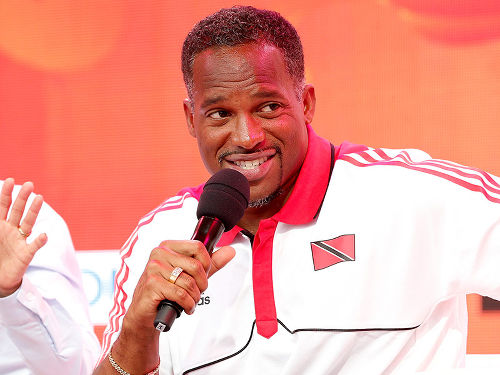 Wired868 (interjects): Nobody is questioning their freedom to express their views. What we are asking is whether the NAAA or TTOC should have supported their athletes or defended the process.
Lewis: Tell me specifically. Two people are having a disagreement. What would you suggest the TTOC do? Defend what?
Wired868: I am not suggesting anything. I am asking a question.
Lewis: Well, I am asking you back the question.
Wired868: Okay. For one, when the statement comes out about Khalifa St Fort being left out for lane fillers, the TTOC could have said why Khalifa St Fort was not chosen or that the reason why these four athletes were chosen was because they satisfied criterion 'a' or 'b'. Or they may have said something positive about all four athletes who were chosen. Something like that perhaps?
Lewis: Like everything else and even with your experience, hindsight is 20/20. In the heat of the moment, there are timing issues. I can only go by what I was reading. I saw Ato's comment. There was communication from Mr Voisin. People may have their different interpretations but… (Pause) It would have been interesting if the TTOC did not act on legal advice because of the table tennis matter and had we listed the team a couple days before…
Wired868: The team would not have had Khalifa on it…
Lewis: Like I said, it would have been interesting.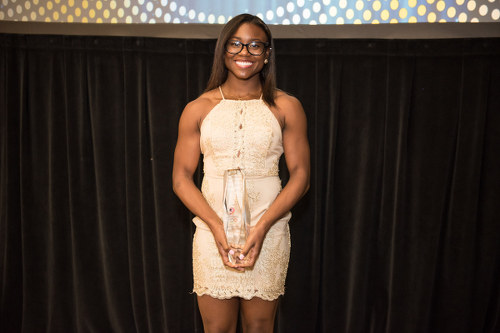 Wired868: And, of course, she went on to be Trinidad and Tobago's second-fastest 100 metre women's sprinter at the Commonwealth Games.
Lewis: That happened after the fact. It is always about [whether she earned her place at] that point in time… Again, people… (Pause) I respect the right of your readers and you to speculate and to make comments. That is the reality of the modern-day sport industry. Sport is an entertainment and part of the entertainment is people expressing their views.
Wired868 (interjects): And usually with a lack of information, you get even more speculation.
Lewis: There are times when there must be a lack of information… There are times when for reasons of confidentiality, you can't come out [and give information]. Again, the right of the media and the public to know cannot always be at the expense of the right of an athlete or a coach to privacy or confidentiality. There is always a balance to be struck. The right for the public to know cannot be at the expense of team harmony or team dynamics.
What I am just saying is… (Pause) That is why leadership is such a complex thing, especially when you're dealing with such diverse groups. There is always something you have to manage, mitigate and discuss and negotiate, all with a [focus on] what is the bigger picture. Always. There is no easy way around it.
And once you are afraid of dealing with difficult subjects, once you are afraid and uncomfortable about Lasana Liburd saying you're 'diplomatic' or the public saying this or that, then you shouldn't be here. Because that is the nature of it.
Wired868: Diplomacy is an asset, not a liability. Not so?
Lewis: Diplomacy is an asset most of the time. What is wrong with Lasana Liburd saying you're diplomatic? Yes, I'm being diplomatic. I'm being diplomatic because I have to manage a situation. At the end of the day, your objective is to express your view, my objective is to get a gold medal.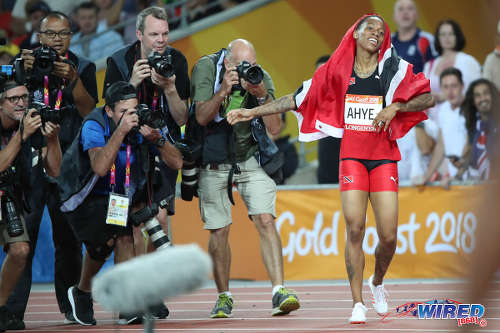 Whether people agree with me or not, I believe the TTOC is not the United Nations of nothing… The TTOC, by virtue of the sports we control, are in the medal-winning business. Our role is, as far as possible, to create an environment and provide the athletes with the support they need.
People may say that is unrealistic; that is alright. I am a fan too. I express my views on Arsenal and Arsene Wenger.
Wired868: And what is your view? Wenger out?
Lewis: No, I have always been partial to Wenger. I have been a supporter of Wenger in the dire days. So I recognise that the thirst for a lot of things that the modern people who now come have is good. And they are entitled to that. But I know for the last 22 years what the Arsene Wengers and Sir Alex Fergusons have done in keeping their teams in the top six or the top four; it isn't easy. And Arsenal fans will discover that. Piers Morgan will understand that. There must be a [painful] transition.
[…] Even when the great Pep Guardiola came at the beginning, [he was trophy-less at Manchester City]. That is just the nature of it… If I have to fault Wenger—and some people say this is my problem too—he trusts his players.
I think the players were a large part of the problem that Arsene had, his loyalty to his players. He hung on too long whereas in the earlies, he had a sense of when to move players on.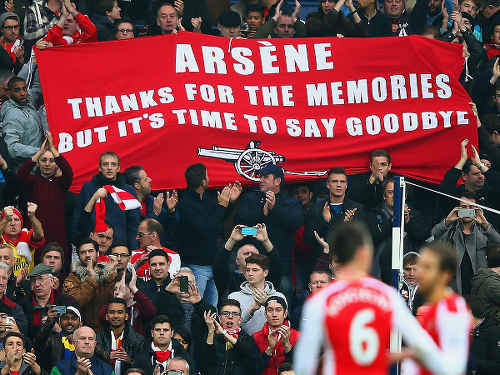 (The interview veers off into a discussion of Arsenal signings and sales, the club's succession plan and the possible overhaul of their playing style and culture, which sometimes comes with managerial changes).
Wired868: Okay, if we can return to the Commonwealth Games. I understand columnist Raffique Shah pointed to what he felt was an imbalance in the number of officials that TTOC carried.
Lewis: That always comes up but that is not true. Because we have to stay within the balance set by the IOC, which is 49 percent officials to athletes. As a matter of fact, we went in short because of that quota. For instance, we had the beach volleyball coach running herself ragged because she is manager/coach and they have two teams playing at the same time and the distance is an hour from the [Games Athletes'] Village.
[Shah] spoke about mechanics but that is the old days. In this day and age, a mechanic is not surplus to requirements, a mechanic is very important in cycling. This is not those bikes you could go down to Sports and Games and buy.
England had 600 athletes and 200 and something officials. We are still backward. They carry sport psychologists, sports nutritionists, osteopaths, chiropractors. But we still have people talking about that old school thing. Some of those teams also have a mental [coach]—not a sport psychologist; there is a difference—to deal with the athletes.
Wired868: We carry a sport psychologist, right?
Lewis: Not all the time.
Wired868: Did we have one for the Commonwealth Games?
Lewis: No.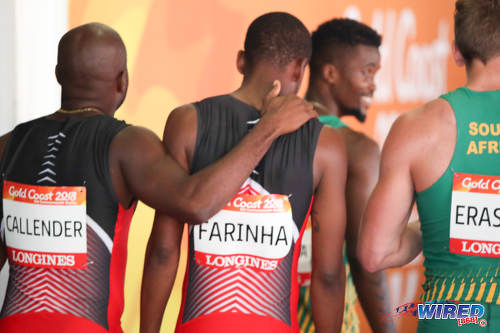 Wired868: Well, how come?
Lewis: Because we would have carried too many officials. The same thing I just shared with you; we had to cut, cut, cut. We carried a chef [de mission] and one admin staff. You know how much run-around that is? People don't really understand the demands of these Games…
Wired868: Is it that if we had more funding, we could carry more officials?
Lewis: Yes. That is what the US and UK would do. They don't depend on the Village. They would have a whole hotel they would rent where they would keep officials and they would rotate them in [the Village] on the basis of [the competitive schedule of the athletes].
Wired868: What would you see as the priority in terms of taking Trinidad and Tobago to the next level for the 2020 Olympics?
Lewis: I would like to carry [support staff] similar to what the other big countries do. Of course, the argument would be Jamaica [doesn't do it]. (Pause) [I want] exercise physiologists, sport nutritionists, sport psychologists…
Wired868: How long would they have to work with athletes before we see results?
Lewis: It is not a matter of how long they work with them, it is a matter of fine-tuning. This is a myth we have. People talk about [how much time they need] as an excuse [to not do anything]. Let me tell you something: (Pause) how an athlete deals with nervousness, defeat during a Games, the atmosphere, somebody gets a call [with bad news] from home, these are things that other countries have people there to deal with.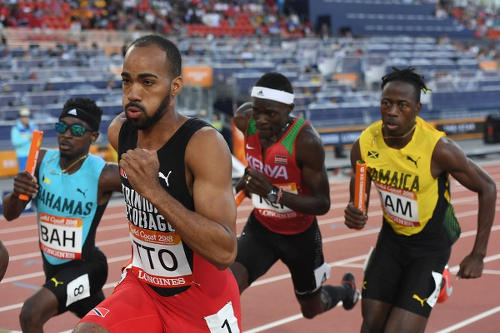 Wired868: What excites you when you think forward to Tokyo 2020?
Lewis: For me, Tokyo is the destination. What I am excited about is the journey between now and Tokyo. We have really focused on trying to support the athletes as best as we can. Just today, we had a meeting at the Olympic House and were going through a shortlist of athletes who we are trying to get support for as best as we can with the resources we have. My belief is with the necessary support that we can provide, a number of the athletes will deliver on their potential.
Wired868: So you will make pitches to corporate sponsors for them?
Lewis: We are very focused on what we control and we continue to raise funds by various means, whether [from] Olympic Solidarity [payments], the Pan-American Sport Organisation, from the current commercial partners we have, the marathon walk fund-raisers, the Team TTO tee-shirts—and we are having discussions in terms of further merchandising and new corporate partners.
While we cannot promise them all the support they need, we have discovered that whatever we can provide can make a difference. Last year, we quietly gave two million dollars in support to various athletes. What happens is the athletes will submit a budget request and we will look at the line items and see what we can assist with.
And this is in addition to the medal bonuses we pay out. I can tell you that the medal bonus for the Olympics is US$40,000 for gold, which is sponsored by a corporate partner. I think it is US$20,000 and $15,000 for silver and bronze.
Wired868: Can you name the athletes who the TTOC are offering financial support to for the upcoming Olympics?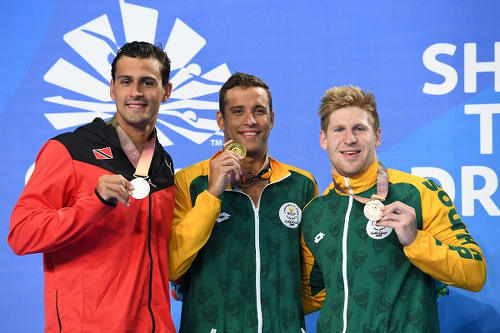 Lewis: I prefer not to name athletes until we communicate with them. But in these challenging economic times when there is no elite funding assistance, the athletes are aware of the importance [of our help].
Wired868: What should the public look forward to in terms of the next Olympics and how can we help?
Lewis: The public will make their own choices on that. But we are trying to support the athletes as best as we can. There are things we are focused on in terms of revamping our medical services [and] incorporating sport psychologists and so on. And broadening our medical services team and bringing new people on board, younger people who are willing to volunteer. Because in these difficult times, we have to reinforce the spirit of volunteerism because people forget that the TTOC is made up of volunteers.
We will also be doing a lot of the marketing type of things earlier, in terms of the commemorative brochure for 2020 and so on. We are currently working on the inaugural Beach Games. Next year is ANOC's first annual Beach Games in San Diego.
Puma is already working on the Tokyo 2020 wear, so those discussions have started. We still have the CAC Games [in July]—11 team sports have qualified, like football (men and women), beach volleyball (men and women), hockey (men and women), rugby sevens; so it is a tall order in terms of the costs.
We have the Youth Olympic Games [which is open to athletes who are 18 years old and younger] in Buenos Aires in October and then the 2019 Pan-American Games, in Lima, Peru. There is also the IAAF Track and Field World Championships next year although that is not under our remit.
We will also hold our Olympic Day on 22 June this year so it is a full plate. On top of that, we have the sport administration courses—we would have four for the year already—so it is a full agenda of activities.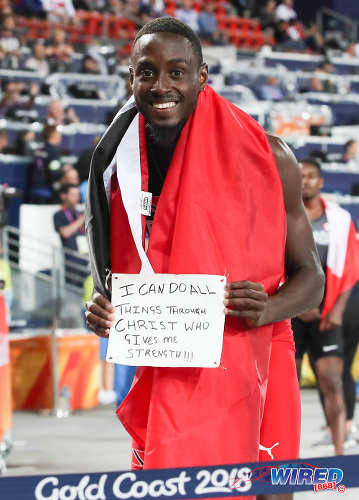 Editor's Note: Click HERE to read Part One where TTOC president Brian Lewis discusses Michelle-Lee Ahye's decision to skip the relay event, tension between star athlete Dexter St Louis and TTTTA president and Games representative Ian Joseph and the issue of elite funding for star athletes.