The CFU Challenge Series looked more like a cakewalk for the Trinidad and Tobago Women's National Senior Team tonight as they strolled to a 7-0 route of a hapless Suriname team at the Ato Boldon Stadium in Couva.
It was the Women Soca Warriors' first win in two years and follows a draw and a loss apiece in friendly affairs against Venezuela last year and Panama last month. But Suriname were poor sparring partners.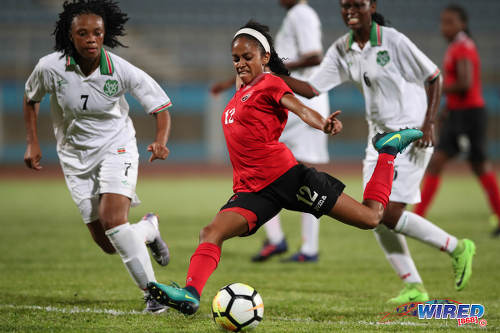 The Dutch-speaking mainlanders did not register a single attempt on the Trinidad and Tobago goal—whether on or off target—and the hosts were well out of sight by the halftime interval with an emphatic six-goal advantage.
"It was not a very strong Suriname team," Trinidad and Tobago head coach Jamaal Shabazz told Wired868. "They gave a lot of room on the sides of the field and we made use of it early in the game."
Five of the host team's seven items were engineered down either flank, as left-winger Shanelle Arjoon scored twice and created one while, on the opposite side, Patrice Superville scored one and assisted with another and left-back Jonelle Cato also chipped with the lone item of the second half.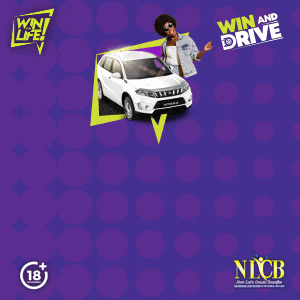 It might say something about the opposition when, even with such a lopsided scoreline, Shabazz criticised the "tentative" approach of his attacking players.
"We were overly cautious," said Shabazz. "I think having gone a little while without a result, there was still a bundle of nerves. I think the ghost of 2014 is still in the squad, especially for the senior players."
On another night, Petrotrin attacker Mariah Shade, who had a rare game at centre-forward, might have had a hatful of goals for herself.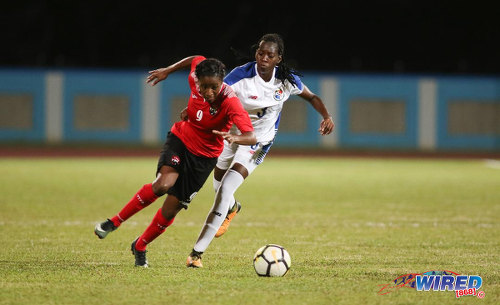 Four years ago, Shade burst into the limelight at centre-forward, copping the Most Goals trophy in the Caribbean stage of Trinidad and Tobago's exciting but ultimately unsuccessful Canada 2015 World Cup qualifying series.
By the end of that series, Shade had found herself on the wing—with Tasha St Louis operating as a "false 9"—and the fans have rarely had sight of her finishing prowess since.
Tonight, the glass was half-full as Shade's movement shredded an admittedly poor Suriname back four and perfectly complemented St Louis' clever passing. But, apart from one sweet left-footed shot into the far corner, Shade's confidence in the box was not quite there and, at the crucial time, her decision making was ponderous.
"We do not have 'Yaya' [Kennya Cordner] so we are are experimenting [at centre-forward]," said Shabazz. "[Shade] didn't do badly in terms of her movement; we will stick with her for now."
With the match effectively settled in the first half, Shabazz sent on the 17-year-old Aaliyah Prince for St Louis at halftime. The lively, diminutive attacker has graduated from Under-17 to Under-20 to senior ranks in the space of just eight months.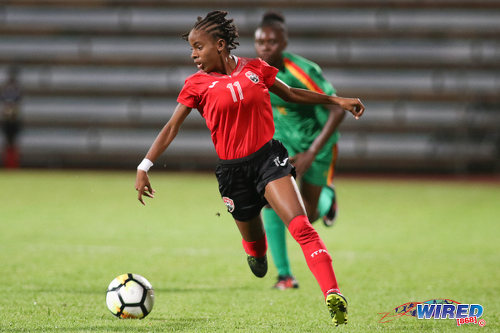 But, even against such outclassed opponents, the precocious Prince was clearly still finding her feet at this level, being unable to quite work out when to release the ball or charge at opponents.
And, after one physical battle too much, she had to be helped off before the final whistle with a sore head and possible concussion.
"The worrisome thing is when we took off the veteran players—Tasha St Louis, Karyn Forbes and Ayana Russell—we lost our way a bit," said Shabazz. "We tried to give some youngsters a run-out to widen the pool. But Aaliyah and [Laurelle] Theodore came in and they were very docile."
In fairness, Suriname's ambitions for the second half were far more realistic than at kick-off. After the interval, it was about damage limitation and they sat deeper and offered less space for the pair of Prince and Laurel Theodore to hare into.
Shabazz suggested that the result should lift spirits in the camp but there was little else they could take from it. From 6:30pm on Friday, he expects a better game from Grenada, whom he described as "athletic and aggressive."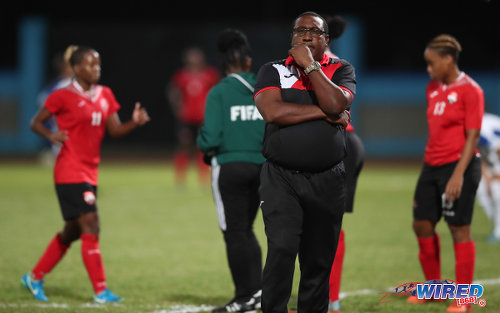 Not that Grenada looked menacing yesterday either in their goalless draw with Guyana.
"All in all, I am glad we scored seven goals today" said Shabazz, "but I am far from making cartwheels or jumping for joy."
(Teams)
Trinidad and Tobago (4-4-2): 1.Saundra Baron (GK); 16.Liana Hinds, 2.Ayana Russell (17.Laurelle Theodore 69), 5.Jenelle Cunningham, 7.Jonelle Cato; 8.Patrice Superville, 18.Naomie Guerra, 14.Karyn Forbes (11.Janine Francois 54), 12.Shanelle Arjoon; 10.Tasha St Louis (19.Aaliyah Prince 46), 9.Mariah Shade.
Unused substitutes: 22.Nicolette Craig (GK), 3.Anastasia Prescott, 4.Shaunalee Govia, 15.Kedie Johnson, 13.Shenieka Paul, 6.Natasha St Louis.
Coach: Jamaal Shabazz
Suriname (4-4-1-1): 1.Zuwena Dors (GK); 5.Concita Slagveer (12.Abigail Breinburg 65), 3.Xaviera Somowidjojo, 4.Saffira Hoogdorp (captain), 2.Cady Chin-See-Chong (15.Elvida Lammy 57); 7.Stephany Hanenberg, 8.Mirelva Wongsodierdjo, 6.Sulaika Kinsaini, 11.Pamela Ansoe; 18.Orthea Riley; 9.Cynthia Sital (17.Sabrina Rigters 72).
Unused substitutes: 22.Sylvana Renfurm (GK), 10.Marville Blatz, 13.Jean-Jett Dijon, 16.Ulstra Weegman, 19.Genevieve Sabajo.
Coach: Rogillo Nilton Kolf
Referee: Gillian Martindale (Barbados)
CFU Challenge Series
(Wednesday 25 April)
Guyana 0, Grenada 0 at Ato Boldon Stadium, Couva;
Trinidad and Tobago 7 (Shanelle Arjoon 4, 45, Tasha St Louis 11, Patrice Superville 30, Karyn Forbes 36, Mariah Shade 41, Jonelle Cato 52), Suriname 0 at Ato Boldon Stadium, Couva.