Seventeen-year-old starlet Aaliyah Prince reached a personal milestone tonight with her first international hat-trick for the Trinidad and Tobago Women's National Senior Team, who thumped Grenada 8-1 at the Ato Boldon Stadium in Couva.
But it was an indication of how wide the gap between the two football nations are that head coach Jamaal Shabazz admitted to again being dissatisfied with the performance of the Women Soca Warriors.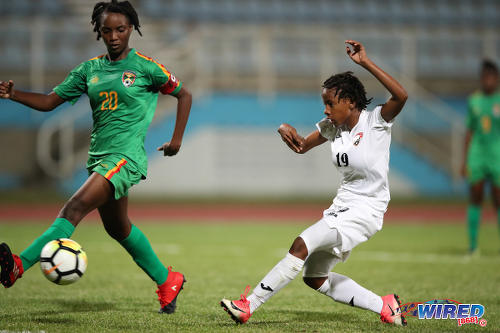 "We always have got to think about CONCACAF," said Shabazz. "In 2014, we were one point away from the [Canada 2015] World Cup. We must not be satisfied with [a] performance [like this].
"The result? Okay; a win is a win. But the performance is far from what is required to go to the next level."
Tonight's result meant that Trinidad and Tobago are assured of finishing atop the CFU Challenge Series group after amassing a maximum six points from two matches. Guyana, who drew both matches against Grenada and Suriname, are second with two points.
In just over 180 minutes of exhibition football, the Women Warriors have scored 15 goals and could easily have doubled that tally. In that time, there was just a solitary effort on the hosts' goal—and even then, it came off a loose back pass from Trinidad and Tobago defender Janelle Cunningham.
Surely even depriving a baby of its candy is more of a challenge than this.
Two months ago, Trinidad and Tobago captain Tasha St Louis and her charges were due to compete at the Cyprus Cup against the likes of Hungary, Slovakia and South Africa—all ranked between 43 and 54 in the world by FIFA—only for TTFA to withdraw the team owing to insufficient funds.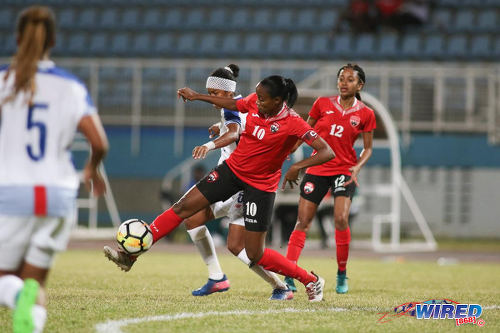 Neither Suriname, Grenada nor Guyana have a FIFA ranking at all and, judging from their showing in Couva, it is probably just as well that the game's governing body did not bother. Trinidad and Tobago lacked fluency or cohesion, played in spurts, missed a hat-ful of chances and still embarrassed their guests.
Bizarrely though, the teams were locked at one goal apiece at halftime. Karyn Forbes scored direct from a corner kick in the 12th minute, only for Kristal Julien to equalise for Grenada in the 16th minute after a misjudged Cunningham back pass.
Forbes and Natasha St Louis both hit the frame of the goal while the latter's elder sister, Tasha, had a horrible miss. Regardless, the first-half performance was well below par.
"We were just flicking the ball around and not understanding we had to play football and respect the opponent," said Shabazz, who pointed to a lack of urgency by his team. "[…] We have to got to work hard and give the game the respect it requires in terms of pressing, playing simple [and] all the basic things in the game.
"[…] It is unfortunate that the coach has got to change his behaviour at halftime [to get a reaction]. In so many years, I cannot remember getting so angry in a halftime discussion."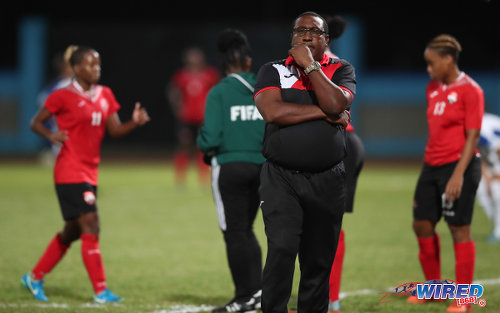 Some day in the not-too-distant future, Trinidad and Tobago fans will probably look back at Tasha's contribution and recognise her as the finest architect to play for the women's team.
For all her gifts, the ability to raise the standard of her teammates with a stern look is not necessarily something you would associate with the talented number 10. And, even against such poor opposition, Trinidad and Tobago missed the leadership of former captain and midfield lynchpin Maylee Attin-Johnson and rock-solid Canada-based central defender, Arin King.
"I think Tasha struggled in the first half but in the second half she picked it up a bit," said Shabazz. "She is still learning on the job [as captain]."
Grenada's resistance in the second half lasted all of 20 seconds. Shanelle Arjoon, arguably Trinidad and Tobago's most consistent player in the tournament, motored down the left flank before sliding the ball across for a Natasha tap-in. And, straight away, another rout was on.
In the 62nd minute, after an assist from substitute Prince, the versatile Liana Hinds stretched the hosts' lead to two. And the goals flowed regularly thereafter, as the teenaged Prince grabbed a treble in the 65th, 78th and 83rd minutes while Natasha headed home her second item in the 68th minute and, from 40 yards out, Forbes spliced in a second in stoppage time off her "weaker" left foot.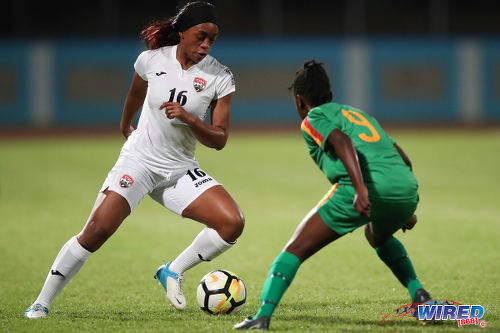 Tasha, incidentally, created three of the seven second-half goals while Kedie Johnson—along with bustling midfielder Shenieka Paul, two of three Under-20 players fielded tonight—got one assist with a glorious cross.
It was a mixed night for Johnson, though, who was used in the unfamiliar role of left-back and seemed so perplexed by the job that even her generally decent passing game was negatively affected.
"She has a lot to learn in terms of the simplicity but how do we know [whether she can play there] if we don't try?" Shabazz asked, rhetorically. "[…] These little risks we take because we want to widen the pool and give her the opportunity to play. She didn't have a big performance [but] if she played more simple she would be alright."
Of course, even if Johnson had performed admirably, it would be difficult to know what to take from that against such woeful opposition.
Shabazz credited his charges' next opponent, Guyana, as the "most organised" of the three visiting nations. But it was surely excessive praise for a side that could not manage a single goal against Grenada and were held 2-2 by a Suriname team which conceded six times in the first half against the Women Warriors.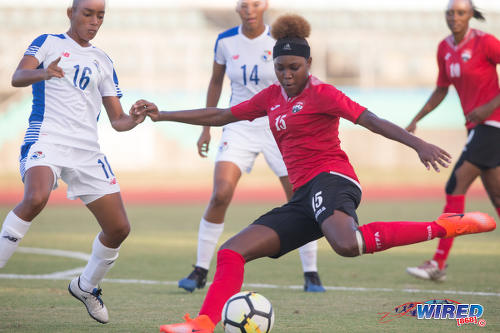 If you enjoy risk-free outings and loads of goals, then the Ato Boldon Stadium is the place to be on Sunday when Trinidad and Tobago wrap up the Challenge Series against Guyana from 5:30pm.
Warriors forward Mariah Shade was substituted midway through the first half tonight—after a blow to her knee—and she hobbled to the dressing room on crutches at the final whistle.
Shabazz expects Shade to be fine by Sunday but the temptation might be there to give the lively Prince her first senior international start alongside Tasha. And, judging from how well the two attackers combined tonight, Guyana ought to be very worried if that happens.
(Teams)
Trinidad and Tobago (4-4-2): 1.Saundra Baron (GK); 16.Liana Hinds, 2.Ayana Russell, 5.Jenelle Cunningham, 15.Kedie Johnson; 8.Patrice Superville, 14.Karyn Forbes, 11.Janine Francois (19.Aaliyah Prince 60), 12.Shanelle Arjoon (13.Shenieka Paul 70); 10.Tasha St Louis (captain), 9.Mariah Shade (6.Natasha St Louis 26).
Unused substitutes: 22.Nicolette Craig (GK), 3.Anastasia Prescott, 4.Shaunalee Govia, 7.Jonelle Cato, 17.Laurelle Theodore, 18.Naomie Guerra.
Coach: Jamaal Shabazz
Grenada (4-4-2): 1.Connie John (GK); 16.Carena Noel (17.Keldona Jeffrey 80), 3.Treasher Valcin, 20.Judy McIntosh (captain), 14.Shanthan Charles; 5.Nikita Paul (13.Shaniah Johnson 80), 15.Merrisa Charles, 10.Roneisha Frank, 9.Sheranda Charles; 4.Kristal Julien, 7.Monique George (11.Amber Dominique 42).
Unused substitutes: 2.Resheda Charles (GK), 6.Erin Sylvester, 12.Samantha McSween, 18.Shikkira Charles, 19.Diamond Lewis.
Coach: David Andrew Munro
Referee: Iola Simmons (Antigua)
CFU Challenge Series
(Friday 27 April)
Guyana 2, Suriname 2 at the Ato Boldon Stadium;
Trinidad and Tobago 8 (Karyn Forbes 12, 90, Natasha St Louis 46, 68, Liana Hinds 62, Aaliyah Prince 65, 78, 83), Grenada 1 (Kristal Julien 16) at the Ato Boldon Stadium.