The Trinidad and Tobago Women's National Senior Team continued their indifferent post-2016 Olympic qualifying series form tonight, falling 1-2 to Panama in a friendly international match at the Ato Boldon Stadium in Couva.
The Women Soca Warriors struck first through a crashing Shanelle Arjoon header in the 31st minute, following a fine right-side Mariah Shade cross. But the advantage lasted barely six minutes as Panama captain Natalia Mills equalised with a simple finish off a right-side cross before the visitors went ahead in the 42nd minute through an angled finish from midfielder Laurie Batista.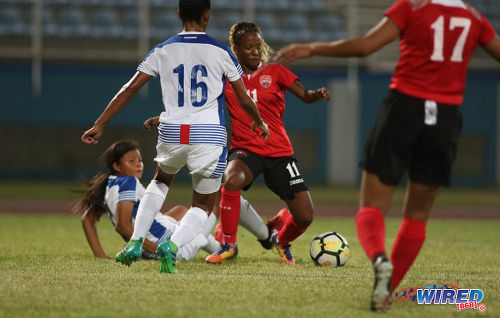 Trinidad and Tobago head coach Jamaal Shabazz can point to significant absences within his ranks as Kennya "Yaya" Cordner, Kimika Forbes, Arin King, Ahkeela Mollon, Dernelle Mascall and Maylee Attin-Johnson were all no-shows.
Still, the Women Warriors are ranked 48th in the world by FIFA, had home advantage and have been in training for just over year. In contrast, Panama, whose last international ranking was 119th, are unranked owing to inactivity for over 18 months.
Perhaps understandably, Panama goalkeeper Yenith Bailey made the unusual move of running the ball into the corner of her penalty area to waste time in a fixture that had only bragging rights at stake.

The Trinidad and Tobago women have to go as far back as 16 February, 2016 for their last win, which was a thumping 5-1 triumph over Guyana in the Rio 2016 Olympic qualifying series.
Since then, the Women Warriors have lost 0-5 to the United States—four days later—before a barren run of friendlies, as they managed a goalless draw and 3-1 loss to Venezuela last year under Carolina Morace before starting life under Shabazz with a 1-2 defeat to Panama. Venezuela, incidentally, are ranked 63rd in the world.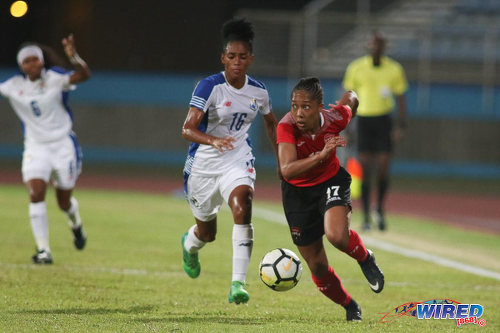 Cordner, Attin-Johnson and Mollon did not feature in any of Trinidad and Tobago's last three friendly matches and will not be available on Saturday either.
Tonight, St Louis was at the heart of much of the host's attacking efforts while Arjoon was lively throughout and Francois and Shade had their moments. But the Women Warriors often relied on individual ability on the ball and ran out of steam well before the final whistle against the more collective Central America team.
The two nations meet again from 4pm on Saturday at the Mannie Ramjohn Stadium in Marabella.
(Teams)
Trinidad and Tobago (4-2-3-1): 1.Nicolette Craig (GK); 8.Patrice Superville, 2.Ayana Russell (3.Anastasia Prescott 83), 5.Jenelle Cunningham (6.Natasha St Louis 74), 7.Jonelle Cato; 14.Karyn Forbes, 10.Tasha St Louis (captain); 9.Mariah Shade (15.Kedie Johnson 84), 11.Janine Francois (13.Shenieka Paul 83), 12.Shanelle Arjoon; 17.Andrea Young (18.Naomie Guerra 46).
Unused substitutes: 21.Tenesha Palmer (GK), 16.Nathifa Hackshaw.
Coach: Jamaal Shabazz
Panama (4-2-2-2): 1.Yenith Bailey (GK); 16.Katherine Lineth, 4.Hilary Jaen, 5.Yomira Pinzon, 3.Maria Murillo; 2.Laurie Batista (7.Yasil Atencio 84), 14.Aldrith Quintero; 6.Kenia Rangel, 19.Natalia Mills (captain) (11.Maria Guevara 69); 9.Karla Riley (10.Schiandra Gonzales 84), 15.Lineth Cedeno (18.Erika Hernandez 68).
Unused substitutes: 12.Sasha Fabrega (GK), 8.Rebeca Espinoza, 13.Onelys Alvarado, 17.Anuvis Angulo.
Coach: Victor Suarez
Referee: Crystal Sobers
Friendly international
Trinidad and Tobago 1 (Shanelle Arjoon 31), Panama 2 (Natalia Mills 37, Laurie Batista 42) at Ato Boldon Stadium.
Editor's Note: See Wired868 tomorrow for full match report with comments from Trinidad and Tobago head coach Jamaal Shabazz.