For a team which is set to begin its 2019 World Cup qualifying campaign in two months, last night's friendly match against Panama was almost exactly what the doctor ordered. So says Trinidad and Tobago Senior Women's team head coach Jamaal Shabazz whose side has had to endure a year of inactivity.
A 1-2 defeat at the feet of their Central American opponents, who had been inactive in international play for 18 months, was not the ideal prescription for the hosts, who would obviously have preferred a victory. However, speaking at the post-game briefing at the Ato Boldon Stadium in Couva, Shabazz said he did not want his charges to dwell too much on the result.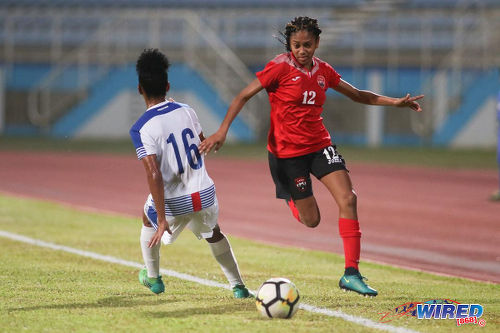 Their performance and the degree to which they were able to apply what they have been doing on the training pitch is what Shabazz sees as the key indicators as the Women Soca Warriors look to embark on a historic journey to France 2019.
"The result is important but what is more importance is trying to play your game," Shabazz told the media. "Trying to see things you have worked on and practised in a match situation. […] Of course we want to get a result but the most important thing is building a passion for playing."
Trinidad and Tobago took the lead through a bullet header near the half-hour mark from winger Shanelle Arjoon, for whom Shabazz had high praises. However, in the opening passages of play, the hosts were quite sluggish, failing to string more than a few passes together in any one move. Shabazz admitted that his charges were off the pace.
"I could see rust falling off some of them," he said, "After being out of international football since March last year, I think the game jitters got to them. […] I thought in the first half we gave up a bit too much room and we were very tentative. A lot of the time we weren't trying to build a rhythm."
Like the hosts, Panama were sluggish in the early stages. However, the visitors always looked a threat when skipper Natalia Mills got on the ball down the left flank. Often, right-back Patrice Superville reacted slowly to Mills' off-the-ball movement.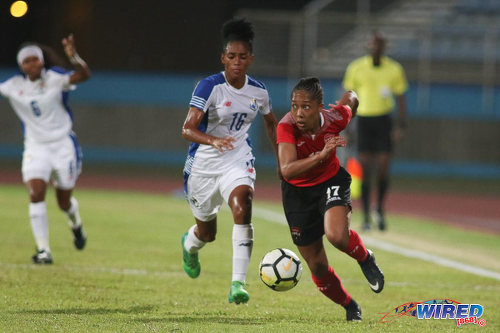 It finally cost the home side in the 36th minute, when the Panamanian skipper restored parity after Karla Riley played a neat through ball into her path from the right side of the box. Not for the first time, Superville was in no woman's land and Mills had all day to pick her spot, which she did with aplomb.
After his side gave up another simple goal to the visitors mere minutes later, Shabazz opted to swap his full-backs for the start of the second period, Superville going to left-back and Jonelle Cato occupied the right-back position.
The hosts afforded Mills way too much time and space down the flanks and Shabazz blamed the absence of chemistry in the backline for his team's performance on the defensive end.
"The low point I think again was we scored against the run of play and the inexperience in the back four. When I say experience, I mean [the experience of their] playing with each other."
Swapping wing-backs was not the only tactical adjustment Shabazz made for the second half. Skipper Tasha St Louis was shifted from her defensive midfield role alongside Karyn Forbes to a more familiar position at the apex of the Women Soca Warriors' attack. While in midfield, in an attempt to wrest possession from Panama, St Louis tried to compliment Forbes' robust play with aggression of her own.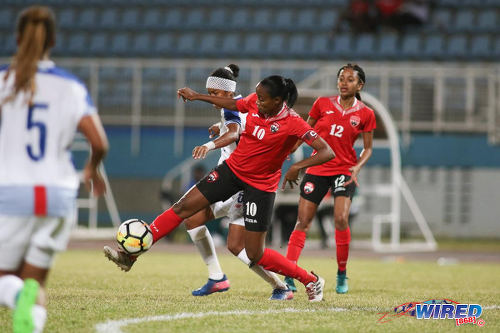 However, the 34-year-old attacker looked much more comfortable up top and she was a real livewire for the hosts in the second half. Unfortunately for St Louis, she had to do more and more of the heavy lifting on her own as the game wore on and it proved to be too much to ask.
Shabazz noted that there was an improved display in the second half, with the hosts showing much more urgency and identified the St Louis change as playing a part in that. He indicated that St Louis may well have a free role in the team going forward since he does not think that a player with her versatility should be confined to just one position.
"Tasha is very flexible," Shabazz noted. "She is one of the best [players in the squad]. She can play all over the field and anywhere […] in the midfield or up top. We try not to define a specific role for her; we allow her to be very flexible and make decisions which she wants to make.
"She is to the women's game what Latapy was to the men's game as a player. We would allow her to find her role and take a game by the scruff of the neck."
For a split second in the 49th minute, Trinidad and Tobago looked certain to get back on level terms after a right-side Mariah Shade cross was tipped on to the bar by goalie Yenith Bailey. However, with the goal at her mercy, Arjoon had a wild, right-footed swing at the ball and the shot might well have ended up giving Panama a throw-in near the corner flag. Seconds later, St Louis manufactured a left-footed shot with a smooth swivel in the area, forcing a smart, low save from Bailey.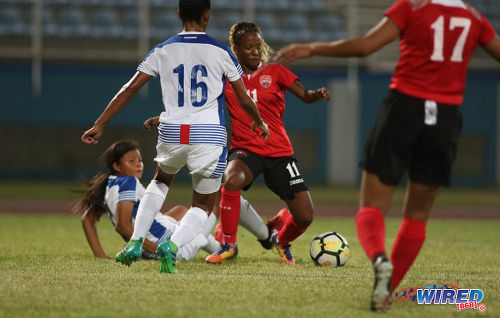 St Louis is one of the surviving members from this country's captivating 2015 World Cup campaign, which saw coach Randy Waldrum's team just one win away from their maiden World Cup appearance. Shabazz suggested that his captain would have conjured an equaliser if she still possessed the sharpness of years gone by.
"If Tasha had a little more agility and elasticity, I feel she would have been able to tie the game up for us," Shabazz said. "Going forward, she will be a player we will try to protect and hopefully she doesn't have to play 90 minutes on Saturday in that 4 o'clock game."
After the second encounter with Panama on Saturday, when the Women's Senior Team coach is hoping to exact swift revenge on the visitors, this country will next month play hosts to one of the groups in the Caribbean Football Union (CFU) Women's Challenge Series before beginning their World Cup bid in May.
Despite being pegged back by the visitors in the latter stages of the contest—as many as ten T&T players were often in their own half—through good Panamanian pressing and composed midfield play by Aldrith Quintero, Shabazz reckons that his team's fitness is at a good level. However, he's hopeful of adding some new names to bolster the squad for the two upcoming tournaments.
"I though their fitness was good, eh," Shabazz said. "We never waned during the game and this team has been training for a while. The Caribbean Women's Challenge Series is another step in our preparations and we are going to get some more players coming in and we look forward to that tournament and playing at home also.
"These games are definitely what we need to prepare us for the [start of World Cup] qualifiers in May."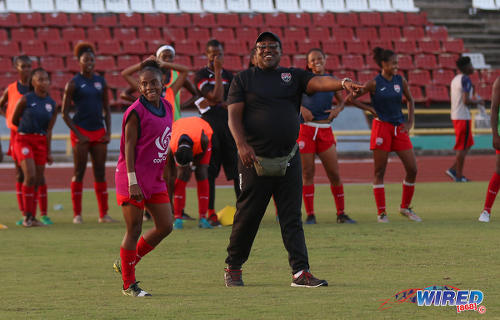 With many senior players either injured, uninterested or abroad on duty, Shabazz again reiterated that the player pool is not as large as people may think.
"I was saying the other day that our player pool is not what we think," he said. "When girls reach a certain age and they come out of college, they have got to make a decision. Some of them like [Kennya] "Yaya" Cordner would get a contract and become a pro and some of them have to go and work in jobs while some migrate. So, unless they have a strong league to come back to, the interest in the game drops."
One such player who has lost interest in the game, according to Shabazz, is Anique Walker. Defender Rhea Belgrave and midfielder Victoria Swift, however are still part of his plans for this year but both are injured. Shabazz also remains hopeful that both Cordner and former team captain Maylee Attin-Johnson will again be part of his set-up once World Cup qualifying commences.
"The pool is not a large one," Shabazz noted, pointing to the difficulty he has in replacing former Sweden-based winger Ahkeela Mollon. "It's not like the one we had in 2014. Some of those players have lost an interest in the game.
"Ahkeela Mollon, it's a huge task to replace a player like this in a Caribbean program; she's a monster."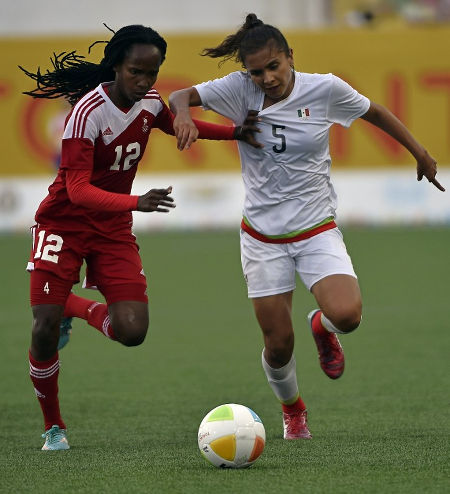 Arjoon, newcomer Andrea Young and National Under-20 players such as Kedie Johnson and Aaliyah Prince may have some really big shoes to fill down the wing then. And Shabazz noted that he will give a run-out to a few more Under-20 players tomorrow.
Whoever takes the field at the Mannie Ramjohn Stadium in Marabella tomorrow, Shabazz can be certain that the visitors will try to impose their possession-based game. Last night, the Panama team, which has been in training for two months, did a very good job of that and Mills, Quintero and Riley were very good in that regard. Katherine Castillo and Kenia Rangel also showed good understanding down the right flank.
"Trinidad and Tobago is a very physical team," Panama coach Victor Suarez said through an interpreter. "We really tried to play the ball and get control. […] Our strength is possession of the ball and speed in the game."
Shabazz concurred.
"Panama moved the ball around really well in the midfield and they were very composed in there," the Women Soca Warriors coach said. "It's the kind of game that is good for us [because] Central American teams always have a bit more composure on the ball and the desire to keep it and move it."
Tomorrow, Shabazz would like his team to give the Central Americans a taste of their own medicine.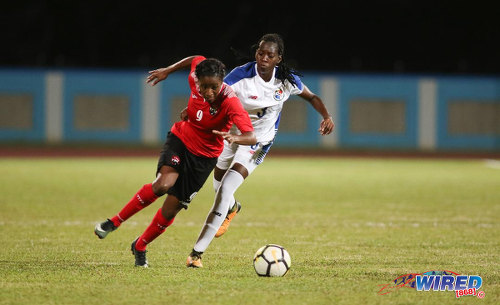 "All in all we are going to try and approach [the next game] with a higher sense of urgency and try to win the ball higher up the field," Shabazz said. "I am looking forward to Saturday to see if we could exact some revenge as well."
For Panama, tomorrow is about building confidence and minimising the fear factor for when their own World Cup qualifying campaign gets going in a few months' time.
Ideally, for Shabazz and the supporting public, tomorrow's 4pm game will shatter Panamanian confidence and significantly boost Trinidad and Tobago's.