The return of the Kings and Queens to Sunday's Dimanche Gras made for a good show. Calypso won as, although there were too many props, there was no excess of lame melodies, thank God, and no overdose of prosaic lyrics. It was refreshing to hear music back in our calypso; it made, in my opinion, for a mostly positive production, the brainchild of Dr Rudolph Ottley.
The hope must now be that TUCO and the NCC can work together, converting those synergies into something that will bring the masses back to the Savannah on Carnival Sunday night.
The major positive is that the new generation of performers has already taken the art to another level. The shift was within the realm of the traditional, not being quite as dramatic as some calypso lovers would have liked; a Voice victory would have marked a clear break with the old and ushering in of the new.
I am yet to hear from anyone who disagrees that Helon Francis earned the crown. From his opening note to the last bar of "Change," he exuded confidence, delivering his Rudder-like, poetic social commentary in a smooth, easy-on-the-ear voice. The sweet, melodic, jazzy flow of his melody, albeit traditional in structure, was broken only by deliberate pauses, which led me to exclaim halfway through the performance a loud "Yes!" With only two more competitors—three as it turned out—to come, I felt we could have an upset.
When the new Monarch was asked about the seemingly flawless sound engineering mix of his vocals which were perfectly laid above the music, he revealed that the technical aspects of his performance had been handled by "my management."
"A representative from my team was present," he said, "at the light and sound board during my presentation."
New generation with a vengeance!
New generation representatives also claimed the runner-up slots, Rondell Donawa coming in third and Voice second despite his voice not being 100%.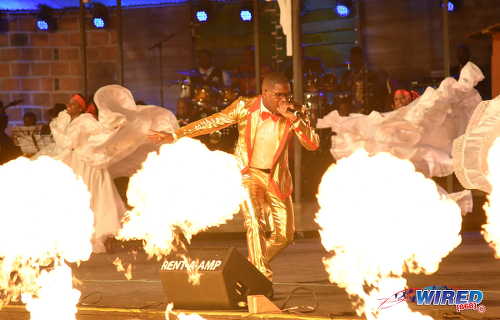 For a first-time performer in the "Big Yard," the three-time Soca Monarch was impressive. Cynically, I thought that, hoarse from singing and shouting instructions in the soca fetes for the previous four weeks, he was using the music to cover his vocal imperfection.
Ace arranger and producer Leston Paul, however, wrote, "If the TV mix was the actual mix the judges were hearing, the horn arrangement did not do justice. There were times the horns were playing over (Voice's) vocals which happened four times. That may have worked in the Soca Monarch but the calypso competition is about clarity and good diction. That horn section should have been muted in order for his vocals to be more audible."
I add that Roy Cape concurred and say no more.
And so to the night's performances—some of them anyway. For Skatie, who opened the Calypso segment, "props" meant a skit, a looooooooooooooooong skit. His intentions were clear; he was trying to prejudice the judges against Voice, Singing Sandra and Stinger.
Voice, the intended message went, was copying Stalin's "Bun dem" (Fire is common to both songs but they're not close in lyrics or melody); Singing Sandra's melody was recycled (Although every melody Skatie has ever used reminds me of past melodies); and Stinger's topic was one he (Skatie) had already sung about.
Clearly, Skatie has forgotten about Terror's classic, "Chinee Children," and seems not to appreciate the originality of Stinger's "Chinese Tuition," which pointed out, for example, that for Chinese people Bunji Garlin would be "Fay-An-Ting."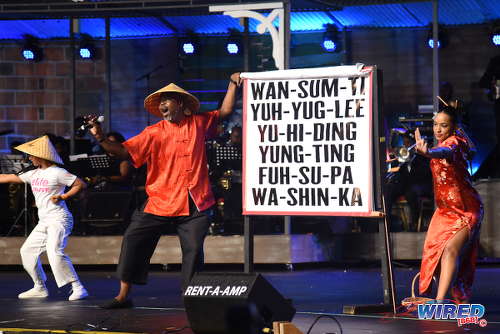 Alana Sinnette will one day be the Calypso Monarch of Trinidad and Tobago, mark my words! She is that good. Lady Watchman is one of the most talented young contemporary calypso performers; she has it all, voice, diction, stage presence. She finished 11th but, although she disagrees, she too overdid the props thing.
Her "Deadbeat" was strong enough to let the lyrics speak for themselves so that the baby pram, the pregnant look, the char-actors portraying worthless young men were not needed on stage; they were mere distractions.
Sources say she lost points for exceeding the allotted time. Her explanation is that it was "one minute. The band did not come back in on time after I went down with the pain act." So maybe the acting proved more costly than the props.
I think Singing Sandra, who placed 14th, was a victim of the draw for positions. Coming after Voice in the line-up, she performed before a crowd who had been waiting with anticipation to see how Voice would fare in his first Calypso Monarch final. I think the reaction to the Voice performance affected Sandra and the smooth flow and the confidence we saw in the Skinner Park semis were simply not there.
In a regular production, the popular singers or songs close the first half and are last on stage. But this is competition and, in a contest, you pay a price for having to perform after a favourite or after a popular performer and/or song. To compete, you have to bring 100%; Sandra did not.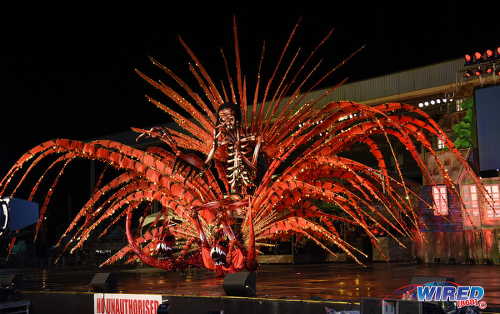 Another reminder that competition is about what you do on the night came from the surprise 17th contestant, Duane O'Connor. Omitted by the judges at the semifinal stage, the 2012 Monarch forced himself into the Savannah competition by judicial order and finished seventh, beating 10 others who had qualified ahead of him.
Last year, TUCO also had to add performers to the final cast and those who came in through the back door as it were were able to place five to ten places ahead of those selected ahead of them. Ras Commander, TUCO's Public Relations Officer, is yet to respond to repeated FB requests for an explanation as to why the Calypso Fiesta scores are not opened to public scrutiny.
Which probably opens the (back) door to another lawsuit just days before next year's final.
There are other things TUCO has to change. I am on the record as saying TUCO should not be in the tent business. They are a union and their primary responsibility is protecting their members. That mandate conflicts with being responsible for an entertainment enterprise which depends on popularity and relevance to put people in the chairs.
It is simply wrong, as I told Brother Resistance via FB a few years ago, for Kurt Allen's experiment in redefining the calypso tent experience to have to compete with TUCO's government-funded effort. I dismissed the TUCO tents as "an URP programme." I stand by that.
Mind you, I don't dislike TUCO or calypsonians. It's just that I strongly believe the private tents will look under every stone to unearth new talents, put them with the popular names, and still have a place for the stalwarts like Rio, Explainer, Sandra, M'ba, Crazy, etc.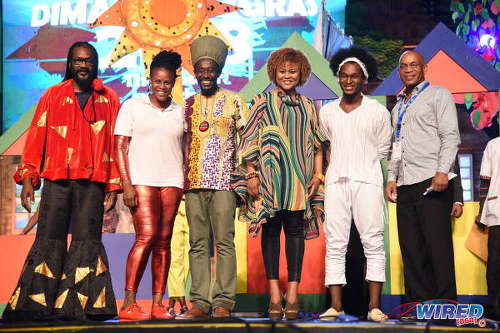 TUCO may well continue to stock their Government-sponsored tents with their loyal members, family and friends but the likes of Helon Francis, Voice, Ola, Orlando Octave and countless other young calypso and soca performers continue to find ways to be heard and make themselves part of the ongoing narrative. They are the ones helping to redefine calypso for the audience, traditional and new.
Where, after all, was Helon Francis showcasing his wares three years ago when he won the Young Kings title and was runner-up in the Calypso Monarch? He was part of Kurt Allen's experiment. Nuff said!
Let me end with a few glaring issues directly raised by Sunday night. The first one is, however, unlikely to have a direct effect on the live audience in the Grand Stand.
It is that television producers have forgotten how to do a "live" broadcast on the costumes of the Kings and Queens. The stage announcer is provided with authoritative notes—what better authority than the designer?—on what is before the eye. What is required from the on air announcer is information that supplements the official description, not competes with it.
In other words, tell the television announcers to hush and let the viewers hear the music and the stage announcer's description of the mas; they're free to talk when that is over.
Issue number two: for years, dem calypsonians killing we with props and 2018 was no exception! Singing his tribute to late president Maxwell Richards entitled "Eulogy," Chalkdust brought a white horse on stage and kept it there throughout. It never moved. It never neighed. Nobody mounted it. It added absolutely nothing to the presentation, I thought.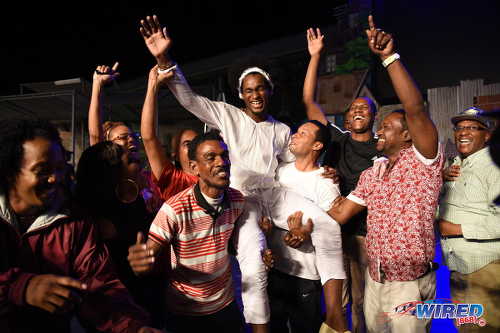 I wish the horse had dumped a turd on the stage; it would have been an eloquent, wordless statement on the whole issue of mindlessly using props.
And I end by pointing out that the average age of the top three was just over 26; the average age of the bottom three was around twice that. Sign of the times? Perhaps…
Proclaiming that "76 cyar go into '18," a fellow Wired868 columnist last year called on Chalkdust to retire from competition. I hope the nine-time Monarch will now heed the call and use his skills to help the new generation of performers fine-tune their skills while allowing them to maintain their respective identities.
For me, that is the best way he can continue what has been his life's work which is, as he wrote in an Express column last week, "raising standards in calypso."