Trinidad and Tobago Under-20 Women's coach Jamaal Shabazz anticipated that his team's opening encounter in the CONCACAF Under-20 Women's Championship against Haiti was going to be a "High Noon" affair—and it came to pass. The hosts played their role in a five goal thriller which saw them  edged out 3-2 by their Haitian counterparts at the Ato Boldon Stadium in Couva last night.
Shabazz also envisaged that the Caribbean teams were likely to abandon tactics in a game for gunslingers—and that too came to pass.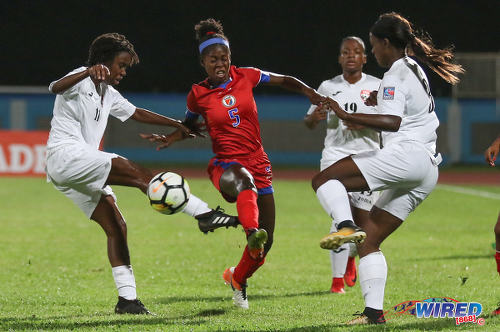 However, the young Women Soca Warriors coach might not have foreseen a clinical hat-trick by Haiti captain and star player Nérilia Mondésir, which took Haiti from two-goals down to a well-earned 3-2 victory.
Mondésir, who turned 19 on Wednesday, had a tremendous belated birthday present as she tormented opposing captain Natisha John and the Trinidad and Tobago read guard all night.
"We had a dream start but we lost to a more skilful, aggressive team tonight," Shabazz told the media at the post-match briefing. "I think the girls gave a big effort and the Haitian team was a lot more aggressive and stronger. All in all, this is the reality. I think when Haiti equalised they totally took over the game."

Prior to the start of the tournament, Shabazz pointed out that the strength of his current Under-20 team was their experience at the CONCACAF level with Trinidad and Tobago's various youth teams. And he posited that his team would have no illusions about the type of quality opposition they would face at these Championships.
However, after going two goals up inside the first ten minutes, the host team seemed stunned by the confident response by Mondésir and company.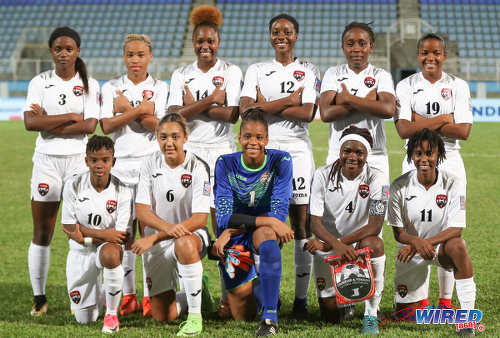 "I think our players are hungry for it but I think they were very surprised by the speed and the aggression of this Haitian team," Shabazz stated. "This was a skilful and very aggressive bunch and we can't take anything away from them. They outplayed us tonight and they deserved to win."
Both Shabazz and team captain, John, had stressed the importance of bringing a calming influence to a very excited home team squad, and after Kedie Johnson whipped a devilish left-footed corner past Kerly Theus and into the Haitian net, it appeared as though all hell broke loose.
The hosts, who started like a house on fire with players such as Chelcy Ralph, Aaliyah Prince and Dennecia Prince bursting their lungs in a bid to run at the Haitian defence, were unable to ever settle the game down though. And it made for a dangerous, open game that suited the hungry and fit Haitian gunslingers.
John certainly had her hands filled with the tricky Mondésir, and Shabazz conceded that his defenders did not execute what they rehearsed in training; leaving Mondésir and fellow attackers Nelourde Nicolas and Sherly Jeudy with acres of space to run into as a result.
"[We were not] dropping deep at times when the ball was not under pressure in the midfield," said Shabazz. "And by staying high when the ball was not under pressure in midfield, we gave up a lot of space behind our backs. We paid dearly for it and it's something we have got to adjust to for the two remaining games."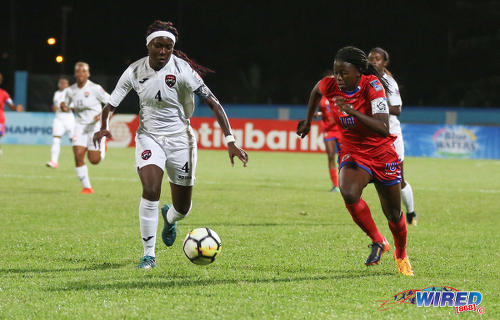 Mondésir halved the deficit after meeting a lovely cross from the right in the 26th minute—while Trinidad and Tobago were temporarily down to 10 players as full back Jaasiel Forde received treatment—and Jeudy ought to have levelled soon after, as she rounded Trinidad and Tobago custodian K'lil Keshwar but muffed her shot at an empty goal; which allowed centre back Shaunalee Govia to recover and clear.
But, with central midfielders Ranae Ward and Shenieka Paul overrun by Haiti's midfield trio of Jeudy, Melchie Dumornay and Dougenie Joseph, the 2,500 fans present—officially tabulated at just under 1,700 paying patrons—could have sensed that momentum was shifting.
"Trinidad and Tobago had us in some difficulty in the first half and I urged my players not to get upset," said Collat, who commended the hosts' nippy frontline. "When we scored the second goal we realised that the possibility of winning the game was in our grasp […] our girls realised that they were stronger than the Trinidad and Tobago team and because of this we were able to [go on and] win the game."
Johnson admitted, after the match, that the Under-20 Team lost focus after their sizzling start.
"It was tragic because we fought so hard and we worked so hard […] but unfortunately that is how it goes sometimes in life," said Johnson, in the post-match mixed zone. "The key factor was continuing to push despite the score. I saw most of us [were] watching the time and that was distracting for us; and the crowd was a kind of distraction. We had to focus on the game."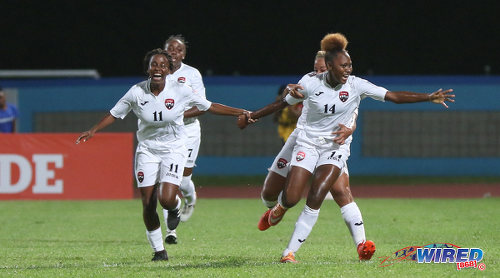 Shabazz was also disappointed in their failure to make the most of the early good fortune.
"There was a lot of nervous energy and the hype was high [but] I think we went flat after we scored the two goals," said Shabazz, whose players were never able retain possession in midfield. "But really, the two goals were not really an indication of any kinda dominance on our part […] it was really a dream start and I think the lesson here for us is: the score in the game [at any appointed time] is not the result of the game."
Mondésir levelled for Haiti in first half stoppage time, as she controlling another right side cross before a composed finish past Keshwar. And the Haitian captain completed a delightful hattrick in the 53rd minute, as she outmuscled John, outfoxed a lunging Forde and hammered a right-footed shot past the opposing goalkeeper.
"Mondésir is an exceptional striker who moves quickly and shoots with both feet," said Collat. "And she is an indispensable figure for the team."
In Wednesday's pre-game press briefing, Shabazz said he and his staff had watched two Haitian games on tape in the build up to the tourney.
But did the coach think the Montpellier forward warranted a man-marking assignment?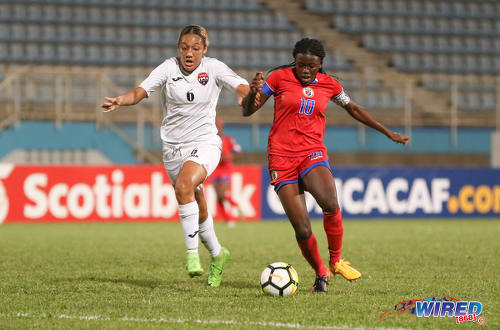 "[Mondésir] received the ball from somewhere," said Shabazz. "I don't think any team at this point will try to play man-to-man against any player. She did well and she's certainly one of the top players in the tournament.
"[…] We came up against a top class striker and it's one of the learning curves that we will have to undergo."
At the other end, Prince [Aaliyah] looked isolated on the right wing and struggled to match the strength and aggression of her Haitian opponents. Substitute Lauren Theodore came within a whisker of an equaliser in the 76th minute, as she was just short of a lovely Johnson cross.
But it was the hosts who were counting their lucky stars in the closing stages, as Keshwar pulled off three brilliant saves in stoppage time to deny the Haitians a more emphatic result.
Trinidad and Tobago's two starting central defenders, Govia and John, limped off in the second half and Shabazz admitted that he will have to make adjustments for the Canada contest tomorrow.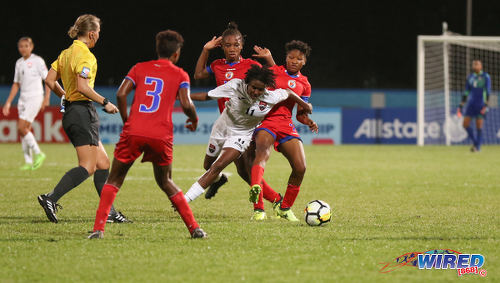 "At one time [against Haiti] we played with three at the back. At different intervals we had to move players around and this is a positive for our team," Shabazz said. "Certainly they are versatile. I think though we have got to show a lot more aggression and we have got to show a lot more belief in ourselves and focus on that moment.
"I think now it's for the players to be honest with themselves and we know that we have got to come back against Canada and try our best.
"[…] You can't make magic in one day. We have one day to recover and recuperate. Having tasted the level of aggression and urgency needed for the game, I think it will fire our girls to work even harder against Canada."
If Canada's play against Costa Rica yesterday is any indication, the young Women Warriors will do well to conserve their energy for the second half. The North American nation scored three goals within a 20-minute period in the second half to overturn a 1-nil halftime deficit, and star striker Jordyn Huitema and skipper Gabby Carle were dominant.
Carle, who won a bronze medal at the 2016 Ro Olympic Games with Canada's senior team, already assured all and sundry that her team is not here on vacation. And last night, coach Beverly Priestman reminded the hosts of that.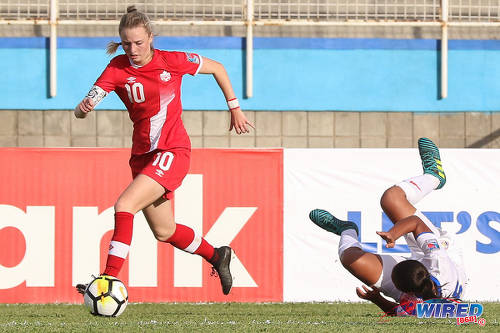 "That's the beauty of these types of tournaments as you get to experience these sort of environments that you will come up against in your career as a player," Priestman said. "It's a great experience for the girls to play with some kind of home support but at the same time we know what we have to do…"
The hosts know what they have to do too. Trinidad and Tobago need a result against Canada or they must kiss their France 2018 World Cup dreams "au revoir."
(Teams)
T&T (4-4-2): 1.K'lil Keshwar (GK); 3.Shadi Cecily Stoute, 6.Shaunalee Govia (15.Asha James 79), 4.Natisha John (captain), 12.Jaasiel Forde (9.Lauren Theodore 59); 19.Chelcy Ralph (17.Alexis Fortune 39), 11.Ranae Ward, 13.Shenieka Paul, 14.Kedie Johnson; 7.Dennecia Prince, 10.Aaliyah Prince.
Unused substitutes: 20.Malaika Dedier (GK), 2.Crystal Molineaux, 5.Nathifa Hackshaw, 8.Megan Rampersad, 16.Kelsey henry, 18.Brittney Williams.
Coach: Jamaal Shabazz
Haiti (4-1-4-1): 1.Kerly Theus (GK); 13.Rosianne Jean, 3.Naphtalie Northe, 4.Emeline Charles, 2.Ruthny Mathurin; 18.Melchie Dumornay; 8.Nelourde Nicolas (6.Betina Petit-Frere 70), 9.Sherly Jeudy (7.Melissa Shelsie Dacius 67), 5.Dougenie Joseph, 11.Roseline Eloussaint; 10.Nérilia Mondésir (captain).
Unused substitutes: 12.Naphtaline Clermeus (GK), 14.Rachelle Caremus, 15.Daniel Monique Etienne, 16.Taina Gervais, 17.Flero Dina Surpris, 19.Magdala Macean, 20.Dolores Jean Thomas.
Coach: Marc Collat (France)
Referee: Ekaterina Koroleva (USA)
CONCACAF Player of the Match: Nérilia Mondésir (Haiti)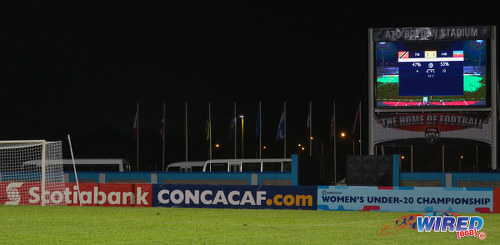 CONCACAF Women's U-20 Championship
[All matches are carded for the Ato Boldon Stadium in Couva]
(Thursday 18 January)
Costa Rica 1 (Catalina Estrada 27), Canada 3 (Jordan Huitema 49, 65, Gabby Carle 56), Group A, 4pm;
Trinidad and Tobago 2 (Dennecia Prince 3, Kedie Johnson 10), Haiti 3 (Nerilia Mondésir, 25, 45, 53), Group A, 6.30pm.
Today's Fixtures
(Friday 19 January)
Mexico v Jamaica, Group B, 4pm;
United States v Nicaragua, Group B, 6.30pm.
Tomorrow's Fixtures
(Saturday 20 January)
Haiti v Costa Rica, Group A, 4pm;
Trinidad and Tobago v Canada, Group A, 6.30pm.