Haiti Women's National Under-20 Team captain and forward Nérilia Mondésir turned 19 on Wednesday and, by all appearances, she opted to celebrate her birthday a day late.
Trinidad and Tobago enjoyed the perfect start to their CONCACAF Women's Under-20 Championship at the Ato Boldon Stadium in Couva tonight. But, by the final whistle, they had found no response to the magic of Mondésir, who makes her living playing as a professional for Montpellier in France.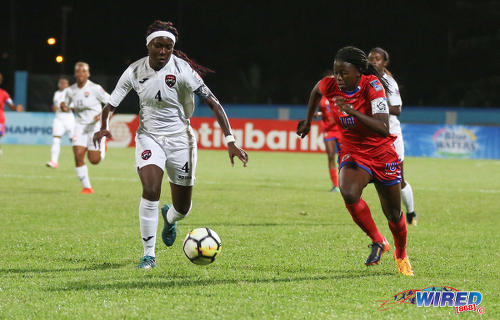 Mondésir scored all three goals for the French-speaking islanders as they fought back from two goals down to edge the young Women Soca Warriors 3-2 in Group A.
It was a deflating end for the host team who had roared to life with a clever opener from forward Dennecia Prince in the third minute and then doubled their advantage after Kedie Johnson scored directly from a corner kick in the 10th minute.
There was no stopping Mondésir once she got going, though, and, after losing defender Shaunalee Govia to injury in the second half, Trinidad and Tobago eventually finished with 10 players as captain Natisha John was carried off on a stretcher after coach Jamaal Shabazz had already used all three substitutions.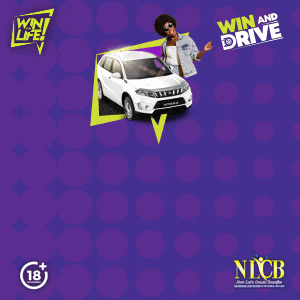 And, in the end, it took a string of fine saves from Trinidad and Tobago goalkeeper K'lil Keshwar to keep the score respectable as roughly 2,500 fans took consolation in a courageous but ultimately unsuccessful effort by the hosts.
The Under-20 women are in Group A action again from 6:30pm on Saturday when they face Canada and it might not be a contest for the faint-hearted or for fans of the local girls who still nurture high hopes for them in this tournament.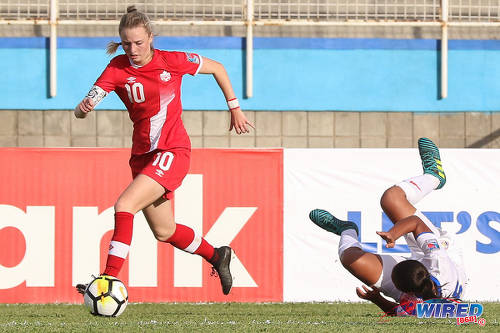 The Canadians roared back from a goal down against Costa Rica in the opening match of today's double-header to win 3-1. Lanky forward Jordan Huitema scored twice while captain Gabrielle Carle added another. Catalina Estrada scored the lone goal for the Central American team.
Group B kicks off at the same Couva venue tomorrow when Mexico tackle Jamaica from 4pm while United States face Nicaragua from 6:30pm.
CONCACAF's three top teams will advance to the France 2018 Women's Under-20 World Cup.
Editor's Note: Click HERE for full match recap and comments from the coaches.
(Teams)
Trinidad and Tobago (4-4-2): 1.K'lil Keshwar (GK); 3.Shadi Cecily Stoute, 6.Shaunalee Govia (15.Asha James 79), 4.Natisha John (captain), 12.Jaasiel Forde (9.Lauren Theodore 59); 19.Chelcy Ralph (17.Alexis Fortune 39), 11.Ranae Ward, 13.Shenieka Paul, 14.Kedie Johnson; 10.Aaliyah Prince, 7.Dennecia Prince.

Unused substitutes: 20.Malaika Dedier (GK), 2.Crystal Molineaux, 5.Nathifa Hackshaw, 8.Megan Rampersad, 16.Kelsey Henry, 18.Brittney Williams.
Coach: Jamaal Shabazz
Haiti (4-1-4-1): 1.Kerly Theus (GK); 13.Rosianne Jean, 3.Naphtalie Northe, 4.Emeline Charles, 2.Ruthny Mathurin; 18.Melchie Dumornay; 8.Nelourde Nicolas (6.Betina Petit-Frere 70), 9.Sherly Jeudy (7.Melissa Shelsie Dacius 67), 5.Dougenie Joseph, 11.Roseline Eloussaint; 10.Nérilia Mondésir (captain).
Unused substitutes: 12.Naphtaline Clermeus (GK), 14.Rachelle Caremus, 15.Daniel Monique Etienne, 16.Taina Gervais, 17.Flero Dina Surpris, 19.Magdala Macean, 20.Dolores Jean Thomas.
Coach: Marc Collat (France)
Referee: Ekaterina Koroleva (USA)
CONCACAF Player of the Match: Nérilia Mondésir (Haiti)
CONCACAF Women's U-20 Championship
[All matches are carded for the Ato Boldon Stadium in Couva]
(Thursday 18 January)
Costa Rica 1 (Catalina Estrada 27), Canada 3 (Jordan Huitema 49, 65, Gabby Carle 56), Group A, 4pm;
Trinidad and Tobago 2 (Dennecia Prince 3, Kedie Johnson 10), Haiti 3 (Nérilia Mondésir 25, 45, 53), Group A, 6.30pm.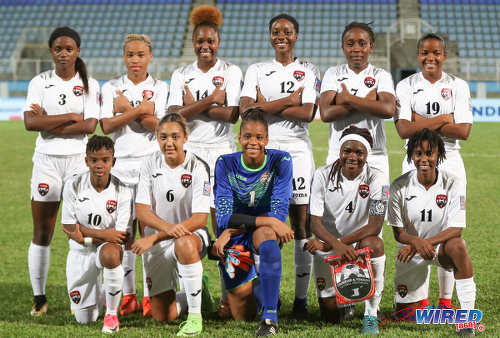 Upcoming fixtures
(Friday 19 January)
Mexico v Jamaica, Group B, 4pm;
United States v Nicaragua, Group B, 6.30pm;
(Saturday 20 January)
Haiti v Costa Rica, Group A, 4pm;
Trinidad and Tobago v Canada, Group A, 6.30pm;
(Sunday 21 January)
Nicaragua v Mexico, Group B, 4pm;
United States v Jamaica, Group B, 6.30pm;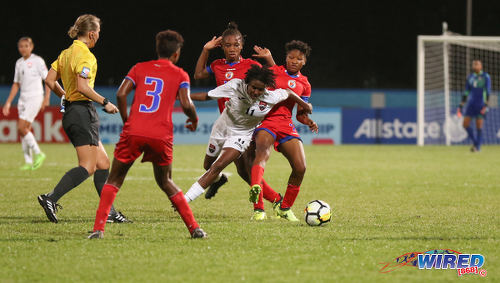 (Monday 22 January)
Haiti v Canada, Group A, 4pm;
Trinidad and Tobago v Costa Rica, Group A, 6.30pm.
(Tuesday 23 January)
United States v Mexico, Group B, 4pm;
Jamaica v Nicaragua, Group B, 6.30pm.