"Them schools and them [like] Naparima College, we are looking for big scores against them," said Shiva Boys Hindu College stand-in head coach Corey Brown. "Because we have scores to settle with them."
John Wick, Kill Bill or Gladiator. Choose whichever vengeful movie reference works best for you.
When the Coca Cola Intercol South Zone final featuring Shiva Boys and Naparima College kicks off at the Mannie Ramjohn Stadium in Marabella next Thursday, at least one of the two teams will consider that there is more than a tall trophy and a ticket to the final at stake.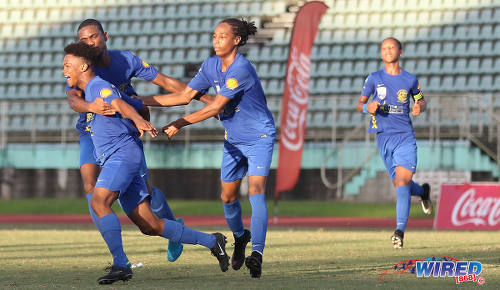 Shiva Boys had not even left the Mannie Ramjohn Stadium field after their 1-0 semifinal win over Presentation College (San Fernando)—the current SSFL Premier Division champions, no less—when Brown pointed out whom they really wanted to play.
Naparima College won the opening game of the Marabella double-header 4-1 over southern rivals, St Benedict's College. That scoreline suggests that they are no slouches.

But for Shiva Boys, this is not just about business; it is personal.
There might be another reason that the awkward tension between the two camps looms large over the prospect of their upcoming meeting, neither has given their supporters much to salivate over on the field– at least, for weeks
Today's South Zone Intercol semifinals should have been a treat with, arguably, three of the country's top four schoolboy teams involved. Instead, as is often the case in games at this stage, supporters had to endure a fairly uninspiring afternoon as all four toiled admirably without ever coming close to fluent football.
Naparima and St Benedict's College started the double-header at 1:30pm and there was no shortage of goals. But the eventual 4-1 result flattered "Naps" and might possibly colour memories of the match too.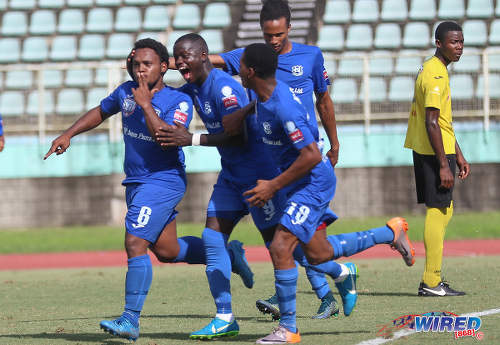 Take, for instance, St Benedict's playmaker Keon Boney. In months or even years to come, fans might remember with fondness how—with his team trailing by four goals—the former Trinidad and Tobago National Under-17 player sucked his teeth and let fly a scorching 40-yard rocket that flew into the top right-hand corner of the net with the accuracy of a drone strike.
They might forget that when, just four minutes earlier, referee Kevin Smart had booked Boney for petulantly kicking the ball away, it might have surprised many to realise he was still on the field—so anonymous had he been in the second half.
And Naparima? Their four well-taken goals would excite television viewers whose only feel for the match is a 40-second highlight reel. But it is not for nothing that assistant coach Charles Pollard, when asked to comment on their performance, reserved his highest praise for the Naps backline.
Midfielder Decklan Marcelle put Naparima ahead with a fine strike in the eighth minute, after cutting in from the left flank. But Benedict's nearly got a deserved equaliser in the 44th minute as attacker Reuel Tyson bore down on goal, only for his effort to be slowed down by the outstretched boot of Naps custodian Levi Fernandez and then cleared off the goal-line by retreating defender Tyrike Andrews.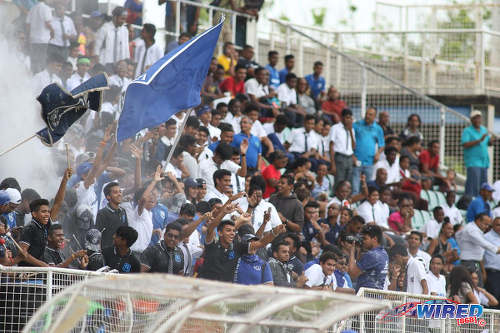 It was more a case, arguably, of both teams being equally scrappy rather than being just as good as each other.
"The weather wasn't in our favour," St Benedict's coach Reynold Carrington told Wired868. "It was tough for both teams with the 1:30 start… We tried our best to keep it simple because, in this kind of temperature, you can't afford to be giving away the ball. But sometimes the boys were trying to do too much."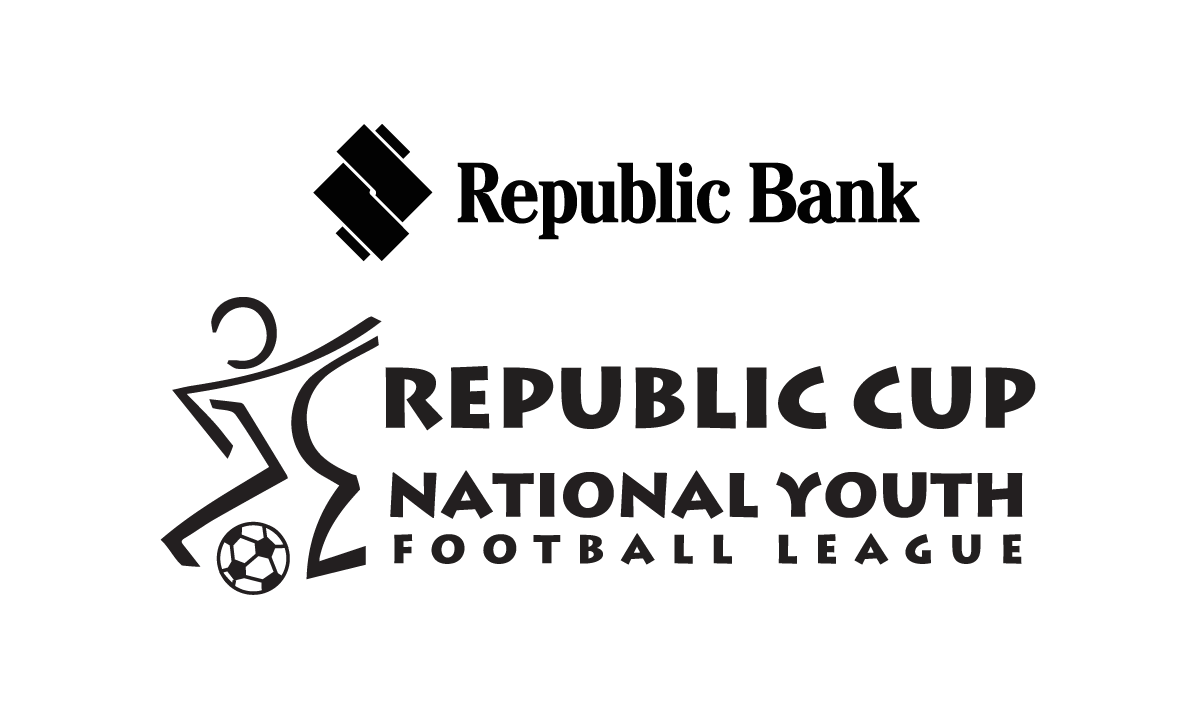 As Naparima and St Benedict's racked up the turnovers and overhit crosses—whether as a result of poor concentration, game management or technique—it was easy to understand why Trinidad and Tobago are struggling at all national youth levels at present.
But then up stepped Judah St Louis. A rare exchange of passes saw Rushawn Murphy find forward Ronaldo McIntosh who flicked to Mark Ramdeen. He cleverly conjured up a yard of space for St Louis to get a sighter from 20 yards, which is all the opening the beefy little playmaker ever needs.
After a first touch to steady the ball, the second sent it flying to the right of St Benedict's custodian Leonard Richardson and into the back of the net kissing the upright.
St Louis looks to be the opposite of what usually excites local football fans; he is built more like a shot putter than a sprinter and has no eye-catching turn of speed or no tricks from open play either.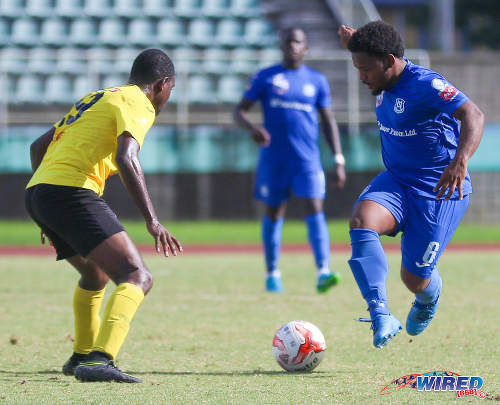 But if you need a five-yard pass, a cross or shot, that is what he will give you; nothing more, nothing less.
"I always mark Judah's grades very high," said Pollard, a former Guyana international defender and Pro League champion with North East Stars and San Juan Jabloteh. "He has a good football IQ and is a good leader."
Maybe Trinidad and Tobago national youth coaches should start valuing efficiency over excitement.
After that strike, anyway, St Benedict's had no way back  McIntosh made it 3-0 in the 68th minute with a predatory header off a Murphy cross and then grabbed his double in the 75th minute with a delightful solo effort.
St Louis, who led all scorers in the Premier Division, again demonstrated his prowess with the dead ball with a free kick that smashed against the same upright only to be cleared by opposing left-back Mickel Ravello, who had positioned himself on the the goal-line.
The game was already dead and buried when Boney decided to show up. But, boy, did he add to the occasion.
"I think that has a chance to be the best goal this year," said Carrington. "It was a cracker!"
The main event, a clash between the past and present Premier Division champions, promised much but delivered little.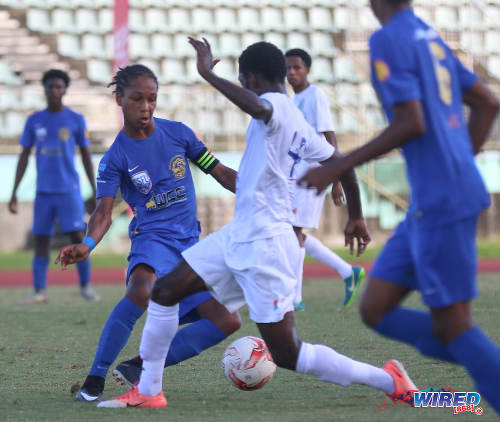 A shimmy here and there from Shiva Boys captain Judah Garcia, the feisty spirit of diminutive Presentation frontman Jaiyé Sheppard—who dared to pressure opposing defenders who looked like they could have him for dessert—and the wayward shooting of Shiva Boys striker Junior "Barry" Asson apart, there was little to report from the first 45 minutes.
"I thought allyuh call him 'Bound to Score'?" asked one disappointed patron, after Asson got a clear look and, not for the first time, failed to even force a save from Presentation captain and goalkeeper Jabari Gray.
Shiva Boys winger Quinn Rodney was having his own problems. Not for love or money could he get the better of Presentation wing-back Mylz Barrington and Rodney seemed to spending more time on the ground than on his feet.
In the 71st minute, Rodney burst into the opposing box, tried to go outside of Barrington to deliver a cross, fell over and stayed down.
Referee Michael London allowed play to continue as Presentation countered. A minute later, Shiva Boys were back in possession. Yet Rodney remained unattended to on the ground on the edge of Gray's six-yard box.
London ignored him and so did his teammates. When in the 72nd minute, Shiva Boys left-back Matthew Beal took possession, he would usually be obligated to hand over to Rodney—only the winger was not there.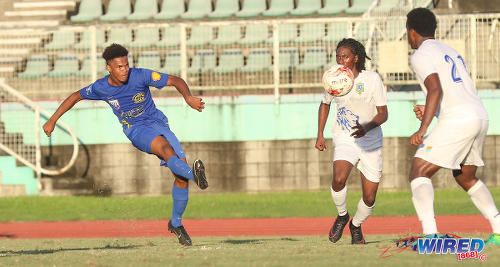 So, Beal cut inside and decided to have a whack himself. And his dipping right-footed shot surprised Gray and settled the second southern semifinal.
Presentation coach Shawn Cooper did not quite know what to make of it.
"It took a wonder goal to beat us today," Cooper told Wired868. "Well, actually I think it was a soft goal—to score from the distance [as] a left-footer with his weaker right foot…
"Definitely [Rodney] was in front of the goalkeeper, so he was blocking the sight of the goalkeeper. But it is up to the referee to make the call in terms of whether he was interfering with play or not.
"But Beal should not have been so free. We had our plan set up so that […] our defensive midfielder would have caved in [to pressure the winger once he came inside]."
Beal and Shiva Boys have their own plan. It was Beal's registration issue,picked up with just four matches left in the season, that ultimately cost the "Penal Princes" their place in the Premier Division—as the subsequent points deduction meant relegation for the 2016 champions.
Amidst the furore, Presentation were crowned SSFL winners.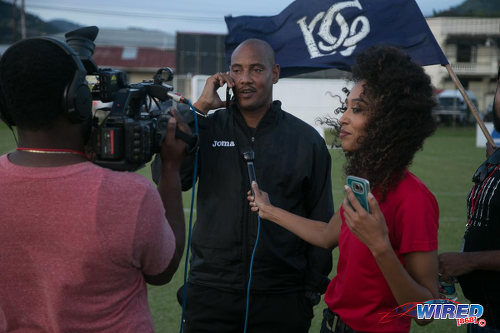 "I think [Shiva Boys] have the strongest squad," said Cooper. "The League is about who plays well consistently and we were that team this season. But the Intercol is about winning on the day and they have several potential match-winners."
After the trauma of the past two weeks, it was almost poetic justice that Beal was the one to flatten the reigning champions.
Next on the radar are Naparima. To be fair, Naps had nothing to do with Beal's disqualification. The SSFL Executive said they launched an investigation  based on information that had come to them.
But, rightly or wrongly, Shiva Boys, continue to trace their problems in 2017 back to that first protest by Naparima against their use of Kierron Mason on the opening day of the season.
"We don't like how they treat we," said Brown, "so we have scores to settle with them."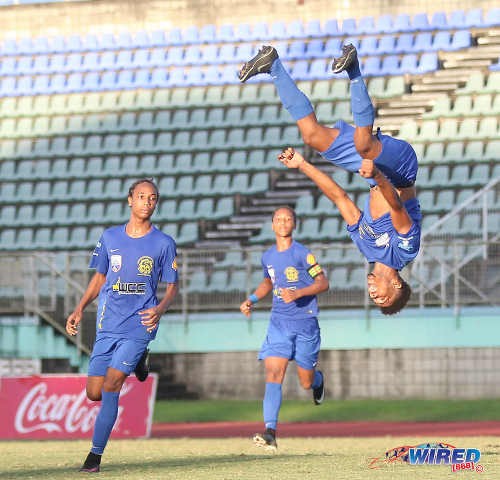 Next Thursday, St Louis and the gang will come face-to-face with the "Baba Yaga"—Russian for witch or boogeyman. The South Zone stakes just got higher.
(Teams)
Shiva Boys HC (4-3-3): 22.Denzil Smith (GK); 32.Ronald Charles (5.Anderson Peters 52), 19.Yohannes Richardson, 3.Jabari Gray, 14.Matthew Beal; 10.Judah Garcia (captain), 15.Kierron Mason, 6.Tyrel Emmanuel; 17.Ronaldo Edwards (8.Jude Phillip 89), 7.Quinn Rodney (9.Tyrell Baptiste 74), 11.Junior Asson.
Coach: Corey Brown
Presentation College (4-2-3-1); 22.Jabari Gray (captain) (1.Ishmael Salaam (GK) 86);16.Mylz Barrington, 2.Shirwin Noel, 21.Matthew Joseph, 3.Juaval Roberts; 46.Darnell Hospedales, 12.Jerrin Jackie; 17.Omari Cobham (11.Nathaniel Dyer 82), 7.Omri Baird (6.Ackeel Jacob 85), 10.Jordan Riley; 9. Jaiye Sheppard.
Coach: Shawn Cooper
Referee: Michael London
Wired868 Man of the Match: Matthew Beal (Shiva Boys)
Today's Coca Cola Intercol fixtures
South Zone semifinals
(Friday 17 November)
St Benedict's College 1 (Keon Boney 88), Naparima College 4 (Decklan Marcelle 8, Judah St Louis 56, Ronaldo McIntosh 68, 75) at Mannie Ramjohn Stadium;
Shiva Boys HC 1 (Matthew Beal 72), Presentation (San F'do) 0 at Mannie Ramjohn Stadium.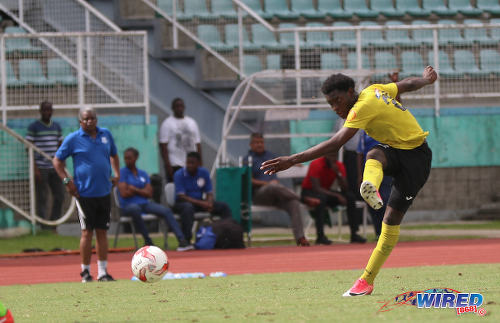 Upcoming Intercol fixtures
(Monday 20 November)
Carapichaima East v Chaguanas North, Central Zone finals, 4pm, Ato Boldon Stadium;
(Tuesday 21 November)
St Mary's College v St Anthony's College, North Zone finals, 3.30pm, Hasely Crawford Stadium;
Tobago Zone finals, TBA;
(Wednesday 22 November)
San Juan North v Valencia Secondary, East Zone finals, 3.30pm, Larry Gomes Stadium;
(Thursday 23 November)
Naparima College v Shiva Boys HC, South Zone finals, 3.30pm, Mannie Ramjohn Stadium;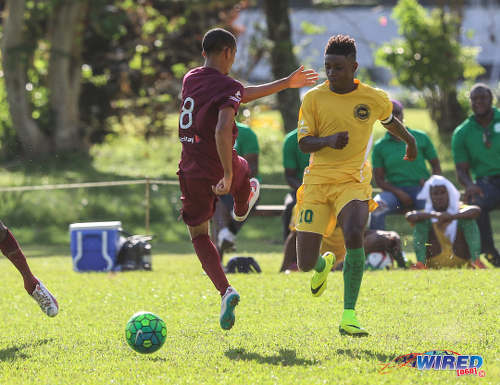 (Monday 27 November)
Tobago v North, National quarterfinals, TBA;
(Thursday 30 November)
East v Tobago/North, 3.30pm, National semifinals, Ato Boldon Stadium;
South v Central, 5.30pm, National semifinals, Ato Boldon Stadium;
South v Central, National Girls Semifinals, TBA;
East v North/Tobago, National Girls Semifinals, TBA;
(Monday 4 December)
National Girls Intercol finals, 3pm, Ato Boldon Stadium;
National Boys Intercol Finals, 5pm, Ato Boldon Stadium.