It is saying something when two teams that conceded 11 goals between them are high in praise of their own performances. La Romaine Secondary and Pleasantville Secondary held nothing back today as they threw themselves at more illustrious opponents in the Coca Cola 2017 South Zone Intercol quarterfinals.
But the final score summary at the Mannie Ramjohn Stadium in Marabella made an emphatic statement about the gulf between the Secondary Schools Football League (SSFL) Premier Division and its second-tier competition.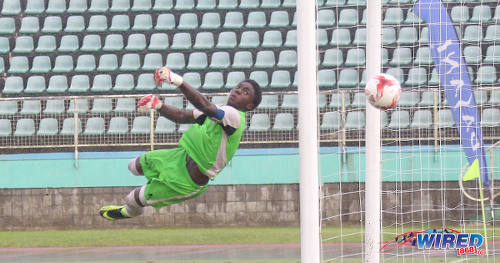 Naparima College, twice Premier Division champions in the past three seasons, spanked Pleasantville 6-0 while St Benedict's College put five goals past La Romaine without reply.
"I think my team performed pretty well today but Naparima are playing at a higher level than us," said Pleasantville head coach Kyle Small. "We just shut down in the last 15 minutes of the game, which caused us to concede [four] goals."
Despite the less unflattering scoreline, La Romaine endured an even tougher time in the opening game of the double-header as they went long periods without the ball and never troubled Benedict's custodian Leonard Richardson.

"We always knew it was going to be an uphill task [so] all credit to the boys," said La Romaine coach Kendall Crawford. "We fought well [but] the pace of the game is what took us out."
Benedict's right flanker Darnell Charles was particularly menacing as he scored two and set up another while forward Reuel Tyson also bagged a double and midfielder Keon Boney capped a solid performance with a second-half item.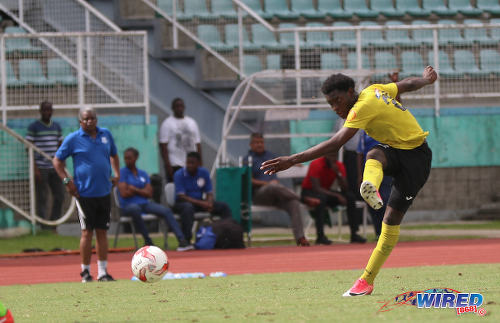 "The guys came out and did the job, which was important, and we didn't take into consideration [their] placement or what level of football La Romaine is playing," said Benedict's head coach Reynold Carrington. "We just went out and [did what we had to do] and the result was in our favour."
For St Benedict's, today's contest appeared to be merely an appetiser or loosener before the tougher tests that lie in store from the semifinal stage. It meant something else entirely for La Romaine.
In the covered stands, there were roughly 300 La Romaine students—many holding KFC snack boxes and soft drinks, presumably from a pit stop en route to the Mannie Ramjohn Stadium.
The Intercol contest was undoubtedly their main course, though, and the support from the La Romaine brigade was vociferous and unstinting.
By half-time, La Romaine goalkeeper and captain Randy Gomez had already picked the ball out of the back of his net on three occasions. Yet their schoolmates cheered them back on to the field as though they were three goals up in a World Cup final.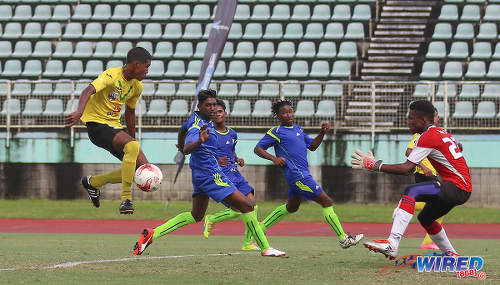 "We are the fairytale team," said Crawford. "From the senior [competition] to the Championship. And then [hopefully] from the Championship into the Premiership."
Benedict's were in no mood for sentimentality, though. Carrington took over the team from former international teammate, Leonson Lewis, midway through the season and steered them clear of relegation with a game to spare.
Now, they are focused on writing a positive story for themselves.
"I think they have shown me they can play the game for sure," said Carrington, who confirmed that he will  again handle Benedict's next year. "Once we continue to work one day at a time, then we feel we can be a force to be reckoned with."
Benedict's, in total control of the midfield, got a fourth goal in the 59th minute as Tyson headed in a raking Charles cross. And Boney completed the score summary in the 73rd minute with a powerful low drive off a tee from teammate Justin Chi Foon, that somehow squirmed under Gomez's hand.
By then, Carrington's unchallenged team had already gone down a gear or two.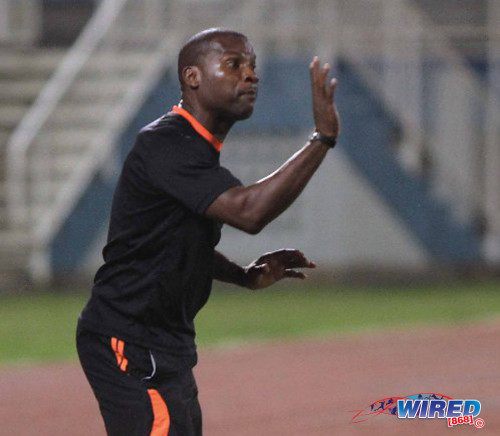 "We know we are down for a showdown [against Naparima] in the semifinals," he said, "so I wanted to keep them fresh."
Naparima coach Angus Eve hinted that he similarly saw Pleasantville as more of a warm-up than a genuine threat—although it did not always look that way.
The boys from "P-ville" were demoted from the Premier Division last season and their hopes of an immediate return were dashed by an off-field protest as attacker Jabari Hodge was ruled not to have the requirements to be accommodated in the Sixth Form and, therefore, to be ineligible to represent the school.
The subsequent points deduction meant that, in the Championship Division's South Zone, Pleasantville finished second  to Moruga Secondary, who eventually represented the zone—unsuccessfully—in the Big Five tournament—which offered three qualifying spots in the top flight.
To make matters worse, Pleasantville will have Shiva Boys Hindu College for company in the Second Division next season. And only one southern school gets a shot at promotion.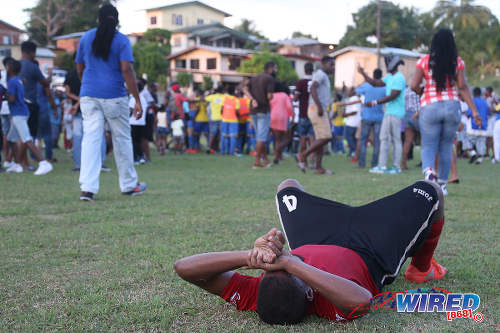 This evening's contest with Naparima was a chance to show the country what they have been missing out on and Pleasantville began with relish.
Pleasantville goalkeeper and captain Raheem Lee and tigerish midfielder Dillon Yearwood, in particular, did not look overawed. Not altogether surprising since both are teammates of nearly half of the Naps squad on Club Sando's youth team.
Eve took some responsibility for Naparima's patchy start.
"It was a good result in the end but the performance was a little ragged," said Eve. "We tried a different system to give guys who didn't play much a run-out because we knew we were playing against a team from a lower division.
"Maybe that sentiment [that it would be an easy game] was transferred from me to the guys because they went out a little bit flat."
Yet, for all Pleasantville's endeavours, Naps might easily have been three goals clear within the first half-hour. Captain Rondell Payne and forward Nikel Rawlins both missed sitters while midfielder Mark Ramdeen struck the post with a fierce drive from distance and another Payne header was clawed away for a corner by Lee.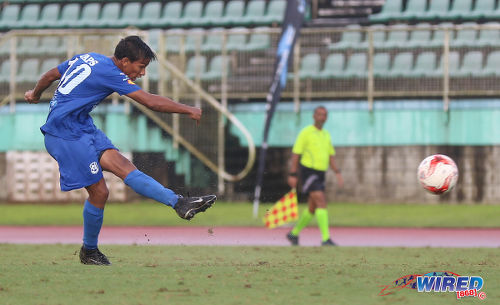 There was a hint of offside about Naparima's opener, which was neatly tucked away by versatile attacker Ronaldo McIntosh in the 31st minute.
But there were no questions about McIntosh's second which came just six minutes later, Pleasantville defender Ephraim Brown failing to deal with a long ball from Rushawn Murphy and the shaggy-haired front man doubling Naparima's advantage on the volley.
Pleasantville did get a consolation item in the 58th minute, though. Yearwood's speculative shot ought to have offered catching practice for Naparima custodian Enrique Changiah. But, in the damp conditions, the ball squirmed out of his hand and into the back of the net.
Changiah, who got a rare start for Naps today, is also a Club Sando player and, presumably, he would not need to get his club teammate Yearwood anything else for Christmas.
"P'ville; we want a goal!" their supporters sang in the stands. But that never looked like more than a remote possibility.
In the 78th minute, Payne popped up at the far post to head home off a deep Murphy cross and restore Naparima's two-goal advantage. And when, in the 81st minute, midfielder Judah St Louis exposed Lee's leaden footwork with a low drive, the rout was on.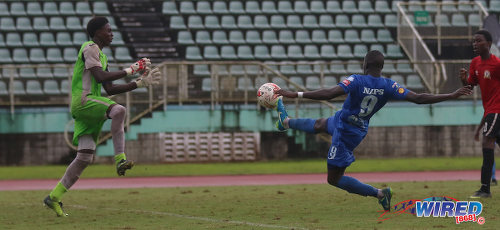 Murphy made it 5-1 in the 82nd minute with a flicked finish to a McIntosh cross. And there was no mistaking the mischievous smirk on his face as he retrieved the ball from the back of the net and sprinted to the half-line.
St Louis got his second item and Naparima's sixth in the 84th minute, arching his back to cushion a header past Lee after a cross from substitute Isa Bramble.
It might have been seven too, as McIntosh missed an open header off another Bramble cross. But Eve probably won't mind if his boys hold something back for next week.
Eve paid tribute to Benedict's mid-season revival and it is worth noting that the two teams played to a 3-3 draw last month at Naps' home ground in Lewis Street in San Fernando.
"Since Carrington took over the team, you saw a marked improvement in them," said Eve. "This is for all the people who say we don't develop players here… They have a bit more fight and a bit more organisation and you can see the coach is getting the players to perform at a different level."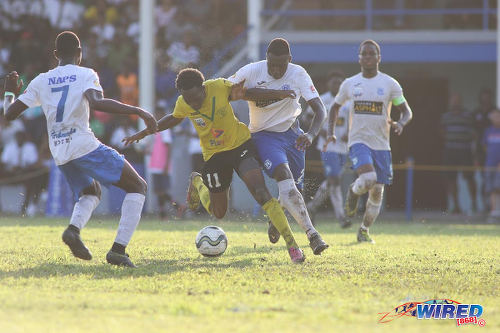 There will be no argument about that suggestion from the La Romaine team.
Naparima have also gone from strength to strength as the season went on. Eve said his current crop basically consisted of graduates from last year's Under-16 team, which lost to Trinity College East in the national final.
"We knew coming into this season it would be a challenge, [so] I really didn't expect us to come second," said Eve. "We were fortunate that Judah St Louis, Rondell Payne and Murphy came in,because they added a spine with the younger guys and that really solidified us.
"[…] I thought there were far better squads than us, player for player—like St Anthony's [College] and Shiva Boys. But I think the boys really grew as the season went on and as they started to get belief."
The non-functioning lights at the Mannie Ramjohn Stadium mean Naps and Benedict's will kick off at 1.30pm next Friday, which is as close to a noon shootout as would be advisable in this climate.
"There are no lights at any stadium, so we can't play [at] elite hour times," said Eve, "but I think the Principal would probably give the boys a half-day so they can come out and support their team."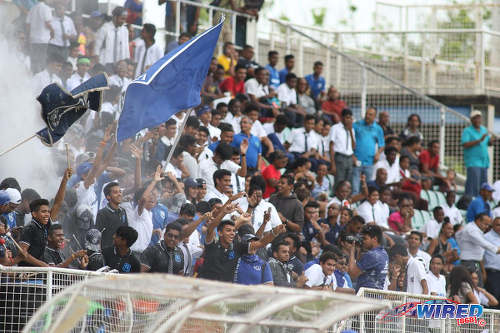 Almost certainly, Benedict's will do likewise. And with Presentation College (San Fernando) and Shiva Boys likely to be involved in the other South Zone semifinal, Marabella is sure to be bouncing.
Normal Intercol rules will obtain. Four teams enter, two teams leave.
(Teams)
Naparima College (3-5-2): 30.Enrique Changiah (GK); 13.Jeron Pantor, 5.Rondell Payne (captain), 2.Tyrike Andrews; 15.Shadeon Arthur (17.Shoaib Khan 76), 6.Judah St Louis, 9.Rushawn Murphy, 10.Mark Ramdeen (14.Ezekiel Kesar 68), 16.Decklan Marcelle; 11.Nikel Rawlins (7.Isa Bramble 55), 18.Ronaldo McIntosh.
Unused substitutes: 1.Levi Fernandez (GK), 4.Asukile Christopher, 27.Chakim Guy, 29.Deneilson Benjamin.
Coach: Angus Eve
Pleasantville Secondary (4-3-2-1): 1.Raheem Lee (GK) (captain); 6.Joshua Cooper, 8.Ephraim Brown, 2.Shane Baldeo, 12.Akeem Marine; 15.Michael Stewart, 18.Nevorne McNicolls, 14.Dillon Yearwood; 7.Sherwin Andrews, 19.Nical Thompson; 5.Mesgenna Davidson (11.Kadeem Dabreau 49).
Unused substitutes: 21.Shaun Hanif (GK), 9.Keston Archibald, 17.Akeal Pierre, 20.Jevaughn Sylvester, 16.Makwesi Dujon.
Coach: Kyle Small
Referee: Julip Singh
Wired868 Man-of-the-Match: Ronaldo McIntosh (Naparima)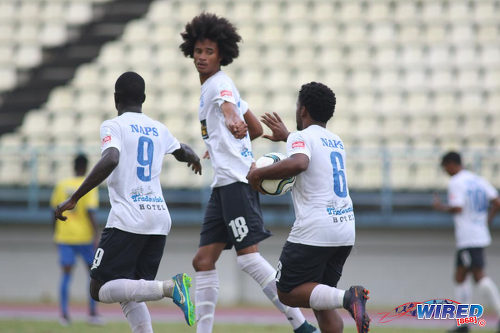 Coca Cola Intercol results
(Friday 10 November)
St Benedict's College 5 (Darnell Charles 9, 13, Reuel Tyson 40, 59, Keon Boney 73), La Romaine Secondary 0 at Mannie Ramjohn Stadium;
Naparima College 6 (Ronaldo McIntosh 31, 37, Rondell Payne 78, Judah St Louis 81, 84, Rushawn Murphy 82), Pleasantville Secondary 1 (Dillon Yearwood 58) at Mannie Ramjohn Stadium;
Chaguanas North Secondary 6, Preysal Secondary 2 at Hugo Francis ground;
Signal Hill 5 (Akil Frank [2], Jabarry Francis, Akiel Holdford, Shaundelle Williams OG), Scarborough 0 at Black Rock.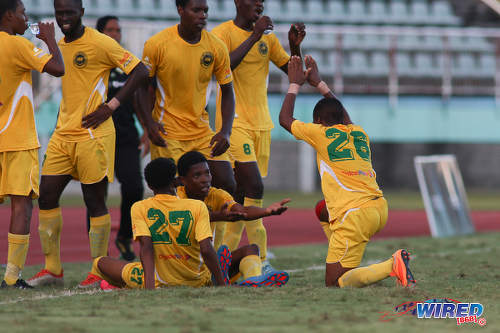 Upcoming fixtures
(Monday 13 November)
Arima North v St Augustine Sec, 3.30pm, East quarters C, Bourg Mulatresse;
San Juan North v El Dorado East, 3.30pm, East quarters D, El Dorado West;
Goodwood Sec v Pentecostal L&L, 3pm, Tobago quarters C, Bon Accord;
Speyside HS v Mason Hall Sec, 5pm, Tobago quarters B, Bon Accord;
QRC v Trinity Moka, 1.30pm, North quarters F, Hasely Crawford Stadium;
St Anthony's v St Francis College, 3.30pm, North quarters G, Hasely Crawford Stadium;
Shiva Boys v Moruga Sec, 1.30pm, South quarters F, Mannie Ramjohn Stadium;
Presentation (San F'do) v Pt Fortin East, 3.30pm, South quarters G, Mannie Ramjohn Stadium;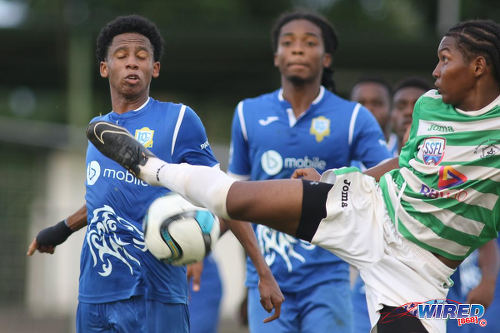 (Wednesday 15 November)
Chaguanas North v Gasparillo Secondary, 3pm, Central semis, Ato Boldon Stadium;
Carapichaima East v Presentation, 5pm, Central semis, Ato Boldon Stadium;
(Thursday 16 November)
Valencia High v Trinity College East, 3pm, East semis, Marvin Lee Stadium;
San Juan/El Do v Arima/St Augustine, 5pm, East semis, Marvin Lee Stadium;
Bishop's HS v Speyside/Mason Hall, Tobago semis, TBA;
Goodwood/Pentecostal v Signal Hill Secondary, Tobago semis, TBA;
St Mary's College v Fatima College, North semis, 1.30pm, Hasely Crawford Stadium;
QRC/Trinity Moka v St Anthony's/St Francis, North semis, 3.30pm, Hasely Crawford Stadium;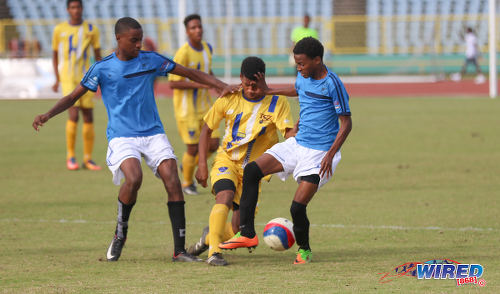 (Friday 17 November)
St Benedict's College v Naparima College, 1.30pm, South semis, Mannie Ramjohn Stadium;
Shiva Boys/Moruga v Presentation/Pt Fortin, 3.30pm, South semis, Mannie Ramjohn Stadium;
(Monday 20 November)
Carapichaima East/Presentation v Central 1, Central Zone finals, 4pm, Ato Boldon Stadium;
(Tuesday 21 November)
St Mary's/Fatima v North 1, North Zone finals, 3.30pm, Hasely Crawford Stadium;
Tobago Zone finals, TBA;
(Wednesday 22 November)
East Zone finals, 5pm, Marvin Lee Stadium;
(Thursday 23 November)
South Zone finals, 3.30pm, Mannie Ramjohn Stadium;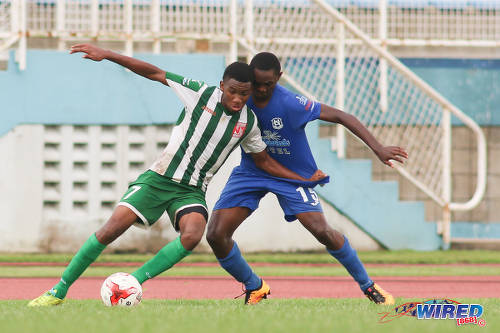 (Monday 27 November)
Tobago v North, National quarterfinals, TBA;
(Thursday 30 November)
East v Tobago/North, 3.30pm, National semifinals, Ato Boldon Stadium;
South v Central, 5.30pm, National semifinals, Ato Boldon Stadium;
South v Central, National Girls Semifinals, TBA;
East v North/Tobago, National Girls Semifinals, TBA;
(Monday 4 December)
National Girls Intercol finals, 3pm, Ato Boldon Stadium;
National Boys Intercol Finals, 5pm, Ato Boldon Stadium.