Former Trinidad and Tobago National Under-17 Team attacker Nickel Orr banged in the first hat-trick of the 2017 Coca Cola Intercol competition today as Trinity College East cruised into the East Zone semi-final round with a convincing 6-0 win over Holy Cross College at the Larry Gomes Stadium in Malabar.
In the second match of the double-header, winners Valencia Secondary were not quite as comfortable. However, they finished strongly to come away with a 3-1 win over Five Rivers Secondary. The Trinity "Blue Hawks" will now face Valencia Secondary in the semis on Thursday 16 November.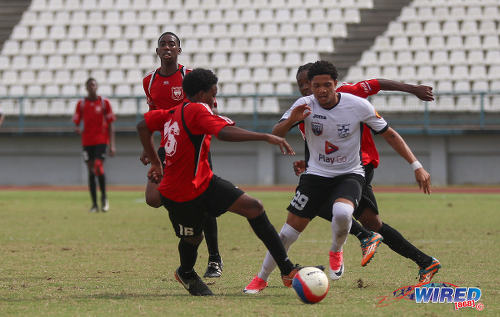 In other action today, a Central Zone quarterfinal fixture between Chaguanas North Secondary versus Preysal Secondary was postponed after a protest by Carapichaima West Secondary who believe they should be playing in Preysal's place. The quarterfinal fixture will be played on Friday instead, once the SSFL Disciplinary Committee rules on the dispute tomorrow.
The other two quarter-finals will kick off on Monday with Arima North Secondary facing St Augustine at Bourg Mulatresse while defending champs San Juan North Secondary take on El Dorado East Secondary at El Dorado West grounds.
But at day's end today, it was the early caning that remained in the crowd's memory. Orr was the obvious star of the show, tallying three goals and an assist for Trinity while Kerdell Sween netted twice, and skipper Romario Williams once to make the march towards the semi-final an easy one.
When Orr slotted home his third goal for the Blue "Hawks," there was no exuberant celebration. Collecting a loose ball just inside the penalty area, without even so much as a glance at his target, he lashed his left-footer home into the bottom right-hand corner of the net and then turned nonchalantly around to accept the congratulations of his teammates.
His coolness and single-mindedness was characteristic of what was really a clinical demolition of Holy Cross.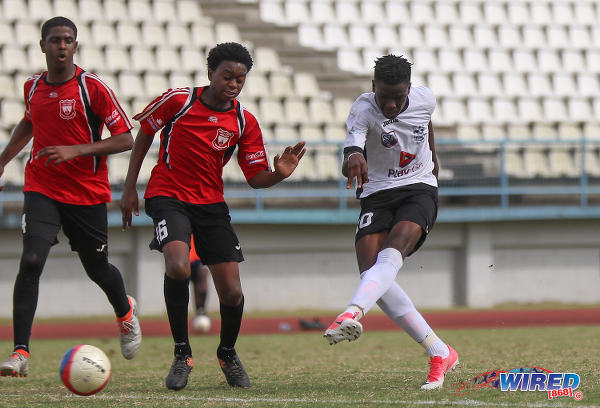 In the afternoon heat and under the constant pressure to which they were subjected by Michael Grayson's charges, the Holy Cross defence wilted. It was not long before Trinity shook their opponents' net for the first time.
Only five minutes had passed when Sween, a constant menace barging forward from Trinity's midfield, was felled in the penalty area by Kobe Douglas. After a slight delay to allow the dishevelled Sween to undishevel himself, up stepped Orr to send Holy Cross custodian Dillon King the wrong way and put the Hawks in front.
For the rest of the half, King was kept busy, as Sween especially glided forward seemingly at will. When he was not occupied with keeping an eye on Sween especially himself, he was busy directing his defence to keep an eye on the Trinity East midfielder. Still, Sween managed to sting the keeper's fingertips on more than one occasion, most notably in the 20th minute when a corner fell perfectly for him. King, however, proved good enough to keep out his shot from point-blank range.
With the Hawks in cruise control, Holy Cross could only threaten occasionally on the counter-attack. At the end of one of these rare sallies forward, Daniel Fernandez produced a deft left-footed chip that had the crowd gasping in disbelief. With Emmanuel John in the Trinity goal completely beaten, the ball undeservedly sailed just over the bar.
But the half belonged to the team from College Avenue and they scored twice in the four minutes preceding the interval to kill off the match as a contest.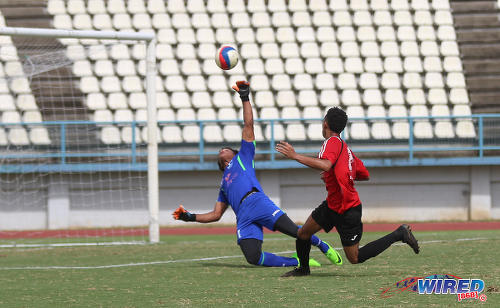 First, Kishon Hackshaw blew past Israel Copeland on the left flank and teed up Orr with an inviting cross. The striker showed off his skill with an accurate overhead kick which King could only parry. King again stopped Tyrese Williams' shot from the rebound but Orr then scored with Trinity's third bite of the cherry.
Three minutes later, collecting a low cross from Orr, Williams made the score 3-0 in the Hawks' favour.
In the second half, Sween lashed home a fifth between Orr's second and the completion of his treble, which he calmly slotted home at the death.
The daunting 6-0 score-line in that game does nothing to dampen the optimism and enthusiasm of Valencia Coach Roland Clarke, whose side will be one of three sets of new boys on the Premier Division block next season. Clarke still likes his team's chances when next week they line up against the side that campaigned successfully in the Premier Division this season.
"I want to take the team the next step forward," he told Wired868 after they gained promotion last week. "Premiership is the level and that is where I want to compete at. Valencia is a proud community and, now that they [the players] have the opportunity, football will be alive and well in Valencia."
In the second match, Clarke's troops certainly grabbed their opportunity with both hands in what turned out to be a more evenly contested match. The Orange Tide pressed the Five Rivers defence from early, with Valencia's skilful Kerron Kelly keeping Five Rivers' left-back Yorrick Bobb busy with the searching lofted passes he constantly sent in the direction of Jeremy Adolphus.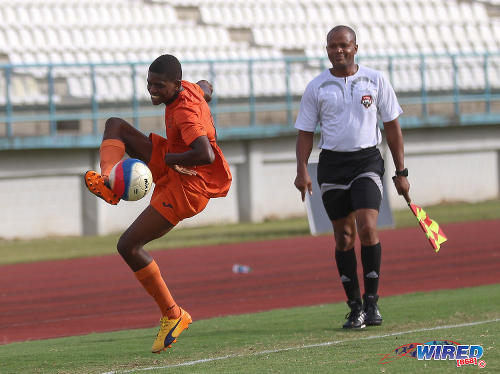 And it was Adolphus who eventually opened the scoring just after the half-hour mark, tapping in a ball Akil Skeete squared from the left.
Much to the joy of their fans, "Rivers" were back on terms before long, their equaliser coming when custodian Hezron D'Abreau's unwitting clearance rebounded off Jamal Thompson and he outsprinted the keeper to slot the loose ball home.
Five Rivers couldn't seize the advantage, though, and a blunder at the back allowed Kerdel DeVerteuil to stab home from close range for Valencia to reclaim the lead in the 62nd minute.
Seven minutes later, it was game over. Adolphus unselfishly opted to set up Daniel La Croix, whose shot left Zion Cassimy in the Five Rivers goal without a prayer.
Then, with a mere five minutes to go in regulation time, the Five Rivers woes deepened. Having already been booked for dissent in the first half, Jabari Watson leapt in two-footed on D'Abreau and was sent for an early shower.
When the final whistle went, the players in orange all looked less exhausted than had been the case in their play-off outing last Tuesday.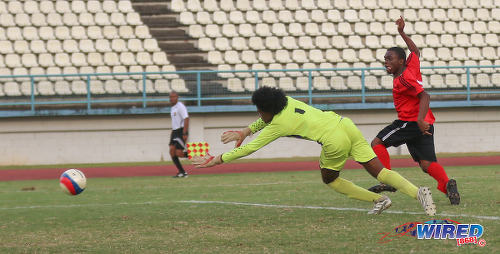 The questions lingering on fans' lips for the next eight days, however, are likely to be whether the stubborn Valencia defence will be able to contain Orr in the semi-final. Or whether Grayson's attack, their appetites whetted by today's feast, will prove good enough to help Trinity to their first zonal final berth.
(Teams)
Trinity College East (4-3-3): 1.Emmanuel John (GK); 4.Randy Jackson, 6.Rakim Cabie, 17.Christian Ransome, 8.Daniel Lake; 3.Kerdell Sween, 19.Jarved Elcock (7.Marli Greaves 34), 15.Romario Williams (captain); 10.NIckel Orr (11.Jaden Mc Kree 73), 21.Tyrese Williams (9.Josiah Lord 50), 29.Kishon Hackshaw.
Unused Substitutes: 22.Khalil Oliver (GK), 5.Winston Guiseppe, 16.Liu Chin.
Coach: Michael Grayson
Holy Cross (4-3-3): 1.Dillon King (GK); 13.Israel Copeland, 16.Neil Walcott, 4.Randy Antoine, 5.Darnel Wright; 14.Stephano Boatswain, 17.Zidane Liverpool, 2.Daniel Hernandez (12.Jashawn Thomas 81); 7.Kobe Douglas, 10.Trevis Byron (9.Jemel Raymond  73), 11.Ackeem Mason.
Unused Substitutes: 8.Justin Garcia, 3.Nicholas Collins, 18.Ojore Kanneh, 21.Tyrece Guerra.
Coach: Peter Lewis
Wired868 Man-of-the-Match: Nickel Orr (Trinity College East)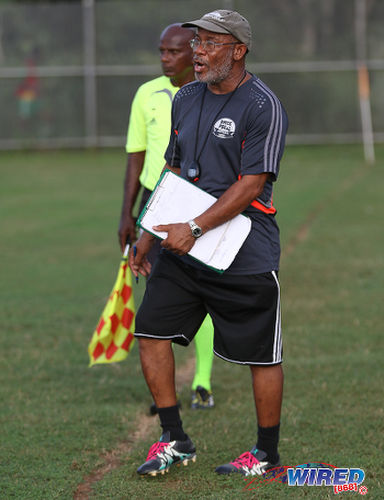 VALENCIA HIGH SCHOOL V FIVE RIVERS SECONDARY
Valencia High School (4-3-3) 1.Hezron D'Abreau (GK); 9.Kerron Kelly, 4.Jacob Wilson, 6.Jerome Arrindell, 15.Nathaniel Da Silva; 11.Kerdel DeVerteuil (captain), 3.Giovanni Lewis (8.Daniel La Croix HT), 10.Keegan Faria; 17.Jeremy Adolphus, 14.Remy Butler (12.Ansil Elcock 60), 19.Akil Skeete (5.Andre Gabriel 74).
Unused Substitutes: 22.Keiyon Henry, 16.Jaylon Mark, 13.Kerwin DeVerteuil, 7.Mikhail Mollino.
Five Rivers Secondary (4-3-3) 1.Zion Cassiny (GK); 22.Josiah Liverpool, 5.Shaquan Spencer, 9.Christopher Bartholomew, 25.Yorrick Bobb; 10. Jabari Watson (sent off), 6.Jabari Job. 14.Rikeil Cumberbatch (16. Risean Sandy 64); 33.Israel Joseph (30.Lawrence Nicolas 74), 7.Korie Smith, 24.Jamal Thompson (11.Saeed Charles 67).
Unusued Substitute: 31.Nathaniel Polo.
Coach: Sylvester Sandiford
Wired868 Man-of-the-Match: Kerdel DeVerteuil (Valencia Secondary)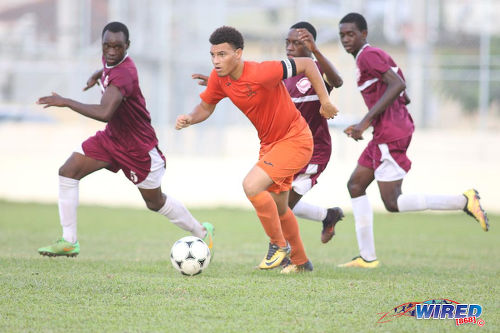 TODAY'S COCA COLA INTERCOL RESULTS
Valencia Secondary 3 (Jeremy Adolphus 33, Kerwin De Verteuil 62, Daniel La Croix 69), Five Rivers 1 (Jamal Thompson 50) at Larry Gomes Stadium;
[South Zone preliminaries]
Pleasantville Secondary 5, Fyzabad Anglican 0 at Mahaica Oval;
Point Fortin East 3, Princes Town West 2 at Mahaica Oval;
[Central Zone quarterfinals]
Presentation (Chag) 4, Couva East 0 at Carapichaima East.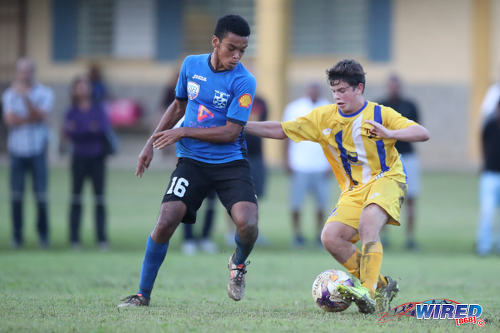 TOMORROW's FIXTURES
(Thursday 9 November)
St Mary's College v East Mucurapo, 1.30pm, North quarters D, Hasely Crawford Stadium;
Fatima College v Malick Secondary, 3.30pm, North quarters E, Hasely Crawford Stadium;
Gasparillo Sec v Cunupia Sec, 3.30pm, Central quarters C, Carapichaima East.
Bishop's HS v Scarborough Sec, 3pm, Tobago quarters A, Plymouth;
Speyside HS v Mason Hall Sec, 5pm, Tobago quarters B, Plymouth.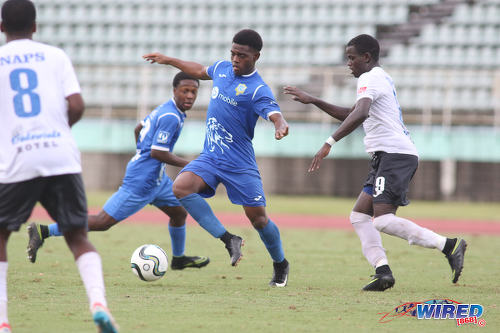 UPCOMING FIXTURES
(Friday 10 November)
Chaguanas North v Preysal Sec, 3.30pm, Central quarters A, Hugo Francis ground;
St Benedict's v La Romaine, 1.30pm, South quarters D, Mannie Ramjohn Stadium;
Naparima v Pleasantville Secondary, 3.30pm, South quarters E, Mannie Ramjohn Stadium;
(Monday 13 November)
Arima North v St Augustine Sec, 3.30pm, East quarters C, Bourg Mulatresse;
San Juan North v El Dorado East, 3.30pm, East quarters D, El Dorado West;
Goodwood Sec v Pentecostal L&L, 3pm, Tobago quarters C, Bon Accord;
Signal Hill v Roxborough Sec, 5pm, Tobago quarters D, Bon Accord;
QRC v Trinity Moka, 1.30pm, North quarters F, Hasely Crawford Stadium;
St Anthony's v St Francis College, 3.30pm, North quarters G, Hasely Crawford Stadium;
Shiva Boys v Moruga Sec, 1.30pm, South quarters F, Mannie Ramjohn Stadium;
Presentation (San F'do) v Pt Fortin East, 3.30pm, South quarters G, Mannie Ramjohn Stadium;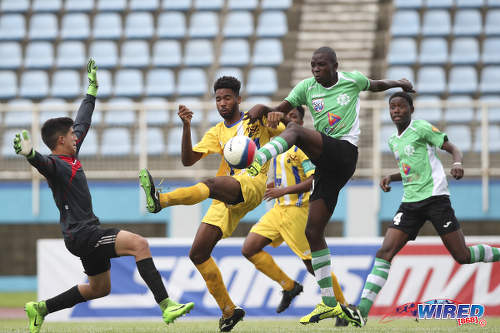 (Wednesday 15 November)
Chaguanas/Preysal v Gasparillo/Cunupia, 3pm, Central semis, Ato Boldon Stadium;
Carapichaima East v Presentation (Chag), 5pm, Central semis, Ato Boldon Stadium;
(Thursday 16 November)
Valencia High v Trinity College East, 3pm, East semis, Marvin Lee Stadium;
San Juan/El Do v Arima/St Augustine, 5pm, East semis, Marvin Lee Stadium;
Bishop's/Scarborough v Speyside/Mason Hall, Tobago semis, TBA;
Goodwood/Pentecostal v Signal Hill/Roxborough, Tobago semis, TBA;
North D v North E, North semis, 1.30pm, Hasely Crawford Stadium;
North F v North G, North semis, 3.30pm, Hasely Crawford Stadium;
(Friday 17 November)
South D v South E, 1.30pm, South semis, Mannie Ramjohn Stadium;
South F v South G, 3.30pm, South semis, Mannie Ramjohn Stadium;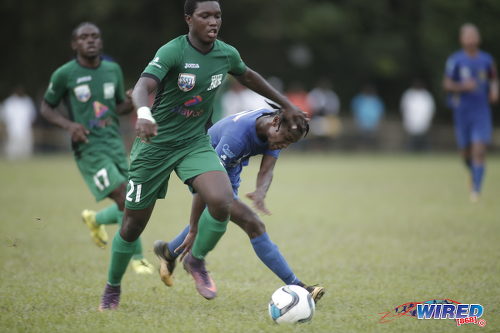 (Monday 20 November)
Central Zone finals, 4pm, Ato Boldon Stadium;
(Tuesday 21 November)
North Zone finals, 3.30pm, Hasely Crawford Stadium;
Tobago Zone finals, TBA;
(Wednesday 22 November)
East Zone finals, 5pm, Marvin Lee Stadium;
(Thursday 23 November)
South Zone finals, 3.30pm, Mannie Ramjohn Stadium;
(Monday 27 November)
Tobago v North, National quarterfinals, TBA;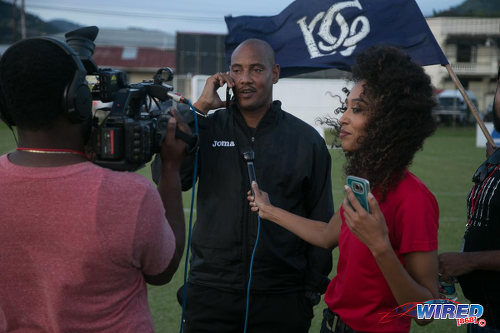 (Thursday 30 November)
East v Tobago/North, 3.30pm, National semifinals, Ato Boldon Stadium;
South v Central, 5.30pm, National semifinals, Ato Boldon Stadium;
South v Central, National Girls Semifinals, TBA;
East v North/Tobago, National Girls Semifinals, TBA;
(Monday 4 December)
National Girls Intercol finals, 3pm, Ato Boldon Stadium;
National Boys Intercol Finals, 5pm, Ato Boldon Stadium.