Presentation College (San Fernando) kept their slim hopes of snatching the Secondary Schools Football League (SSFL) Premier Division title with a comfortable 3-nil victory over St Augustine Secondary at Guaracara Park today.
At kick-off, the "Pres Lions" and the "Green Machine" had vastly different objectives. The hosts, sitting on 23 points, still had a mathematical chance of catching leaders St Anthony's College and Naparima College while the visitors, on 13, were yet to secure Premier Division safety.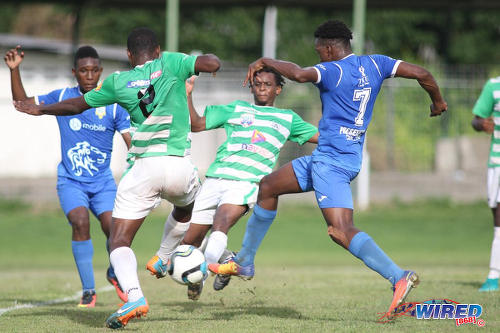 And after doing battle on a bouncy Guaracara surface, Presentation glimmer of hope shimmered still while the Green Machine's supporters were left wondering if their side had run out of fuel at the worst possible time.
Nearer the foot of the table, the Premier Division's two Tobago representatives, Signal Hill Secondary and Speyside High, had even bigger problems as both were relegated today after failing to snatch three points against Fatima College and San Juan North Secondary respectively.
Signal Hill and Fatima played to a 2-2 draw in Tobago while Speyside were trounced 6-1 at Bourg Mulatresse.

Signal Hill have a game remaining against Trinity College Moka but are now four points behind 12th-placed St Benedict's College and safety. Today, Benedict's drew 1-1 with mid-table outfit Trinity College East at the Mannie Ramjohn Stadium.
Moka, who have eight points, are five points shy of St Benedict's but can make up ground—in theory at least—with three outstanding matches next week against St Augustine Secondary, Signal Hill and Naparima respectively; none, however, is at home.
Of course, the situation at the foot of the table can change drastically if Fatima's protest over Shiva Boys Hindu College's use of midfielder Kierron Mason in September proves successful.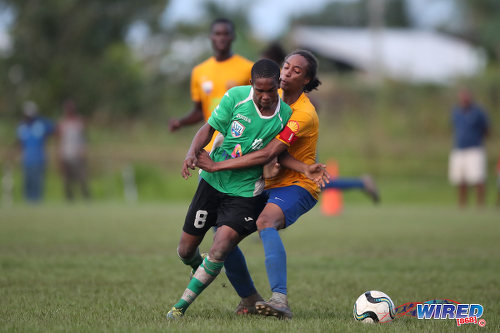 Elsewhere today, Shiva Boys were stunned 4-1 by Carapichaima East Secondary—only their second on-field loss of the season. If today's result is followed by another defeat in the boardroom, the "Penal Princes" will be bottom of the table and, to avoid relegation, in desperate need of back-to-back wins against St Mary's College and St Benedict's next week.
St Augustine assistant coach Sean Bateau hopes that his team, which is currently just four points away from the drop zone, can make sure of their survival on Monday when they host Trinity College Moka.
"I think we will bounce back against Trinity College Moka because we don't have a choice," Bateau told Wired868. "They are also in the relegation [zone] so if we beat them we will knock out an opponent."
Today, St Augustine—without the services of the injured duo of goalkeeper Yannic Gamaldo and skipper Anthony Samuel—showed little fight or bite in a 3-0 defeat and so did themselves no favours in the relegation dogfight.
Attackers Omri Baird and Shakeem Julien got their names on the score-card in the first half while substitute Ackeel Jacob added gloss to the score-line with a close-range effort in the 84th minute.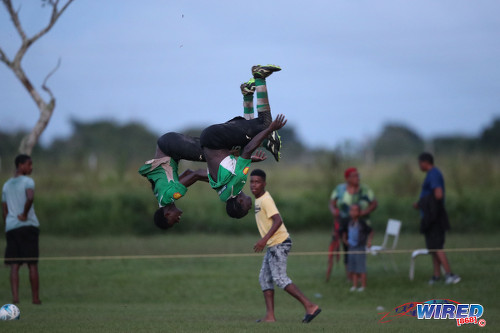 It was enough to ensure that coach Shawn Cooper's charges will emerge undiminished in the 2017 league season and they will go on to face Trinity East and Fatima with some level of optimism.
Cooper was sympathetic towards the players for their battle with the Guaracara surface; the cricket pitch in the middle of the park did not help the youngsters either.
"When you play on a surface like this and it gets hard and it's not rolled," Cooper said, "there are a lot of bumps and problems to navigate the ball. Both teams have to play on the same surface and the team who adapts better has a greater likelihood of winning the game."
Seeing the players trying to contend with the unpredictable bounce and turn on the Guaracara strip was quite amusing although perhaps not quite entertaining. But it was not nearly as thought-provoking as seeing match commissioner Cassie Moore having to take up duties as one of the assistant referees or watching Pres defender Matthew Joseph's battle with a shoulder injury which required him to leave the field for treatment on more than one occasion.
That niggling shoulder injury apart, Cooper and the "Pres Lions" had little trouble today. One St Augustine player in the form of attacker Kendell Hitlal looked the likeliest to cause the home side any palpitations; however, the industrious and speedy Hitlal was often left to fend for himself up top.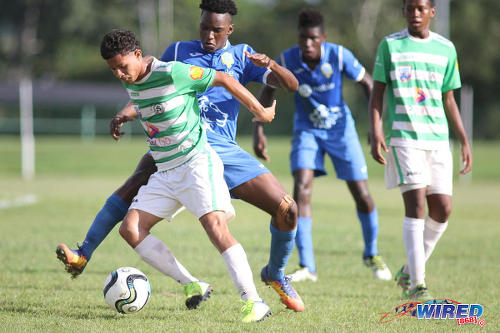 In one first-half sequence, Hitlal raced from near the half line in continuous battle with Joseph and two other defenders. In the end, he earned no more than a corner, though, and it summed up Hitlal's and St Augustine's disappointing afternoon.
"Hitlal was more alone today but that was also part of the plan where we were just going to play through him," Bateau said. "But we didn't transition well from defence to attack and we paid the price in the end."
As early as the 16th minute, Bateau and St Augustine coach Adrian Romain had to revisit their game plan after Baird sent a deft left-footer into the far corner following flanker Mylz Barrington's floated-in cross from the right. It really should have been dealt with but goalkeeper Ajahri Murrien decided to stay at home and Baird ensured that he paid the ultimate price for the error of judgement.
Baird might have got some encouragement from the Pres supporter who moments before had asked loudly whether the hosts had "come to play football or dolly house."
In the 43rd minute, seeking perhaps to answer calls for him to be swifter off the line, Murrien raced out of his goal in an attempt to reach a long forward punt from a Pres defender. However, he once more ended up with egg on his face as the burly Julien applied a nice, lobbed finish to give his team a cushion.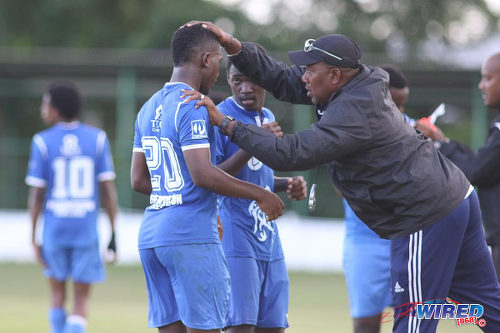 Former National Under-17 attacker Nion Lammy was ruled out for the season with a leg injury while talismanic midfielder Kareem Riley has moved on to a university in the United States. One resultant characteristic of Cooper's team's performance this season has been its ability to share the responsibility around in the goal-scoring department.
Baird, Jacob and attackers Jaiye Sheppard and Jordan Riley have picked up the slack and Cooper had the luxury of bringing both Jacob and Sheppard off the bench today.
St Augustine improved their play slightly in the second half when the likes of Rivaldo Coryot and Jeremiah Vidale showed more fight in the midfield while substitute Jalani Agustus injected more pace on the flank.
The guests were still without their shooting boots, though, and they rarely gave Pres custodian Jabari Gray any work despite sometimes contriving to get into promising positions.
In the 76th minute, Agustus beat at least three Pres players and, instead of shooting himself, attempted to find Hitlal at the edge of the area. Eight minutes later, though, Riley showed him how it is done, the slender attacker fending off three St Augustine defenders in the area before feeding Jacob for a simple finish.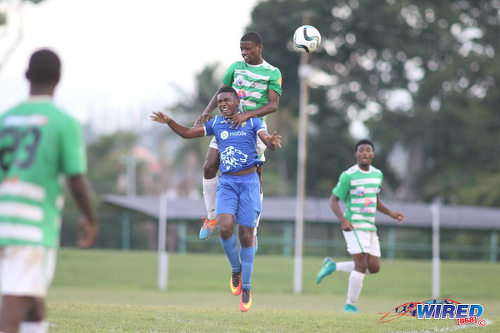 On Wednesday, Riley had demonstrated how to score directly from a corner; today, he showed how a human pinball can set up a goal.
What will the fleet-footed winger do next? On Thursday, coach Michael Grayson and his talented Trinity East team are likely to find out.
(Teams)
Presentation College (4-4-1-1): 22.Jabari Gray (GK) [captain]; 17.Omari Cobham, 2.Shirwin Noel, 21.Matthew Joseph, 3.Juaval Roberts; 16.Mylz Barrington, 12.Jerrin Jackie, 8.Terrell Williams, 10.Jordan Riley; 7.Omri Baird (6.Ackeel Jacob 46); 20.Shakeem Julien (9.Jaiye Sheppard 76).
Unused Substitutes: 1.Ishmael Salaam (GK), 13.Christoph John, 18.Jaden Joseph, 19.Vince Clement.
Coach: Shawn Cooper
St Augustine (4-3-3): 25.Ajahri Murrien (GK); 6.Terron Luke, 3.Zion Holder [captain], 2.Nykoaba James, 4.Stephon Eallie; 12.Rivaldo Coryot, 8.Jeremiah Vidale, 10.Ethan Bonaparte (19.Dorian Sampson 79); 11.Akeem Hosten (14.Jalani Agustus 68), 23.Kendell Hitlal, 17.Allan Hogan (15.Jirel Meloney 52).
Unused Substitutes: 13.Daniel Rahaman, 18.Jamal Meloney.
Coach: Adrian Romain
Referee: Michael London
Wired868 Man-of-the-Match: Jordan Riley (Presentation College San F'do)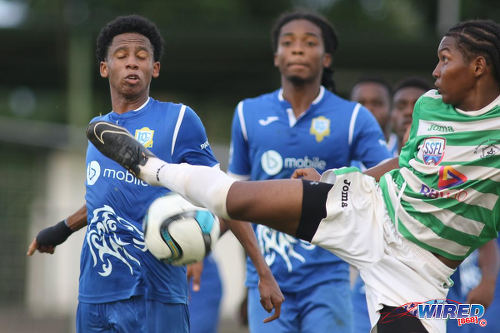 SSFL Premier Division results
(Saturday 28 October)
Presentation College 3 (Omri Baird 16, Shakeem Julien 43, Ackeel Jacob 84), St Augustine Secondary 0 at Guaracara Park;
St Benedict's College 1 (Reuel Tyson 32), Trinity College East 1 (Kordell Sween 78) at Lewis Street, San Fernando;
Carapichaima East 4 (Theophilus Bourne [2], Kevon Williams [2 pen]), Shiva Boys HC 1 (Jabari Graham) at Carapichaima;
Signal Hill 2, Fatima College 2 (Joshua Araujo-Wilson, Jean-Heim McFee) at Signal Hill;
San Juan North 6 (Lukeman Brooks [4], Renaldo Boyce, Tigana O'Brien), Speyside High 1 at San Juan;
QRC were on a bye, having completed their 14-match programme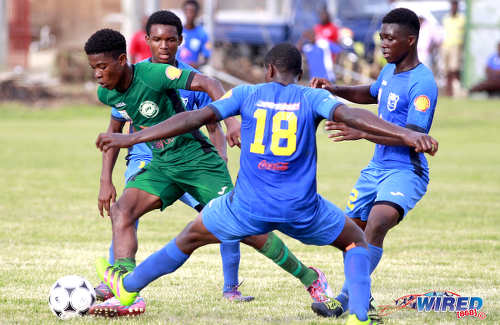 Upcoming matches
(Monday 30 October)
Trinity College East v Fatima College, 3.40pm, Trincity;
St Augustine v Trinity College Moka, 3.40pm, St Augustine;
Shiva Boys HC v St Mary's College, 3.40pm, Morne Diablo;
(Thursday 2 November)
Signal Hill v Trinity College Moka, 3.40pm, Signal Hill;
Presentation College v Trinity College East, 3.40pm, Mannie Ramjohn Stadium;
(Saturday 4 November)
Fatima College v Presentation College, 3.40pm, Fatima;
St Benedict's College v Shiva Boys HC, 3.40pm, Barrackpore;
St Mary's College v St Anthony's College, 3.40pm, St Mary's;
Naparima College v Trinity College Moka, 3.40pm, Lewis Street.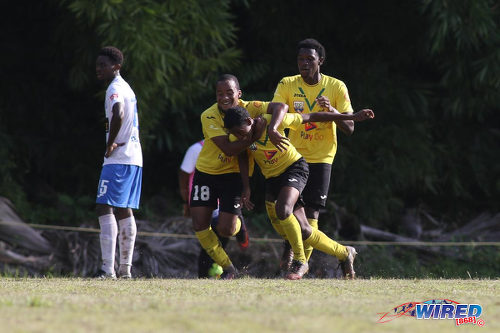 Current SSFL Standings
(Played-Won-Drew-Lost-Goals For-Goals Against-Points)
St Anthony's       13-9-3-1-42-20-30
Naparima            13-9-3-1-30-13–30
Presentation       12-8-2-2-28-14-26
San Juan N          14-6-6-2-35-16-24
Shiva Boys HC    12-7-1-4-29-18-22
Fatima                 12-6-1-5-17-17-19
Trinity East          12-5-3-4-21-13–18
Carapichaima E  14-5-3-5-23-21-18
St Mary's             12-4-4-4-27-26-16
QRC                     14-4-3-7-23-30-15
St Augustine       13-4-1-8-24-31-13
St Benedict's      13-3-4-6-19-27-13
Signal Hill            13-2-3-8-13-27-9
Trinity Moka        11-2-2-7-13-30-8
Speyside High     14-2-1-11-8–49–7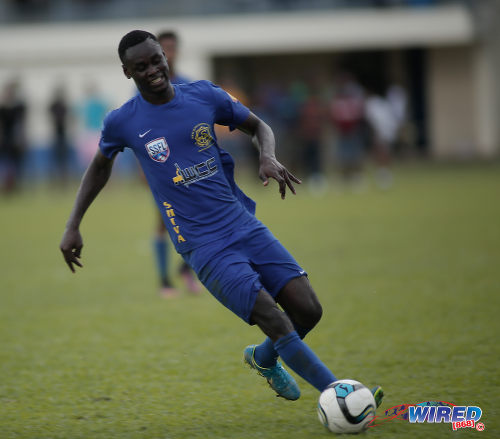 Revised SSFL Standings should Fatima win protest against Shiva Boys
(Played-Won-Drew-Lost-Goals For-Goals Against-Points)
St Anthony's        13-9-3-1-42-20-30
Naparima             13-9-3-1-30-13-30 
San Juan N          14-7-5-2-38-16-26
Presentation        12-8-2-2-28-14-26 
Fatima                  12-7-1-4-19-13-22
QRC                     14-5-3-6-25-25-18
Trinity East          12-5-3-4-21-12–18
Carapichaima E  14-5-3-5-23-21-18
St Mary's             12-4-4-4-27-26-16
St Augustine       13-4-1-8-24-31-13 
St Benedict's      13-3-4-6-19-27-13
Trinity Moka        11-3-2-6-16-28-11 
Speyside High    14-3-1-10-11–44–10 
Signal Hill           13-2-3-8-13-27-9
Shiva Boys HC   12-3-0-9-12-31-9